May 12, 2022
Top 10 Video Presentation Makers for Promotion and Education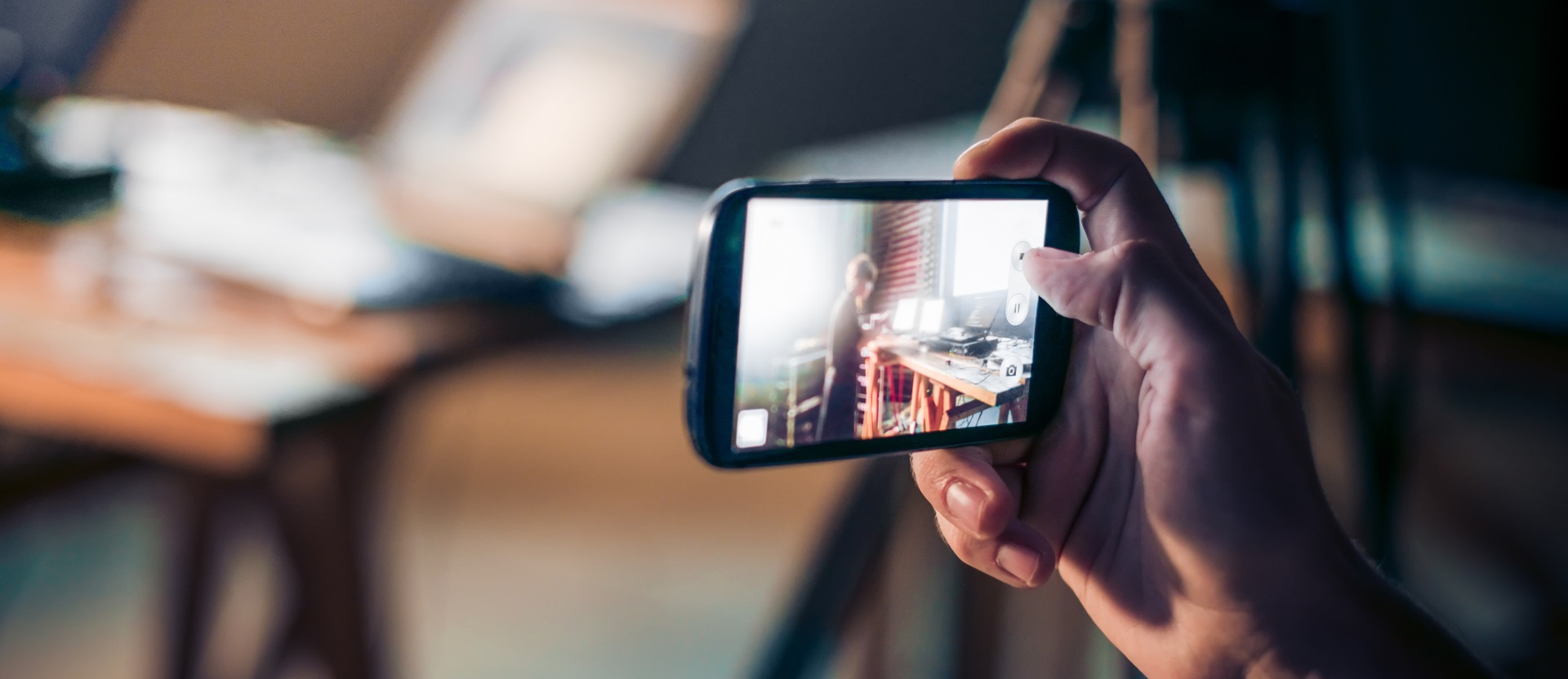 Grabbing and keeping an audience's attention is becoming harder in the age of tablets and smartphones. To be effective in marketing, an exceptional presentation video is of utmost importance. Professional video editing software requires strong video production skills, but you don't have to be an Oscar-winning editor to produce stunning presentations; knowledge of Microsoft PowerPoint is enough in most cases.
Below are 10 of the most useful and easy-to-learn video presentation makers. You can use them for many purposes, like creating short promotional videos, video lectures, learning materials, and other content. Let's see which one is the best fit for your urgent task.
Name
Features (UX)
Perfect for

$970/year

Turn PowerPoint files into video presentations. Add narrator ("talking head") video, and quizzes.

Output video plays on any device.

Professionals creating eLearning content that teaches, engages, and entertains their audience.

$249 for a lifetime license

Record everything on a computer screen.

Fine-tune the recording with a built-in video editor.

Distance learning and promotion where product demonstration is required.

$19 per month

Create promotional cartoons.

Non-professional designers and video editors who want to keep their audience hooked with animations.

$8 per month

Make amazing slideshows from photos.

Mix photos, video, and text into photo clips for marketing.

Wedding photographers, families, nonprofit organizations, and small businesses.

$69 for a lifetime license

Quickly animate 2D pictures, insert them into web and office presentation software, and export as video.

Presenters who want to add animated avatars and comic effects into content made with PowerPoint, Keynote, Google Docs and other interactive presentation tools

$39 per month

Create professional animated video from scratch or using a template.

Teachers who build e-Learning content.

$99 per year

Make pro-quality video online in minutes using your own photos, text, pre-made templates, and music.

Video marketing, animated infographics, intros and outros, slideshows, and YouTube channel trailers.

$30 per month

Create videos in a browser with the use of HTML5.

Animatron produces animated videos, GIFs, presentations and PNG images

Animators from beginners to professionals as well as educators and students

$200 per month

Create presentations with a presenter, videos, live web pages, and quizzes.

Share the presentations in a custom player.

Businesses, producers, digital agencies

$9 per month

Make new or redesign existing PowerPoint projects to get spectacular visual presentations.

Multi-platform presentation sharing.

Small and midsize businesses and individuals that use PowerPoint but still want better visualization
1. iSpring Suite — Develop Attractive Courses
More than 90% of presentations are made in PowerPoint. iSpring Suite enhances the features of PowerPoint slides, offering outstanding functionality and premium quality. The enhancements include voice overs, video narrations, and quizzes, and the software is targeted to content authors in business and academia. The most exciting part is that you get to use all these powerful tools right in your PowerPoint!
When you need to enhance your slides with a spokesperson, iSpring Suite is the best option. It has a video editor that lets you add a presenter video and easily adjust it to the slides. A spokesperson can be recorded directly via webcam, or separately and then imported into the presentation with iSpring Suite. Of course, you can import any other video as well, thus making your presentation more engaging.
With this tool, you can make your presentations interactive. Quizzes, web pages, and links can be easily added to the slides. The output file is rendered into browser-friendly format and thus can be shared online. Your slides can be viewed on both desktop and mobile platforms. All your PowerPoint presentations are perfectly reproduced on any device when they are shared with iSpring Cloud. Just upload your PowerPoint presentation to iSpring Cloud and get a short link that you can send by email, share on your social networks, or paste in an instant chat message. To play back the shared presentations, your audience does not need iSpring or PowerPoint.
Pricing
You can test-drive iSpring Suite for free for 14 days. To get instant access, just provide your name and a valid email address. A subscription costs $970/year. An academic, government and non-profit organization can apply for a discount.
Pros
PowerPoint-based solution — all effects remain intact
Outstanding narration capabilities
Content can be viewed natively on mobile devices
Easy to publish as a video file
No training required
It's simple to use
Excellent customer service
Cons
Only basic audio and video editing options
Perfect for
Professionals who create and deliver eLearning content that teaches and engages their audience.
2. Camtasia – All Screens Recorded
If you need to record everything you do on your computer monitor, consider Camtasia. It started several years ago as a tool for recording screen activity and became very popular among software demonstrators. These days, Camtasia is also video editing software with a multi-track timeline and even embedded hyperlinks. Both onscreen activity and webcam can be used as video sources. Creating remarkable videos is easy because of the drag-and-drop approach. While editing, you can also add titles, animations, music, and transitions. Everything comes out looking sharp and professional.
The original core function of Camtasia, which is capturing and showing screen-based activity, is still quite powerful and convenient. There is a special add-in toolbar for PowerPoint. It lets you easily start, stop and control the recording process. Just open the file you want to record in PowerPoint, launch the presentation, and start recording. Then you can add graphics and music, make your edits, and produce your final video.
Pricing
The price is $249 for a single user and two software installations on different machines. There is a 30-day free trial.
Pros
Solution for end-to-end video production, wherever screen recording is involved
Multiple input and output options — supports almost all graphics and video formats
Easy to get started
Free video assets (icons, graphics, backgrounds)
Video can be clickable, allowing interactive quizzes and polls
Cons
Hotspots on interactive video do not work on YouTube, Facebook, and other social networks
Perfect for
E-Learning and marketing. Create content for customer support, employee training, product presentations, and online courses.
3. PowToon – The Magic of Animation
Animation is a universal language: everybody loves it. Promotional cartoons are now available to everyone, thanks to PowToon.
The service has an intuitive user interface. You do almost the same thing as with PowerPoint or Keynote — drag and drop objects on slides. Then you set animations and durations, and optionally add texts and audio. You can start from scratch or use ready-made scenes and layouts, which are editable. There are also some amazing comic graphics. The final animated presentation can then be uploaded to YouTube, Facebook, and Twitter with one click.
Pricing
There is a free trial version, but it is limited to 5-minute videos. The premium service provides several plans for business and educational purposes. It is definitely cheaper than outsourcing production to a professional design studio.
Pros
It's easy to master
Truly customizable animated video
Professional-looking presentations
Cons
Limited styles with the free plan
Video linking is only available for a slideshow, not a movie
Perfect for
Non-professional designers and video editors: educators, businesses that want to create a service/product video, and trainers.
4. Animoto — Photo Montage in 20 Minutes
It only takes a few photos and 20 minutes to create a short family video. With Animoto, even an ordinary person can do it; you don't need to know anything about video editing software, because Animoto handles everything for you. Just mix photos, add a soundtrack, and hit the "create video" button. If you're unsatisfied with the results, the software proposes other mixing options.
The software meets business needs as well. You can add video and text-only frames to photos, making your project more compelling, and quickly apply styles. Plus, you can produce video clips for marketing purposes. All this requires minimum effort and expenditure.
Pricing
Catering to three target demographics (families, photographers and businesspeople), the service proposes different payment plans. A 14-day free trial of the professional package is a good option to start with.
Pros
Quick, cheap, and easy way to make videos from photos
Royalty-free music is provided
Easy to use
Cons
It is not possible to manage the video properties
You can not edit one section of the video without affecting the others
Perfect for
Wedding photographers to create video portfolios, families and nonprofit organizations to make post-event video clips, and small businesses to produce marketing videos.
5. CrazyTalk Animator — Draw More Attention to Your Presentation
CrazyTalk Animator allows you to quickly animate 2D pictures and copy/paste them into web and office presentation software, as well as export the animations to video format. This tool is good for marketers who want to create promotional videos, as well as presenters who want to use animated avatars and comic effects in their PowerPoint, Keynote, and Google Doc presentations.
Users animate their own pictures or apply content libraries that are well categorized. This allows you to design unique characters, give them specific movements, and customize their emotions. You can record your own voice, and CrazyTalk Animator synchronizes the character's lip movements to the recording. Everything is done with intuitive real-time editing tools. You will learn how it works by watching tutorials, and of course with a bit of practice.
Avatars and animation make presentations more engaging and inviting, since avatars are more memorable than people. Animated presentations will increase the exposure rate of marketing videos for your business.
Pricing
The standard edition of the software costs $69 and there is a 15-day free trial version. Character libraries are available separately or as bundles.
Pros
Animated video can be easily added to other presentations
Full editing capabilities
Well-categorized content libraries
No monthly fees
Cons
The tool is somewhat advanced for beginners
Perfect for
Individuals, businesses, public speakers, and designers who make presentations on a daily basis. Great for presenters to quickly add animated avatars and comic effects into PowerPoint, Keynote, Google Docs and other presentations.
6. GoAnimate — DIY Animated Video
Shooting live actors in the proper setting is a good way to create e-Learning content. However, when everything should be done quickly, easily, and on a low budget, consider animated videos. Creating such content with GoAnimate is much less expensive than live-action shoots. You can teach your audience how to deal with customer problems by implementing several scenarios to illustrate what happens if the learner chooses a wrong action.
To make animated video presentations, you do not need to hire a video producer. GoAnimate is for those who want to create professional animated videos by themselves. There is also no need to install any software, since you work directly online. The application provides a diverse number of options to meet user needs.
Start from scratch or use templates. The latter help you produce videos faster. Just choose a setting and the actors, type or record the dialogue, and preview the video. If you like the result, you can immediately publish it to Facebook or Twitter, or export as a video file. If you do not like the result, go back and edit it again. If you wish, you can import your own assets, like images, sounds, voice overs, Flash animations, and video files.
Pricing
GoAnimate runs about $39 a month for the basic subscription. This price is based on paying a year in advance. There is also a 14-day free trial.
Pros
Quick, easy, and intuitive tool
3rd graders use it for school projects
All features are accessible online.
Useful online tutorial that shows you how to use the application properly
Video can be previewed before exporting
Cons
Limited number of characters and only 10 lines of speech in the basic version
The interface is somewhat complicated
Making a 3-4 minute video from scratch takes 5-6 hours
Perfect for
Teachers producing content for e-Learning.
7. Biteable — Pro-Quality Video Made Online
Biteable allows you to make pro-quality video online in minutes. The ingredients are your own photos, text or pre-made templates, and music. The styles of videos produced vary from animated graphics to live-action. Thus, you can make a lot of different videos for different purposes, including business advertisements, presentations, invitations, logo animations, and slideshows.
What's cool about this solution is the ability to make video infographics. Animated infographics are more engaging than static ones.
It is easy to share the final video on YouTube, Facebook, and Twitter by pressing a button. All Biteable videos are of 1280×720 (HD TV) resolution.
Pricing
There is a free plan that allows you to create unlimited videos, but they will be watermarked with a logo. The free plan does not allow you to insert your own videos into a project. The premium plan is $99/year. It is also available by monthly subscription.
Pros
Professional videos and animations
Easy to use
Helpful tutorials
Predesigned templates
Cons
It is not possible to change fonts
Some video content used in Biteable is licensed and thus has text in the scenes. It is not possible to get rid of it
Final video is sent via a link to the email registered in the account
Perfect for
Video marketing, animated infographics, intros and outros, slideshows, and YouTube channel trailers.
8. Animatron — Easy Online Animation
How can you create marketing videos by yourself, easily and on-budget, from animated video to GIFs? Animatron provides an online service for this exact purpose, built on cutting-edge HTML5 technology which allows you to play content on any device, from desktop to mobile. You create everything in your browser. No knowledge of coding is required, and there are no plugins and no downloads necessary.
For beginners, the service has a free marketplace with animated characters. Once added to a video, they bring it to life and make it unique. Of course, you can use your own content, create custom shapes, import artwork and draw within the tool. Actually, the customization options are endless; there are no limits to your creativity. You can also add audio and sound effects to let your story evoke the desired mood. Finally, stunning HTML5 animations and interactive content can be produced.
While making clips, you can team up with other users, thanks to Animatron's collaborative editing capabilities. You don't need to send a bunch of files back and forth: just send a link and work on a project together. Animatron is worth using for marketing videos, product demos, presentations or Facebook ads. Plus, you can design and publish eye-catching banners, movies, and infographics.
Pricing
You can learn the basics of animation and video editing, as well as all the service's features, with a free trial version. It adds a watermark, and there are some other limitations on the characteristics of the final video. The flexible premium plans start from $30 per month.
Pros
Movies are created in a browser
The service can be accessed from anyplace where there is an Internet connection
Editing can be done collaboratively
Lite mode gives users professional-looking results in 10 minutes
Cons
High connection speed is required
Some browsers can cause script error messages
Perfect for
Animators, freelance video production teams, and beginners can benefit from the service. Educators and students interested in animation and the creation of presentations will find it useful.
Also read: The Ultimate Guide to Lecture Capture
9. KnowledgeVision — Better-Looking Presentations
KnowledgeVision is a collection of software tools that capture the story and the spirit of communication. The solution supports live and on-demand webcasting. Images, pdfs, and live web pages can be synchronized with the narrator's story. All content is wrapped up into a player which is customizable to your brand. The content can include quizzes, and upon completion you can issue certificates.
There are two different classes of software tools, depending on the scale and complexity. KVStudio applies to professional content creators, and has every feature you could imagine. Knovio is a good option for everybody else: it's simple, elegant, and fast. You can also create videos within the software package. For more details, check out the very informative and useful demo online.
Pros
Complete package of tools for the production of professional presentations
Provides analytics on presentation views
Supports live webcasting
Cons
Too many tools might be challenging to learn
Perfect for
Businesses, producers, digital agencies, and everybody who is in need of presentations that teach, sell, and engage.
10. Emaze — Amaze Audiences With High-End Design
With Emaze, spectacular visual presentations can be produced with little effort. You'll be able to spend your time on the actual content of the presentation, and not on studying the tool. The system will take care of the design and effects.
More than 40 free templates built in HTML5 are a great way to start building your project. Their styles range from PowerPoint to 3D patterns. You can add videos to the slides and apply cool effects. The templates have a clear focus on business applications. All that's left is to customize the presentations with specific information and data.
PowerPoint users can redesign their presentations with Emaze, since it imports PowerPoint slides. After completing the presentation, you can export it to HTML5, video, or as an iframe tag. The presentation can be saved locally or in the cloud.
Pricing
With the free version, the output presentations will be online and public. The Pro plan costs $9 per month, billed annually.
Pros
High-end designs with modern animations and pre-filled slides for business presentations
Easy to insert objects Simple to use
Cons
Does not have search or help bar
Delays on computers with low performance
Perfect for
Small and midsize businesses and private users who are used to PowerPoint, but want better visualization and impact on their audience, as well as multi-platform presentation sharing.
Conclusion
By some estimates, there are over 80 products that help people to present their ideas in the marketplace, so you will always be able to find a solution that allows you to produce video presentations of professional quality by yourself. This may be downloadable software or an online service. But technology alone doesn't guarantee positive results with your target audience: the content itself is essential for a return on your investment, even if that investment only involves time. In conclusion, just remember three features all effective presentations possess: they are engaging, persuasive, and memorable.
Happy presenting!