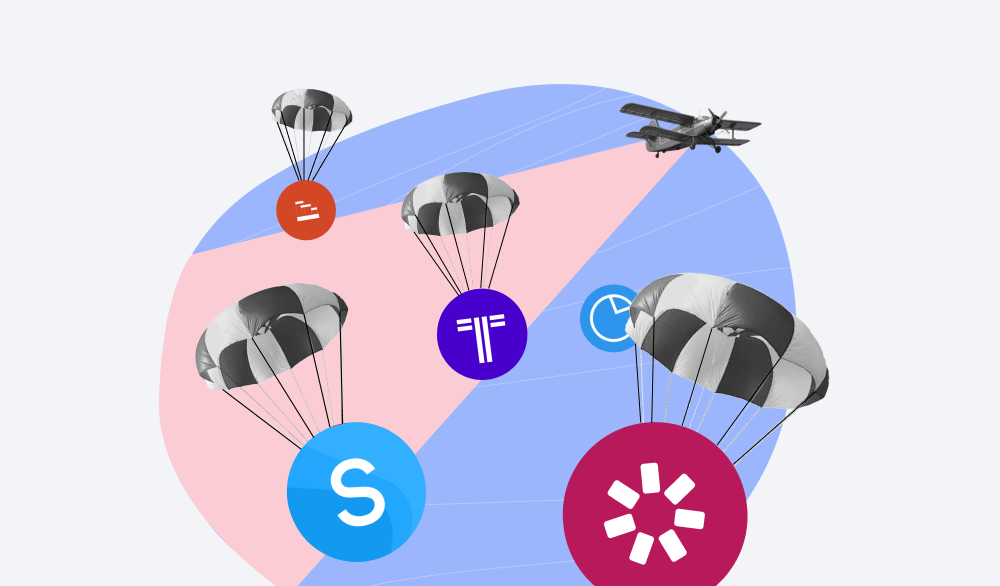 Timelines are linear organizers that help students and authors understand and illustrate the passage of large blocks of time. The obvious application is in education, but timelines can also serve as a great visual tool in business presentations. Thanks to the linear structure, timelines can diversify your presentation as roadmaps, linear graphs, and Gantt charts, and help the speaker make their point more visual and coherent.
Whether you are a teacher, student, instructional designer, or business trainer, here are 10 free and paid, online and offline interactive timeline makers to help you build beautiful, full-color, multimedia timelines.
1. Preceden
Preceden is an online tool for creating interactive text-based timelines. Users can enter a title, date, and description for each event, which is added with a dot on the timeline. Full text for events is displayed when the user mouses over the dot on the timeline.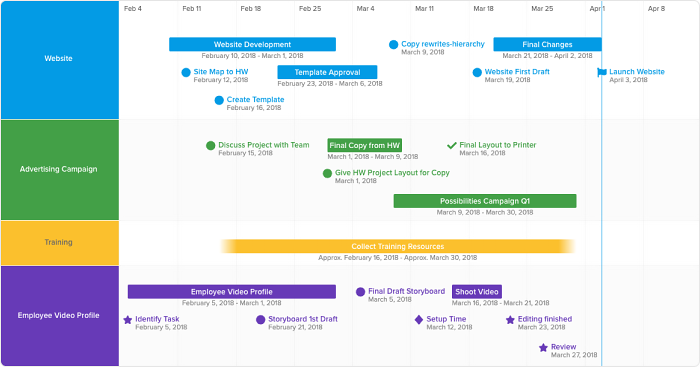 The free timeline option allows you to add 10 events to your timeline. Preceden's premium plans cost between $29 USD and $149 USD based on whether you need to create one timeline or several, and on whether you're creating historical timelines or project planning timelines.
Pros
You can download timelines in PNG, CSV, XML, or PDF.
Free version with no watermarks or ads.
You can customize the appearance with ease.
You can make your timelines private.
Unlimited events with a Premium plan.
Priority technical support with the Premium plan.
Free upgrades and add-ons with the Premium Plan.
Cons
You can make only 1 timeline with up to 10 events with the free version.
Many chart functions are locked in the free version.
You can't embed timelines into a WordPress website due to security restrictions.
2. iSpring Suite
iSpring Suite is a full-featured authoring toolkit that allows you to create eLearning courses. You can build slide-based courses, quizzes, dialog simulations, screencasts, video lectures, and other interactive learning materials. 
Creating interactions is made simple with 14 ready-made templates for making glossaries, catalogs, references, and timelines. You can create a timeline in just a few steps and upload it to a website or an LMS. The resulting timelines come out clean and pretty, and can be viewed on mobile devices.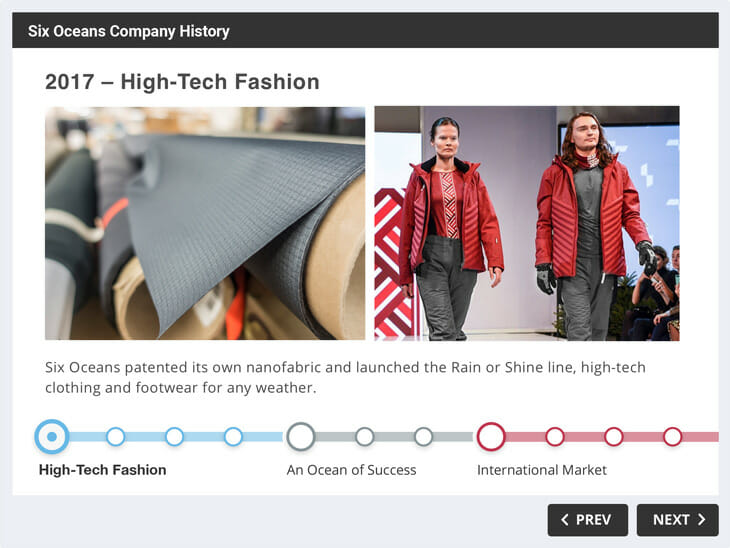 Pros
Creates timelines in HTML5.
Creates mobile-ready timelines.
It's possible to add unlimited events and group them in periods.
Users can add images, audio, video, and hyperlinks.
Built-in audio recorder.
The timelines support SCORM format and can be used in your LMS.
Content protection options.
Cons
Compatible with Windows only.
Can't create vertical timelines, however you can use another interaction instead.
Check out this step-by-step guide on how to make a timeline with iSpring Suite.
Start creating amazing timelines right now.
3. Sutori
Specifically designed for the education sector, Sutori's online timeline software helps teachers and students create interactive timelines for assignments that can be viewed in a web browser.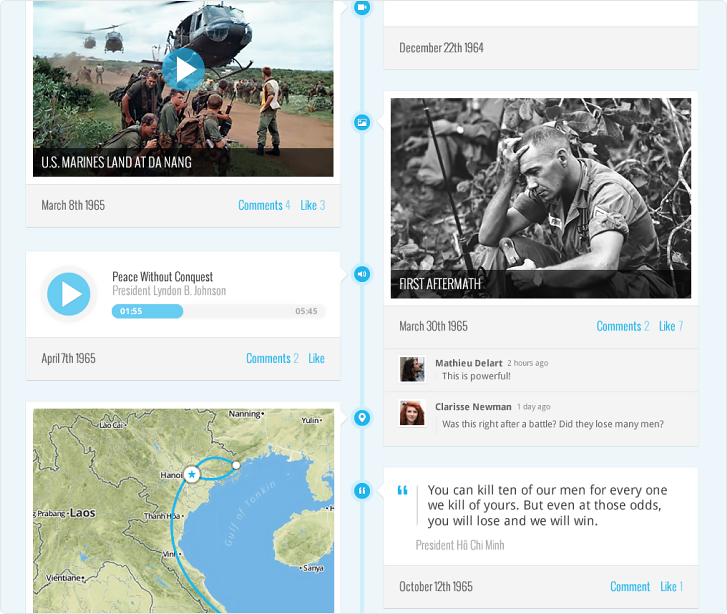 Pros
You can download timelines in PDF.
Free version with no watermarks or ads.
You can enrich the timelines with text, multiple-choice questions, images, video, forums, audio, and "Did you know?"
Timelines can be embedded onto other platforms without Sutori branding.
It's possible to add paragraphs and hyperlinks to timelines.
Your timelines can be printed.
Multiple users can edit a timeline at the same time.
Cons
In Sutori, timelines are a series of web pages linked together. Each event is a separate webpage. If you have quite a few of them, managing this type of project may be difficult.
When you create a new event, you have to manually link it to the events already created on the website.
Because Sutori's software is specifically designed for educators and students, it may not be the best choice for personal, home use, or use in the business sector.
4. Google Sheets
If you're looking for a free online solution, you can make timelines in Google Sheets. However, it takes time to create one from scratch, so it's better to use one of the available templates. Here's how you get them:
Log in to Google Drive and click New.
Hover over More and select Connect more apps.
Type in Drive Template Gallery and connect it. Click Yes when the prompt window appears.
Now you have access to the additional templates. Click New again, hover over Google Sheets, and select From a template.
Scroll down to the Project Management section — there are 4 new chart templates available, so just pick one!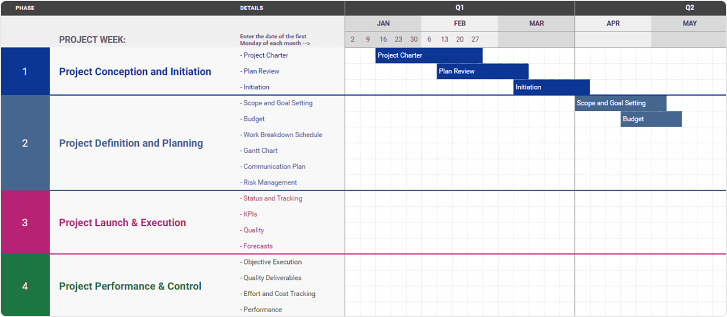 Pros
Completely free.
You only need a Google account, no need to register anywhere else.
Cons
Not suitable for big projects as the interface is clunky.
Only 4 templates. However, you can create custom chart templates if you have some time.
The customization is limited. You can't add events or videos,  and there are no premade themes.
Can't create interactive events.
5. OfficeTimeline
OfficeTimeline was designed to create timelines for business communications. It offers two options: an online tool and an offline PowerPoint add-in. The web tool is more advanced: it has more templates and export options, and the interface is much more user friendly.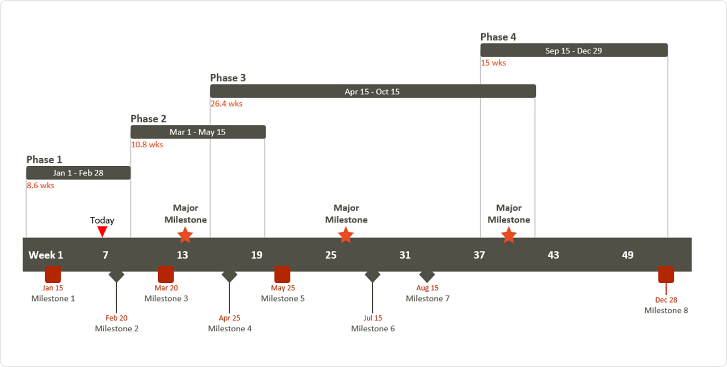 Pros
You can download timelines as PPT, XLS or PDF, or send them via email.
Free version without watermarks or ads.
Has offline and online tools — pick whichever suits your workstyle.
Online tool has 39 templates to choose from.
Both tools allow you to add corporate branding.
Cons
Free offline version only has 3 templates, you have to upgrade to use the full library.
Can't share timelines with a URL, only email sharing is available.
Timeline templates are good for executive summaries, but not for complex projects.
Online and offline tools have to be purchased separately.
6. Visme
Visme is an online multipurpose tool for creating timelines, presentations, and graphics. Timelines made with Visme come out clean and unique, and you can make really good ones even with the free version. If you want more templates and storage and privacy control options, there are 9 plans, including special offers for business owners and education centers.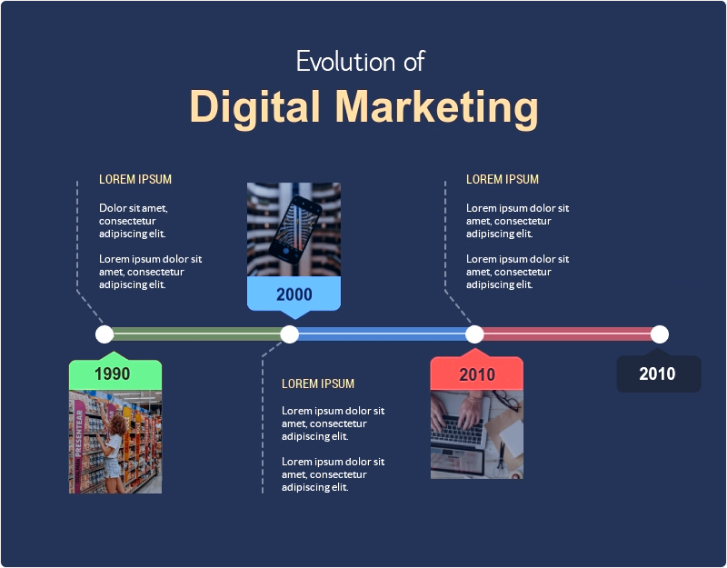 Pros
You can create timelines in HTML5 and share them with a URL.
You can embed timelines on your website.
Free version without watermarks or ads.
A vast library of templates, styles, shapes, and graphs.
Each template offers a unique design that makes your template look fresh and professional.
Cons
Free version is limited to 5 projects.
Rather costly compared to other solutions. The cheapest plan is 14$ a month in a yearly plan.
7. TimeGraphics
TimeGraphics is an online web timeline maker. The tool allows you to clip in events, tables, and time periods. You can embed various interactables from another website, like statistics or graphs. It's a neat tool that lets you start creating without registering, and you can log in with your Google account.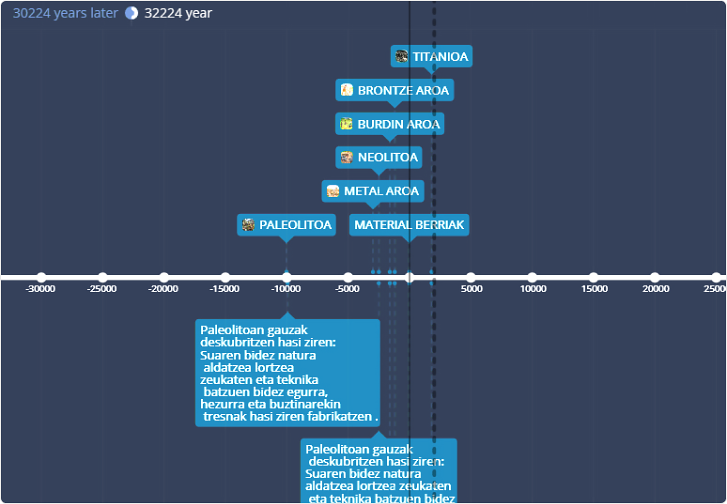 Pros
You can download timelines in a variety of formats like PDF, PNG, PPT, DOC, etc.
Free version without watermarks or ads.
You can publish timelines as private or public, and they support SEO indexing. 
You can embed timelines on your website.
Integrated with Google Services: you can add data from Google Analytics and Google Spreadsheets to your timeline.
Cons
You can create only one project with the free version.
A free timeline supports up to 18 events and 7 media links.
Only one timeline template.
8. TimeToast
TimeToast allows users to create timelines quickly. Users can upload pictures to embed on their websites, which is handier than when you have to embed pictures via URL. You also can create time spans to link events on the timeline into smaller groups.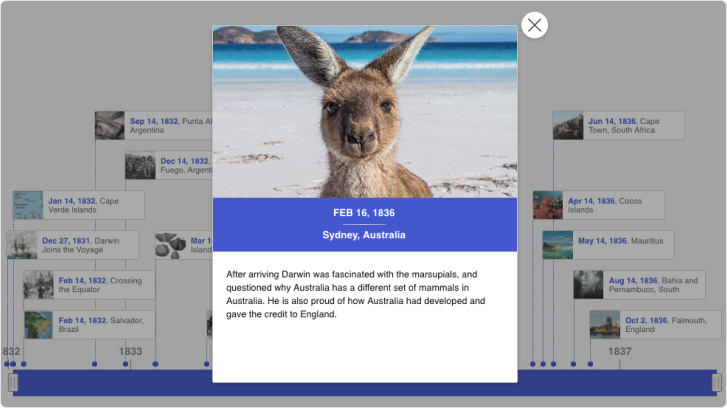 Pros
You can download timelines in JPG, GIF or PDF
Free version without watermarks or ads.
Users can upload pictures onto their websites.
Each event can contain text, an image, and a link.
You can collaborate with other content creators under the paid subscription plans.
Paid plans allow you to hide comments left under your timeline.
Cons
Few customization options (color, font, etc. can't be customized), so resulting timelines are rather plain and lacking in creativity.
The dates in the timeline can't be edited; you can only delete an event and add a new one.
No technical support.
9. TimelineMakerPro
TimelineMakerPro is an offline timeline maker. Because of its Microsoft Office-like interface, the tool is easy to use, so you can create timelines quickly and efficiently. What makes it stand out is the variety of timeline styles (e.g. vertical, horizontal, Gantt, etc.), and there's a plethora of themes to make your projects stand out.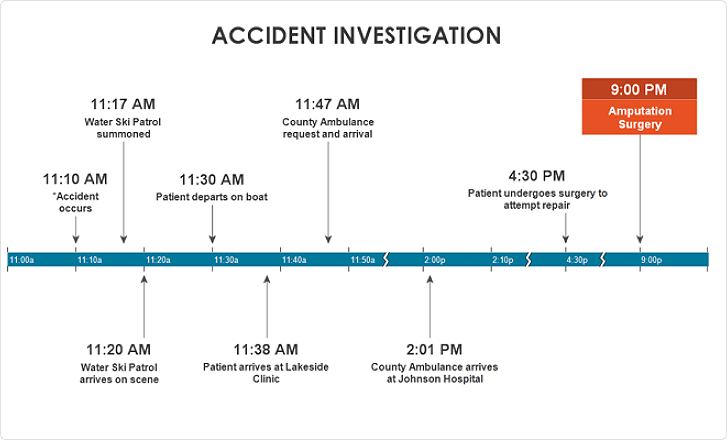 Pros
You can save timelines in TXT, CSV, MS Project, or TLM.
You can import data and images from Microsoft Office tools.
14-day trial that lets you try all the options for free.
5 timeline styles to choose from: Vertical, Chronological, Bar, Flag, and Gantt.
Has 12 background themes to make your projects look beautiful and unique.
It's easy to work with the timeline itself. You can expand or compress it, and change timescale options (e.g.  years, months).
Cons
The trial version puts a huge watermark across your timeline.
Rather costly lifetime license, starting at $149 for one user.
Sharing options are only limited to email.
10. Venngage
Used to create infographics, presentations, social media posts, and other visual designs, Venngage has a number of interactive online tools, and the Timeline Maker is one of them. It lets you create beautiful timelines in a matter of minutes – even if you don't have any design experience. You simply need to choose an appropriate timeline template from hundreds of ready-to-go designs, add text and images, and export it as a file or share it with your clients and team members via a link.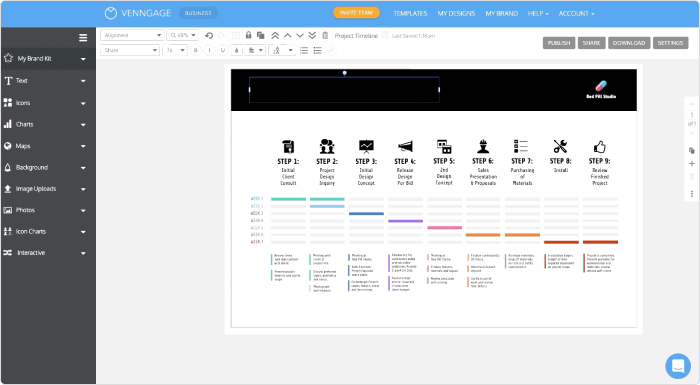 Pros
Offers hundreds of ready-made templates: project timelines, company timelines, historical timelines, and more
The drag-and-drop interface makes the timeline easy to create and navigate
Has a vast library of images with over 40,000 icons, stock photos, and fonts
Lets you download timelines in HD, PNG, PDF, or Interactive PDF, or share them with a private link
Allows you to create and save your own templates
Lets you collaborate on the timelines with your team
Cons
The free plan allows you to create only 5 timelines and lacks an export option
Quite expensive – the Business plan costs $49/month
Did you know you can create timelines in the familiar PowerPoint interface? With iSpring Suite, you can quickly create interactive timelines and publish them on the web.
Did you find the perfect timeline maker in this list? Do you use another tool? Tell us about it in the comments below!