How to insert a quiz in your PowerPoint project with iSpring
Along with multimedia files, iSpring Suite also lets you insert assessments in your presentation to turn it into a complete media-rich e-Learning course. So, let's see how to enhance your PowerPoint presentation with a quiz.
Use Quiz button
The best way to include assessments within your course is to use a Quiz button right on the iSpring toolbar. Follow the instructions given below:
Step 1. Open your PowerPoint presentation and create a new slide where you'd like to insert a quiz.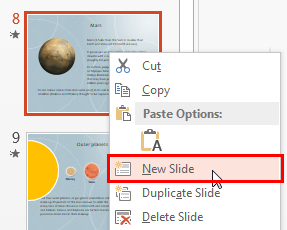 Step 2. Go to the iSpring tab and click the Quiz button.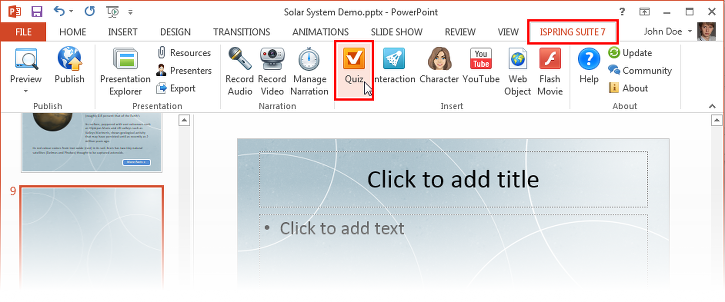 Step 3. This will open iSpring QuizMaker, which comes as part of the authoring toolkit. Create a new quiz, open a recent quiz or browse for a quiz you have saved previously.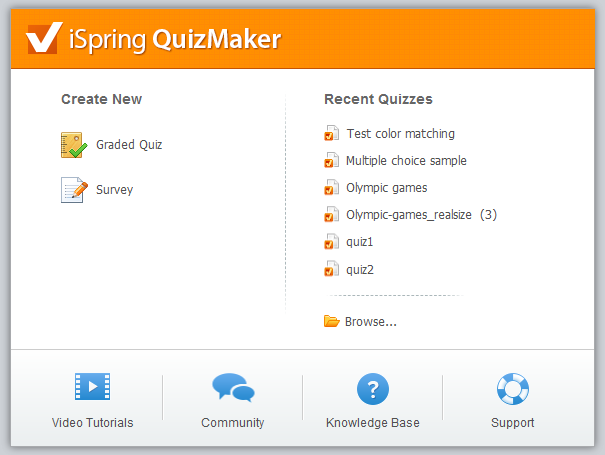 Step 4. When you are done editing your quiz, click Save and Return to Course.

Step 5. Your quiz will appear as a preview object on your PowerPoint slide as shown below: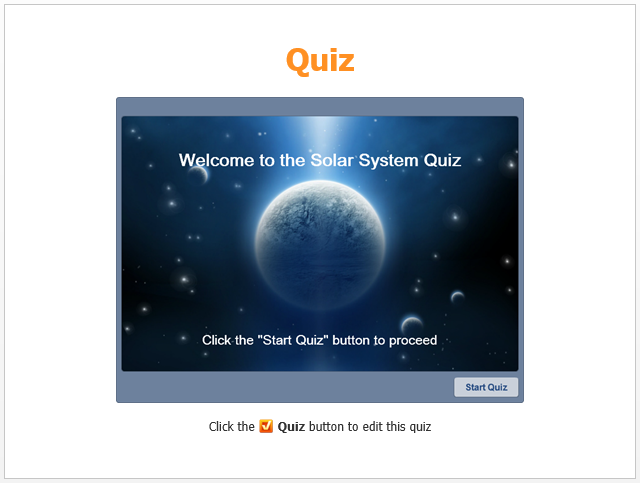 Step 6. Once you've published your final course, the quiz will appear as just another slide in your users' navigation experience. Here's how it will look in iSpring's Universal Player: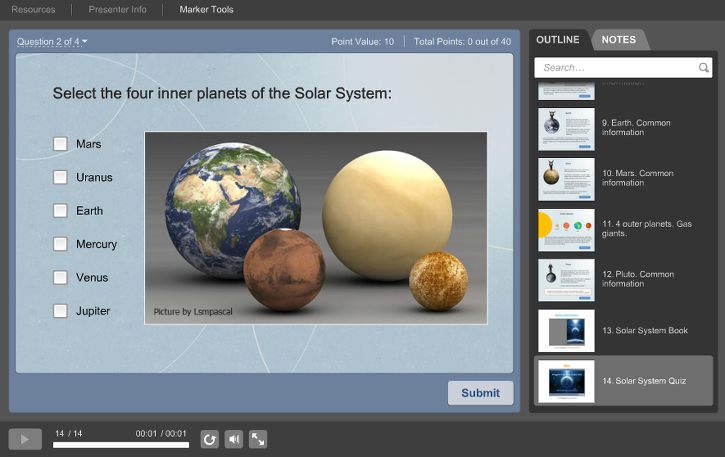 Use Presentation Explorer
Also a quiz may be added to your presentations via Presentation Explorer tool.
Read more about this option in our handy user guide →
Note: A pre-published quiz may be inserted as a third-party activity using Flash or Web Object tools but won't become a part of your learning course and won't track the results.
FAQ
Q: I am using iSpring Pro. Can I insert a pre-published Quiz using the Flash or Web Object tool?
A: This is technically possible. However, we don't recommend this procedure, because a quiz inserted that way will be isolated. In other words it will not have grading functionality and won't be shown as a part of your learning course if you upload it to an LMS.
Q: I inserted a quiz on a slide that had important content. I tried to delete it by removing the picture of the quiz from my PowerPoint slide, but it still appears when I publish.
A: You can use the Presentation Explorer tool to unlink a quiz from this slide. You can easily change the quiz preview picture on the PowerPoint slide and it won't make any changes to the quiz or its link with the current slide.

However, if you delete a slide that contains a quiz, it will detach this quiz from your course. Please insert quizzes on blank slides to avoid such issues in the future.
Q: I'm using iSpring QuizMaker. How can I make my quiz a part of a presentation / course?
A: Please upgrade to iSpring Suite and follow the instructions above.
Q: Can I resize my quiz on a slide, so it won't occupy the whole slide?
A: When you add a quiz, it is always added to the entire slide without a possibility to change its size or placement. You can make quiz player transparent and use Slide View tool to arrange question components on a slide.
Additional Resources
Here are a couple more handy resources to help you get a jump-start on your quiz authoring:
Related Articles