How to Embed Fonts in PowerPoint on Windows & Mac
Third-party fonts are not the embedded fonts used in a PowerPoint presentation by default. Thus, if you send a presentation with those fonts to a colleague, the text might not appear correctly. Custom fonts are automatically substituted with a standard font if the recipient's computer (or website) doesn't have the desired font installed.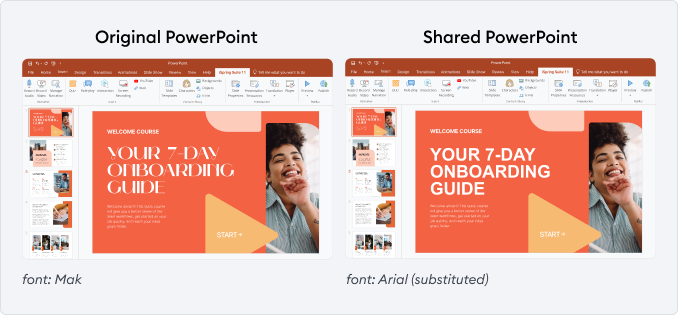 If you got creative with fonts and want the presentation you created to remain intact when opened by the recipient on another computer, you need to make sure that the fonts are embedded in the presentation.
Learn how to embed fonts in Microsoft PowerPoint both on a Windows PC and a Mac to convey the intended look and feel of specific fonts in your presentation.
Before Embedding a Font in PowerPoint
Before adding fonts in PowerPoint, make sure that the font file you want to embed is not read-only, and that it is available for embedding. To do that, you need to check font file properties as explained below.
Log in as Administrator (to change font file attributes if necessary).

1. Open File Explorer and go to the Fonts folder (C:\Windows\Fonts).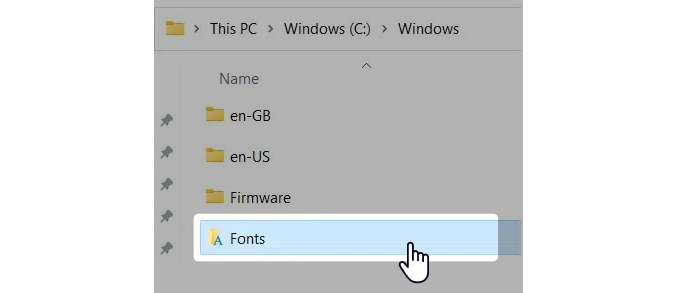 2. Find the font that you used in your presentation (e.g., Lobster Regular).
3. Right-click the font and sel ect Properties.
4. Remove the Read-only attribute if it's checked, and then click OK.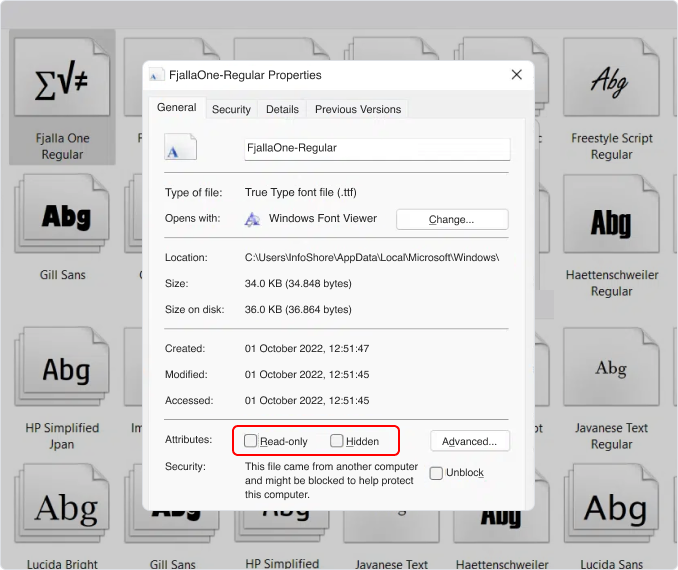 Go to the Details tab. Make sure that the Font embeddability property is either Installable or Editable. Otherwise, you cannot embed it.
How to Embed Fonts in PowerPoint on Windows
You can get a walkthrough of the steps to import fonts in PowerPoint presentations below.
Step 1. Open a presentation that you want to share
Step 2. Sel ect Options in the lower-left corner of the main PowerPoint menu
The PowerPoint options window will appear.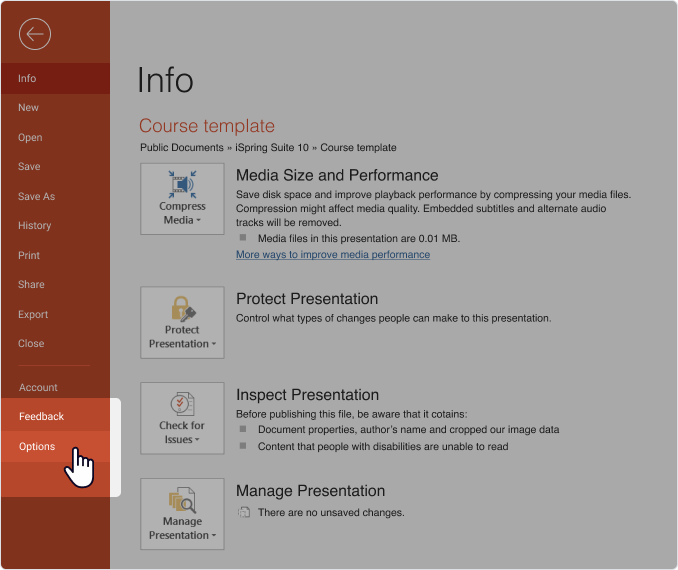 Step 3. Go to the Save options on the left.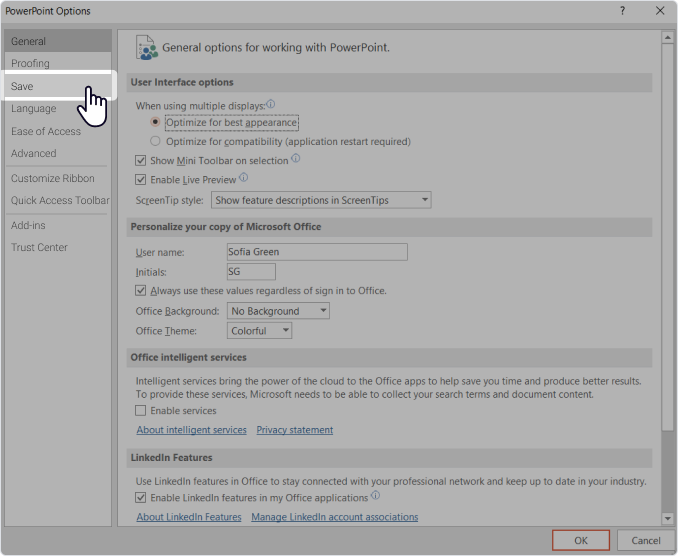 Step 4. Check Embed fonts in the file check box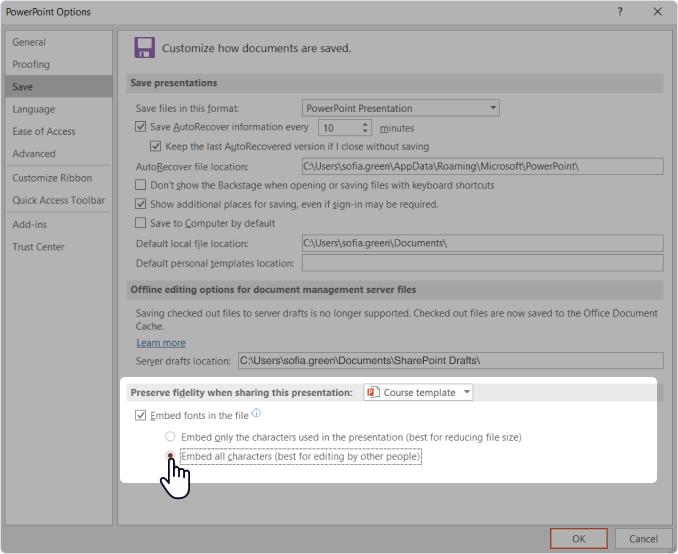 In this "Preserve fidelity when sharing this presentation" section, you can choose between two embedding options and either embed only the characters used in the text, or the font's entire character set, including special characters. To be on the safe side, we recommend that you sel ect Embed all characters, although it will use more space.
Step 5. Click OK and save the presentation.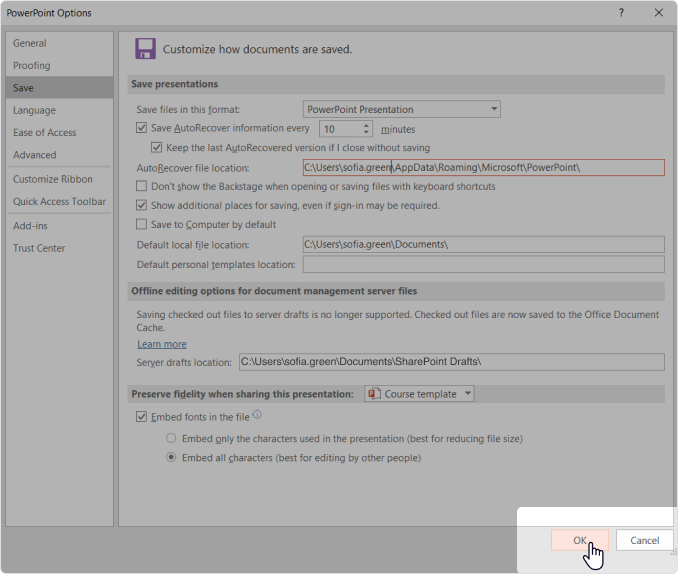 Note: the file size can grow dramatically if you embed all font's available characters. Each font can take up to several megabytes of the published presentation size. Don't use more than two non-standard fonts in your presentation to keep a consistent design and small file size.
How to Add a Font to PowerPoint on Mac
To add fonts in PowerPoint for Mac, follow the steps below.
Step 1. Open your PowerPoint presentation on Mac
Step 2. In the "PowerPoint" menu option, select the "Preferences…" dialog box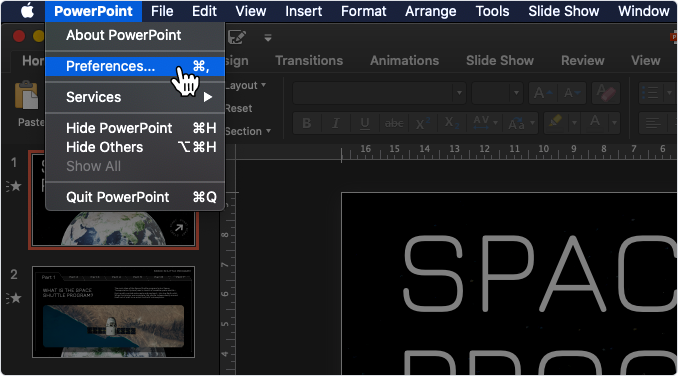 Step 3. Find the "Output and sharing" group and select "Save"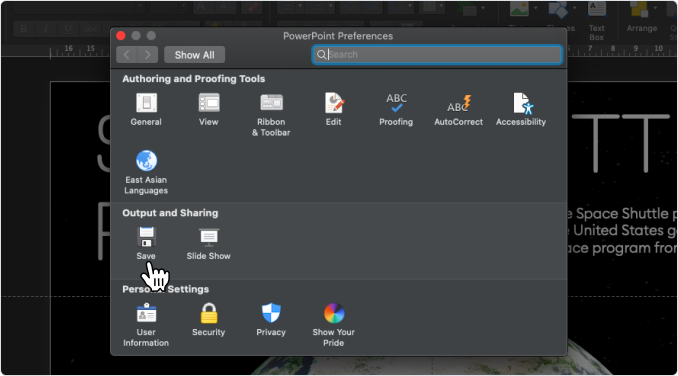 Step 4. Select "Embed Fonts in the File"
Again, you will be prompted to select between embedding only the characters used in the presentation's text or the entire character set. Then, embed the font in the way that suits the situation best.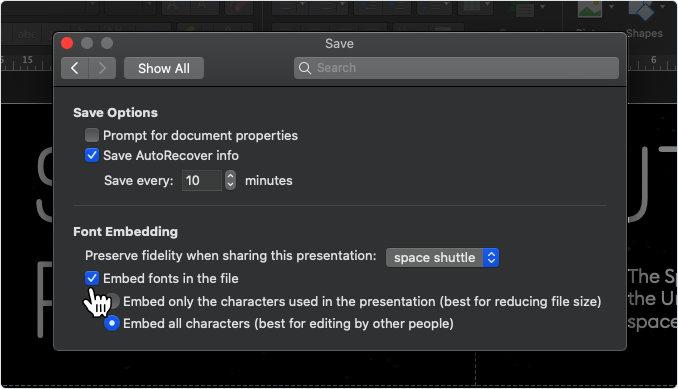 Now that the fonts are embedded in your .pptx file, you can send it to a colleague or upload it to the Internet, and keep all the same fonts, displayed exactly as in the original PowerPoint file.
How to Download and Install Custom Fonts for Microsoft PowerPoint?
If you want to use non-standard fonts in your presentation and make it look unique, you can learn how to install a custom font for PowerPoint conveniently fr om the instructions below.
1. Go to the web and find the sites that offer downloadable fonts
There are many options on the Internet to download custom fonts for free or purchase them for commercial use. As for the free fonts, there are popular depositories that may come in handy for you:
All of them contain tons of fonts to choose fr om as well as user communities to ask questions and fix possible tech issues.
2. Sel ect the font and download its zip archive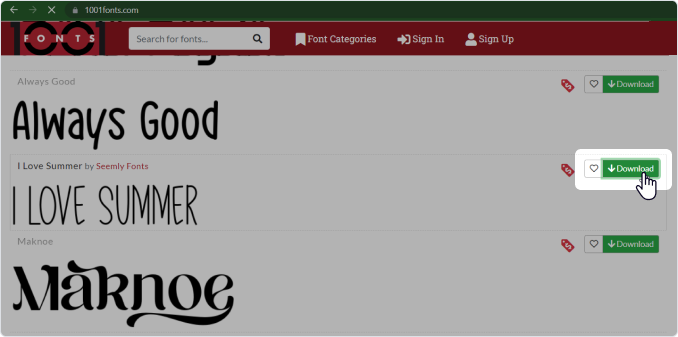 Font files can't be downloaded to Microsoft Office directly, so you need to manipulate with them within your operating system. Most likely, your selected font will be contained in a zip. file. Download the archive on your computer and then locate it into the Downloads folder.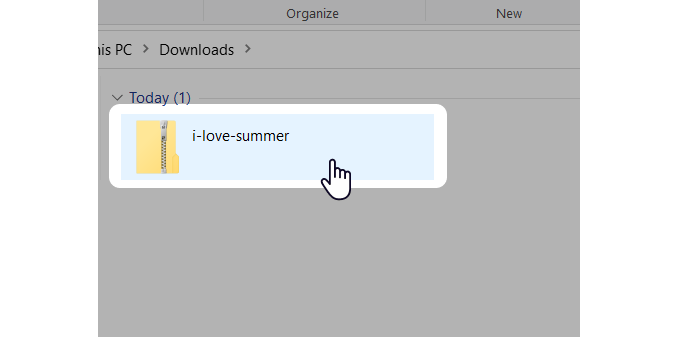 3. Extract and install the font
Locate the font file in the archive and double click to open Font Previewer.

Preview the font and if this is what you want, click Install on the panel above.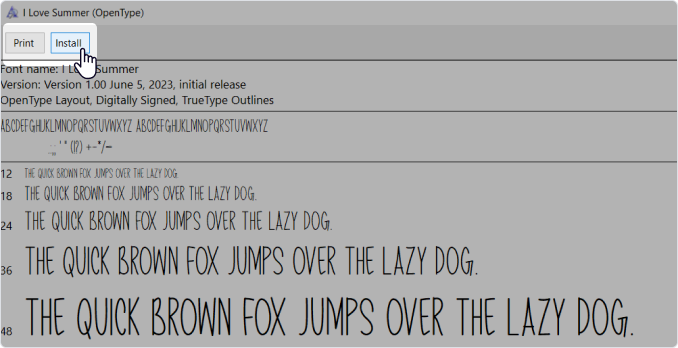 4. Go check in PowerPoint whether the font is installed
Close the Font Previewer window and proceed to your Office program (in our case, open a PowerPoint presentation). You should now find your new font listed among available fonts in the Font menu in PowerPoint.
FAQ
Here are a few more questions and answers to help you navigate issues with fonts confidently and find a workaround.
How to Send a PowerPoint with Custom Fonts?
To prepare your presentation to be sent, go to File in your PowerPoint, select Options, proceed to Save, and check Embed fonts in the file. For a more detailed walkthrough, feel free to refer to instructions in the article.
How do I fix fonts not available in PowerPoint?
If you are the recipient of the presentation and see that some fonts might have changed fr om the original version, do the following. Go to the Home tab in PowerPoint, navigate to the Editing group, mouse over the arrow near Replace and sel ect Replace fonts in the dropdown menu.

In the Replace font window, select the font to be replaced and the new font that will substitute it in the drop-down lists. Click Replace.
If you are the author of the presentation and you already have an embedded font, but it's still unavailable, try to do the following. While having your presentation open, go to the File tab, select Save as, type in your file name and choose PowerPoint XML Presentation. Click Save.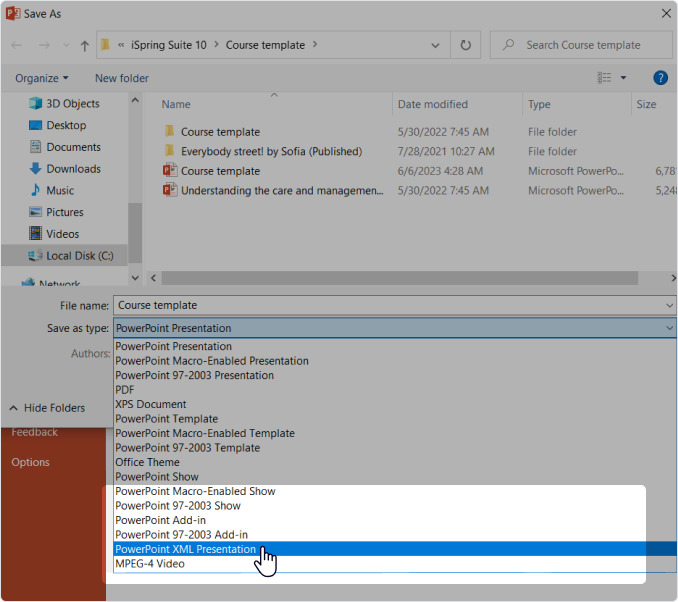 Locate your presentation in the XML format, click Open with and select Notepad. In the notepad menu, go to Edit, then select Replace. Type in the font name that causes issues and should be replaced, and select the available font to replace it with.
Save the presentation, close the Notepad and open the XML file with PowerPoint and check if the font has been changed successfully.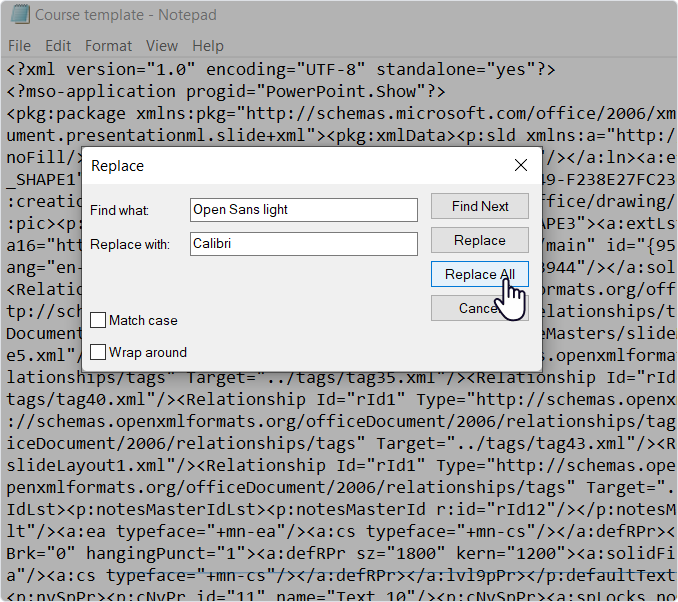 Please note that some commercial fonts are protected with DRM, have license restrictions, and are not available for embedding. You can check this out in the font file properties via the Details tab. In this case, please choose another font; there is no simple and legal workaround.
Also, some downloaded fonts might contain errors in the charset, so they will not be processed correctly either. This is a rare occasion though.
---
If you want to create beautiful online courses fr om your presentations and be sure that your creations will be displayed seamlessly on any device, try iSpring Suite.
iSpring Suite works based on PowerPoint and enables the fast transformation of regular PPT slides and PDF files into amazing courses and flipbooks. Deliver polished courses by using hundreds of pre-made templates and design assets – start your free
14-day trial
today!
Related Articles