Attractive and effective PowerPoints are usually pretty bulky in size and thus not very convenient to upload to the Internet, send via email or otherwise distribute.
Trying to make PowerPoint files as compact as possible, people compress photos on their slides or use numerous software tools for compressing presentations. This way they do indeed make presentations a little smaller, but they don't really make them any more ready for sharing and delivery. They will still remain good-old PowerPoint files that have to be downloaded in order to be played. And after they are finally downloaded and you are ready for the show to begin, they start giving you troubles: Incompatibility between PowerPoint versions, incorrectly rendered fonts, broken links to audio, video, tables, diagrams and other objects…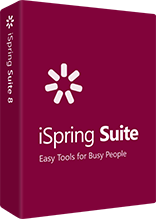 Fully-stocked eLearning authoring toolkit for PowerPoint. No training required to start!
There is a solution for the problem – convert your PowerPoint file to Flash. Your presentation will look exactly the same, but it will be much more compact and, more importantly, easy to deliver and web-ready.
iSpring Converter Pro, the premier PowerPoint-to-Flash authoring tool, uses iSpring AccuPoint technology, which ensures that all the media resources inserted in your slides are tightly compressed, but nonetheless look and sound just as crisp as they did in PowerPoint. Although it makes your presentation much smaller, iSpring still accurately re-creates all the PowerPoint animation and transition effects and makes them work in Flash just as beautifully as they did in PowerPoint.
Unlike many other PowerPoint-to-Flash converters, iSpring only creates a single .SWF file, which is a great advantage if you are going to share your presentation.
To use the compression features below, download a free trial of iSpring Converter Pro.
"Smart" Image Compression
"Smart" compression is a unique image compression technique. It optimizes the size of your presentation, while still striving to provide the highest quality of image content.

Images can be stored in Flash format with "Lossy"(JPEG) or "Lossless"(PNG) compression. "Lossy" is the most appropriate for photos and realistic images. This compression type allows decreasing the image size up to 10+ times with insignificant quality loss. If you're using diagrams, sketches, charts, or anything with crisp lines and/or shapes in your presentation, it's better to apply "Lossless" compression which converts images with the highest quality.
Since a presentation usually contains various types of images, iSpring offers "Smart" compression. This unique technique analyses each image, automatically determines its type and chooses the best way of saving it in Flash format. This helps to keep the quality high and the size small.
Audio and Video Compression
By default, iSpring preserves the original audio quality. You can set a lower bitrate for lower file size, but it will also affect the audio quality. (Obviously, a small change in bitrate will only be detectable to those with sensitive ears, but even a tin ear will notice a severe decrease in bitrate.)
Note: forcing a higher bitrate than the source file will not increase the quality of the audio, as the source file contains a given amount of digital information that cannot be supplemented ex nihilo.

iSpring sets 600 KBit/s for video in your presentation by default. If you want to publish your presentation to the Web, you may need to reduce the file size with minimal quality losses.

Compression Presets
With iSpring compression presets it's easy to save and quickly apply the same compression settings to similar projects. Plus, you can create up to 10 custom compression modes that will fit your personal requirements the best way.

Detaching Media Content
This feature (found on the Advanced tab) allows you to save audio, video or embedded Flash as an external attachment to the output Flash presentation. It improves the conversion of presentations with large Flash, audio and video attachments.

Any Flash file can contain no more than 65536 objects. This limitation was set by the creators of the Flash format and you may read more about it here. When converting a presentation with embedded video, the output Flash file may exceed the limitation. Saving multimedia files separately from your Flash presentation allows converting large presentations and results in higher quality of embedded resources and higher speed of conversion.
Try converting your PowerPoints to Flash with iSpring and learn for yourself what a great compression method it is. No more struggling with huge files and complicated compression software. Flash format is really the most compact and neat output for your PowerPoint creations.