August 10, 2020
How to Compress a PowerPoint Presentation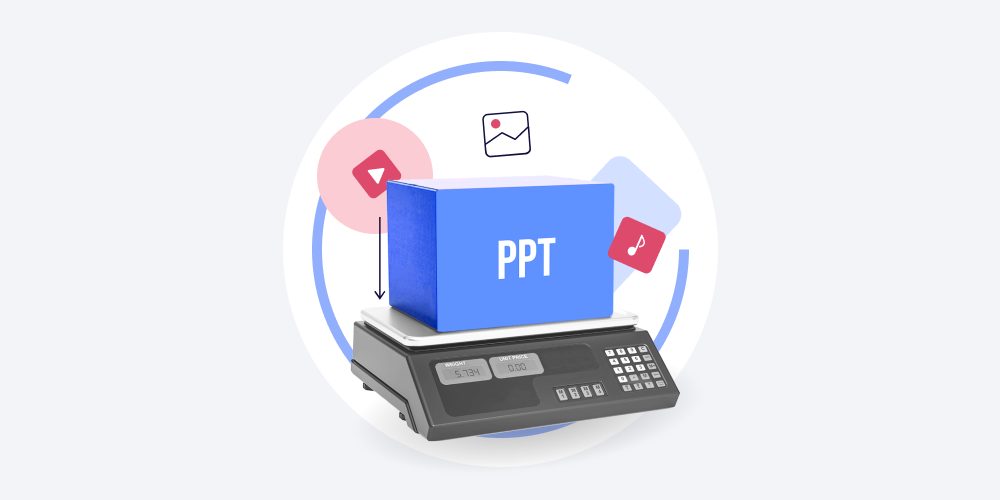 Audio, video, and pictures add interactivity to your presentations, but they also add a lot of weight, which makes it difficult to share.
In this article, we'll explain three ways to compress PPT files for the easy sharing and speedy playback of your presentation. Here are the ways to both compress your presentation with PowerPoint's built-in features and with a compression app that helps you preserve all animations and effects.
If you have many pictures in your file, the first method is to compress all pictures quickly across the entire presentation right in PowerPoint. The second way is to compress video and other media in your presentation, also with a built-in PowerPoint tool. And the third and final way is to simply convert your presentation to HTML5 file format to reduce the size of the file.
Image Compression
1. Open a slide that contains images and select the picture you want to compress.
2. In the Format tab, click on Compress Pictures.

3. In the pop-up window, you can specify compression settings. If you want to compress all pictures in the presentation, uncheck Apply only to this picture.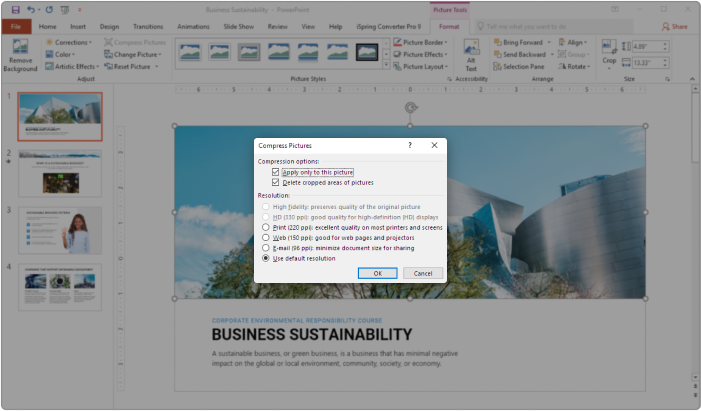 Multimedia Compression
1. Open the presentation that contains multimedia files that you need to compress.
2. Tap on File in the ribbon and select the Info tab. 

3. Select the Compress Media option.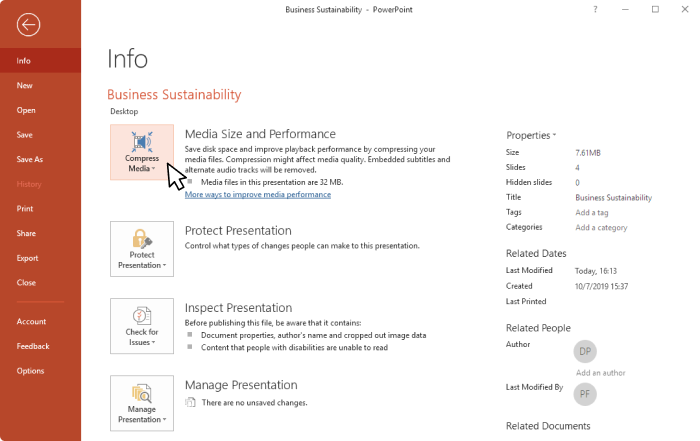 4. Here you can choose the size of the video and audio.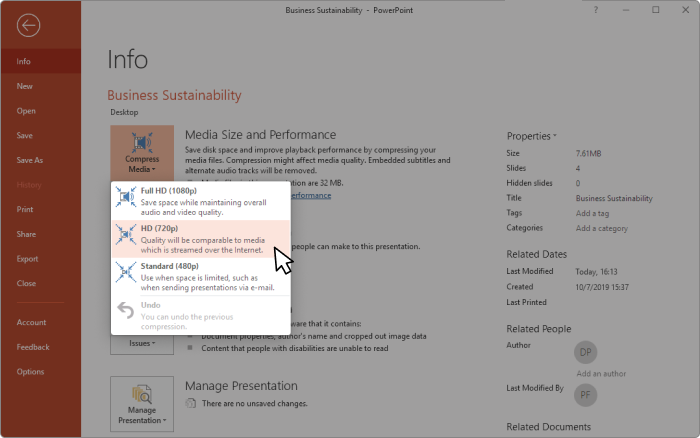 Note: These compression options are available in PowerPoint for Windows, but not in PowerPoint for Mac or PowerPoint for the web.
How to Compress PPT Presentation, While Preserving Its Quality
If you will share your presentation online, send via email, or otherwise distribute it, PowerPoint's built-in settings won't be sufficient. That's why we recommend that you convert the PowerPoint presentation to HTML5.
iSpring Converter Pro ensures that all the media resources included in your slides are tightly compressed but still look and sound just as crisp as they did in the original PowerPoint presentation. Despite making your presentation smaller, iSpring accurately re-creates all the animation and transition effects and makes them work in HTML5.
Unlike many other PowerPoint-to-HTML5 converters, iSpring creates a single .html file, which is a great advantage if you're going to share your presentation.
Here's how you can try out iSpring Converter and its compression features:
1. Download a free trial of iSpring Converter Pro and install it on your computer. When you open the app, it will appear like one more tab on your PowerPoint toolbar.

You can watch a video tutorial on how to convert a PowerPoint Presentation to HTML5 through file compression or skip to the article if you prefer reading.
2. Open your presentation and go to the iSpring Converter Pro tab. Click the Publish button.

3. In the My Computer tab, click For standard delivery next to Quality.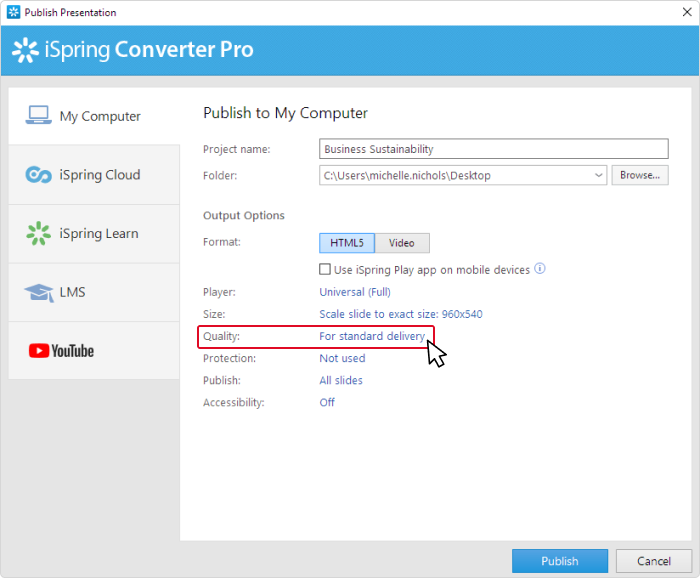 4. In the opened window, you can adjust the quality level for images, audio, and video. Note that the higher the quality of the media, the larger the size of the output files.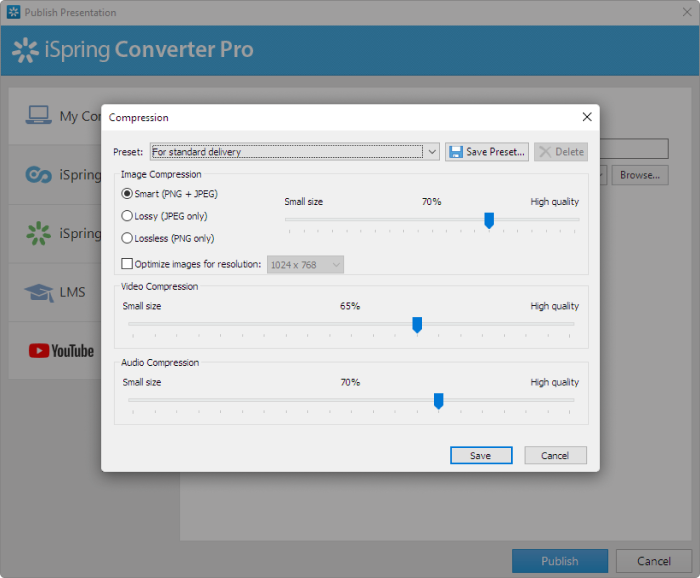 Compression Presets
With iSpring's compression presets, it's easy to save and quickly apply the same compression settings to similar projects. You can also configure your own quality settings and save them as a custom preset.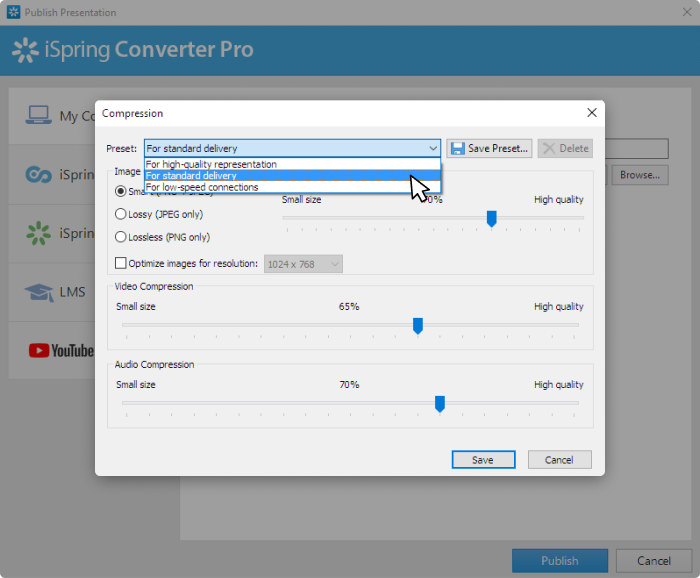 Image Compression
Images can be turned into HTML5 format with "Lossy" (JPEG only) or "Lossless"(PNG only) compression. "Lossy" is the most appropriate for photos and realistic images. This compression type allows a decrease in the image size up to 10+ times with insignificant quality loss. If you're using diagrams, sketches, charts, or anything with crisp lines and/or shapes in your presentation, it's better to apply "Lossless" compression, which converts images while maintaining the highest quality. 
Since a presentation usually contains various types of images, iSpring offers "Smart"  compression (JPEG and PNG). This unique option analyzes each image, automatically determines its type, and chooses the best way of saving it in HTML5 format. "Smart" compression optimizes the size of your presentation while still providing images of the highest quality.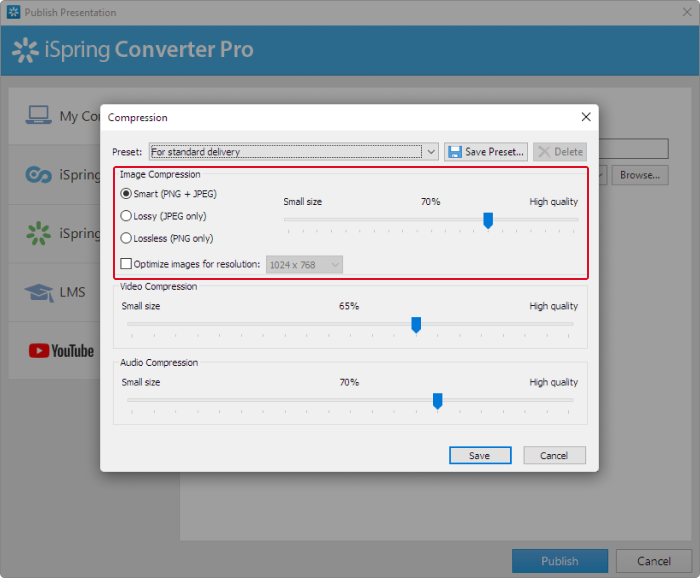 Audio Compression
iSpring preserves the original audio quality by default. You can set a lower bitrate for a lower file size, but it will also affect the quality of the audio. (Obviously, a small change in bitrate will only be detectable to those with sensitive ears, but even a tin ear will notice a large decrease in bitrate.) 
Note: Forcing a higher bitrate than the source file will not increase the quality of the audio, as the source file only contains a given amount of digital information.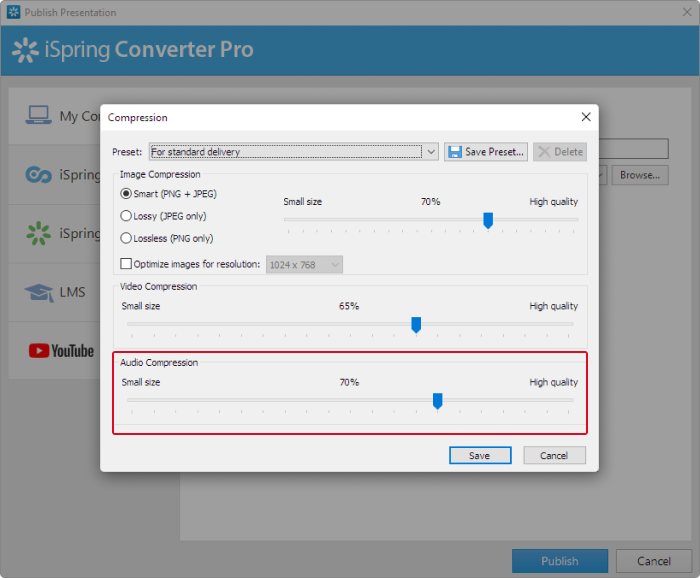 Video Compression
iSpring sets the 65 percent compression rate for video by default. You can set a lower bitrate for lower file size, but it will also affect the quality of the video.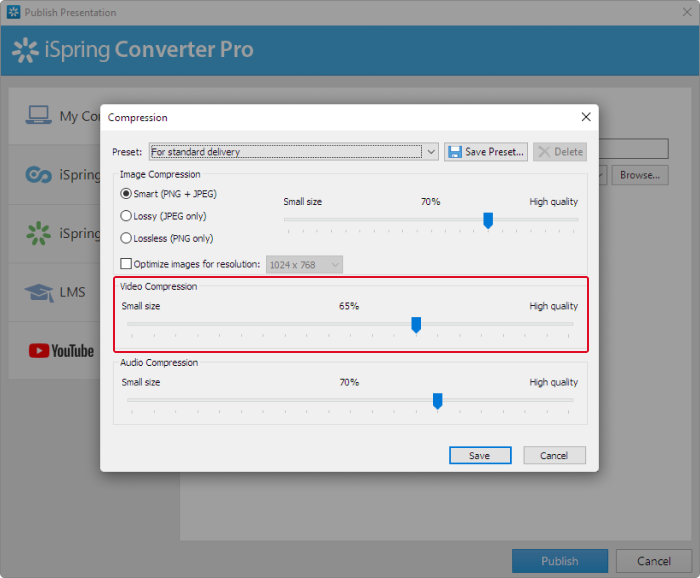 Don't forget to click on Save after you make the changes, choose the HTML5 format, and click on Publish.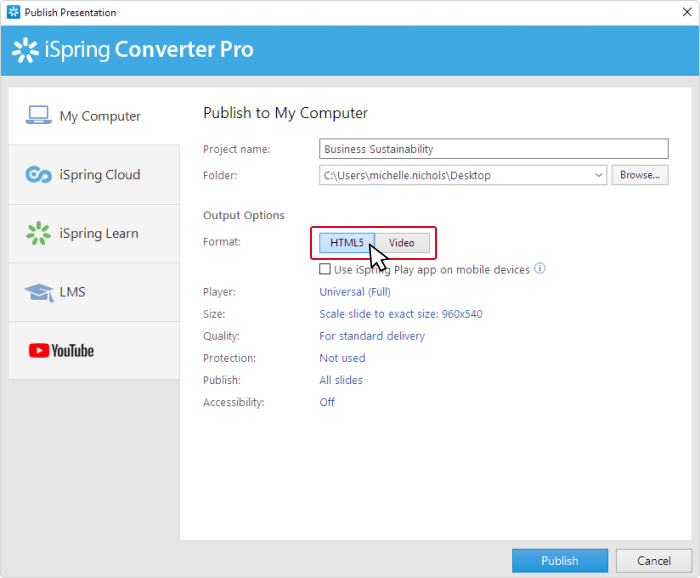 Your presentation is now compressed. It looks and sounds just as crisp as the original PowerPoint presentation and is ready for sharing and delivery.
Try converting your PowerPoint to HTML5 with iSpring. It's a really quick and easy way to compress PPT file. You don't have to struggle with huge files or complicated compression software. HTML5 format is the most compact and neat output for your PowerPoint slides.
Plus, iSpring Converter Pro is not just a PowerPoint-to-HTML5 tool. It's a robust authoring software that allows you to embed any video (e.g., from YouTube or Vimeo) into your slides. You can also set specific security settings for each presentation to protect your content from unauthorized access.
The HTML5 version of your presentation is mobile-ready and adapts to the screen size and orientation of any device.  The preview mode allows you to see exactly how your content will look to the viewer. You can enjoy full functionality iSpring Converter for free during the 14-day trial.
iSpring Converter
Convert presentations to HTML5 with all effects and transitions preserved