June 20, 2022
Top 6 Cameras for Recording Classroom Video Lectures and eLearning Courses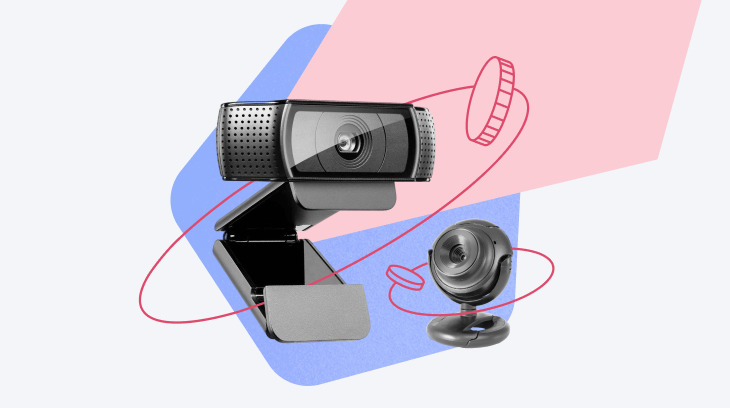 Thanks to the growing popularity of the e-Learning industry, video lectures are becoming available to more people around the world. Video lectures that feature speaking instructors provide better learning engagement than just plain slides.
In this article, we will review cameras (webcams and camcorders) for close-up filming of an instructor's head at an office desk, also called a talking head. Picking the right recording gear is the lion's share of the overall success in creating an effective video lecture.
Quick suggestion: Logitech HD Pro C920. It's all you need for capturing video narrations. If you want to learn more about your other options, such as camcorders, keep reading.
Camera types
There are several camera types that can be used for filming talking heads:
Built-in webcams
External webcams
Professional HD cameras
We are not going to look into professional TV/movie cameras because they cost thousands of dollars and won't improve the effectiveness of your video lectures. Your video should be clean and natural like it was shot at one of your lectures or presentations.
Built-in webcams
Most built-in webcams are good enough to make video calls, but maybe not as good for video lectures. Usually, these cameras are very compact, and so are their lenses. This sets a limit on the amount of light that can be captured and doesn't work well in low-light conditions.
Built-in cameras can be used in bright rooms, and produce average quality. If you are going to use a video-lecture layout with minimized video area, this might be the easiest option, and is also free!
Here is how the recorded talking head will appear in an iSpring Suite course on the sidebar:
External webcams
External webcams can give you better performance than tiny built-in cameras. They are widely used for webinars and video conferences, because they give better quality. Some webcams feature wide-angle lenses or dual microphones for live stereo sound.
An external webcam will do a great job of recording a talking head! If you are going to use a video-lecture player, which shows video on one side and lecture on the other, this will be the best choice for you. Plus, external webcams have drivers and settings to adjust resolution, frame rate, color, brightness, etc.
Especially for hi-res videos (720p, 1080p), we developed a player layout with an enlarged video area:
Good webcams under $60
There are many reviews and comparisons of these cameras with a bit more details on the Internet, but all of them strongly suggest Logitech. This awesome video review shows you the best sides of this camera, and you can see it in action:
Consumer camcorders
Portable video cameras, also called camcorders, are universal video capturing devices that can be used for virtually any kind of video recording task, including recording a talking head.
Camcorders run on a battery and save captured video to an internal storage (SD card). Many digital cameras can work as a webcam for live streaming, and come with webcam software (e.g., action camera GoPro). However, most camcorders are not capable of working in a webcam mode, so you won't be able to make calls and use it for conferences without special equipment and additional setup.
Many cameras in this category feature good lenses with optical zoom, great image quality, and tripod mounts, which are great for self-recording.
Canon VIXIA HF R52 — $299.00
Professional camcorders
These professional cameras fall into a different price range, usually costing 5-10 times more than consumer camcorders. With the same portability, they produce exceptional video quality and provide more connectivity options for plugging in external microphones and synchronizing with other equipment, such as lights, etc.
If you need a camera for recording just talking heads and nothing more, this is probably not the best choice for you. However, if you are planning to film interviews, events, or classroom lectures, this might be the best choice!
Here is what we use for ALL purposes at iSpring, including talking head recording:
Canon XA30 Professional Camcorder — $1,799.00
Genuine Canon 20x High Definition Optical Zoom Lens

Improved Low-light performance

Full HD 1920×1080 Recording Capabilities

Superb Image Reproduction
This camera should be used with a tripod or steadicam (avoid shooting with hands). Also, it has XLR inputs to plug in professional microphones, including condenser ones that require additional +48V power.
What other equipment will you need for recording lectures?
a PC or a laptop
a light kit
a tripod
Insert a Talking Head into your lecture
You can use any iSpring desktop authoring tool and utilize the Manage Narration feature to record a webcam or insert a video recorded by an external camcorder. Learn more in the User Manual or on our YouTube channel: