March 20, 2022
How To Build Learning Objects that Add Value to Your Courses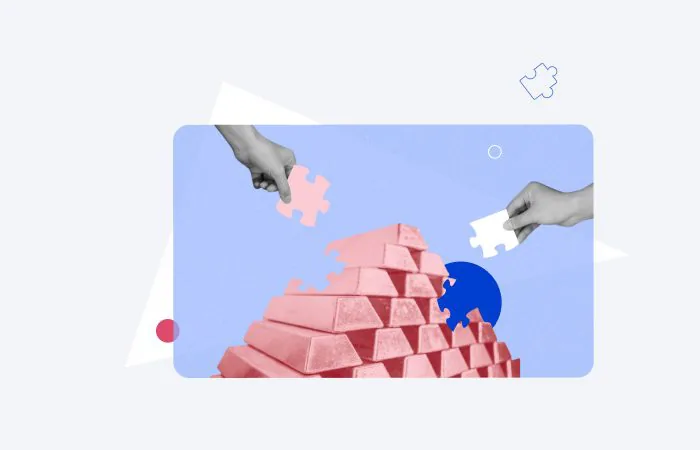 Would you like to make online training more cost- and time-effective? One way is to create and deploy learning objects (LOs). As a result, instead of starting from scratch every time, you'll be able to reuse parts of a training quickly and easily, customize learning according to the needs of an individual or specific group, and significantly reduce creation costs.
In this article, we'll tell you what a learning object is, provide some good examples of LOs, and explain in detail how learning objects can help you roll out results-driven courses faster.
What Is a Learning Object? 
Learning objects are content items or small pieces of educational content that can be delivered individually or grouped together to achieve a learning goal. To keep things clear for learners, they are often referred to as lessons or classes.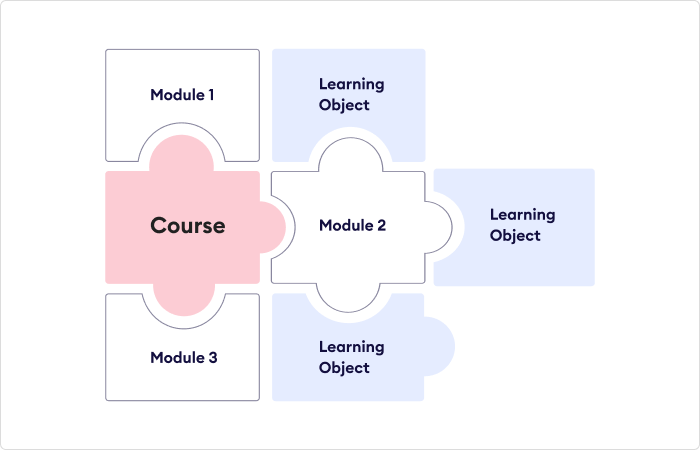 In other words, learning objects are microlessons that, when combined, make up a course module or an entire course. If we think of a course as a playlist, the learning objects are the songs that make up the list. 
Here's an example of learning objects that are parts of an eLearning course: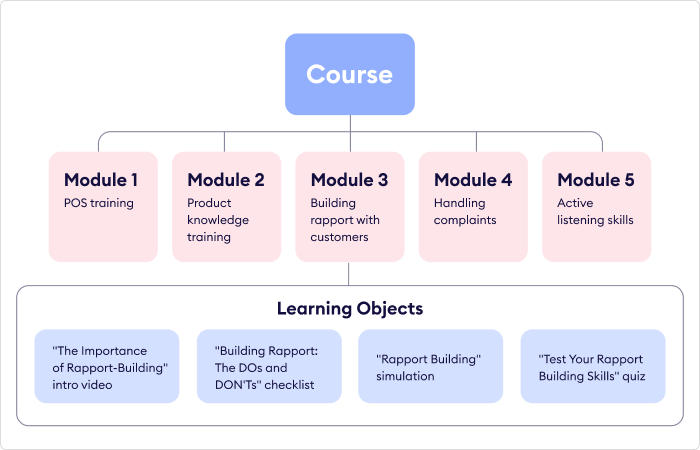 Why Use Learning Objects?
When pressed for time, learners tend to scan training material rather than read it word for word. And that's why long modules are ineffective – learners switch off. Breaking eLearning content down into smaller, more manageable learning objects that use a variety of learning mediums allows instructional designers to make content more effective.  
As an instructional designer, working with learning objects will also help you create a library of adaptable, multipurpose, and long-lasting eLearning content.
Examples of Learning Objects 
Learning objects are designed to be:
Instructional. They should have a single learning objective or be able to be combined with other LOs to deliver a learning objective.
Reusable. They should be designed to be a standalone or easily combined with other LOs to enable repackaging.
Interoperable. They should be created in a common format supported by different hardware, operating systems, and web browsers.
Extractable. They should be categorized and tagged with learning object metadata to be easily accessible.
To get some inspiration, let's see what kinds of learning objects can be used for training and have a look at the examples of LOs that meet these requirements. All of them were built with the iSpring Suite Max authoring toolkit. This is a one-stop shop, making dynamic learning objects that cater to a range of different learning styles. Here's what it offers: 
1. Engaging videos
Video is one of the best ways to engage learners and provide a lot of information in a short amount of time. With iSpring's in-built video studio, you can quickly create high-quality screencast tutorials and talking head videos. There is a wide range of features to personalize your videos by adding annotations, hints, freeze frames, and more.
For example, one of the best ways to train employees on how to use a CRM is by using a series of step-by-step screencast tutorials. Employees can watch as many times as they need to and pause the video at moments that require clarification. There's even a slow-motion option to allow the viewer to home in on more complex steps. 
Talking head videos are perfect for explaining theoretical topics in a simple, dynamic way, such as this learning object: "Sales Training: How to prepare for a call."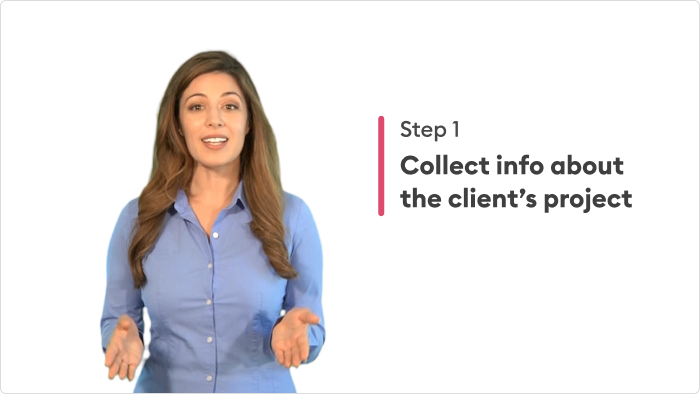 2. Online presentations
Sometimes, the simplest option is the most effective. Online presentations that use small paragraphs of text with images and short videos are an ideal way to introduce a topic, present important information, or review key messages.
Creating online presentations is quick, easy, and the results look great. iSpring Suite Max is integrated with PowerPoint, so you can create slides in the familiar interface and then turn them into an online format. The toolkit comes with a built-in image library and ready-to-use templates, so you can make high-quality learning objects in a matter of minutes. 
Take a look at this learning object, "How to start working from home," to see what an online presentation looks like and how it works: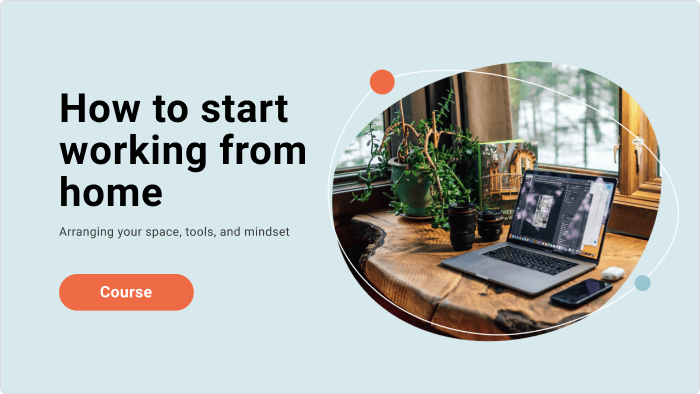 3. Dialogue simulations 
Dialogue simulations are excellent for teaching communication skills. As well as promoting practice, they use storytelling and context to encourage learners to interact with the eLearning content, think critically, and retain more information. 
With iSpring Suite, you can create branched scenarios complete with personalized feedback messages and dialogue voiceovers to bring your simulation to life. You can also use iSpring's handy point system to gamify the simulation and see how your learners perform.
This learning object is a great example of how dialogue simulations can inject more life into customer service training.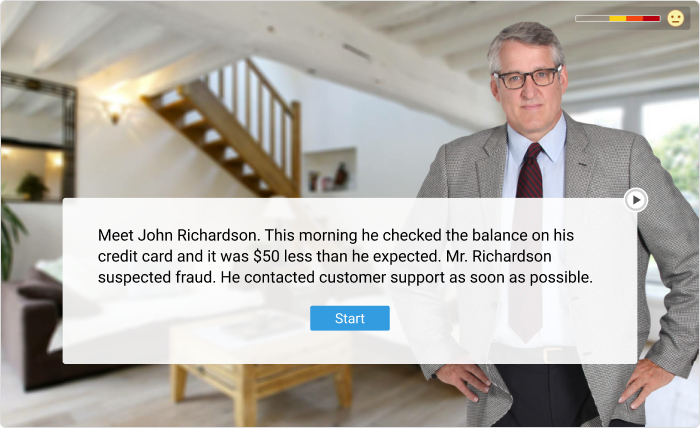 4. Interactive events
Interactive learning objects encourage learners to participate in the educational journey. When learners are active, they are more accountable for their training, engage with the content on a deeper level, and retain more information. As an author, you need to always seek creative ways to promote interactivity in your learning objects. 
iSpring Suite Max provides 12 interaction templates for creating timelines, FAQs, media catalogs, and more. Working with interactions is easy as pie: you just need to choose a suitable template and fill it with your text and images. 
This learning object unveils a fresh way to present product knowledge training. Rather than providing learners with a long list of products and their features, it encourages them to explore the images of each product, clicking to reveal important characteristics. This, in turn, helps the information stick in the learner's mind.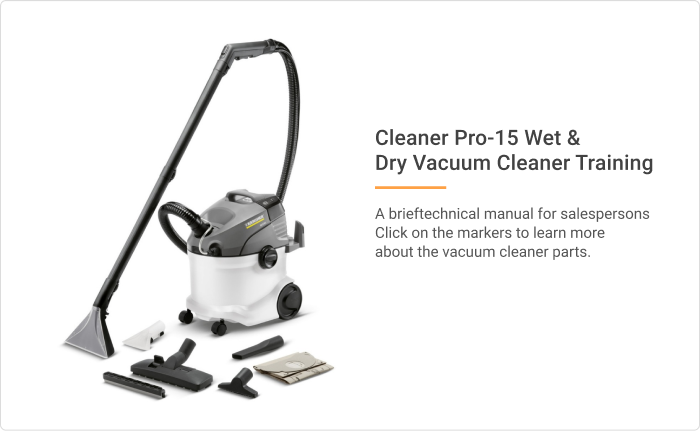 5. Online quizzes 
Quizzes are important eLearning tools because they allow learners to review what they've learned and give them a benchmark or an objective to aim for. Psychologically, learners are more likely to concentrate on the training content if they know they're going to be tested on it. Assessments also help L&D professionals, trainers, and HR teams monitor employee progress and performance. 
With iSpring Suite Max, you can create interactive quizzes with 14 question types, including multiple-choice, true or false, hotspots, sequences, and drag-and-drops. 
If you're looking for ways to add dynamic quizzes to your training, check out this fun first aid quiz. Not only is this learning object quick to make, but it's easy to adapt and reuse in other relevant courses.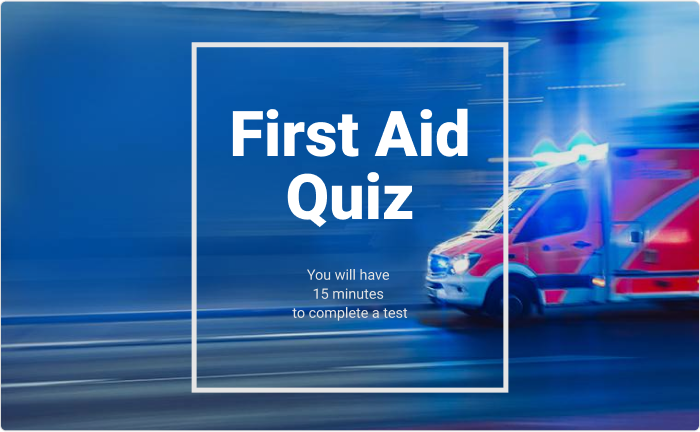 5 Key Components of a Learning Object
Now that you know what kinds of learning objects you can create, let's look at an LO in greater detail and see what components it might include. We'll take an online presentation as an example. 
1. Title
When choosing a title for your learning objects, opt for something meaningful, tangible, and catchy enough to grab learners' attention.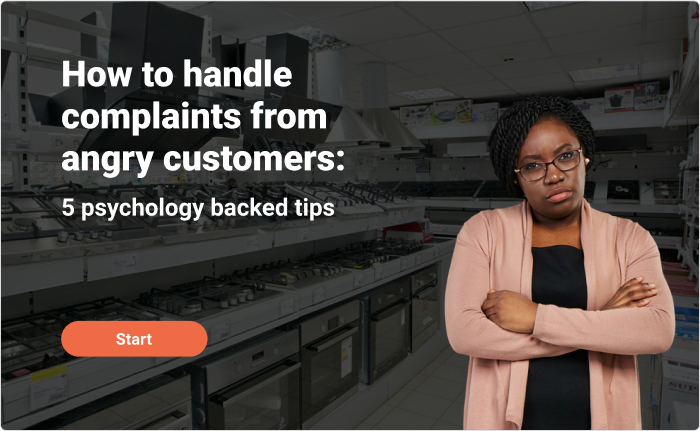 To learn more about how to create strong titles, read this article on writing a course. 
2. Subtitle
Subtitles give learners more information about what's in the learning object. Adding a short, succinct subtitle is a great way to let learners know what to expect.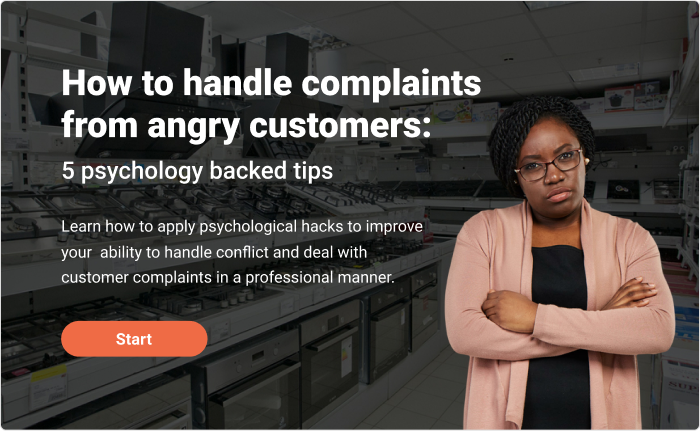 3. Learning objective
It's important that learners understand the 'how' and the 'why' behind each learning object. By including the learning goal, you are able to illustrate to learners what they will be able to do at the end of the learning object, and how this fits into the training as a whole. When they understand the context of how all the pieces of the puzzle fit together and what they're working towards, they will be more motivated while they carry out each learning object.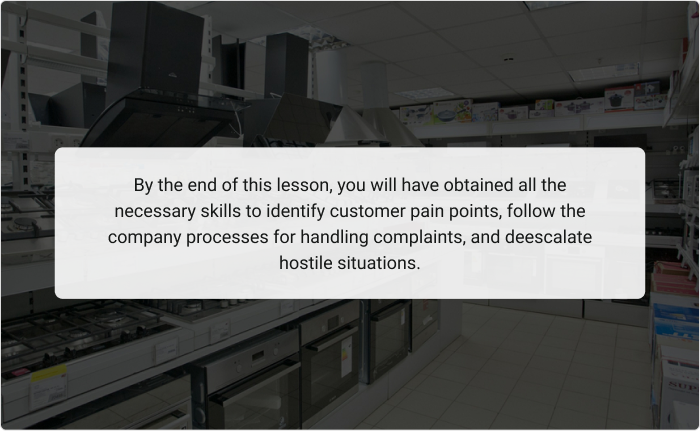 4. Instructional content
Depending on the type of LO, instructional content can be different: it can be the text for the presentation, the script of the dialogue, or quiz questions, supplemented by an expert's comments. The main point is that it meets the learning objective and provides really useful information for the learner. 
For our presentation, we've spread all the textual information out over several slides and combined it with supportive images: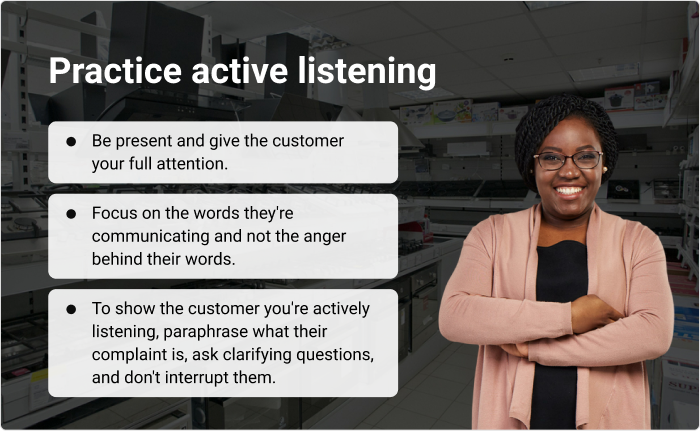 5. Learning object metadata
To deliver eLearning courses to employees, a lot of companies use a learning management system (LMS) that serves as a course repository and helps to manage the entire training process with ease. A single platform might store hundreds and even thousands of learning objects. So, in order for trainers and LMS administrators to be able to find the content they need easily, each LO should have its own metadata. This makes it easy to retrieve a specific learning object for use in a different course or to perform updates.
A common example of metadata would be the date, language, or code assigned to the learning object. Once an LMS admin or a trainer uploads a course to the platform, they need to write the metadata for it.
Also read: 
Final Thoughts
Learning objects can come from a wide range of resources, like online repositories, but learners tend to respond better to bespoke learning content. By creating your own learning objects, you can customize your content to suit your target audience, update the content easily, and make sure that each learning object is relevant to the learning goal. 
So, would you like to create compelling learning objects with a minimum of time, money, and effort? Then get our free 30-day trial of the iSpring Suite Max authoring toolkit.