October 6, 2022
iSpring Suite vs. Adobe Captivate: A Comprehensive Comparison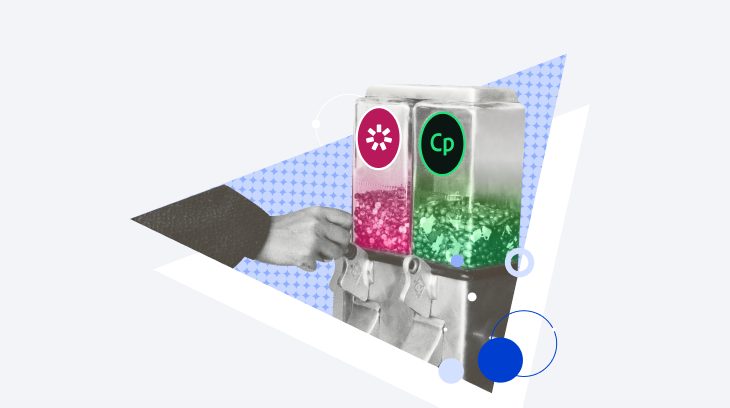 iSpring Suite and Adobe Captivate are authoring tools designed for creating eLearning content. While they have some overlapping features, they are vastly different when it comes to what kind of content you can create and how easy it is to use their functionalities.
In this article, we'll talk about iSpring Suite and Adobe Captivate to explain their main differences and see in which areas they are effective, so you can make the best choice.
Adobe Captivate Review
Type: Desktop
Platform: Windows / Mac
Supported formats: SCORM (1.2, 2004), AICC, xAPI
Pricing: $33.99/month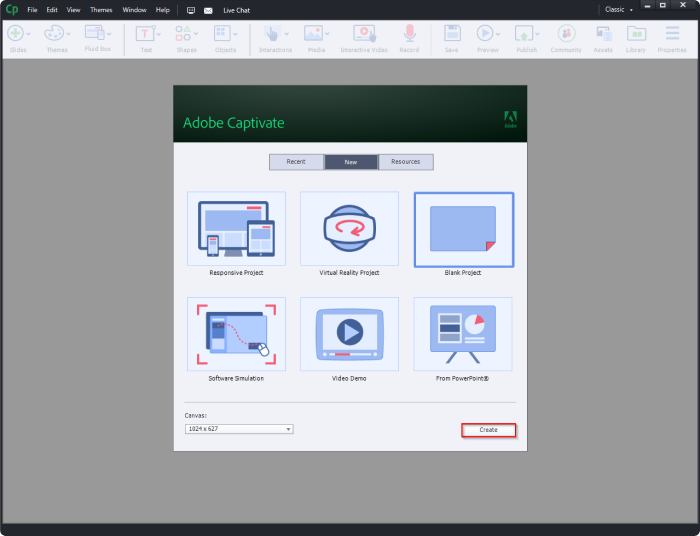 Initially developed as a screen capture application, Adobe Captivate has evolved into authoring software with plenty of robust features and can be used to create high-quality learning courses. Unlike most of its alternatives, it provides great customization options. With the "advanced actions" feature, instructional designers can control how different items interact with each other and how learners can interact with those items. For instance, you can ask learners to enter their date of birth at the beginning of a course and then display content based on their age group.
Adobe Captivate also boasts some unique features like a VR content builder and the Adobe PhoneGap tool that can export your course to a mobile app for iOS/Android. But despite its powerful features, the software has a traditional linear style design that can prove to be a hurdle.
Key features
Extensive variables and branching allow creative customization
Advanced Actions allows building unique learning interactions with a degree of programming skills
Includes a dedicated software simulation tool
Supports 360 images and videos, allowing the creation of VR eLearning
The Fluid Boxes tool lets you control how your courses will look on mobile devices, down to the smallest detail
The Responsive Project feature can be used to create truly responsive slide-based content
You can publish courses as iOS/Android apps
Provides access to an asset store with ready-to-go-slides and Adobe Stock images
Pros based on user reviews on G2
The best tool for creating something that isn't standard
Whether you want to use animation, voice-over, quizzes, or build in logic, Captivate can do it all
It provides a decent amount of functionality for tech-savvy users who want to incorporate responsive web objects and JavaScript into their projects
It allows you to create VR projects and import 360-degree media assets
There are various output options
It can be used for non-simulation courseware, such as soft skills
There are lots of enhancements in the template choices
Cons based on user reviews on G2
The software's UI is very bland and confusing sometimes; if you're a newbie, it might make you feel lost
Users need a lot of time to grasp and learn all the features
Creating responsive modules is not intuitive
It crashes a lot, and the backup process doesn't always work
Advanced trigger and logic features are overly complicated
Support for the product is limited
Note: All the reviews were taken from G2.
iSpring Suite Review
Type: Desktop and web-based
Platform: Windows
Supported formats: SCORM (1.2, 2004), AICC, xAPI, cmi5
Pricing: $770 or $970/per author (Annual license)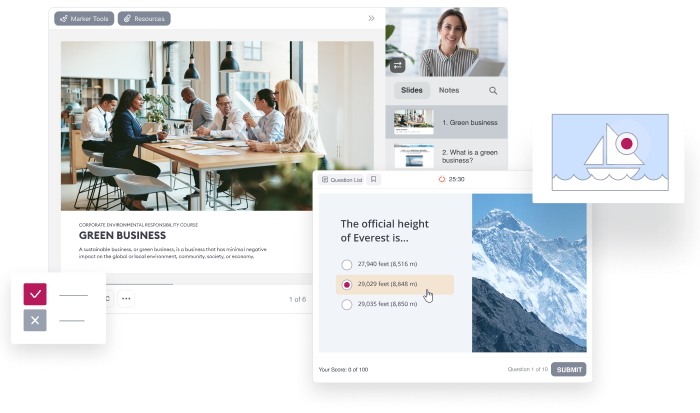 While some tools like Adobe's are "feature creatures" that offer bloated functionality at the expense of being accessible to new users, other products strive to make it easier for newbies to create professional-looking content. iSpring Suite is in the latter category as it doesn't require months of training before you can launch your first learning course. Initial training only takes about 2-3 hours, after which you will be up and creating.
iSpring Suite is designed to create eLearning content quickly and easily. It is integrated into PowerPoint, so you can turn existing presentations into online courses in a couple of clicks. Besides, this integration means that those who have made PPT slides in the past will be able to start authoring instantly.
With iSpring, you can create eLearning courses with interactive quizzes, role-play simulations, videos, and interactions. The iSpring Suite Max package also comes with Content Library, which includes over 89,000 eLearning assets and slide templates, and iSpring Space, an online service for collaborating on content and building basic courses and quizzes right in a browser.
Fully-stocked eLearning authoring toolkit for PowerPoint. No training required to start!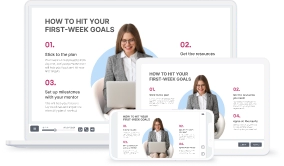 Key features
Integrates perfectly with PowerPoint, supporting all animations and triggers
Provides a high-quality content library with thousands of visual assets, from slide templates to characters and backgrounds in HD
Has a built-in role-play simulation tool that can help your trainees boost their verbal skills (content sample)
Provides a great learning experience on any desktop or mobile device, thanks to state-of-the-art HTML5 optimization
Published courses are Section-508 and WCAG 2.0 compatible and are suited for those with disabilities
There are great capabilities for course player customization, so you can tailor content to your brand
Has XLIFF translation support for fast course localization
Has an online space for storing, sharing and collaborating on the content, as well as a web-based tool for creating basic courses and quizzes
Pros based on user reviews on G2
The most user-friendly eLearning authoring tool
Easily converts PowerPoint slides, with additional interactions, into a full eLearning module that publishes very quickly
There are so many functions and abilities that it makes each course unique – the end product is efficient and engaging for the user
Nice selection of question types
Provides access to creating SCORM content in an easy, approachable way
The ability to output different formats, allowing interaction across other LMSs (learning management systems)
Tech support is extremely helpful and quick
There are many resources online that help you to learn everything quickly
No lags or bugs slowing the process: very smooth
Cons based on user reviews on G2
Not available for Mac
Quite expensive
There are some plug-in conflicts with some plug-ins
The system itself could be smoother in terms of publishing and preview time
Some of the more advanced processes are not immediately evident
Note: All the reviews were taken from G2.
Adobe Captivate vs. iSpring Suite: Feature Comparison
Check out this comprehensive feature list to see how both tools compare head to head:
Adobe Captivate
iSpring Suite (the Max package)
Audio and video narration recording
+
+
Screen capture and webcam recording
+
+
Advanced video editing tool
+
+
Chroma key effects for video
+
–
Content Library with visual assets (design templates, characters, backgrounds, etc.)
+
+
Access to a stock library with images, video and audio
+
–
PDF/PPT/DOCX to SCORM converter
–
+
Software simulation tool
+
–
Learning interaction types
12
14
Quiz question types
7
12
Survey question types
8
14
Supports drag-and-drop quiz questions
–
+
Role-play simulation tool
–
+
Allows the creation of HTML5 content that can be viewed on all modern devices
+
+
Cloud-based storage for projects, allowing easy online sharing of your content and collaboration with colleagues
–
+
Importing PowerPoint presentations
+
+
Supports all PowerPoint animations, triggers, and slide transitions
–
+
OS support
Windows/Mac
Windows
Price (per author)
$33.99/month ($407.88/year)
$970/year
What's included with the subscription

Adobe Captivate
Access to the content library and Adobe Stock
Technical support
All updates

iSpring Suite
Access to the content library
iSpring Cloud (online storage for review and collaboration)
Live priority support via phone and chat
All updates
Overall User Review Ratings from G2
| | | |
| --- | --- | --- |
| | Adobe Captivate | iSpring Suite |
| Meets requirements | 8.2 | 9.0 |
| Ease of use | 6.7 | 9.2 |
| Ease of setup | 7.6 | 9.4 |
| Ease of administration | 7.6 | 9.3 |
| Quality of support | 6.7 | 9.7 |
| Has the product been a good partner in doing business? | 7.1 | 9.6 |
| Product direction (% positive) | 6.8 | 9.0 |
Adobe Captivate vs. iSpring Suite: Which Is the Right Fit for You?
Adobe Captivate and iSpring Suite are both designed for creating eLearning content. However, as you can see, they differ in their functionality and learning curve. So, for your ease, we have listed certain cases in which using one or another tool would be better.
Choose Captivate if you
Are an experienced instructional designer that tends to program your own learning interactions rather than using a library of built-in ones
Need to be able to create assessments based on software simulations
Need the ability to use 360° images/video in your courses and create VR interactions
Favor iSpring Suite over Adobe Captivate if you
Need an easy to use, yet powerful, eLearning tool that can help you produce good-quality content in days, not months
Have an instructional designer on your team that doesn't have previous experience with authoring software, so you'd rather choose a shorter learning curve over greater technical complexity
Need to be sure that all your content loads fast and plays extremely well on any device possible, not just on a desktop
Need a tool that supports Section 508 and WCAG 2.0 but doesn't require you to create a separate version of your course to make it compliant; able to rearrange the content, be it slides, quiz or interaction, to make them accessible for people with disabilities in one click
Have an LMS and want to be sure that your content works like clockwork and reports statistics correctly 100% of the time
Are planning to work on the content together with your team
Also read: Adobe Captivate vs Articulate Storyline 3 vs iSpring Suite: A Feature Comparison
Do you want to see iSpring Suite in action and see for yourself what rich functionality it has and how easy it is to use? Then get a free 14-day trial right away.