November 9, 2022
Adobe Captivate vs. Camtasia vs. iSpring Suite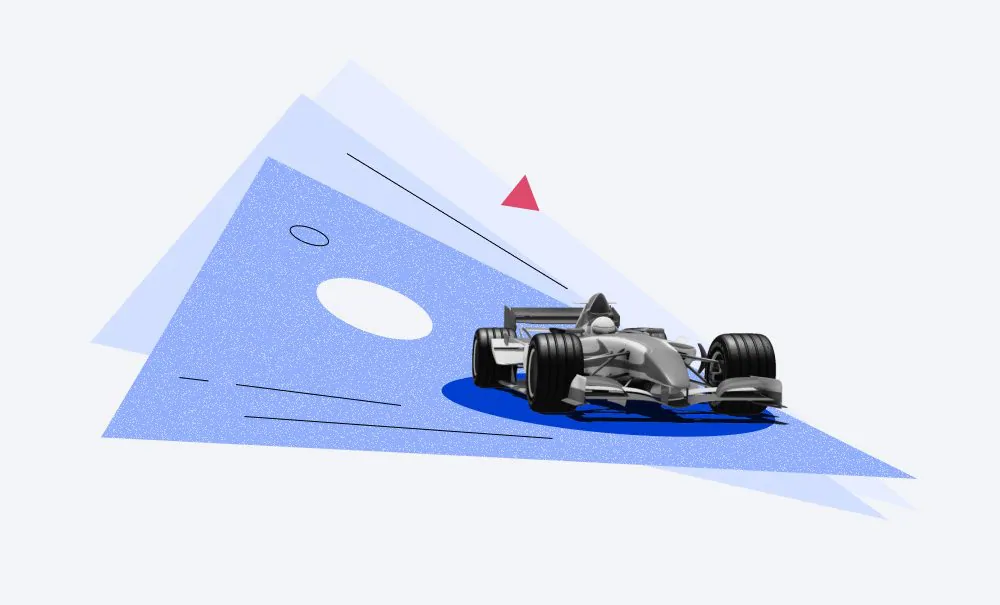 In our rapidly changing global reality it's important to stay ahead of the curve. From small businesses to large organizations, eLearning programs have become a valuable tool that can lower costs and increase a company's profitability. 
Do you already know how to create an online eLearning course or are you just starting out? Are you developing a learning program to onboard new employees or provide continuous training? In order to ensure that you're getting the most from your corporate training sessions and providing engaging, effective, and high-quality courses, you'll need to decipher which eLearning authoring tool is best suited to your needs.
The eLearning market is constantly inundated with new tools to help you deliver rewarding learning experiences. So, with all the available options, how do you choose? In this article, we will compare and contrast the three most popular eLearning authoring tools:
Camtasia vs. Adobe Captivate vs. iSpring Suite: A Comparison Chart
Authoring tools comparison chart
 
Adobe Captivate
Camtasia
iSpring Suite
Main Advantages

Create interactive videos
Publish courses as IOS/Android apps
Create software simulations
Program advanced actions to create unique interactions 
Create virtual reality demonstrations

Create professional-quality videos
Powerful video editing capabilities
Picture-in-picture capabilities
Create and edit voice narrations
Add interactive quizzes/surveys along the timeline

The quiz maker tool provides 14 interactive question types
Professional built-in video studio 
Create role-plays
Turns PPTs, PDFs, and Word docs, into online courses in a couple of clicks
Provides a quality content library with thousands of visual assets
Equipped with online team collaboration tools
Online course builder for fast authoring

Ease of Use
Steep learning curve, which might take new users more time to overcome.
Intuitive and user-friendly interface, which is great for first-time users.
High-performing, easy-to-use, intuitive interface that is great for beginners and professionals.
Pricing

$33.99/month subscription 
$1,299 perpetual license

$299/user (one-time fee, single license)

$770/author per year for iSpring Suite
$970/author per year for iSpring Suite Max
Adobe Captivate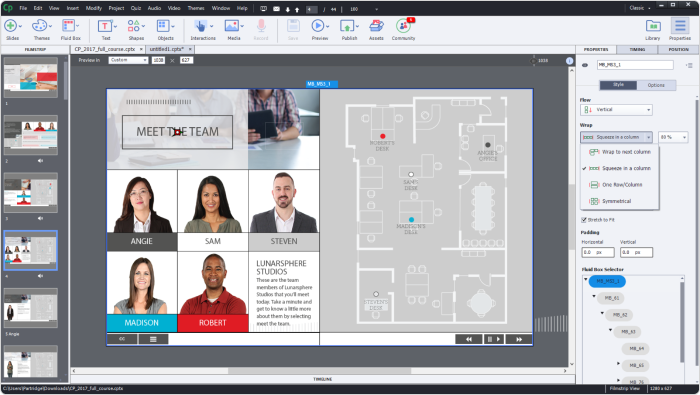 Adobe Captivate is an eLearning authoring tool that's great for creating virtually any kind of course, albeit with a moderate degree of technical know-how. You have the option of building courses that encompass one or more graphics, slides, and multimedia. Courses designed with Captivate are mobile-responsive, but you need to configure so-called "fluid boxes" that create sensible mobile versions and give you total control over the look and feel of your content on various kinds of devices.
Regardless of your business' unique needs, any authoring tool worth its salt will enable you to have a wide degree of interactivity. Adobe Captivate's interactive feature set includes interactive quizzes such as multiple-choice, sequence, and matching. Moreover, Captivate's interactive graphics include your standard click-to-reveals, drag-and-drops, and step-by-step process interactions. 
As for its video and screen share editing capabilities, you have a relatively limited array of customization options. This can be problematic if you're looking to rely on native interactions versus customizing and/or coding your own. 
Speaking of customization and coding, what truly sets Captivate apart from its top-tier competitors is its "advanced actions" script editor. While this feature does necessitate some programming knowledge, it unlocks virtually every possibility when it comes to object behaviors and interactivity. Ultimately, an event (e.g., a mouse click) on an interactive object occurs that triggers a defined set of actions. 
Captivate's script editor allows you to create and run multiple actions on one or more objects in sequence, or execute Javascript commands, thereby enabling an infinite amount of options. For example, when a user clicks an object, a rocket will take off. Moreover, you can trigger a defined set of actions based on variables and whether pre-determined conditions are met. For example, if a user enters the correct login credentials, they will be taken to a "welcome" slide. And if incorrect, they will be taken to a "try again" slide.
With Captivate's advanced actions, you are fully in control of how objects behave on the screen, which can make for a highly engaging user experience. But when you couple this interactivity with Captivate's Virtual Reality capabilities, you can really create an immersive experience. With the use of 3D images, you can create virtual reality projects that are viewable on VR headsets, add interactive question slides, and create or edit clickable hotspots. This is particularly handy when you need to create realistic role-play scenarios (e.g., safely navigating a hazardous worksite). 
And if you're looking to deliver your online training as an Android or IOS phone application, then Captivate also makes this a relatively simple process via its PhoneGap tool. In essence, Adobe Captivate's specialty lies in giving eLearning developers the power to develop online courses of the highest technological sophistication.  
Who is it for?
While Adobe Captivate has a large functionality base, it also has a steep learning curve that can be overwhelming. Out of the three platforms, Adobe Captivate is the most complex and tedious to use. This is because the native interactions are limiting, outdated, and buggy. To get the most out of the program, it is better suited to companies that have Learning and Development (L&D) teams in place. They're the ones who'll know how to capitalize on Captivate's full suite of features. 
For example, if you're creating safety drills, first responder training scenarios, or would like your learners to take virtual tours of worksites, then an L&D professional would be best equipped to navigate Captivate's virtual reality tool. That being said, these near real-life scenarios make for a powerful and immersive experience. 
Pricing
A single subscription for individuals costs $33.99 per month. There's also a plan for teams, but you need to contact the vendor for the price.
Camtasia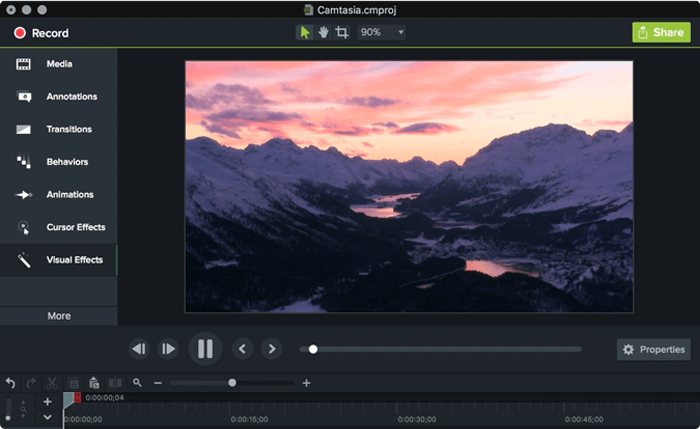 Camtasia was designed by Techsmith primarily for creating video screencasts and software demonstrations. And while Captivate also has these features, it's more of an add-on than being central to it. The video and video-editing tools in Captivate are thus basic and limiting for high-quality videography. 
In contrast, Camtasia is both a powerful and easy-to-use program, but not in the realm of creating interactive slides as with Captivate. This is the way to go if your training program is most conducive to video-based learning.  
Camtasia's comprehensive screen capturing capabilities include a picture-in-picture option, which is great for screen shares. Let's say your company needs to train employees on navigating a new software program. Having a smaller talking-head frame within the main video frame/screen capture adds a personal element that engages learners further. Moreover, its voice narration feature allows you to manually add and edit audio recordings even after your recordings are complete. But if you're keen to get off the ground, you can take advantage of Camtasia's library of royalty-free music and sound effects. And, of course, you can add captions and slide notes to guide your narration.
Despite all this functionality, Camtasia's interface entails a simple and intuitive drag-and-drop tool. Simply select from a long list of visual effects such as colorize or color adjustment, which allows you to add color correction and grading to your video, respectively. Also, take advantage of Camtasia's premade animations, such as zooming and panning, to direct your learners' focus and enhance engagement. 
When people think of video recording software, they imagine creating videos that provide a passive learning experience. Few video production software programs enable you to incorporate interactivity into videos. But Camtasia offers interactive quizzes via hotspots and overlays. You can test trainee knowledge with multiple-choice, fill-in-the-blank, short-answer, or true/false questions. Camtasia can then automatically assign scores and send the results to an LMS. 
Finally, because the tool comes with an impressive selection of pre-built templates, themes, and packages, as well as ultimate customizability, video courses created in Camtasia can be effortlessly tailored to your needs.
All in all, while Camtasia allows you to record and edit videos, and even boasts advanced video production features, it is relatively limited with regard to building a full-fledged online training program. 
Who is it for?
Camtasia is a straightforward and user-friendly video-editing software. It therefore appeals to a wide array of training professionals and course developers. That being said, it's particularly useful for businesses that are looking to make strictly video-based courses. So, you'll really need to think long and hard about whether this is the direction you'll want to take in the foreseeable future. 
Furthermore, because a video tutorial requires your full attention, as you could miss key aspects at any point, it's common practice to keep videos on the shorter side. Microlearning courses accomplish this by delivering content in highly focused, highly practical, bite-sized chunks. So, if you want to create a full-fledged course that's more abstract or theoretical in nature, or one that requires a high volume of content, then Camtasia's video-based nature would be a no-no for any instructional designer.
Pricing
Camtasia offers an individual lifetime license at a cost of $359.99 per user/year. One year of maintenance is included.
iSpring Suite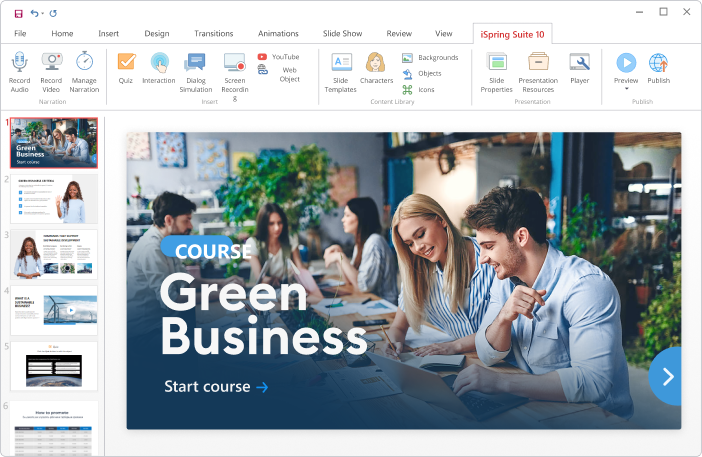 Now is an appropriate time to introduce you to iSpring Suite Max, whose features and functions lie at the intersection of both Adobe Captivate and Camtasia. But, in terms of its purpose, iSpring is much closer to Captivate than Camtasia. Like Captivate, it enables you to create full-fledged mobile-responsive courses. 
The core of what makes iSpring Suite a unique and optimal eLearning tool is that it's powered by the PowerPoint interface. So, if you're among the many who have used PowerPoint, then there's practically no learning curve. PowerPoint's inherently intuitive interface is preserved, as iSpring is simply added as a new tab in the PowerPoint ribbon. 
Under this tab, you have access to everything you need to transform your PPT presentations into powerful interactive learning. For example, you can add interactive quiz slides to your slide-based courses. And you can even create captivating training with sophisticated features like role-play simulations – all without the need for sophisticated technical abilities. iSpring does all the heavy lifting for you. 
Whether you're starting anew or converting old PowerPoint presentations, the process is painless. Therefore, all three programs are capable of converting pre-existing training programs, but iSpring makes this process the most seamless. With iSpring, all that's left to do is add a screencast, narration, and quizzes to your PowerPoints, and you're off to the races.
When it comes to recording audio and video with iSpring, its capabilities lie above those of Captivate but below those of Camtasia. As with Camtasia, it has a screen recorder and enables you to create video presentations, video lectures, and picture-in-picture video tutorials with ease. Also, as with Camtasia, iSpring features a narration editor, allowing you to add sound and voice clips once you've finished recording. But like Captivate, iSpring's video-editing features are narrower in scope to accommodate a wide host of other features and functions. 
Regarding quizzes, iSpring offers 14 interactive quiz question types, all of which you can designate as graded or not graded. You can even set up remediation to enable learners to view info slides before reattempting incorrect answers. But even though Captivate and iSpring largely overlap in the quiz and interaction department, iSpring makes this process much more intuitive. 
While Captivate could put more effort into the look and feel of its interactive graphics, most Captivate users are savvy enough and prefer creating powerful custom interactions from scratch. However, in iSpring, you can't issue commands or write code to create click-to-reveal or custom object behaviors. Instead, it provides a wide selection of modern, sleek, and professionally designed native interactions like diagrams, timelines, and media cards. The only thing you need to do is fill an interaction template with text and images. 
Plus, these ready-made templates can be easily modified to align with your corporate style! On a similar note, if you're creating a course for a team of 500+ employees, you're going to need to divide tasks according to their respective roles. Larger organizations will need to make a more concerted effort when planning and developing their training programs. Thankfully, the iSpring Suite Max package includes an online collaboration tool called iSpring Space to keep your L&D team moving forward. 
For example, your writers can upload text to slides or share scripts with voiceover artist(s), while your graphic designers comb through the content, creating and adding images to your courses. iSpring Space also comes in particularly handy when going through iterations of reviews. Reviewers/stakeholders can provide feedback right in the course, right at the point of relevance! This makes for a substantially more efficient course development process. 
And besides the desktop authoring toolkit, iSpring Suite Max includes an online course builder that allows you to create courses right in a browser. You can do this the same way you write a post on social media or in a note-taking app – you simply need to type in (or copy) texts and add images and video.
And of course, all iSpring courses are mobile-responsive. But instead of tinkering about with fluid boxes as in Captivate, iSpring automatically adapts your content to different devices/screen sizes for you.  
Who is it for?
iSpring Suite is great for instructional designers, educational institutions, and L&D professionals who'd like to deliver full-fledged eLearning courses in various multimedia formats. As such, the features in Captivate vs iSpring Suite are comparable. But with iSpring, even if you have very basic technological proficiency, users have more than what's needed to develop attractive, sophisticated, and immersive eLearning. Moreover, iSpring provides an online collaboration tool that is unparalleled in utility for larger organizations that need to coordinate their development team efficiently.
Captivate's value is placed on course complexity – its ability to create custom interactions using the platform's presets or one's coding knowledge. As such, Captivate projects tend to be longer term and tedious. However, iSpring is designed to provide both value and simplicity. Therefore, if you're looking to create a full-fledged, mobile responsive course where most of the legwork is done for you, and you'd like to do so expediently, then iSpring will help you do so in a minimum of time, with negligible hassle.
Pricing
iSpring Solutions offers two pricing plans:
iSpring Suite is an affordable option at $770 per author per year. Only the desktop authoring tool is included. 
iSpring Suite Max is priced at $970 per author per year. It comes with additional features like 24/7 technical support, a vast content library with over 89,000 assets, and online collaboration tools.
There's also special pricing for freelancers. They can get it for $490 (basic plan) and $690 (iSpring Suite Max).
Don't make any hasty decisions. Try iSpring Suite, credit-card and commitment-free! 
FAQ
We've gathered the most frequently asked questions regarding eLearning content authoring tools. 
How can you choose the right authoring tool?
With the abundance of eLearning solutions in the market, there's a range of factors you must keep in mind when selecting a tool. Here are the two crucial ones:
It should fit your training needs. For example, if you're going to create video courses, opt for a product that allows you to make professional videos, such as Camtasia. If you're planning to build versatile learning content, choose an all-in-one authoring toolkit like iSpring Suite.
Consider your content authoring experience. If you're a novice course developer and would like to start creating professional eLearning content in no time, choose an easy-to-use solution with almost no learning curve. 
Which one should you choose for building online courses – Adobe Captivate or iSpring Suite?
It all depends on what kind of courses you're going to create and what tech skills you have. If you'd like to produce advanced courses with VR simulations or highly customizable content with complex interactions and you have coding skills, Adobe Captivate will be a perfect fit for you. 
But if you're not so tech-savvy and don't need all of these so-called bells and whistles, opt for iSpring Suite. It will let you create professional-looking courses with quizzes, role-plays, and interactions with no special skills. 
Final Thoughts
iSpring, Camtasia, and Captivate are superior authoring tools in the eLearning market. So choosing between them really comes down to the vision you have for your company. This knowledge will help you picture what your training program should look like, both now and in the future. 
When you place all three platforms side by side, Camtasia is seemingly the odd man out. It's the easiest pick if you can only envision creating video-based courses.  Are you in the business of creating quick, practical, simple how-to videos? Then Camtasia's powerful audio-video capabilities, affordability, and ease of use make it the obvious choice.
Adobe Captivate and iSpring overlap the most in terms of function – creating sophisticated, mobile-responsive eLearning courses in any format (video, slides, screencasts, etc.). While iSpring is easier to use and thus geared toward a wider user base, it doesn't allow for custom coding to maximize the scope of object behaviors like Captivate does. That said, Captivate really dropped the ball on the design and attractiveness of its native interactions, as well as user-friendliness. 
So, if you focus on creating beautiful online courses with quizzes, screencasts, role-plays, and interactions and want to do it fast and hassle free, then iSpring is what you need. Why not get started with a credit card and commitment-free trial of iSpring Suite right now?