July 13, 2023
An iSpring manufacturing client: "We got an LMS that perfectly mirrors our distribution chain of 100 local retailers"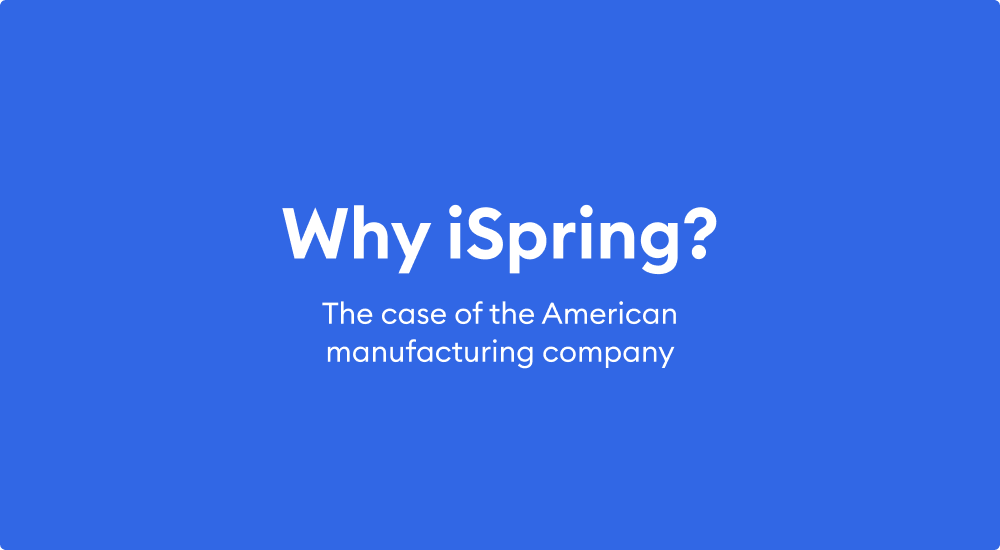 This is a case study of a manufacturing company in Minnesota, the United States, which uses iSpring software for organizational training. Thousands of people nationwide hire this renowned vendor for their home improvement projects as it represents the best products and services delivered end to end. 
The senior learning and development specialist at the abovementioned company shared how iSpring has helped them empower local offices to manage training independently while streamlining the information flow for the entire company.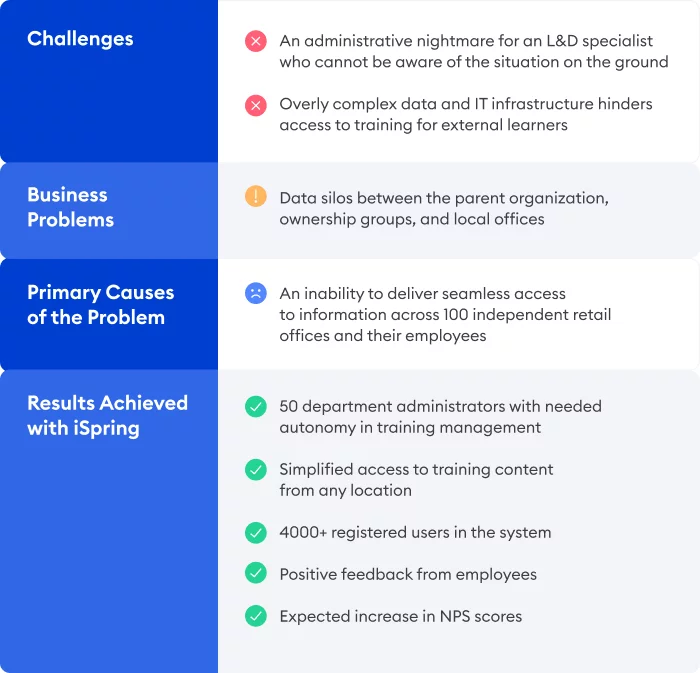 Background 
Being a business division of the parent company, we can have our own manufacturing, as well as our own distribution network. There are approximately a hundred retail offices that sell and install our custom-made products in different locations, with only ten of them being our own retail offices. The other 90 are affiliates, which are akin to a franchise, and they are owned and operated independently. 
As well, some of those are larger ownership groups. For example, 10 or 12 of those locations might be owned by one ownership group, but they're still individual affiliate locations.
Since most of the locations have their own individual ways of doing business, our style of communicating with them is more akin to guidance. Some of the smaller offices may not have a super robust HR department or a solid marketing department, so as a parent organization or the provider, we try to give them information that they can then take and use for their own purposes.  
Something that we put out there is a little bit more generic, but all the content bears the trace of our brand and communicates our mission to deliver a signature service. This is how we treat people and how we deliver a world-class customer experience – and training plays a prominent role in that.
As a senior learning and development specialist, I'm in charge of facilitating training to this large audience. The training that we deliver through our iSpring Learn LMS is for them: installation teams, customer service people, salespeople who go out to homes and make presentations, inside sales center (ISC) agents, sales consultants who manage incoming calls and outbound calls to warm leads, etc. 
Plus, we have some internal office staff who work in administration, finance, and human resources in all local affiliates, and we need to train them as well. There is also training for leaders that our trainer conducts in the field, and webinars – so we utilize a blended learning approach company wide. 
We don't have an L&D department to cover all these tasks, and we can say that my work has a decentralized L&D function. I'm a content creator, and at the same time, I used to manage all training-related processes within such a distributed hierarchy of offices prior to using iSpring. We've started ramping that up recently with our iSpring Learn LMS. 
The Challenge – Conduct decentralized training for 100 local affiliates and provide them with seamless access to information
Prior to using iSpring, we had Appinium, which was a Salesforce-based platform that didn't work for us for mostly technical, licensing reasons. We couldn't treat our affiliates the same as our internal staff or our corporate people due to licensing issues and because of the way we use Salesforce on the security side. So we needed to get away from that and find a platform that people could just log in to regardless of their status and licensing. 
It was especially challenging because we actually don't know when people are coming in and going out of those offices. Thus, it doesn't make sense for us to manage that. So, I wanted a platform that would let people manage training at their location and access the same content seamlessly. Moreover, it had to be a mobile-first platform with an app that everybody can use. 
The Solution – iSpring Learn
In the search for suitable online training software, I really did my homework and looked at several platforms. I had carte blanche to choose whatever suited our needs best, and I ultimately chose iSpring because it offered the most flexibility. 
Moreover, iSpring Learn offers us the ability to let people have their own department administration, because we can have our locations set up as departments and subdepartments in the system. With other systems that we considered, we didn't have the ability to silo, to segment the way we do it with iSpring. There was no crossover. I would have had to spread content across all of these departments, across all of its branches. That was not going to work because it would be an administrative nightmare. 
iSpring worked for our unique setup of having affiliates, treating them as separate but equal.
By training in iSpring Learn, we're treating local affiliates as part of our business, but they also have their autonomy. Every department, every location, can have its own administrator. We're up to probably 50 department administrators now, which is great because that gives people the ability to add their own employees and remove people when they resign.
As for getting our users migrated over to iSpring Learn, it wasn't difficult to get them into the system. But getting them out of the old system was troublesome just for us, on our end, because we had a lot of things to sort through, such as getting the lists from Salesforce. But once we uploaded everybody, it was just a matter of letting people know "Hey, we have a new system, let's get you signed up." 
I knew that our department administrators would understand the system, even though they've never managed an LMS. The iSpring Learn interface is very easy for the admin side. Plus, iSpring has a great YouTube channel, with short training videos where people can go and figure stuff out. It's very helpful. 
Once learners logged in, it was super easy for them to navigate the system as well. They could see the courses and catalogs, and they could pick the courses that they want. We are not a tech-savvy industry, so people in these different affiliate locations need a simple interface – and now they have it.  
With iSpring Learn, I never have people calling and saying "I can't get in the system."
We have 4,696 users in the system. We're up to about 1,300 users per period, so that's our active user number. Many of our learners access training on their mobile devices because we have a lot of people in the field. It's especially relevant for salespeople who live on their phones and therefore enjoy the iSpring Learn app greatly. 
Results 
With iSpring Learn, we already pursue the goals directly related to our business performance and strategic goals, and set up very targeted training. For example, I launched a short training course on how to store, carry, and transport our product correctly in a few videos. We got all our warehouse people enrolled in training, and now we're going to watch and see how the returns rate associated with warehouse damage will change. 
Choosing iSpring was a good decision because it has really been working for people. People love it.
We all know instinctively that people who are trained can do a better job, provide better service, make customers happier, and be happier in their job. And ultimately, if you're good at your job, you're going to be happier doing it. 
For instance, I received a lot of positive feedback on one of our key certification programs lately. It's a four-week blended learning program, and people say it's amazing, the content is amazing. So, I think what we'll see over time is better trained employees. As service people and installers get trained better, they're going to increase NPS scores.  
iSpring was a big win for us because our local departments realized that they can just push out training, assign it to those they want to train, see who's taken it, and run reports. Actually, all of our business lines are taking advantage of iSpring Learn – and this is huge.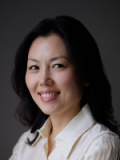 If you'd like to learn more about this case, please contact our sales representative Asyl Philip at asyl.philip@ispring.com.