August 2, 2023
The 5 Best Customer Training Software & LMS Platforms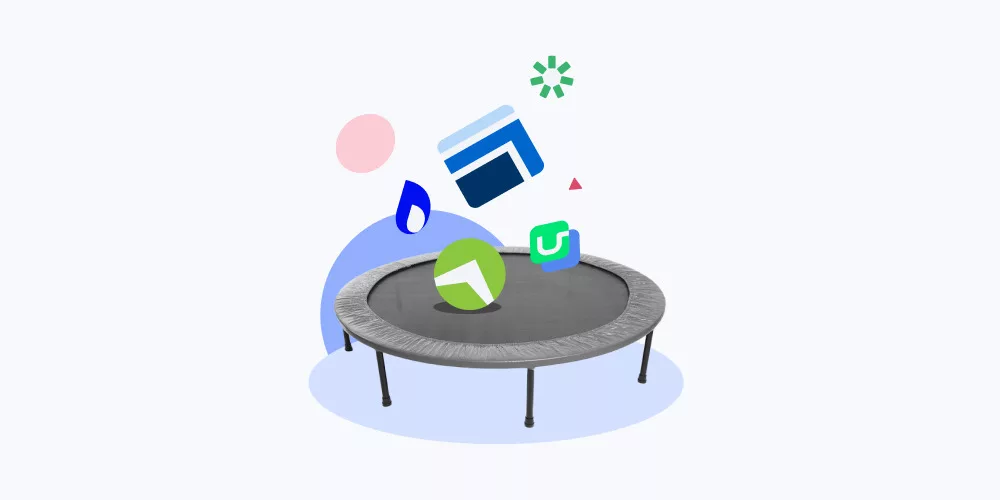 High customer adoption is crucial for SaaS companies, but the ability of users to navigate and understand the full value of your product on their own often falls short of your expectations, leading to confusion and disengagement.
To help customers get the most out of your solution, you need to develop a customer training strategy. And the best way to make it work is to use high-quality customer training software. We've reviewed numerous solutions to create a shortlist of 5 reliable platforms that will help you increase customer satisfaction and turn them into brand advocates.
What Is Customer Training Software?
Customer training software is a digital tool designed to streamline the customer education process and provide your clients with all the information they need to master your product and ensure they get the maximum value from it.
Why is customer training essential?
Today, when competition is high and digital products have become more complex, meeting rising customer expectations is more challenging than ever. A lack of training on how to use the product can lead to its abandonment, misuse, and lowered customer satisfaction. This, in turn, reduces customer lifetime value and company revenue.
According to a Thought Industries study, organizations that focus on customer education see a 10-16% increase in performance on key metrics at every stage of the customer lifecycle. In a nutshell, customer training is an investment that pays off in many ways:
Facilitates customer onboarding. Comprehensive training makes the initial interaction phase simpler, helping customers understand the product's functionalities and how to use it effectively.
Reduces support requests. Well-trained customers are less likely to encounter issues, decreasing the frequency of support tickets.
Improves customer satisfaction. When product interaction is seamless, customers encounter fewer frustrations and enjoy more "aha" moments.
Increases customer retention. Customers who are engaged with the product's fullest potential feel motivated to continue using it and are less likely to leave for a competitor. In other words, quality training helps retain customers.
Boosts customer loyalty. Highly satisfied customers often become product advocates, recommend your product to others, and enhance your brand's reputation.
How to Choose Customer Training Software?
Customer training software can offer different features and benefits. So how do you choose the right one? While each company has its own unique needs and challenges, there are some fundamental features and aspects that you should pay attention to. Here are 7 criteria that we used to identify the proven training software that will facilitate the customer journey:
Intuitive interface
Despite some LMSs boasting extensive functionality, their outdated and cluttered interfaces might be hard to use. To increase customer engagement, opt for a solution with a straightforward, intuitive interface that admins, trainers, and customers can easily navigate from day one.
Content management and creation
Effective customer training programs often require a variety of materials. Look for a customer training platform that will allow you to upload multiple content types, such as videos, presentations, audio, SCORM packages, and web pages.
Advanced solutions often have authoring tools built right into the platform, which can be invaluable when you need to update training content quickly or create a knowledge assessment. Such software can be more cost effective than using multiple tools to create courses and deliver them.
Training automation
Automation features can greatly simplify the training process. To avoid spending time on routine tasks, make sure the platform allows you to set rules and automatically enroll learners in courses or learning paths, send notifications and reminders, and issue certificates.
Also, look for native integrations with other software provided by the vendor. For example, integration with a CRM system can help automate the enrollment process based on certain customer attributes or purchase history.
This frees up your team's time to focus on more strategic activities, such as improving your product or service and expanding your training programs.
Advanced reporting features
Some platforms have very basic LMS reporting features, while others give you a complete picture of your learners' progress and success. A good platform should provide detailed insights into training success, including completion rates, time spent training, and quiz scores, to help you identify where customers may be struggling and what improvements can be made in your training program.
Mobile accessibility
Mobile accessibility ensures that you can educate your customers regardless of where they are and which devices they use, and helps teams embrace training in a more productive and effective manner. With mobile learning, you can also provide a more flexible and convenient customer training experience, enabling just-in-time learning, where customers can access training materials when they need them most.
Customization
With a fully customizable solution, you can brand its interface with your company's logo and colors, create custom learning paths for different learner segments, or adjust the interface's languages and time zones for international customers.
Customer support
Even with the most intuitive software, customers might still encounter challenges or have questions. Good customer support ensures that these issues are resolved quickly and efficiently, minimizing disruption to the learning process.
Besides a quality knowledge base, it's great when there is also a live chat, or support via email or phone. Some vendors also offer dedicated customer success teams or a manager who is always ready to provide proactive assistance.
The Best Customer Training Software & LMS Platforms to Consider in 2023
We've reviewed numerous online solutions from learning management systems to digital adoption platforms in order to pick the top 5 customer training software available on the market in 2023. Discover their key benefits, features, and pricing.
5. Northpass
1. iSpring Learn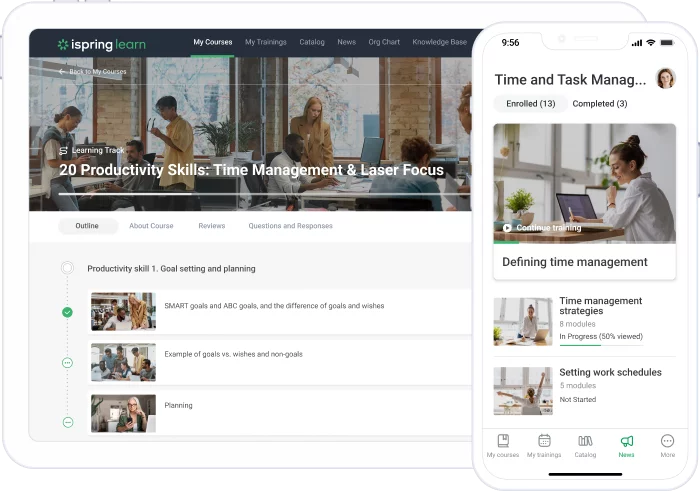 iSpring Learn is a top-rated cloud-based learning management system (LMS) that's perfect for both internal and external training scenarios.
It allows you to deliver standalone courses or combine all the product knowledge into comprehensive learning tracks, making the customer onboarding process easy to follow. If necessary, you can segment learners into groups and provide each of them with an individualized learning track.
Having great automation features, iSpring Learn takes care of all the tedious routine tasks: automatically assigns courses, sends out reminders of deadlines and notifications about live events, and provides you with detailed, real-time reports on learner progress.
Core Features
Content development. The LMS features built-in tools for creating interactive page-like courses quickly. Plus, it comes bundled with iSpring Suite, the powerful authoring toolkit that allows you to create engaging courses, smart quizzes, role-plays, and video lectures.
Detailed reporting. You can track learner progress with over 20 different reports or create a custom one to get both a general picture of customer training and examine the results for each specific piece of content or learner at any time.
Built-in calendar. It's easy to combine asynchronous online learning with webinars or live sessions that you can schedule in the single calendar.
Mobile learning. iSpring Learn comes with native apps for iOS and Android that makes online training accessible anytime, anywhere — even when offline.
Localization. The platform can be used in your customers' local languages and time zones for a smoother learning experience.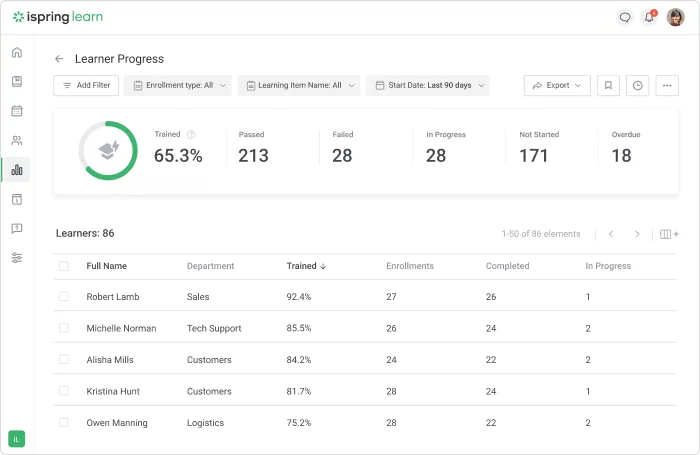 Pros
A one-stop shop solution for creating and delivering customer training materials
Well-designed, user-friendly interface
Excellent 24/7 customer support via phone, chat, or email
Native integrations with video conferencing, CRM, eCommerce (Salesforce), HRIS, and SSO tools + API
The ability to add your logo or favicon and apply a color scheme that matches your corporate identity
Cons
No xAPI, PENS, or LTI support
A 50 GB limit for content storage in the Start plan
Pricing
The price of this learning management system depends on the type of subscription you choose (Start or Business) and the number of active users. For example, the Start plan (with core LMS features) for 100 users costs $2.87/user per month.
A free 30-day trial and a live personalized demo are available.
What reviews say
Actual iSpring Learn customer reviews from G2

| | |
| --- | --- |
| | |
| "The platform is extremely easy to use whether you're a beginner or a seasoned professional. The support we have received when we have questions or issues is also great and I appreciate the chat feature as it allows for a direct line to support and a quicker fix/answer. The platform allows us to create in-depth courses both internally and externally, which has been very helpful in onboarding our new staff and customers using the quiz tool." | "The only thing I'd like to see added is some way for participants to record their attendance in live training digitally. It isn't easy to manually take attendance and enter it with groups of 200-300, as we have at times." |
Automate corporate training and improve employee performance.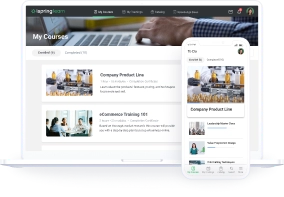 2. Skilljar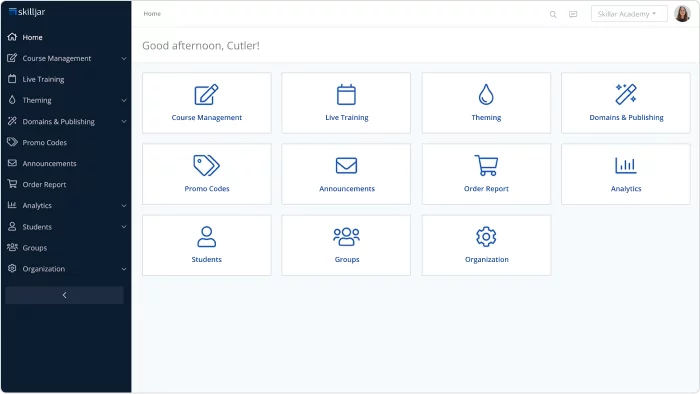 Skilljar is a cloud-based customer training LMS purpose-built for training external audiences (customers and partners). It enables the creation of specialized learning paths based on user roles, skill sets, or use cases. Each online training course is organized into sections and lessons, and can include different types of content and activities: SCORM packages, PDFs, video and audio files, and even scheduled live sessions.
You can use this platform for customer certifications. It provides integrations with proctoring services for high-stakes exams and auto-generates certificates upon course completion, which customers can access through a unique URL or quickly add to their LinkedIn profile.
Core Features
Analytics suite. You can track the number of completed courses or lessons, course score, credits earned, purchase information, and more.
Portal customization. Add your logo, favicon, and color palette, or just use a ready-made template.
Integrations. You can integrate this customer training LMS with your existing toolbox, including CRM, marketing automations, and authoring tools.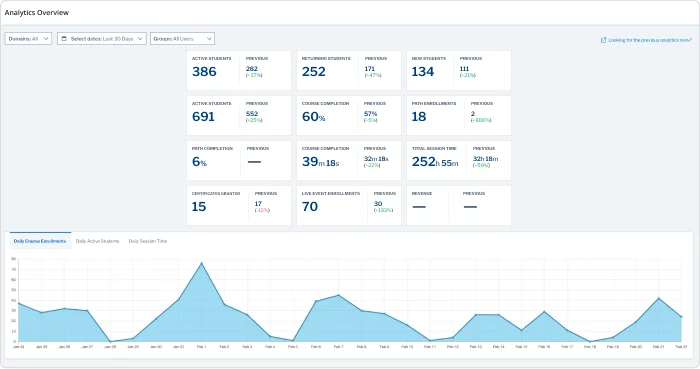 Pros
SCORM and AICC compatibility
Built-in quiz maker
A dedicated customer success manager
eCommerce features
Cons
No free trial
No mobile app
The interface is not intuitive at times
Pricing
The price details of this LMS for customer training are available upon request. A live, personalized demo is available.
What reviews say
Actual Skilljar customer reviews from G2

| | |
| --- | --- |
| | |
| "Skilljar, the learning management system, has been great with the customization of branding and messaging, more robust analytics than our previous platform, we've been able to build out SSO and love the opportunity to monetize in the future." | "Majority of the reports are stock and cannot be manipulated, aside from drilling down into specific date ranges and group or domain analytics. I'd love to be able to add/remove columns in-app." |
3. Userflow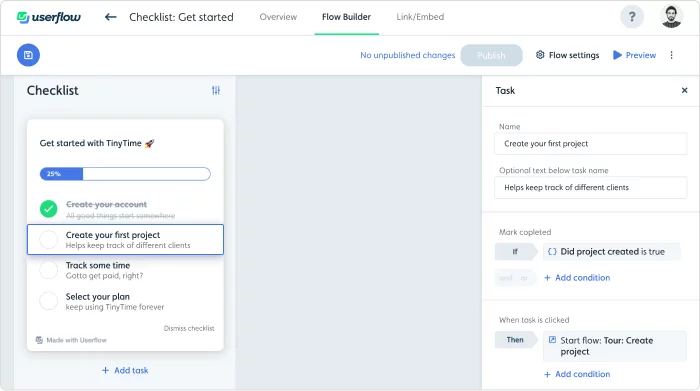 Userflow is a customer onboarding software that positions itself as the fastest no-code flow builder on the market. The tool works as a layer on top of your app or platform, containing tooltips, modals, and buttons, and allows you to build customized interactive walkthroughs, user onboarding checklists, and feature announcements.
With Userflow, you can not only onboard your customers on your digital product, but also gain insight into how users interact with it. The built-in analytics can help you detect drop-offs, the steps that cause the most confusion, and fix them in time.
Core features
NPS and CSAT surveys. The tool supports the creation of surveys with multiple question types, which allows you to collect user feedback and measure customer satisfaction.
GPT-4-powered AI assistant. You can provide the AI assistant with your help docs or knowledge base so it will be able to deliver instant, accurate answers to user questions.
Triggers. "If this, then that" rules that allow you to create branched flows based on user behavior.
Different environments. You can create independent environments to test different versions of your software and improve your flows in a manner that is easy and safe.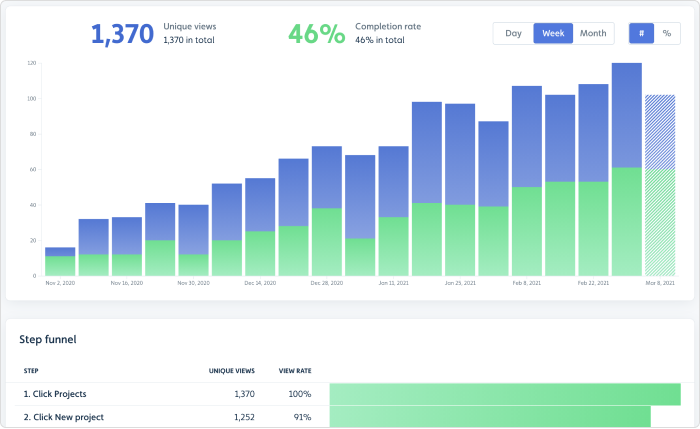 Pros
You can conveniently live edit your flows in the preview mode
Supports embedding links, images, and video in pop-ups
Flows can automatically start based on any criteria you set, e.g., when users sign up, visit a page, or activate a feature
Cons
For digital products only
Doesn't offer native mobile apps — web apps only
Most features, such as localization, company events, or NPS, aren't included in the starter package
Pricing
You can choose from several plans. If you pay annually, the Startup plan will cost $200 per month, Pro is $600 per month, and Scale is $100 per month. To get a custom set of features, you'll need to contact the vendor. A free 14-day trial and a live demo are available.
What reviews say
Actual Userflow customer reviews from G2

| | |
| --- | --- |
| | |
| "Userflow is set up as a low code alternative, making it SUPER quick to launch new notifications, surveys, product tours, etc. I mainly love UI (very user-friendly) with a lot of customizations available if you need them." | "The tracking is good, but the reporting analytics of the events tracked is limited in terms of how the reporting can be generated and visualized in UserFlow and the ability to export events for external analysis." |
4. Trainn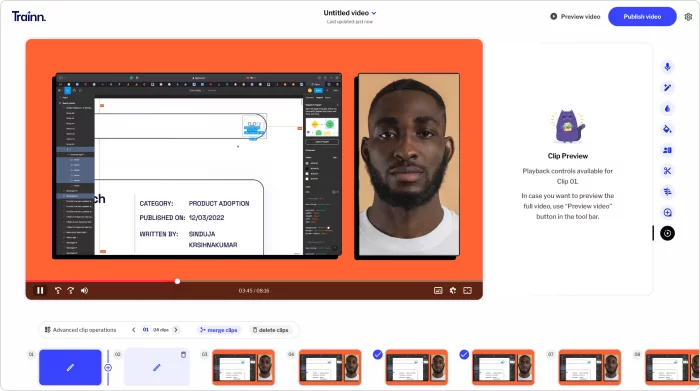 Trainn is a cloud-based customer education platform that specializes in creating product how-to videos, and feature walkthroughs. The Chrome extension makes it easy to record your screen, webcam, or both. Once recorded, you can customize your video with a voice-over, add background music, annotations, or your brand logo.
With an analytics dashboard, you can gain valuable insight into which how-to videos help close support tickets faster, identify customers who need hand-holding, and nudge those with a greater intention to upgrade.
Core features
Smart yet easy-to-use video editor. Add zoom effects and spotlights automatically. Merge, rearrange, delete clips, insert intro slides and even add another video in between two clips.
Video hosting. You can host your videos created with Trainn using their SEO-friendly branded pages and generate tracking URLs for video analytics.
Quizzes. You can create quizzes directly on the platform: make them time-bound, set the number of attempts allowed, and get learners automatically certified upon passing the assessments.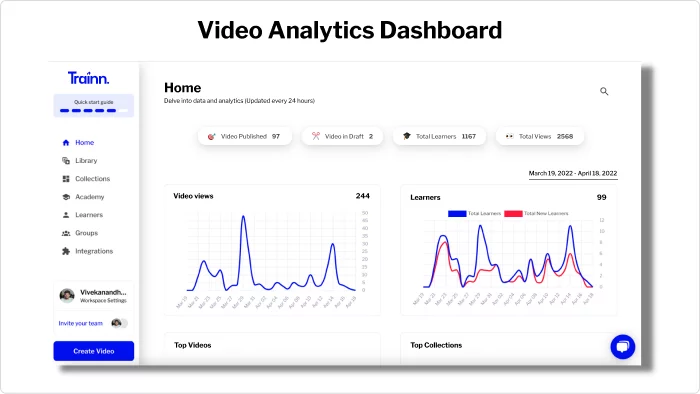 Pros
A single platform for creating, hosting, and delivering training video content
Discussion threads for every lesson and a private note section
SSO authentication
Mobile learning
Cons
Won't be useful if video isn't the dominant content type in your customer training program
You need to have Google Chrome to use the browser extension
Pricing
The price of this customer training LMS is customized and available upon request. A free 14-day trial is provided.
What reviews say
Actual Trainn customer reviews from G2

| | |
| --- | --- |
| | |
| "Editing features are concise yet extremely helpful. Another great thing is the auto-generated text-to-speech available in different languages, tones, and voices. Sometimes all it takes is 10 minutes for me to complete a video!" | "Limited customization options for the user interface and the need for more integrations with external tools." |
5. Northpass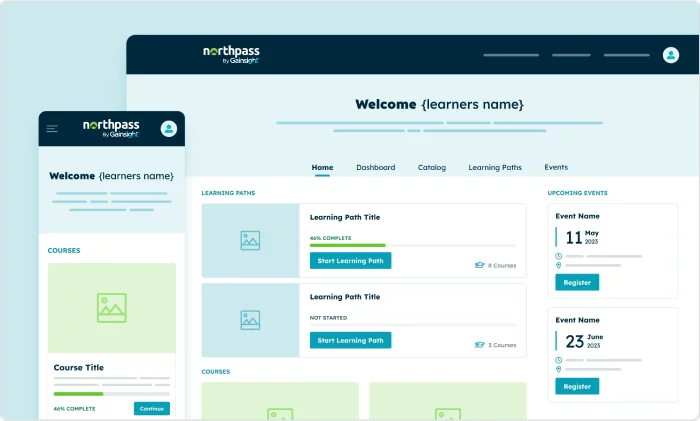 Northpass is a learning platform designed specifically to train customers. You can use the platform as a standalone knowledge hub for your training content or you can deliver training to your customers by embedding Northpass directly into your product so they can access courses at the right place and time.
This customer training LMS supports multiple content types, including SCORM courses, surveys, video and audio files, and web pages, and allows you to create graded quizzes directly on the platform. With training reports and dashboards, you can track course completion rates, see leaderboards, and drill down to the learner's progress in specific courses and quizzes.
Core features
Integrations. The learning management system has plenty of native integrations with analytics, CRM, customer success, communication, and certification tools.
White labeling. You can easily add your logo, color scheme, and graphics. With the help of developers, you can apply advanced customization from top to bottom.
Media library. This is a centralized location where you can store, manage, and reuse your training content as needed.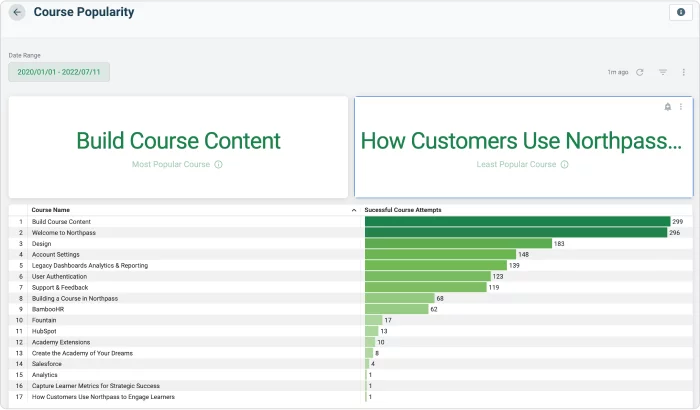 Pros
The localization feature, which enables convenient customer training around the world
The opportunity to auto-generate certificates upon completion that learners can share on LinkedIn and other platforms
A built-in eCommerce engine for selling courses
A fixed price for unlimited users, admins, and content
Cons
Free trial not available
The learning management system has mobile-optimized design, but doesn't provide native mobile apps
Can be used to educate customers only, not train employees
Pricing
All plans include unlimited users, admins, and content storage. You'll need to contact the vendor to get custom pricing for this learning management system.
What reviews say
Actual Northpass customer reviews from G2

| | |
| --- | --- |
| | |
| "They are always quick to respond and open to feedback. Easy to add and replace SCORM files and assign courses to people and/or groups. I like having control of notifications." | "The analytics module is a bit confusing. I'm sure I'll get the hang of it over time, but at first glance, it's a little difficult to figure out where you're supposed to go, how you can filter/segment the data, etc." |
FAQ on Customer Training Software
Here you'll find answers to the most common questions that people ask when choosing a customer training LMS:
1. How does a customer training platform differ from an LMS?
Customer training software is a corporate training platform tailored to educate customers about specific products or services and enhance user experience and product adoption. An LMS, however, is a more generic platform used for delivering and managing a wide range of educational content and online courses in various contexts and is not specifically focused on customer education.
Simply put, while an LMS can be utilized for customer training, it doesn't mean that every customer training platform inherently functions as an LMS.
2. Can I use the same platform to educate customers and train employees?
Sure! But if you want to educate your internal teams and customers under one roof, make sure your training software or LMS for customer training allows you to customize the learning paths, content, and user experience, or create separate learning portals that suit the distinct needs of various audiences.
The Final Word
When choosing a customer training platform, don't rush into a purchase decision. Analyze user reviews, sign up for live demos, and try platforms firsthand during free trials, if available.
Not sure which software to start with? Book a live, personalized demo of iSpring Learn. Our manager will be happy to show you our platform in action and help you decide if it's right for your business goals.