Video Lectures for Effective Learning
Are you developing e-Learning courses and course lectures? Or just thinking about creating e-Learning content that can be with you wherever you go? Or maybe you want to enable students to get back to your e-Learning materials whenever it's best for them – say, in the evening or on the weekend? Finally, how about being able to teach students who are thousands of miles away from you?
Probably you're already familiar with some of the PowerPoint-based e-Learning authoring tools available on the market, like iSpring Pro.
In this series, we are going to take a look at another type of e-Learning content, known as video lectures or training videos. Lectures are quite easy to create, and uploading such course material online is an innovative teaching method that can dramatically increase the effectiveness of your e-Learning.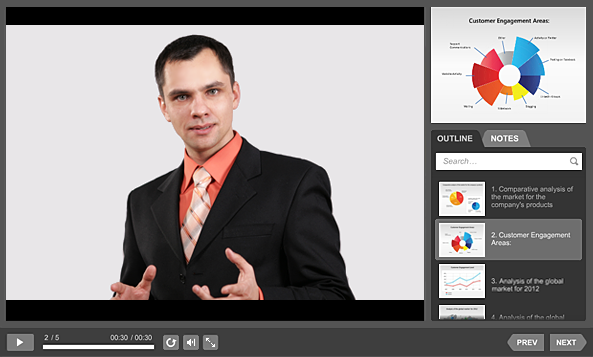 First of all, video lectures can be used in many spheres beyond e-Learning. For example, you can use interactive videos with slides and narrations, created with iSpring Pro, to enhance the following:
Sales: If you're selling something online, video lectures will allow you to demonstrate the advantages and features of your product or service in the most effective way.
Business: Start-up businesses can take advantage of online lectures to represent their business plan and attract investment.
Hobby: If you want to tell the world about your hobby, video lectures are just the solution. Upload the created video lectures online to share the results of your work with your friends and family or even teach them something. An interactive video lecture can also make a great greeting card.
In this series, we are going to answer several important questions about the creation of video lectures:
Related Articles