How to install Windows on your Mac
Install Windows on your Mac computer to run your favorite Windows applications that don't have analog versions for Mac OS (e.g., iSpring Suite). After installation, your Mac computer will have two operating systems installed: Mac OS and Windows with the option to switch between them or launch Windows as a program on Mac OS.
There are two ways to install Windows on your Mac computer: Boot Camp and Virtualization. In this article you will learn about these two options, their pros and cons, and find out how to use them together.
Prerequisites
An Intel-based Mac (2007 or later) with the latest Mac OS updates.

A Microsoft Windows ISO image file with the license key.

A blank USB flash drive (if you want to install the OS from an external drive).

Free space on your HDD to install: 55 GB or more.
Boot Camp
Boot Camp is a technology that lets you install Windows as a bootable operating system on an Intel-based Mac computer. Boot Camp Assistant is a Mac OS application that assists you in your Windows installation and provides all the necessary instructions.
Partition your HDD, install Windows on a blank partition, and sel ect a system to boot by holding the Alt (Option) key when the computer restarts. If you don't hold the Alt key, the default Mac OS will boot.
When loaded, the Windows system uses all computer resources, and therefore produces a more satisfying Windows experience, especially with multiple applications running or 3D gaming. iSpring Suite is not considered to be a heavy CPU consuming application, so it will run perfectly and leave computer resources for running other applications.
Every time you want to switch between the operating systems, you need to restart your computer, which makes concurrent work in both systems impossible.
To install Windows on your Mac using Boot Camp:
Prepare an ISO with the Windows installer.

Run Boot Camp Assistant fr om Utilities (use Spotlight for faster access) and sel ect the following tasks:
- Create a Windows installation disk and ins ert a blank USB flash drive.
- Install Windows 7 or a later version.
Then click Continue.


Create a Partition for Windows and se t aside 55 GB (Apple's recommendation) for the latest Windows 10.
Note: Windows requires 20 GB of hard disk space (according to Microsoft), but the partition should have some free space to work with. It could be problematic to resize the partitions later.
If you have a smaller HDD, you can install an earlier Windows version, for example, Windows XP (SP3), as it requires just 5 GB to operate and still works with iSpring.


Continue the installation process and follow the Windows installer directions.
For more information, visit Apple.
Virtualization
Virtualization software is used to emulate a computer system (virtual machine) within another computer system. For example, you can run Windows OS as an application on a Mac computer within its native Mac OS environment. A virtual machine in this example is an emulated instance of the Windows OS.
There are several virtualization programs that are commonly used to create and run Windows virtual machines on Mac:
For most users, running Windows as a virtualized guest OS using Parallels or VMware is recommended. iSpring Suite works well in an emulated Windows OS.
This is a picture of Windows OS launched in VMware Fusion: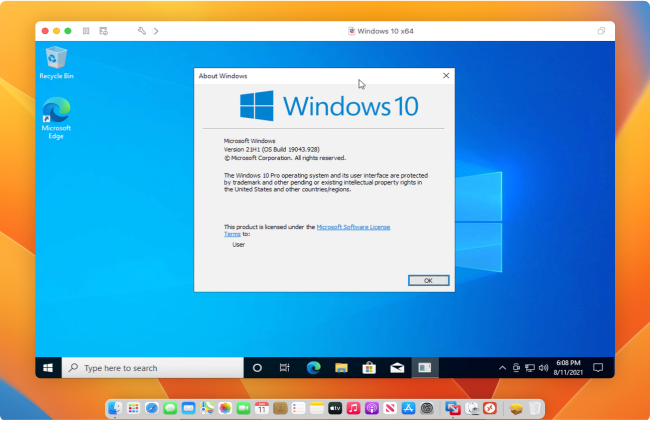 This way, you can work concurrently with both systems. Launch Windows in a separate window or as a fullscreen application. No need to restart your computer to switch between systems.
Unlike with Boot Camp, you don't need to partition your HDD to install Windows. You can copy a virtual Windows OS image to another computer or delete it as a regular file whenever you want.
When loaded, the guest Windows and host Mac OS share processing resources (CPU and RAM), therefore Windows performance will be less satisfying than with a bootable installation (but still okay for iSpring).
To install Windows on a Parallels virtual machine:
Prepare a copy of the Windows installer as an ISO file.

Install Parallels Desktop for Mac.

Create a new virtual machine (Command + N).

Choose the option Install Windows fr om a Flash drive or an ISO file.
Read more on the Parallels desktop website.
Tips for working with Parallels
In addition to an easier installation process, desktop virtualization software provides numerous options to fine-tune your virtual machine.
Performance Tip: Configure Parallel settings for a faster virtual machine and allocate more CPU cores and RAM to Parallels. Processing power allocated to Parallels should meet the requirements for iSpring products.
View Layout Tip: Parallels has several view layouts. The default layout is called Coherence, wherein Windows applications float over your Mac OS desktop. It might be confusing if you are going to work with PowerPoint add-ins, and we suggest that you switch to the fullscreen mode, so the entire system will be shown in a separate window or computer screen.
Resolution Tip: Modern Macs come with retina displays with super-high resolution that make fonts and icons extremely small in some Windows applications, including iSpring.
In the Parallels virtual machine settings, go to Hardware > Video > Uncheck the Enable Retina resolution option.

In Windows, right click on Windows Desktop > Screen resolution > Make text or other items larger or smaller > set the scaling to default 100% and apply changes.
Parallels KB: Windows-based programs resolution issues on Apple Retina display
Boot Camp + Virtualization
You can use virtualization on top of the Windows Boot Camp installation. Perform the installation steps in the following order:
Install Windows using Boot Camp on a separate HDD partition as described above.

Install a virtualization program on your Mac OS (e.g., Parallels).

Choose Use Windows fr om Boot Camp when creating a new virtual machine.
After that, you will have the benefits of these two installation methods. You will have a choice whether to launch Windows as a virtual machine in Mac OS to work with them concurrently, or reboot your Mac in Windows for the best performance.
Note: Free VirtualBox doesn't let you use Windows fr om Boot Camp.
In contrast, if you use virtualization as a prior approach to install Windows, this OS instance will not be available as a separate boot option.
The only disadvantage of switching the loading mode (Boot Camp, virtual machine) is that it may cause confusion for some software including Windows registration. The reason is that the virtual hardware and real hardware have different identifiers and appear as different computers to software.
Summary
Boot Camp
Good for iSpring users who are planning to use other Windows applications that require significant computer resources.
pros:
Faster performance for the best processing and graphics power for each OS that you load.

No need to install additional software on your Mac OS. Boot Camp is a built-in application that comes with Mac OS free of charge.
cons:
Requires partitioning your disk to install Windows and doesn't suit smaller HDD drives.

You need to restart your Mac every time you want to run a Windows program and cannot work in both operating systems concurrently.
Virtualization
Installing and running Windows as a virtualized guest OS is recommended for most iSpring users.
pros:
Doesn't require partitioning your HDD because a virtual machine uses as much space on your Macintosh HDD as is requested by Windows. Good for smaller HDDs.

Windows can run concurrently with Mac OS. No need to restart your Mac to switch to another OS.

Easy to copy, manage or delete your virtual Windows OS image.

In addition to every Windows version, virtualization software can also host Linux, UNIX, Solaris, and other operating systems.
cons:
Slower performance of a virtual machine compared to the bootable system.

An emulated Windows instance cannot be used as a separate boot system (to run heavy applications).

Virtualization programs are not free (VirtualBox is free).
Boot Camp + Virtualization
Good for iSpring users who have a larger HDD and are not sure yet if they want to use virtualization software in the future or not.
pros:
Ability to choose the Windows loading mode: as a boot system (to launch heavy applications) or as a virtual machine within Mac OS (when you don't want to restart or work with both OSs concurrently).
cons:
Requires partitioning your disk to install a copy of Windows that doesn't suit smaller HDD drives.

Switching the loading mode can cause confusion for software because the virtual hardware is different from the real hardware.
System Requirements
The main requirement to install Windows is an Intel-based Mac. Today most Macs are Intel-based (manufactured since 2007). Other requirements depend on the Windows version and the applications that you are going to install there.
iSpring Suite system requirements →
FAQ
Q: Can I use Wine (or CrossOver) to launch iSpring?
A: No, Wine and similar solutions emulate a part of a system rather than the entire system. iSpring works in a complex environment that includes MS Office and its components. Therefore, Wine emulator can't make it work.
Q: Can I have full access to the Windows Boot Camp partition from Mac OS? I see BOOTCAMP in Finder, and I can read this drive volume but can't write there.

A: Yes. However, you will need to install additional software, like Paragon or Tuxera. The reason is that Mac OS and Windows have different file systems: Mac OS Extended (HFS+) and NTFS. Mac OS doesn't have the capability to write NTFS partitions.
Related Articles