Content Protection in iSpring Cloud: Setting Up Password and Adjusting Download Settings.
iSpring Cloud provides an additional level of security for your files. Setting up a password will allow you to give access to your content to trusted users only.
Password Protection
If you want to limit access to your files, set up a password and send it to the selected group of users. Users will be asked to enter this password each time they try to open the protected content item.
To set up a password, select the content item you want to protect and click Share. In the Sharing window, go to the Content Protection tab. Now enter your password and click Save.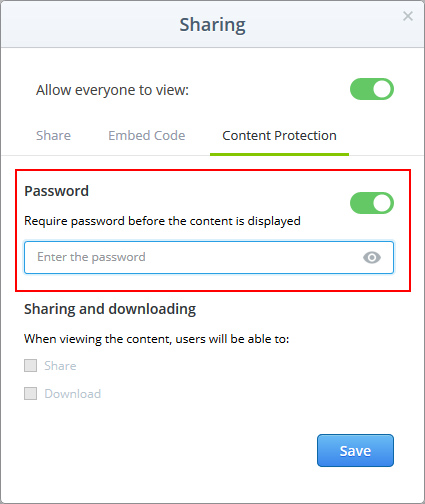 Now that the password is set, the user will be asked to enter the password each time they try to play the content item.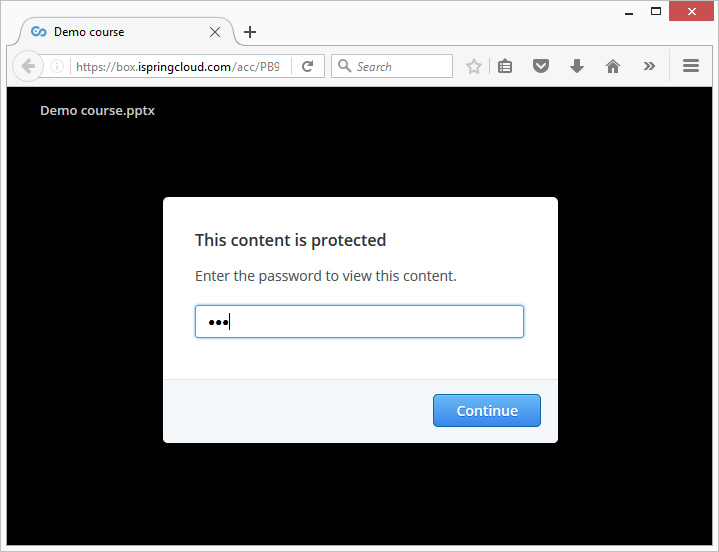 Share and download settings
On the Content Protection tab, you can also choose whether to display Download and Share buttons.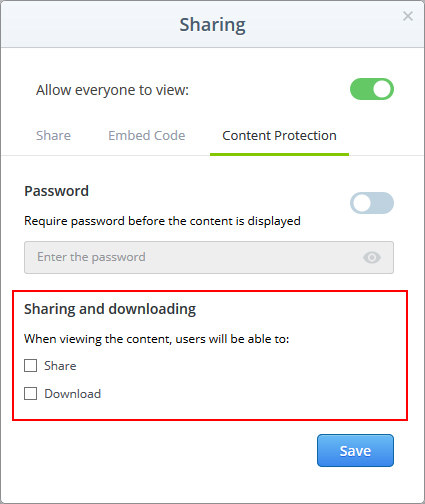 If you have the Password on, these buttons automatically become inactive.
Note: Some content items in iSpring Cloud — like Excel tables, Word files and archives — can only be viewed after downloading. For these kinds of files, the Download button can't be turned off.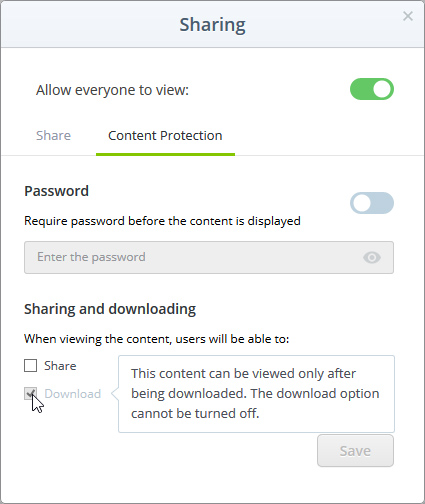 To check the settings of each content item, there's no need to open the Sharing window again. Just select the required item and look at the Sharing section on the sidebar. Here you can quickly copy the short link to the item and check if the password is set up.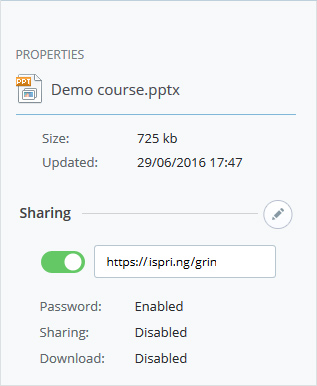 Managing Permissions in Business Accounts
For iSpring Cloud Business, the ability to access protection settings depends on each user's or group's editing rights.
The Owner and Publishers can edit and add new content, set up passwords, and adjust other protection settings. From their accounts, sharing and downloading content is always available.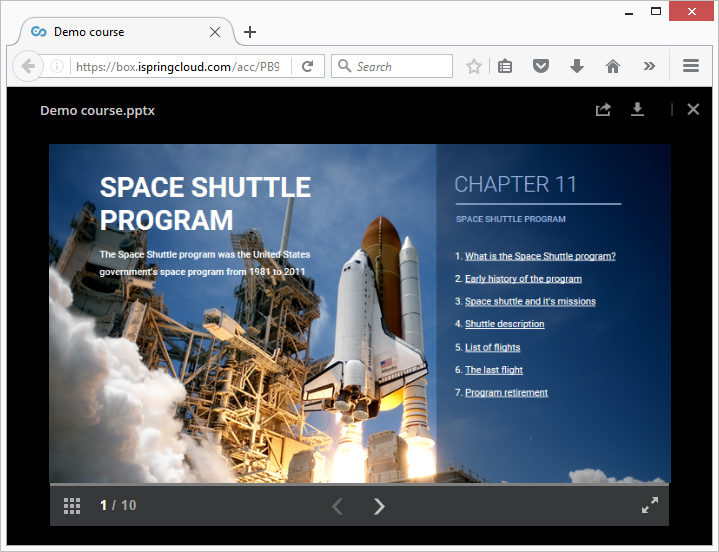 Readers can only view content items and they can't set up passwords and download files from their accounts. However, if access by a short link is enabled for the item, Readers can use the Sharing option.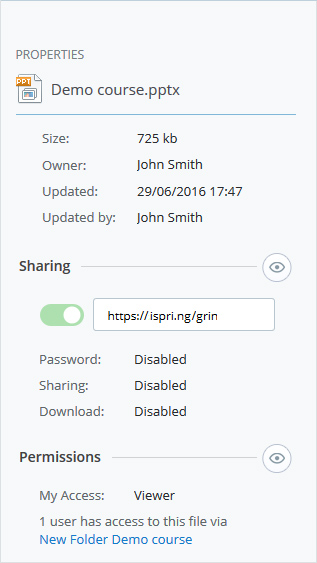 Publishing from iSpring Suite
If you're uploading presentations and courses created with iSpring tools, you can set up a password directly in the tool. However, if you later decide to change the password, you will need to republish the content item. To avoid that, publish your content without a password and set it up in your iSpring Cloud interface. In this case you will be able to change or turn off the password whenever you want.
If you have set up a password both in the tool and in your iSpring Cloud interface, two passwords will be required to play the content item.
Was this article helpful?
Thanks for your feedback!
Your request to iSpring has been submitted.
Please check your email for support replies. We reply to every message asap. If you don't hear back from us, check your spam folder and add to your list of approved senders.
Oops! Something went wrong...
Please contact them at .