December 13, 2022
10 Best Quiz Maker Software for Training and Fun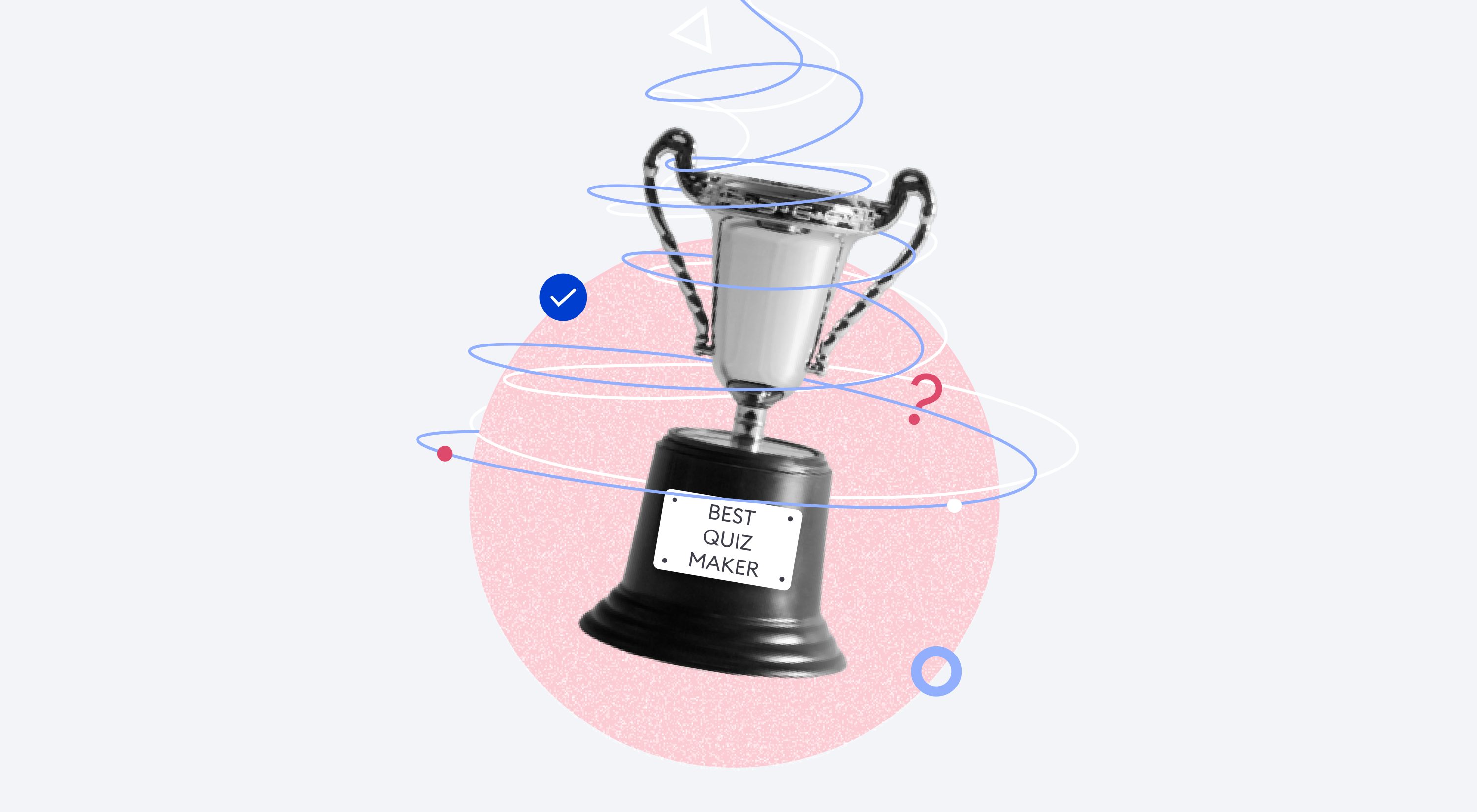 As ubiquitous as they are these days, online quizzes continue to grow in popularity year after year. Instructional designers use them to drive employee engagement in digital training, marketers employ tests to collect new leads, and Facebook users come up with quiz ideas just to entertain their followers.
The best thing is that now you don't have to know programming or design to create beautiful quizzes. There's a whole category of tools that can streamline this job called quiz makers. But searching for the right product in a crowded market like that may turn out to be quite a challenging task.
In today's article, we'll take a look at the 10 best quiz makers, including free and paid, as well as desktop and online solutions.
What Makes a Good Quiz Maker
Here are six important features you need to consider when choosing a quiz maker:
Variety of question types. It's difficult to keep learners engaged when your quiz only consists of multiple-choice questions. Providing them with unique ways of interacting with digital content like drag-and-drop or hotspot interactions is one of the best ways to boost material retention. That's why a quiz maker with more question types is preferable.
Responsive output. Around 50% of online traffic today involves smartphones, which means you need flawless Android / iOS compatibility in your learning content. Digital learning is no longer a desktop-only activity, so it's best to employ a solution that can produce mobile-ready quizzes.
Reporting. A quiz builder is of little value without the means to collect learner answers and results. Make sure there are ways how you can gather detailed statistics on tests – be it emailing results or utilizing the power of xAPI to store them in an LMS.
A variety of settings. Setting up branching and adding feedback slides can help you make quizzes more effective. And the ability to randomize questions and answers and specify the number of allowed attempts will let you create cheat-proof tests.
Importing and exporting questions, use of question banks. It's nice when you have all your quiz questions stored in a text file, though it's even better when you can bulk import them to your quiz maker. Organizing a few question banks to conveniently store and reuse questions when needed is another great option to have.
1. iSpring QuizMaker
Windows, $370/year
14-day free trial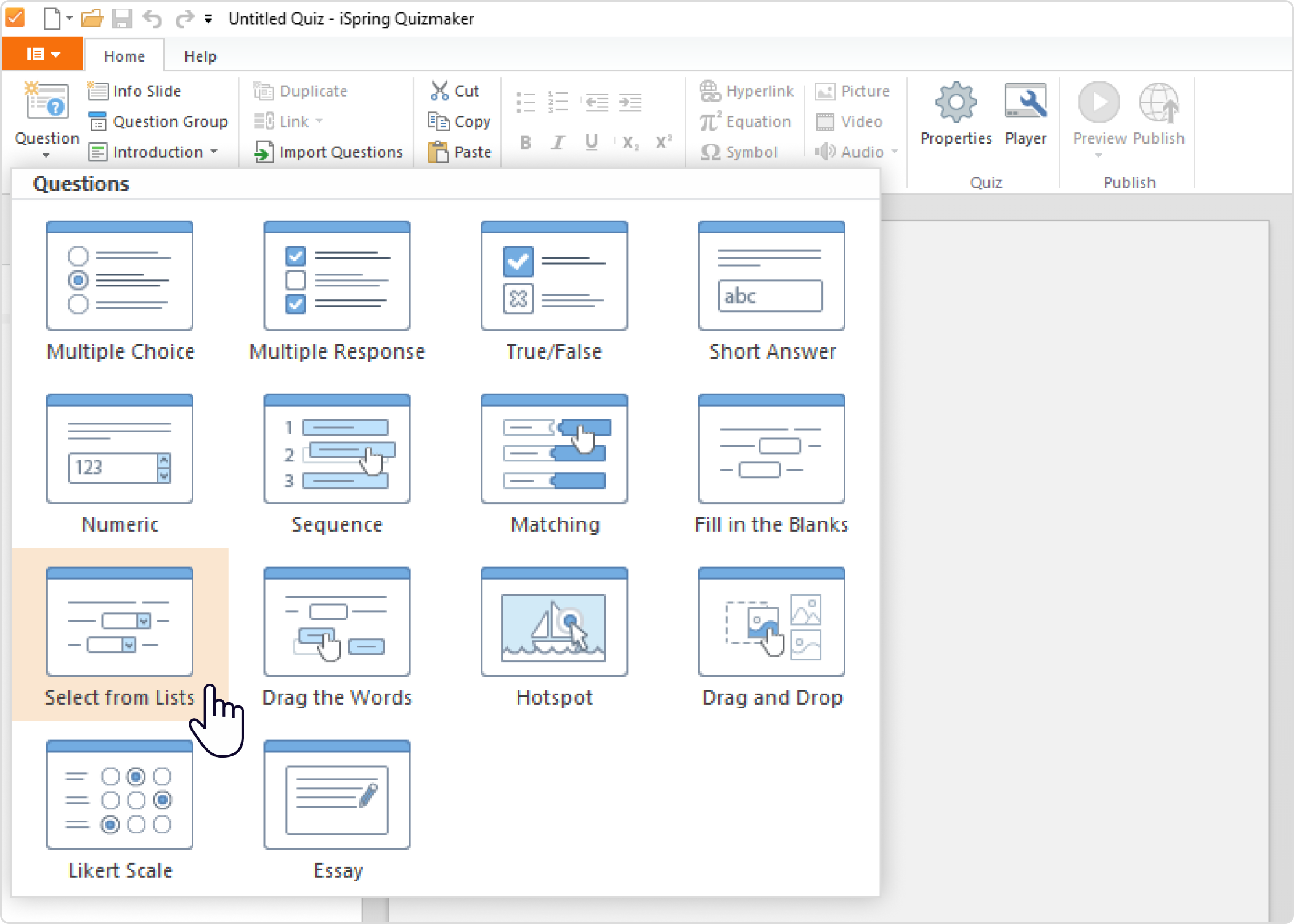 iSpring QuizMaker is a user-friendly desktop quiz building tool that can be used to create both graded assessments and surveys. It has an intuitive interface that allows both experienced instructional designers and newbies to start creating high-quality online quizzes that can be published for the Web or an LMS. Offering access to standard question types like multiple-choice and highly interactive ones like drag-and-drop, iSpring QuizMaker will help you create engaging quizzes that your learners will love.
14 question types for both graded quizzes and surveys, including Likert Scale and drag-and-drop
Questions and their feedback messages can be supplemented with images, audio, and video
Flexible quiz settings: assign positive or negative point values to answers, set time limits, and randomize answer order and question selection
Publish to mobile-ready HTML5 content or an MS Word document for paper-based testing
Output AICC, SCORM 1.2/2004, xAPI, or cmi5 to your LMS, with hundreds of platforms tested for compatibility.
Quiz results can be automatically sent to instructors'/students' emails or an HTTPS server
Published quizzes have a Section 504-compliant view mode
Friendly 24/7 support via phone/email/chat
Only available for Windows
Can't be used to create personality type quizzes
Doesn't offer storage for published quizzes, you will need to have your own website or LMS for that
Best for: eLearning professionals, instructional designers (both newbies and seasoned specialists), or faculty members who are looking for a handy quiz builder that offers rich functionality without being clunky
2. Respondus 4.0
Windows, $79 per license
30-day trial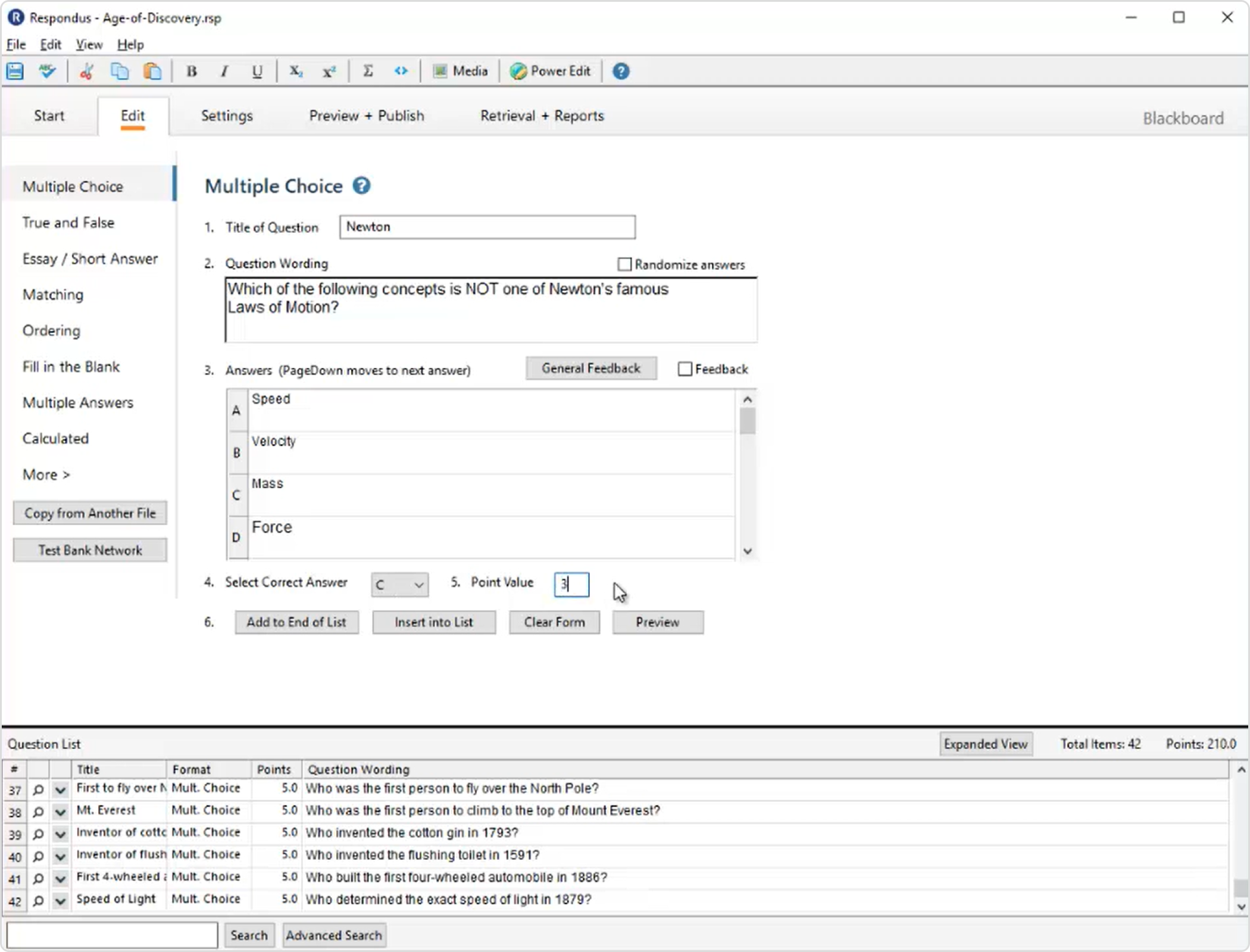 Respodus is a straightforward quiz maker that can be used to create both tests and surveys. It has extensive compatibility with such popular academic LMSs as Blackboard or Moodle, allowing educators to publish their assessments directly to these platforms. The vendor also offers a special "LockDown" browser that can prevent students from cheating when taking tests created with Respondus.
15 question types, including Calculated and Arithmetic
Quizzes can be assigned a time limit and protected with a password
Tests can be published directly to Blackboard, Brightspace, Moodle, Canvas, and other LMSs or printed to text documents
The Respondus Test Bank Network contains thousands of questions based on the most popular textbooks in higher education and lets you save time building online exams
Can import questions from a bunch of different text formats like DOCX, CSV, and XML
The batch publishing feature allows one quiz to be published to several courses in a single step
Windows-only solution
The interface design is slightly outdated and not very intuitive
Answer feedback can only contain text, no visuals
Email support only guaranteed for one month after purchase, no phone support
Best for: Schools, universities, and other academic institutions that use Blackboard, Canvas, or Moodle.
Also read: How to Create a Moodle Quiz: Step-by-Step Guide
3. Typeform
Online, plans start from $360/year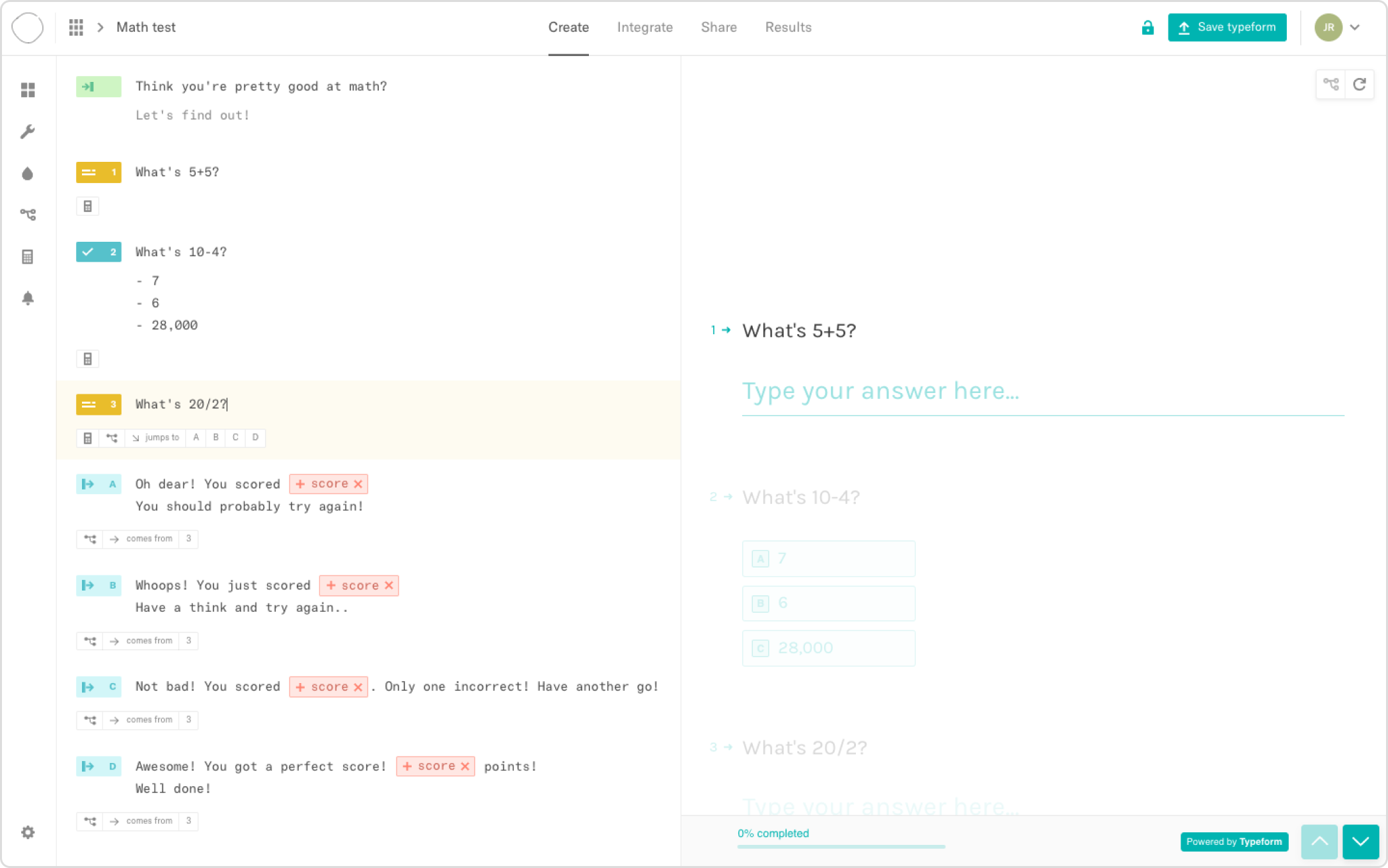 TypeForm is a cloud-based app for making all sorts of interactive assessments: forms, quizzes, surveys, polls – you name it. You're able to either customize one of the provided templates or start from scratch when building your tests. Mainly used by businesses to improve their marketing and client outreach, Typeform can also come in handy when you need to create a simple quiz and track the results.
Modern user-friendly interface
All assessment results can be automatically sent to a number of web apps like Slack, Google Sheets, and Salesforce
Built-in "share" buttons for social media allowing students to show their results to peers
Creating quizzes is a bit too complicated, as it requires authors to use additional modules like Logic Jumps and Calculator
To remove Typeform branding from content, you need to pay for one of the higher-priced plans
Questions and tests can't be exported to SCORM or other eLearning standards that would allow you to use them in an LMS
Best for: Integrating marketing polls into HubSpot or Salesforce routines, with a possibility of building rated quizzes
4. Schoolhouse Test
Windows, from $30 per license
Limited free version available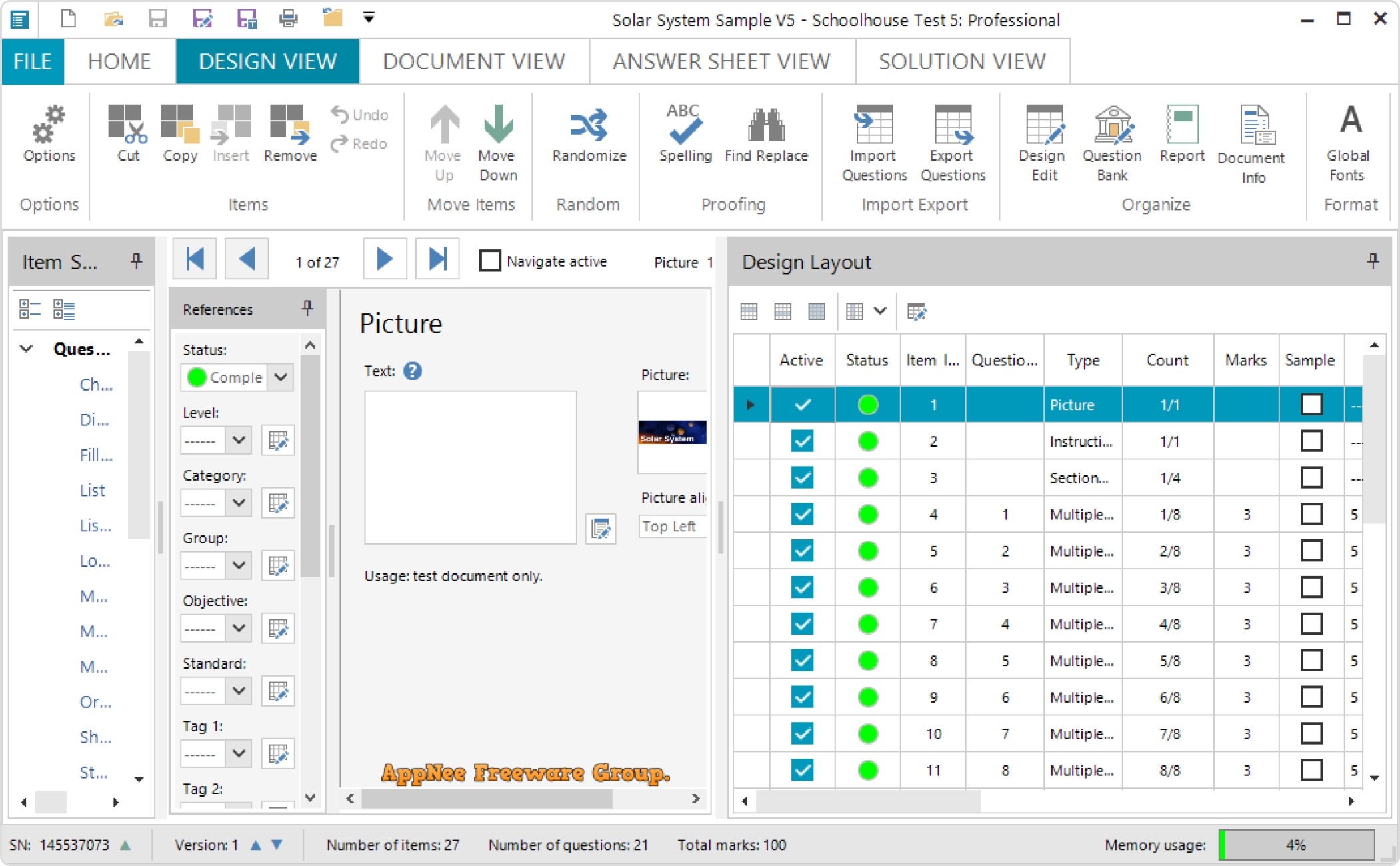 Schoolhouse is a tool for those who like their assessments to be paper based. It's a powerful WYSIWYG test editor, together with a print management tool that allows teachers to create well-formatted quizzes and print multiple randomized versions of them.
14 question types including tables and diagrams
Questions and answers can be automatically randomized, so each printed test is unique
Powerful customization capabilities
The answer key is composed automatically and can be printed separately from the test
Available only for Windows
Suitable solely for paper-and-pencil tests
Best for: Creating high-quality printable tests.
5. ClassMarker
Online, $396/year
Free plan available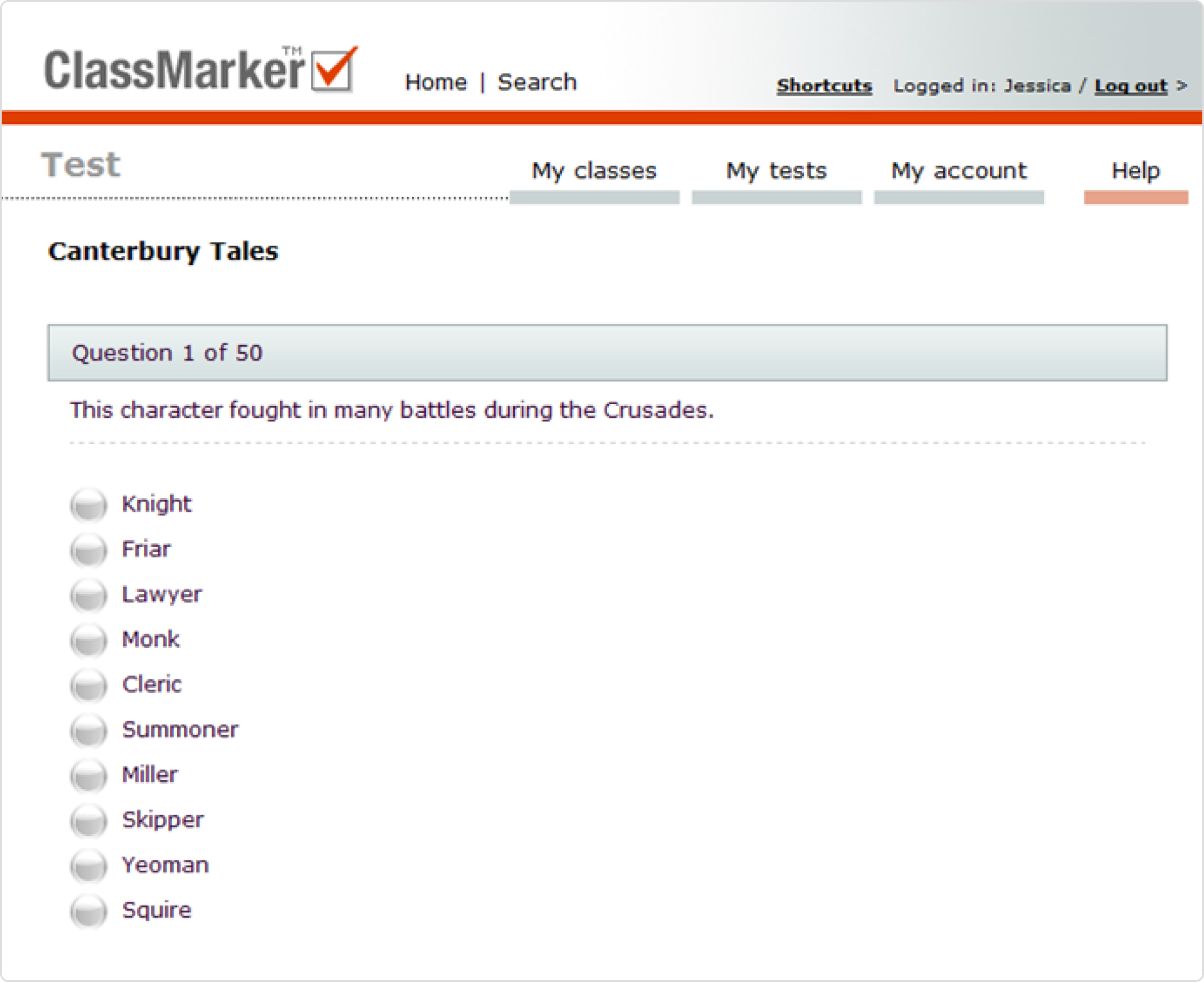 ClassMarker is another all-in-one quizzing solution on our list. It's a cloud-based test builder that can be used by instructors and online storage for published assessments that students can log in to and take quizzes assigned to them. Being a kind of quiz-oriented variation of an LMS, ClassMarker offers educators access to detailed reports that can show results in real-time.
Tests can be protected with a password, assigned an availability period, and even sold via PayPal
Results can be sent to both instructors and students via email
Provides access to an Online Testing API so you can automatically export all results to another platform
Allows custom certificates of completion to be awarded to students
Just 6 question types with some variations
Sending results via email doesn't always work as expected, according to user reviews
Best for: Small to midsize businesses and academic initiatives that are looking for a way to build and host their quizzes online with answer analysis included in the same platform.
6. H5P
Online, self-hosted (free), and SaaS (paid) options available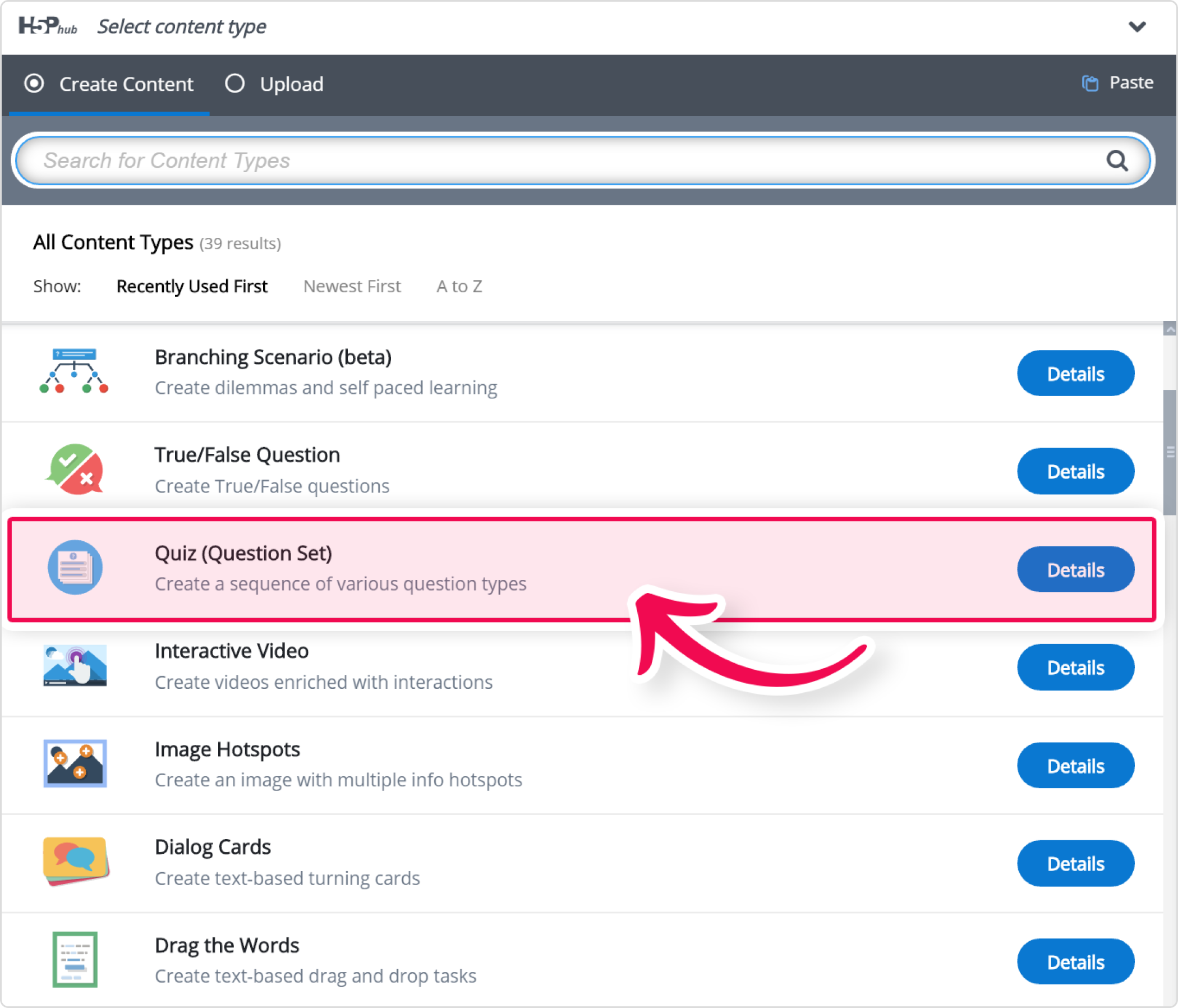 H5P is an online eLearning authoring platform that offers dozens of available content templates, including quizzes. It can be installed and used as a free plugin for WordPress, Moodle, or Drupal or purchased as an SaaS solution. Instructional designers can use it to create standard text-based assessments, personality tests, or interactive video quizzes, which are extremely popular nowadays.
Has a fully functional demo version that's hosted on h5p.org and lets you experiment with the product's capabilities without installing it
Can report quiz stats via xAPI to an LRS
Integrates with Canvas, Moodle, and Blackboard via LTI
Just 6 question types, including mark the words and drag-and-drop
The interface can get a bit clunky at times
Needs an LRS in order to save detailed quiz statistics
You need a CMS (WordPress, Drupal) if you'd like to use the free version
Best for: Tech-savvy instructional designers who use WordPress or Drupal and are looking for a free quiz maker with a handful of other features to play with. The SaaS variant will be fitting for corporate instructional designers in need of a basic web-based quiz maker.
7. FlexiQuiz
Online, paid plans start from $180/year
Free plan available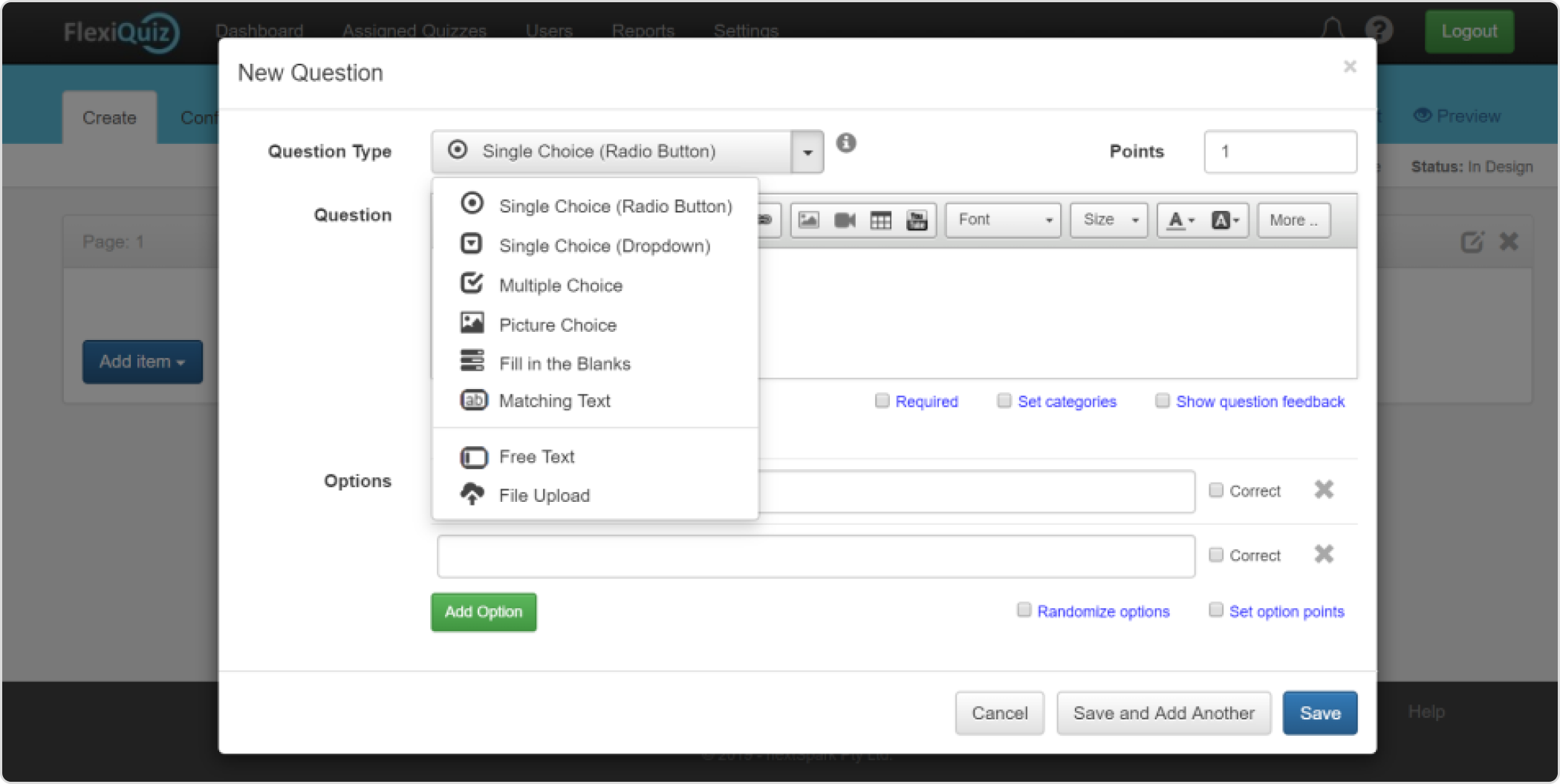 FlexiQuiz is a simple cloud-based solution for quiz authors who'd like to be able to create quizzes, share them with students, and view results, all in the same app. Each student has a separate user account on the platform, which makes it easier to share new quizzes and track results.
Lets you create question banks to organize questions and reuse them in new quizzes
Test results can be viewed in real-time with live analytics
Can automatically award custom certificates of completion
Only 6 question types
No SCORM or xAPI support means these quizzes can't be uploaded to an LMS
The number of times your tests can be taken is limited by the pricing plan you choose
Best for: Beginners in quiz authoring who are looking for a relatively cheap solution for both creating assessments and tracking results.
8. Examsoft
Online, no pricing provided by the vendor
No free trial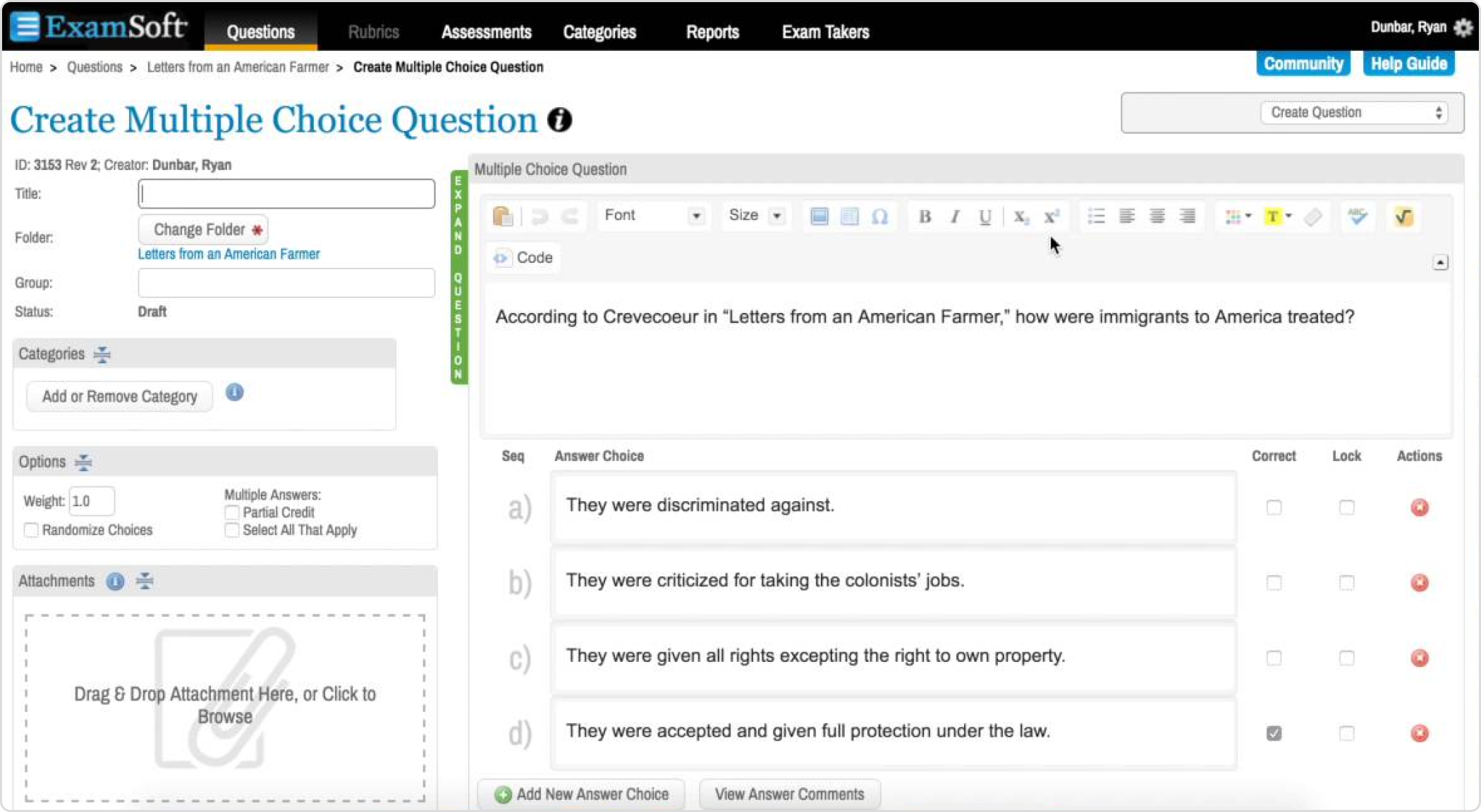 Examsoft is a complex cloud-based solution for institutions of higher education that allows educators to create graded online assessments, collect results, and analyze them via detailed reports. The vendor also provides an installable tool for students that will block their computers from accessing any Web resources except for their scheduled test, preventing cheating attempts.
The web-based solution ensures your tests will be backed up on Examsoft servers
Assessments can be exported as PDF files
Integrations with Blackboard and Canvas allowing the transfer of test results to these LMSs automatically
Only 6 question types available
Does not support exporting quizzes to SCORM or xAPI
Best for: Academic institutions that are looking for a way to create and conduct online assessments for students with the ability to monitor their performance in the same app
9. Quiz Faber
Windows/Linux, freeware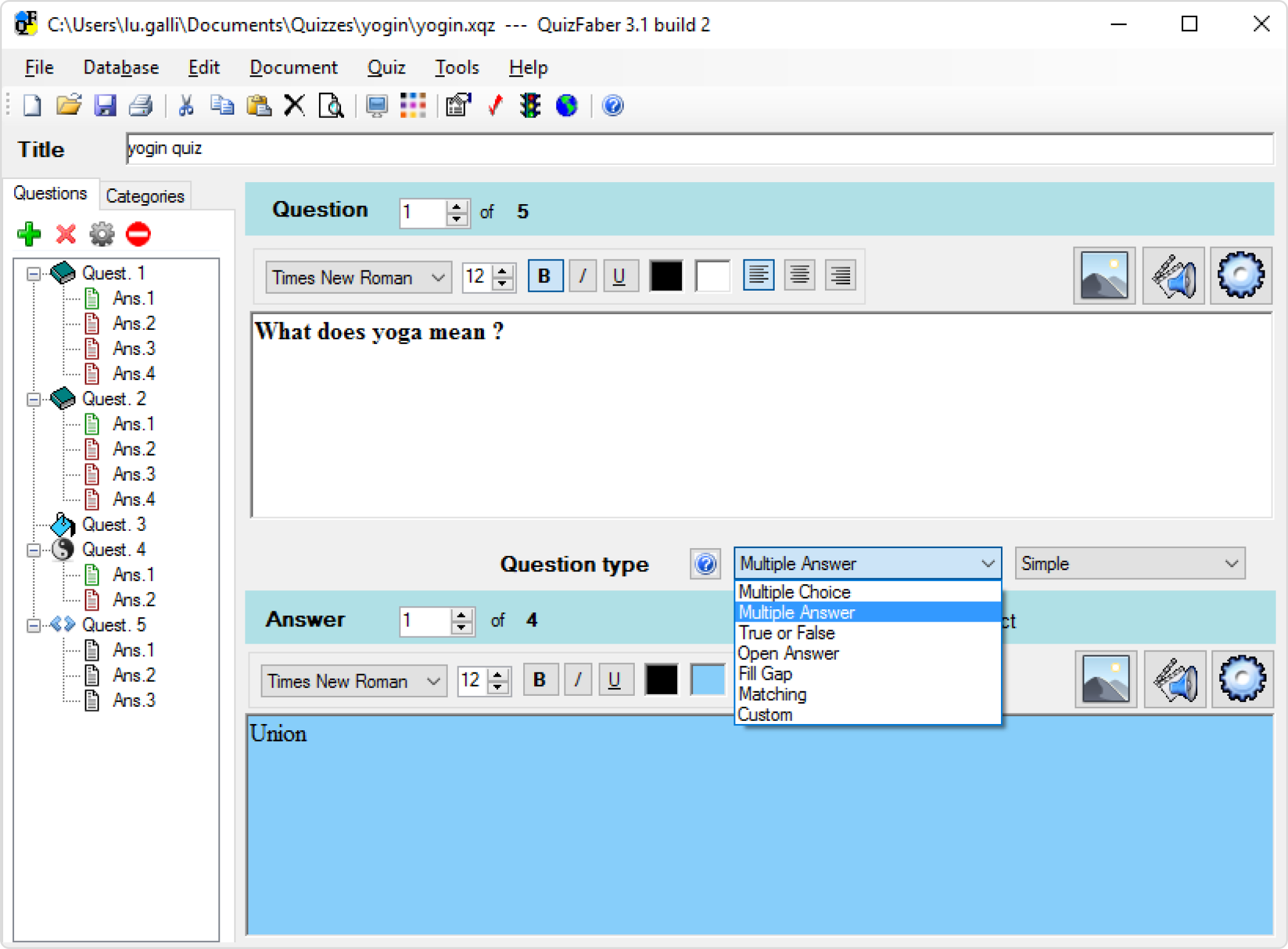 QuizFaber is a free test-making tool developed and maintained by a single individual (Luca Galli). It's a simple quiz editor with a few advanced features, like a built-in MySQL client that can be used to import questions from a database or a built-in server that allows storing quiz results locally.
Allows you to print tests and publish them to HTML5
Can export quizzes directly to Moodle
Allows new question types to be added using Javascript and CSS
Makes it possible to send test results to a Google Docs spreadsheet
Outdated design
Only 6 question types available by default
Doesn't support SCORM or xAPI
Best for: Tech-savvy educators with no budget for test authoring software.
10. HotPotatoes
Windows, freeware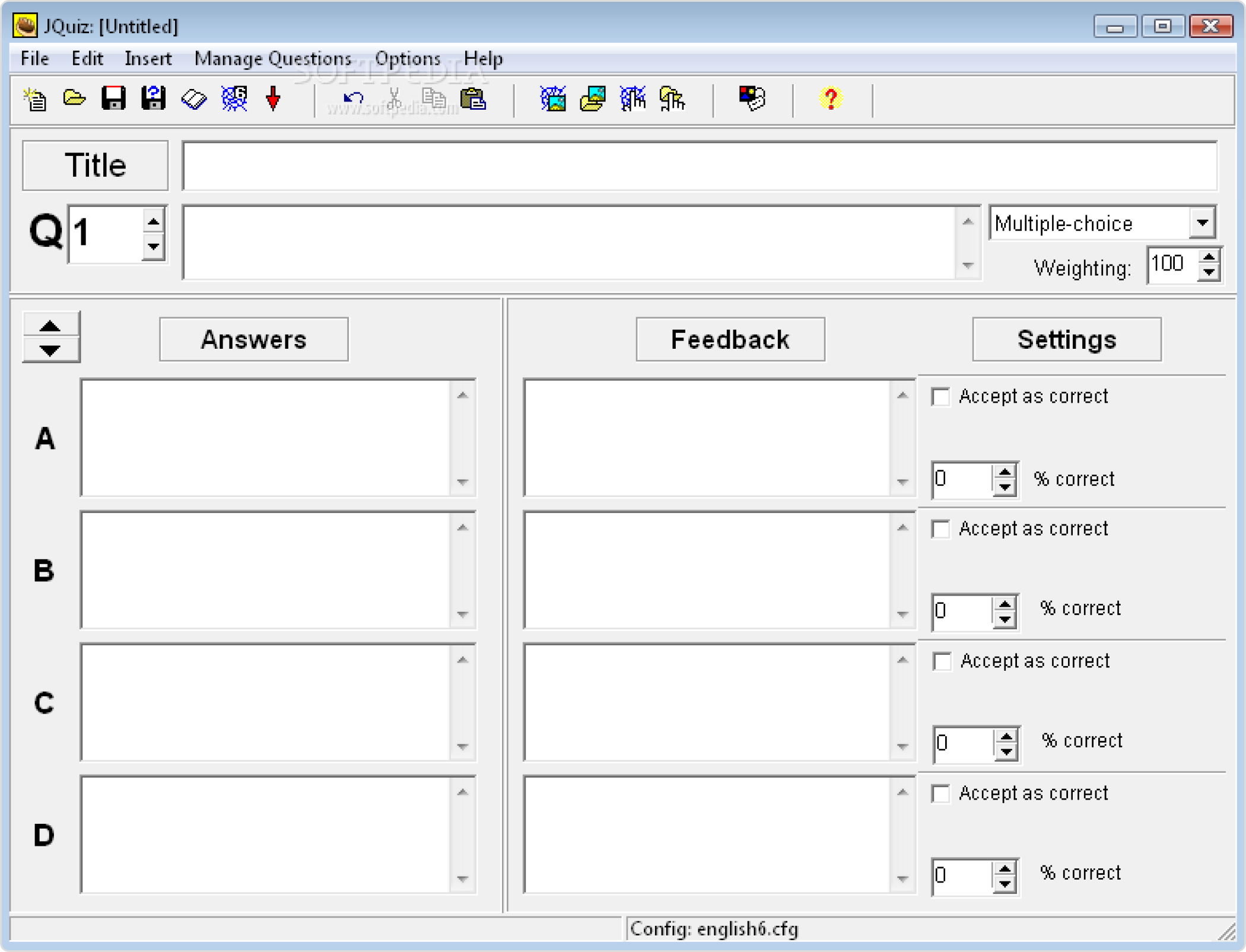 HotPotatoes is not just a quiz maker, but a collection of 6 authoring tools bundled together. It will allow you to create simple HTML5 quizzes with multiple-choice and matching questions, plus some other types of exercises, like crossword and jumbled word. Getting used to its 90s-like interface might be tricky for some people.
4 question types and 7 learning interactions like "matching"
Can output SCORM 1.2 packages
Pictures and video can be inserted into questions and answers
Not very user-friendly
Lacks detailed tutorials
Can't be used to collect quiz results without an LMS
Best for: Experienced educators who are looking for a cheap option for creating SCORM-compatible quizzes.
Conclusion
There is no shortage of quiz makers these days. And, while some of them are more suitable for schools and colleges (Respondus, Examsoft, Classmarker), others are better for corporate training and proficiency testing (iSpring Quizmaker). Whatever your area of work, we hope this list helped you choose the best quiz tool for the job.
If you have any quiz makers you'd like to suggest for an update of this overview, share them with us and the community in the comments below.
iSpring QuizMaker
Create interactive quizzes for learning, knowledge checks, and skill practice