February 28, 2022
New Employee Preboarding 101: Get Ahead of Day 1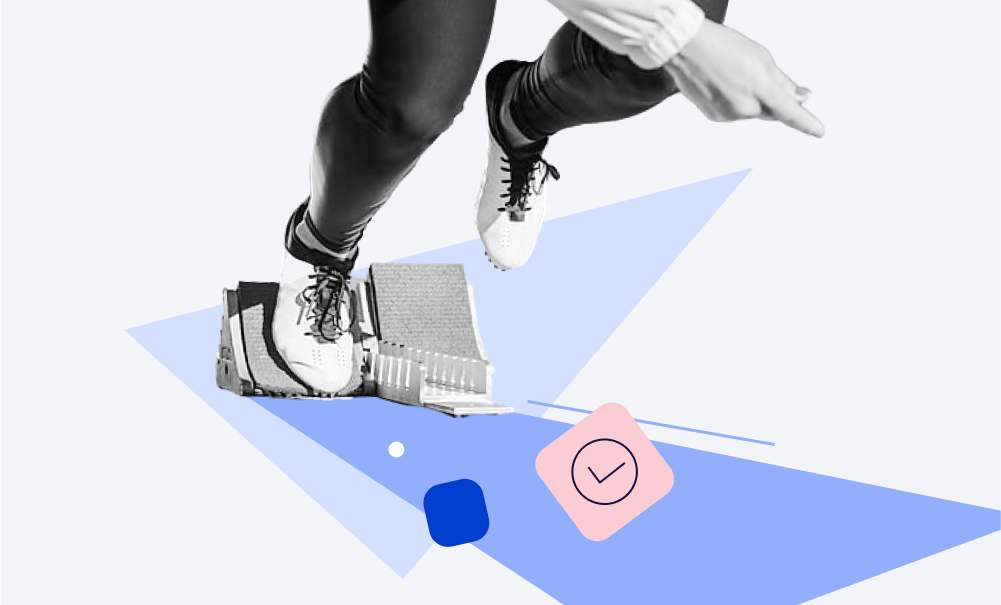 Employees are currently getting less face time with employers and teammates than at any other time in recent history. Our current way of working brings its own opportunities and challenges, and one of these challenges is creating a connection with new employees. This cannot be underestimated because an employee's journey to engagement and investment in the organization's mission, culture, and values doesn't begin on day one. It begins long before that – during recruitment.
So, what can you do to motivate new recruits and quickly create a feeling of comfort before they even start their onboarding on day one? This is where preboarding comes into play. Onboarding programs allow companies to shorten employees' time needed to attain productivity and increases retention, and preboarding sets the stage for that experience to happen successfully.
What Is Preboarding?
First things first – let's answer the question, "What is preboarding?"
Preboarding is the period of time between an employee accepting a job offer and their first day.
In this way, you can think of preboarding as a subsection of the overarching onboarding process. The important thing is to not mix up preboarding and onboarding – although they are similar, they are distinct parts of the new employee's journey. We will discuss these differences in a bit more detail now.
Preboarding vs. onboarding
Onboarding can be defined as the period between your new hire's first day on the job and the end of their induction period into the company.
Depending on the particular role and the organization, this period could be anywhere between one day and the end of their first year of employment.
As a general rule, onboarding may involve:
An introduction to the organization
Completing administration forms like payroll and tax
Enrolling in company insurance and retirement savings plans
Receiving a computer, a company email account, access cards, and other job necessities
Learning company policies and procedures covered in the employee handbook
Learning the organizational chart and common company protocols
Providing an overview of specific industry and company compliance requirements
Introduction to the specific job/role/position
'Preboarding employees' refers to whatever process your organization has up and running from when the candidate initially accepts their job offer, right through to their first day working for you.
You may have noticed that all of the tasks we listed under onboarding actually have no real benefit to the employees' first day experience and could be considered 'time sink'' admin tasks that nevertheless must be completed. This makes them ideal to include in preboarding instead, as it will leave time on day one for meaningful training and engagement.
So, preboarding can include anything that can be handled by email or online before the employee starts work, in addition to more compelling elements like online training, to introduce the company and compliance orientation. And there are many benefits to preboarding.
Benefits of Preboarding
Some of the key benefits of a preboarding program include:
Solidified employee commitment to your company
Your preboarding process has a big impact on the loyalty factor that your new employee has toward your company. By using the correct communication and outreach, you can generate rapport with new hires from the very beginning.
Employee engagement is a big deal, so, it's very important to use the preboarding period to create excitement and interest in the new hire about your company before they even start. This not only gets them motivated to dive straight into work, but it's also a great way of strengthening their commitment to your corporate culture and brand.
Reduced churn
"New hire churn" may be less of a concern in the current global job market, but turnover in the new gig-based economy is actually very high – and this is something that should concern every organization as they move toward contract based work and freelance employees becomes more essential.
Business Insider has reported that some gig employers – and let's face it, that now encompasses most organizations in one way or another – could have a turnover as high as 500% per year. Decent preboarding can help reduce early turnover even with contract staff who you anticipate may not be with you for the long term.
Improved first day experience
When correctly planned and executed, preboarding can help make your new hire's 'day one' experience a genuinely good one. This can be done simply by focusing on what's really important.
So how do you decide what's important? Signing forms and going through large quantities of administrative red tape might be important, but don't forget to also focus on encouraging them to start building relationships with colleagues and managers. When people feel involved, they're more likely to feel like they are a part of something bigger than themselves, which will create a great first day.
Eliminate first day jitters
A big reason why first days are so stressful is that there is so much uncertainty. Employees are in an unfamiliar situation that may be exacerbated by not physically being there, so they will have a lot of questions:
How do I communicate with colleagues informally and formally?
How do the software and other online collaboration systems work?
What should I do about lunch? Wait… what should they do for lunch? That's right, we didn't just add that in there to deliberately throw you off – although your new starters might not have the usual consideration of which local sandwich shop or cafe to go to, or break room microwave etiquette, they probably do still have a very real concern about when it is permissible for them to take their break, for how long, etc., etc.
Preboarding provides a chance to address these concerns.
More productive employees – faster
We have already established the goal of a good preboarding process, and that is to ensure that new hires feel engaged with your organization. When workers don't have to waste their time on basic admin tasks, they can get straight down to business and track in-house training and other directly work-related tasks.
How to Create and Run Online Preboarding
So, preboarding is not just for giving new hires a great experience; it also has a huge impact on the business. Let's take a look at how to create preboarding online, step by step.
Create a preboarding checklist
Before you begin to create your program, it is a good idea to create a preboarding checklist of different tasks you need to complete to get your program up and running. This could include things like checking that IT accounts have been requested and that all your planned emails and communications get sent out.
Assign your teammate-to-be a buddy
Buddy up your new-hire with someone in the company. This usually happens as a part of the onboarding process, but consider pushing it forward and make the connection part of preboarding.
Introduce them to someone they might collaborate closely with virtually. They will probably have a lot of questions, but may hold back for fear that they are asking too many. Curb this by letting them know they have more than one designated person to turn to and making easy communication channels like chat readily available.
Send a company-wide introduction
To announce the arrival of a new team member, send an introductory message. Choose whatever medium fits with your company culture and team, whether it is a more traditional email or a chat message via a collaboration tool like Slack or Microsoft teams – the important thing is the content of the message.
In the message, you can briefly detail the new starter's work history, when their first day is, and share their social profile for the team to connect with. Perhaps end with an anecdote about why they stood out so much during the hiring process or why you're so excited that they are joining the team.
Stay in touch before they start
Depending on each individual's situation, it could be a single day or two months before they start with you. If the preboarding period is longer – for higher-level staff who may have a longer period of notice with their current employer, for example – check in with them during the course of it.
You could send over some videos or just let them know that you're available if they have any questions. Keeping in touch is crucial because if there's no contact between the offer and the start date, they are far more likely to entertain other offers or continue interviewing elsewhere.
Share the company handbook and benefits
If you have a company operational guide, 'handbook,' and/or a benefits guide, be sure to provide it before the new hire begins. This way, they can get acquainted with your company culture, perks, and policies so they are in the know about what you have to offer and what they can expect from you as an employer.
Learn how to get the most out of the employee handbook →
Assign an online course for preboarding
The key here is that it may be time-consuming and expensive to preboard and train each new employee individually. This is especially true if the organization is large and the turnover is quite high or circumstances require the use of lots of contract staff or freelancers. That's why many organizations choose to provide preboarding training, or at least part of this process, online.
An asynchronous online training program for new hires has many benefits, in large part because it is available on demand so it can be accessed at any time. It is also reusable, so creating an online course once and providing it to all new hires becomes a possibility.
There are a few sub-steps you will need to complete this part correctly.
Step 1: Design a new employee training program
The content for a new employee preboarding program is flexible but can generally be broken down into two key areas:
Welcome training: Here you can include topics about your company culture, values, and mission, the principal management team, some important company-wide rules and regulations, etc.
Compliance training: This is where you can address information and skills specific to meeting and maintaining compliance specific to your industry.
Here's an example of a preboarding induction course for all new hires entering an organization:
Sample outline of a preboarding induction course

Welcome

Welcome and congratulations on the new position from the chairman or CEO.
Brief company overview
A short overview of the organization, including its mission and some basic details about its markets, etc.
Introduction to the company

Company history
Organizational values
Corporate culture
Organizational hierarchy
Management staff
Overview of the products/services provided
Competitors

Compliance training

Occupational safety and health training
Antidiscrimination and diversity training
Info and cybersecurity training
Sexual harassment training
Workplace violence prevention
Industry-specific compliance training
Step 2. Create learning materials
If you happen to be new to course authoring and creating online training, then building a preboarding course may seem like a big challenge. But in fact, you don't even need to hire a professional eLearning developer or company. The good news is that with best authoring tools you can create online courses easily and quickly on your own.
Take iSpring Suite for example; with this suite of modern eLearning creation tools, you can build beautiful and engaging courses even if you have no background in technical development. iSpring Suite is a fully featured and yet easy-to-use package of authoring tools that allows you to create traditional slide-based courses, knowledge checks and quizzes, videos and screencasts, dialogue simulations, and microlearning interactive modules all within a single interface.
Now let's take a look at some examples of preboarding course content that can be created with iSpring Suite and delivered as online training.
Video
Create a professional-looking welcome and introduction to the organization either direct from the CEO, another high-level colleague, or using any mix of footage, on-screen elements, and audio that suits your brand.
This type of video is easy to make in iSpring Suite and gives a personal touch that can create a personal connection with the employee and help them gain insight into the values and goals of your organization. Check out an example of such a video here:
​
Slide-based courses
You may have existing content in PowerPoint that you can repurpose for preboarding, or you may opt to create a rapid slide-based course from scratch. Either way, these types of courses are the eLearning standard for a reason – they are quick and easy to create and familiar to the learner. Think of them as a self-paced presentation with extras, like clickable buttons, animations, hotspots, and revealed elements.
These types of courses are ideal for a deeper dive into topics like company culture, mission, and core values, or compliance training.
Quizzes
When preboarding new employees, it's critical to check that the information you are providing is being retained so it doesn't have to be repeated in the onboarding phase, or even later on in the training cycle.
This is especially important for compliance information that could be subject to federal or state laws and standards such as HIPAA or the OSHA CFR1920 workplace standards.
Interactive modules
An 'interactive' is an eLearning lesson that the user interacts with directly via mouse or touchscreen input. These are usually short, discrete lessons that are distinct from slide-based modules, as they have a higher level of interactivity and might be less linear. That being said, 'interactives' can happily live within slide-based courses to provide additional engagement and interest to important subjects.
Interactives can be time consuming to create manually due to the need to program variables, triggers, and other programmatic elements in the authoring tool, but with iSpring Suite, you can make these very quickly and intuitively with the use of templates.
An interactive can be used for almost any type of content, and the only limit is your imagination. For example, you could create an interactive organization chart with hotspots that provides more detail on each individual, or an interactive timeline that highlights key points and achievements in your company's history as in the following example: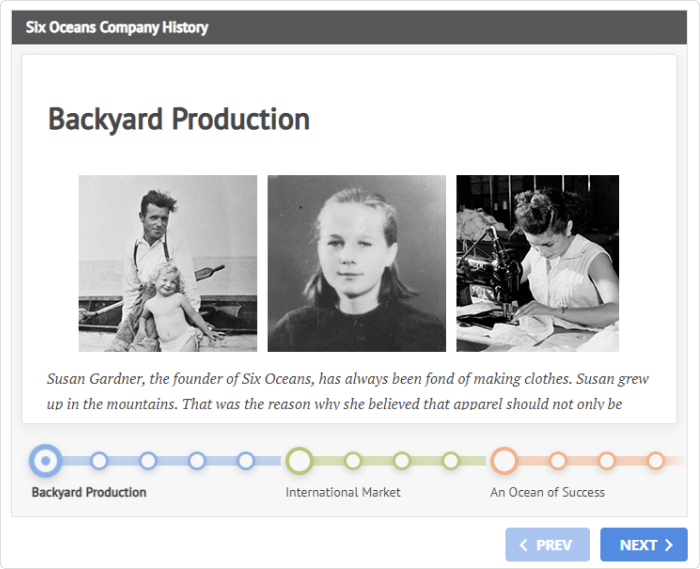 Step 3. Deliver the content to your employees
Once you've created a preboarding course, you will need to somehow deliver it to your new hires. The best solution for this is a learning management system (LMS). An LMS is designed to make the setup and delivery process as easy and streamlined as possible. It will let you automate a lot of functions like invitations, course assignments, and results tracking.
If you still don't use an LMS in your organization, you can try iSpring Learn. It will let you create and assign a preboarding pathway fast and set the courses up to deliver them to your new hires.
A big benefit of using an LMS is that your new hires can access the training easily online anytime and anyplace, and for those who want to access the course via a smartphone or tablet, iSpring Learn offers a custom mobile experience that includes a native app that allows learners to take courses even when offline.
The possibilities are limitless when an LMS is combined with an authoring tool, so this will really give you the flexibility to create effective preboarding programs.
Learn more about how to train new employees →
Now it's time to move on to other essential readiness preparation tasks.
Deliver the essentials
Give your new hire their email address and other account login information for your company's digital workspace and tools so they get signed in on their first day.
Send a first day email
First days can be overwhelming – from multiple introductions to familiarizing a new employee with a new way of working and culture. Before they start, send an email containing first day guidance. This could be technology tips, calendar invites to introductory meetings, onboarding sessions, and team building sessions.
Provide an FAQ
By putting together a list of frequently asked questions (FAQ) and sharing them with new hires before day one, you help to show that you care about their initial experience and reduce their anxiety.
You can also use this as an opportunity to introduce their point of contact in the organization. This means they'll start their first day feeling confident and having a better idea about who to address their questions to. Here's an example of an interactive FAQ created with iSpring Suite: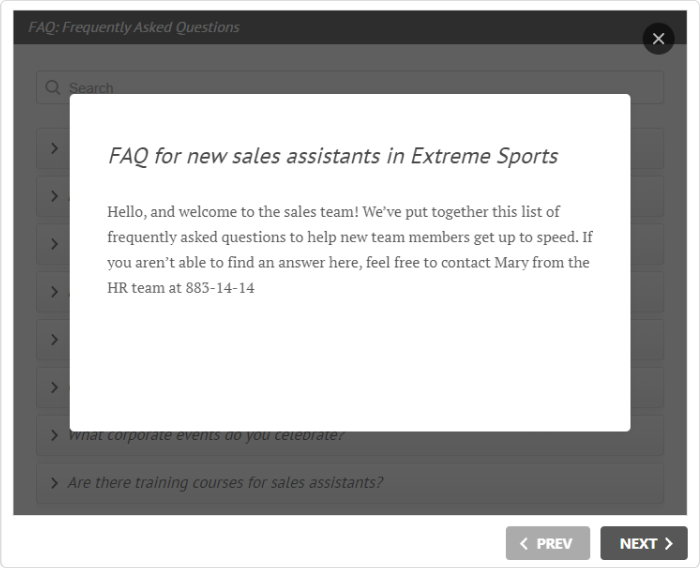 Final Thoughts
That wraps up our look at preboarding employees, a distinct but interwoven part of the onboarding process. It may not be as well known, but we hope that we have highlighted its importance and how it can benefit your organization.
Have you ever conducted a preboarding program or are you considering running one? If so, we would love to hear your thoughts in the comments section.