March 7, 2023
Restaurant Training: How to Boost Staff Performance with an LMS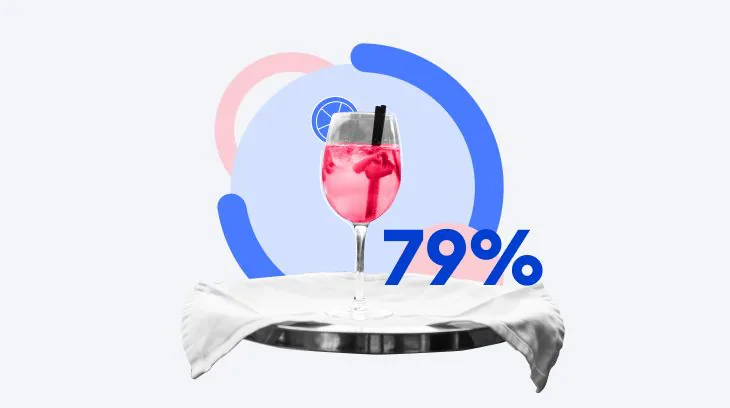 World-class restaurants all have one thing in common — excellent staff. Effective restaurant staff training is the key to achieving consistently high-quality customer service, increased efficiency, and high revenue. However, training comes at a price — it demands time, effort, and money. And that's where an LMS comes in. Moving learning online can help automate many training tasks and reduce costs.
Our guide covers everything you need to know about training restaurant employees, including:
Critical Training Challenges That Restaurants Face
Training restaurant staff isn't without its difficulties. These are some of the typical barriers that restaurant owners face:
Irregular shifts
Complicated workflows
Ever-changing menus and lists of ingredients
Interruptions during training
Hectic working environments
But the main challenges are high staff turnover and the need for constant training of new hires, as well as distributed employees. Many chain restaurants have branches in multiple locations, making it complicated to deliver consistent restaurant training to all personnel and effectively measure the results.
Common Training Topics for Restaurant Staff
Delicious dishes alone won't guarantee customer loyalty if the service falls short. Therefore, it's essential to invest in employee education to deliver a consistently excellent customer experience.
Although specific training needs and goals vary depending on the type of restaurant, any comprehensive training should cover the following:
1. Onboarding
Training for restaurant staff starts with a thorough onboarding program. During onboarding, the staff should learn all the essential policies, procedures, and role-specific knowledge. This typically involves these fundamental topics:
General information: Taking breaks, requesting holidays, uniforms, and code of conduct
Role-specific knowledge: Taking orders, seating guests, handling cash, POS and cash register training, administering refunds, cashing out, etc.
Menu knowledge: Ingredients, wine pairings, information that enables employees to offer thoughtful recommendations to customers, and menu prices
Industry rules and regulations: Hygiene, food safety training, alcohol training, etc.
By the end of the onboarding process, employees should have a clear idea of what is expected of them and what to do in case of an emergency.
2. Customer service training
High-quality customer service training is vital for all restaurant staff. It equips employees with the knowledge and competencies they need to communicate with customers effectively, handle complaints, and create a positive customer experience. Although onboarding covers the fundamentals, offering staff regular customer service training (or refresher training) is a good idea.
In particular, this type of employee education program should focus on developing communication, conflict management, and problem-solving skills. The more that employees hone these skills, the better service they'll provide. And exceptional service equates to happier customers, improved efficiency, and greater business success.
3. Restaurant management training
Restaurant managers play a pivotal role in keeping everything running smoothly. As a result, businesses should invest in restaurant manager training programs that focus on both technical skills and soft skills. This prepares future leaders to face all the challenges of a busy restaurant manager.
The restaurant manager training program should cover the following topics:
Employee management (team building, resolving conflicts among serving and kitchen staff, giving feedback that encourages professional growth)
Operations training (the know-how of the restaurant business and all components of daily restaurant management)
Understanding and managing customer sentiment (conducting customer satisfaction checks, identifying patterns in customer sentiment to improve the guest experience)
Financial management (establishing and managing a budget, creating sales goals, approving timesheets, and processing payroll)
Inventory management (examining inventory and kitchen supplies and preventing surplus orders)
Safety (controlling food quality to avoid food poisoning and keep guests safe, health guidelines, preventing theft)
Human resources (interviewing candidates, hiring staff members, training restaurant workers)
Interestingly, a LinkedIn poll revealed that the top skill of a restaurant manager is a positive attitude. So, consider including techniques for maintaining positivity in stressful situations in your restaurant manager training.
How to Create a Training Manual for Restaurant Employees
Providing consistently high-quality service is a top priority in the hospitality industry. And creating an employee handbook is an important step toward getting there.
Follow these steps to create an effective training manual for restaurant employees.
Step 1. Identify training topics
First and foremost, identify the key training areas that your staff needs to learn. Do this by listing all the tasks and responsibilities each employee role should be able to perform effectively. That way, you ensure that your restaurant training program only includes the topics that are relevant to your business and the role in question.
Next, rank them in order of importance to get a clear idea of where to get started and the order in which training modules should be delivered.
An example of a training plan for front of house staff
Employee role: Front of house
Key skills
When training takes place
Delivered by
1. Clocking in and out
Day 1
Floor supervisor
2. Overview of how the back of house is run
Day 1
Floor supervisor
3. Food and drink training
Day 1
Floor supervisor
4. Greeting customers and creating a positive experience
Day 1
Assigned buddy
5. Taking orders and dealing with special requests and dietary requirements
Day 1
Floor supervisor
6. Food service rules and procedures
Day 1
Floor supervisor
7. Floor plan and restaurant layout
Day 1
Assigned buddy
8. Presenting the check
Day 2
Assigned buddy
9. Closing the bill with cash, credit, debit, or a gift card (discounts, voiding items, etc.)
Day 2
Floor supervisor
10. Dealing with unsatisfied customers and returning food to the kitchen
Day 2
Floor supervisor
11. Closing up procedures
Day 2
Floor supervisor
12. Employee tip system
Day 2
Assigned buddy
Step 2. Choose a delivery method
Once you've defined the training topics, it's time to choose the best way to deliver your restaurant training manual. You have two options:
Create a printed training manual
Create a digital employee training manual
So, which one is best? That largely depends on the size of your workforce, your training goals, and the resources you have at your disposal. To help you decide, we've rounded up the pros and cons of both options.
First up, the case for and against creating a printed employee training manual.
The other option is to create a digital training manual. Here are the advantages and disadvantages of moving your manual online.
Step 3. Write and organize the training content
Next up, you'll need to write the content. First, decide how to organize the information. The goal is to make the manual as user-friendly as possible.
Begin by arranging the manual contents into logical sections or chapters, starting with the most basic information and working toward more advanced knowledge. Then, separate each part into sub-sections to make the content clear. Numbering your pages and having a clear index will help with this too.
Here's an example of how to lay out your content.
If you opt to create a printed paper manual, you just need to collect all the information in the file, as in the example above, look it through carefully, edit if necessary, and print it out for the entire staff. If you'd like to engage your employees with a digital manual, go to the next step.
Step 4. Create the content with an authoring tool
To build restaurant training courses, you'll need an eLearning authoring tool. If you have no content development background and strong tech skills, opt for a solution that's intuitive and easy to use, such as iSpring Suite.
iSpring Suite is an excellent, user-friendly option because it enables you to create interactive, multimedia-rich training right in PowerPoint. You can easily build online courses, role-play simulations, quizzes, video lectures, and e-books in the familiar PPT setting.
Here are a few examples of eLearning content that might be used for successful restaurant training – all created in iSpring Suite.
Slide-based courses
The beauty of slide-based online courses is that they use a format that learners are familiar with. This reduces distractions and allows employees to focus on what's important: the material. Adding visual aids and interactive elements to the training course engages staff and caters to different learning styles.
Check out this comprehensive guide on how to create an eLearning course
Interactive quizzes
Quizzes engage learners, boosting knowledge retention. They're also great for spotting knowledge gaps and identifying where further training is needed. Including gamification elements, such as points, badges, and timers, creates a fun learning environment that motivates employees to learn better.
Role-play simulations
Role-plays are an excellent way to train employees on key soft skills, such as communication. Learners get to practice their competencies in a risk-free environment, receiving just-in-time feedback as they work their way through the real-life simulation.
Step 6. Launch your training manual
The final step is to deliver your training manual to your restaurant staff. If you opt for online training, you will need a learning management system (LMS). A robust LMS, such as iSpring Learn, enables your organization to deliver training (manuals, online courses, videos, quizzes, etc.) to employees across multiple locations.
You can upload existing training materials, such as courses, PDFs, videos, and slides, and organize them into learning pathways for different positions.
Automate corporate training and improve employee performance.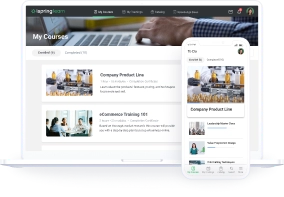 How to Automate Restaurant Staff Training by Using an LMS
Automating employee education programs using an LMS can save time, cut costs, and boost staff performance, thereby providing restaurant owners with a significant advantage.
Here, we look at three ways to automate and streamline restaurant employee training with iSpring Learn.
1. Reduce admin tasks
New employees are the best employees. But, there's a lot of admin that comes with a fresh hire. Setting up your organizational structure on your LMS can reduce the time spent organizing new hires and managing their training.
For example, with iSpring Learn, you can easily recreate your business hierarchy and set the system up to enroll all new hires in training automatically. You can also set up notifications so employees automatically receive reminders when it's time to take (or retake) training. This is especially important for recurrent training.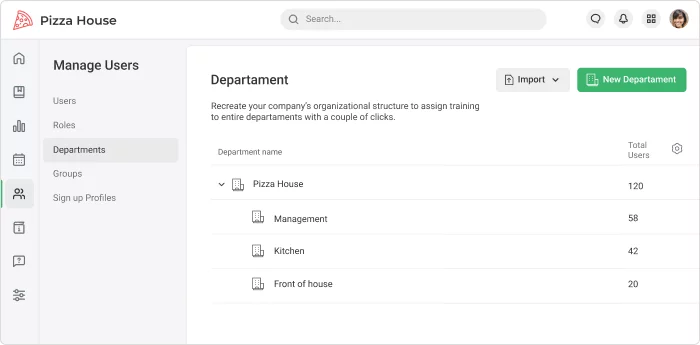 Opting for an LMS that integrates with your existing HR software can streamline your admin processes even further. For instance, you can integrate iSpring Learn with BambooHR, meaning that new hires are logged in to the LMS automatically and data can be synced between the two platforms.
2. Reduce managers' workloads
Restaurants experience high staff turnover. As a result, managers and supervisors find themselves answering the same questions repeatedly. Using an LMS can automate answering FAQs.
For instance, you can leverage Spring Learn to create an employee knowledge base with all the most important FAQs, documents, and resources. Employees simply search for the answers they need rather than asking managers.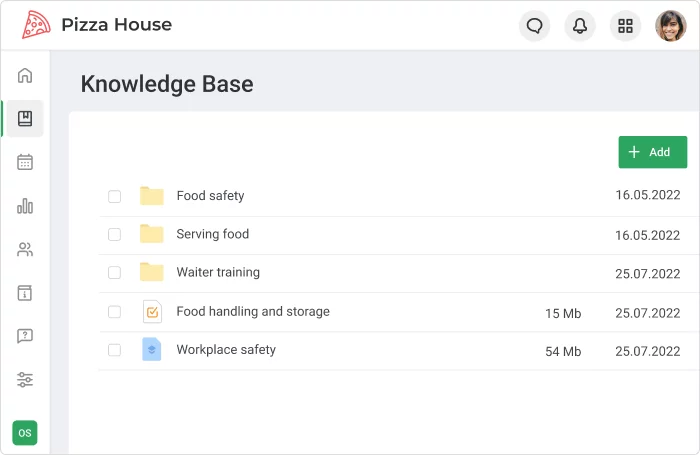 Managers can reduce their workloads further by using iSpring Learn to schedule and track in-person training sessions too. This streamlines the training process and saves time.
3. Track employee progress
In a frantic environment, such as hospitality, monitoring employee progress is not easy. With LMS reports, you can gain real-time insight into how your employees are progressing.
iSpring Learn offers a wide range of reports to help restaurant owners monitor which employees have completed the training and how they scored on the assessments. They can then use this data when considering who is eligible for internal promotions and who needs retraining. iSpring's reports display staff progress on an individual, team, and organizational level, making it easy to see the big picture.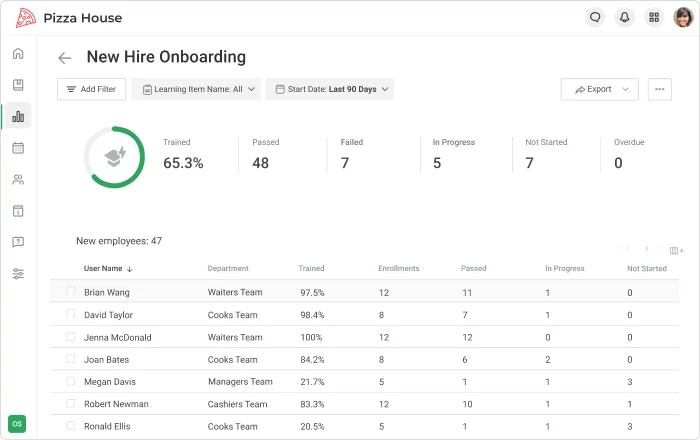 FAQ
Here, we answer the most common questions about training restaurant personnel.
1. How can a restaurant increase productivity?
In a word, training. Restaurants that invest in comprehensive employee training tend to enjoy improved productivity and lower staff turnover. This is because the staff has the knowledge, skills, and confidence to do their jobs effectively.
In a nutshell, well-trained staff make fewer mistakes and need less help and correction from management. This frees up time for managers to spend on more impactful work, such as implementing new time-saving workflows and processes.
2. What is the best way to train restaurant staff?
Since restaurant employees tend to be strapped for time, delivering staff training online works best. That's because it allows staff to access crucial training on any device at a time that suits them.
Microlearning modules are particularly effective when training restaurant staff because they provide them with short bursts of information. As a result, employees can easily retain key messages and apply that knowledge immediately.
Final Thoughts
The restaurant industry faces many challenges in terms of employee training. Yet, despite these challenges, providing effective employee training has many benefits.
A study showed hospitality businesses that spent 5% or more of their budget on employee training reported 23% less staff turnover. As well as increasing employee retention, providing regular, high-quality learning opportunities makes personnel more engaged and productive, too.
iSpring Learn LMS is an ideal solution for restaurant training programs. Simple yet powerful, it's designed to streamline the training process, reduce costs, and boost staff performance. With its user-friendly interface, automated features, and powerful reporting and analytics, you can ensure that your workforce has the knowledge and skills they need to succeed.
Book a free demo of iSpring Learn LMS today to discover how this platform can transform your training.