February 21, 2023
Onboarding Automation: How to put Employee Onboarding on Autopilot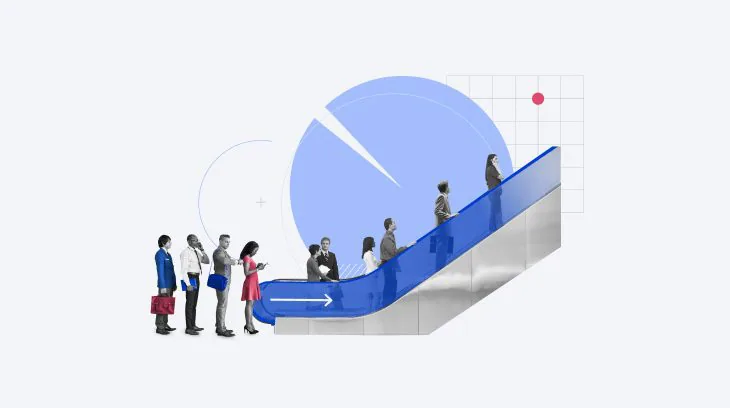 A Gallup survey showed that employees who enjoy a top-notch onboarding experience are 2.6 times as likely to be extremely satisfied with their company. So, high-quality new hire onboarding is a necessity, rather than an option.
But how much time and effort will it take to onboard each recruit individually? It's scary to think about it. Fortunately, with modern technologies, organizations can simplify this process and even put it on autopilot.
This guide breaks down everything you need to know about automating onboarding, including:
What Is Onboarding Automation?
Onboarding automation is the process of automating onboarding-related workflows to reduce time spent on tedious manual tasks. It digitizes traditionally manual processes, such as sending welcome emails, inputting manual employee data, and assigning onboarding tasks.
Common software for onboarding automation includes a learning management system (LMS), an HR platform, and project management tools. They allow employees to access all the onboarding information they need under one roof (checklists, to-do lists, and training courses) and enable new hires to keep track of their tasks, making the adaptation experience more organized and smoother.
Advantages of Employee Onboarding Automation
Employee onboarding isn't just about showing new recruits their workstation or how to clock in. It's about integrating new hires into the organization and prepping them to be productive, engaged team members.
According to BambooHR, employees who found their onboarding effective were 18 times more likely to feel a sense of commitment to their company and 30 times more likely to have a high level of job satisfaction. With so much at stake, it's no wonder that organizations pull out all the stops to create an efficient employee onboarding experience. But how exactly does onboarding automation fit into all this?
Reduces errors: We're all human, but some errors, such as giving new hires access to confidential documents, can lead to serious security risks. By automating the onboarding process, you can mitigate the risk of human error, helping your company to prevent breaches (and keep things consistent).
Saves time: It reduces the number of repetitive, manual tasks that HR professionals (and new hires) have to perform. This lightens their workloads and gives them more time to focus on more meaningful work.
Boosts staff engagement: Automated employee onboarding simplifies this process and removes common frustrations and pain points. As a result, new employees enjoy a better onboarding experience and feel more engaged from their first day on.
Enhances data management: The automation software makes it easier to store and track essential employee data. This data therefore becomes more accessible and the risk of it being lost is minimized.
Cuts costs: By putting manual processes, such as data entry and paper-based documentation, on autopilot, your organization can reduce the associated costs.
The 3 Best Employee Onboarding Automation Software
When it comes to selecting the best software, the answer lies in your organization's needs, current workflows, and goals. In most cases, opting for software that you already have in your tech stack or tool wish list is a smart option. Multipurpose tools mean your workforce has fewer new platforms to navigate. This shortens learning curves and implementation times and streamlines workflows.
With that in mind, we've rounded up the three top tools for automating employee onboarding.
1. iSpring Learn LMS
A report by Training Mag shows that 98% of large enterprises, 96% of midsize companies, and 80% of small businesses use an LMS to deliver training. Since an LMS is already an integral tool for the majority of organizations, it makes sense to leverage it to automate your onboarding. However, the platform should have a specific set of features for this.
Let's look at what iSpring Learn LMS offers in terms of putting employee onboarding on cruise control.
Personalized learning paths
You can build personalized learning paths for new hires based on their function, level of seniority, or onboarding group. These can include online courses, VILT sessions, and even face-to-face meetings. Employees simply follow the learning path, completing tasks in the correct order. By having every element of the onboarding in one learning path, new hires can rest assured that they aren't missing important tasks. And managers don't need to constantly watch over their shoulder.
Here's how it works. On an employee's first day, add your newcomer to the New hire group in the LMS, and the system will automatically enroll them in the relevant learning path. Employees simply have to log in to the platform to access their onboarding training plan.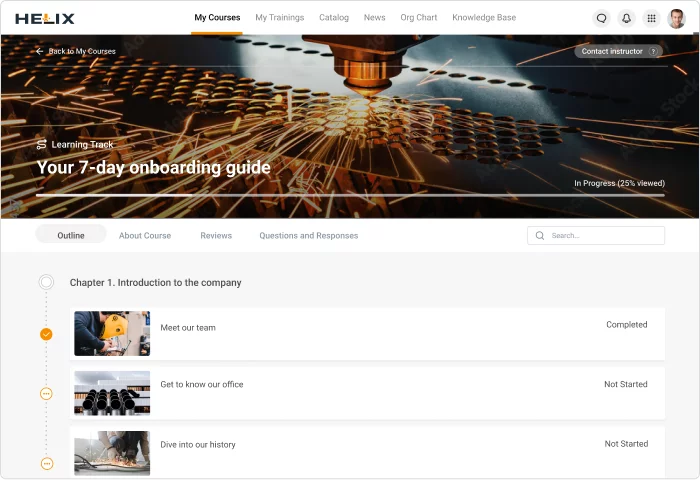 Automated platform notifications
With iSpring Learn, you can set up automated notifications, so new hires receive reminders to complete training courses or attend onboarding sessions.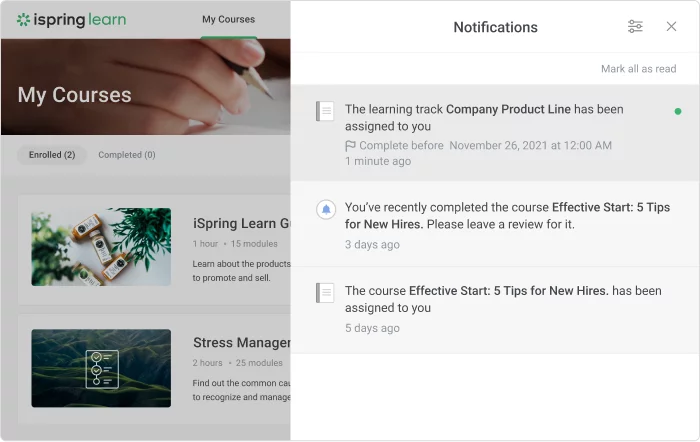 It also integrates with several existing corporate tools, such as video conferencing software, HR platforms, and calendars.
Automated FAQs
Of course, you want to ensure that new recruits have enough support during their first few weeks or months. However, answering common newbie questions can be extremely time-consuming for managers and HR staff to respond to.
With iSpring Learn, you can automate these replies by building an internal knowledge base within the platform. This gives new hires automatic access to training resources, such as this interactive onboarding FAQ: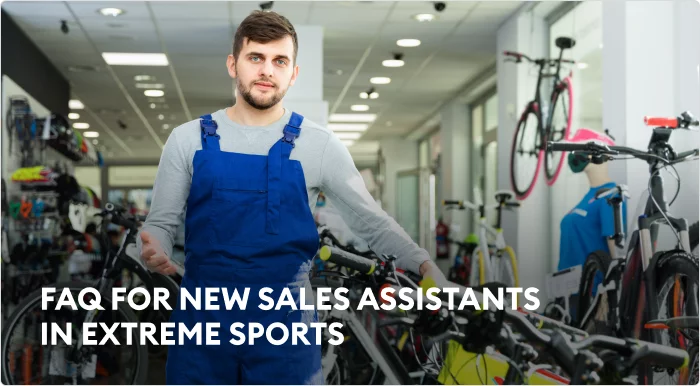 iSpring Learn's knowledge base is also an excellent place to store all the documents and policies that employees might need during their onboarding process. As such, you can reduce managers' workloads and automate the answers to common first-day questions.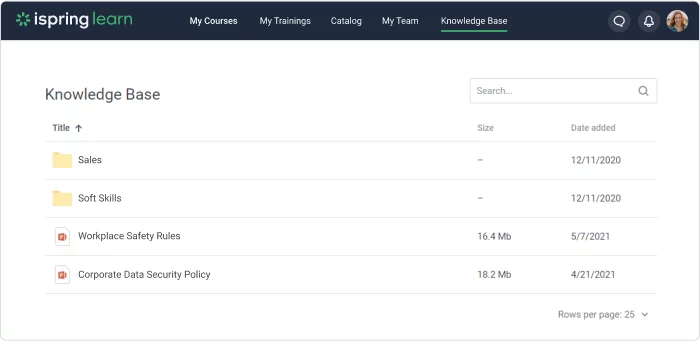 LMS reporting
iSpring's analytics provides managers and HR teams with insightful data. HR staff can pull custom reports to monitor employee progress at an individual and group level, making sure that all new employees complete the full onboarding process.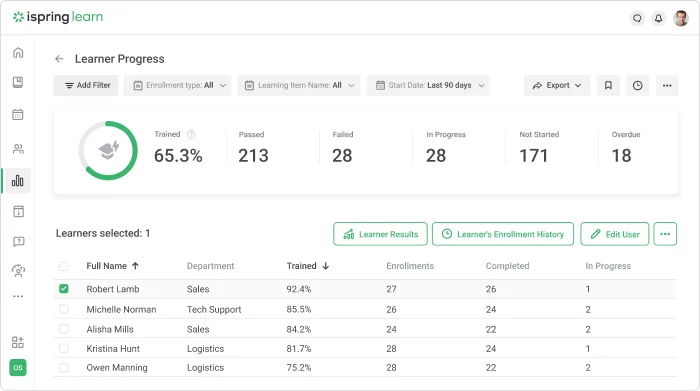 Reporting also ensures that new employees complete all mandatory compliance training by the deadline. This is extremely important to minimize security risks and workplace accidents.
Verdict: In a nutshell, iSpring Learn LMS is a simple yet powerful tool for onboarding automation. It automates digital and blended onboarding processes, creating a streamlined experience for both employees and HR staff.
Automate corporate training and improve employee performance.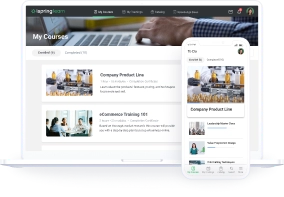 2. BambooHR
A leading HR solution, BambooHR comes with a rich array of automated onboarding software solutions. Here are some of the salient features and use cases.
Electronic signatures
Your first day at a new job usually entails a lot of paperwork. This can dampen the mood somewhat and make things a bit formal. Plus, for remote companies or those with dispersed workforces, getting all the necessary paperwork signed is a logistical nightmare.
With BambooHR, you can gather electronic signatures, taking almost all of the legwork out of the dreaded paperwork process. This makes for a much more pleasant first day for new hires and a lot less stress for HR teams that have to onboard remote employees.
Customizable new hire templates
Communication is key, especially for a new employee. That said, it can take up huge amounts of time for managers and HR staff. To automate this process while keeping communication alive, you can set up welcome emails, IT checklists, and customized preboarding communications for new recruits.
There's a wide range of New Hire templates, which will allow you to personalize onboarding messages for different roles, departments, and locations easily. This way, you maintain the personal touch and free up an enormous amount of time.
Tasks to complete
The main goal of automating onboarding is to support fresh hires in becoming fully productive team members. BambooHR can help achieve this by automating your onboarding tasks. Employees are automatically sent a checklist of tasks to complete in the order they should be done. This makes it easier for new hires to stay organized and saves managers from having to talk them through each task.
Integrations
BambooHR integrates with a number of other corporate tools in your tech stack, creating a seamless experience for new employees and the staff who are managing the onboarding process. For example, it has integrations with popular corporate tools such as Slack, Culture Amp, and Google Single Sign-On.
You can also connect it with iSpring Learn LMS, which means that each new hire is logged in to the LMS. As a result, employees are automatically enrolled in onboarding training and data can be synced between the two platforms.
Verdict: In short, BambooHR handles the paperwork side of onboarding, so you can focus more on the human element. Employees enjoy a well-organized onboarding experience, and HR teams can free up valuable time otherwise spent on menial tasks.
3. Trello
Trello is one of the leading project management tools for organizations worldwide. The 'Kanban'-based software is simple to use, allowing you to create interactive boards, tasks, and cards. This streamlines group collaboration and keeps everyone involved in projects without the extra admin of sending progress updates. As such, it's a great addition to your corporate toolkit.
When it comes to onboarding automation, Trello works really well. Here are some of its most useful features.
New hire onboarding template
Trello allows you to create a master onboarding template board that you can simply copy and customize for every new recruit. This saves precious time and ensures you never forget another onboarding task. The template automates much of the admin and communication during the onboarding process. It's essentially an interactive to-do list where the admin can assign tasks to new hires with due dates.
It's a simple way to automate onboarding and cut the time spent on explaining, logging, and sharing tasks with new starts. You can make the board visible to all the relevant stakeholders in the employee's onboarding, including team members, HR staff, managers, and buddies.
Team collaboration
Employee onboarding has lots of moving parts. And, usually, quite a few stakeholders are involved. From managers to HR to team members to L&D, collaboration is important. Trello makes it easy to automate collaboration by giving multiple stakeholders visibility.
For instance, you can add subtasks underneath each onboarding task and assign the relevant person. That way, new hires know who they should be working with and when.
If an employee is starting in a role that gives them access to sensitive data, you can adjust the privacy settings on their interactive board to reflect this.
Dashcards
The last thing you want to do is overwhelm new recruits with a huge interactive board packed with tasks. Trello's Dashcards feature can prevent this from happening. It basically gathers all of the relevant information about a task or project into a single location (a card).
This simplifies workflows for new employees, allowing them to filter cards by priority, due dates, and 'Still to do.' As they complete tasks, they can update the Trello board and share their progress with the team.
​Integrations
Trello integrates with other standard corporate software, such as Google Calendar, to save new employees from toggling between different tools. With this integration, important meetings are automatically synced to employees' calendars. This creates a much more seamless onboarding experience, boosts productivity for new hires, and leaves less room for human error. No more delays or missed meetings!
Verdict: All-in-all, Trello is a wonderful tool to have in your onboarding arsenal. It comes with several highly useful features to automate onboarding. While it doesn't have the full range of onboarding automation capabilities that iSpring and BambooHR possess, it's certainly an excellent complement that will streamline workflows.
How to Automate the Onboarding Process in 4 Steps
Slashing the time spent on tedious tasks means new employees enjoy a much more human onboarding experience without the stress of toggling multiple tools, welcome emails, and learning platforms.
So, without further ado, here are the ways to automate new hire onboarding in 4 simple steps.
Step 1. Define onboarding tasks
Start by breaking down each stage of the onboarding process. Be as detailed as possible, ensuring that every task has been logged. Consider the following questions:
Which onboarding tasks are the most time consuming?
What are the most common queries new hires have?
Which tasks require the most resources?
Using this information, create a master checklist that covers every stage of the process and identifies where the pain points lie. For the best results, gather feedback from other stakeholders and employees.
Step 2. Determine which tasks to automate
Once you have an exhaustive list of every phase of the onboarding process, analyze the steps needed to identify which tasks could be automated. Then, pinpoint the top-priority tasks (aka the ones causing the most frustration or biggest impact).
For example, you might want to automate these common time-consuming onboarding processes:
Sending preboarding messages, welcome emails, and reminders
Manually uploading employee information to the platform
Extracting data from documents
Step 3. Get stakeholders involved
It takes a village to successfully onboard staff, so don't go it alone. Involving stakeholders, such as managers, L&D, teams, and C-suite leaders, will set you up for automation success. One of the best ways to get buy-in is to outline the benefits at the business and individual levels clearly.
Opting for an onboarding automation software that's user-friendly will also impact buy-in positively. In other words, show key stakeholders how straightforward automation software is, so they'll feel empowered to use it.
Step 4. Measure results
A common fear is that automating onboarding will remove the personal touch. As we've seen, this is simply not the case. But, the best way to prove this is with data. Define key metrics to measure the impact that automation has on the onboarding process.
You can do this by comparing:
Satisfaction surveys
Completion rates on onboarding training
The number of typical newbie questions that managers receive
Productivity levels
Think of employee onboarding as a living, breathing thing. It needs regular health checks to ensure it evolves with the business. So, routinely review processes to see where automation could help.
Employee Onboarding Checklist
Staying on top of employee onboarding is no small feat. Fortunately, there are ways to make your life easier.
Our free employee onboarding checklist covers the essential tasks and actions that new staff members need to complete at each stage of the process. So, you can empower fresh hires to settle in and reach their full productivity more quickly.
Download the onboarding checklist
FAQ
Here, you'll find the most common questions about onboarding automation.
1. How do I successfully onboard employees?
According to the SHRM Foundation, the key to successful onboarding is covering The Four C's:
Compliance – policies, rules, and paperwork
Clarification – roles, responsibilities, and upcoming projects
Culture – how the company works, where they fit in, and where the different facilities are
Connection – meeting colleagues, buddy programs, and icebreakers
These ensure that employees have all the necessary information they need to be happy, safe, and productive at the company.
2. How do I choose the best employee onboarding automation software?
Automation software can take care of the nuts and bolts of onboarding, like paperwork and policies, freeing up time for a more personal connection. When choosing software, consider these three key factors:
Does it align with your onboarding goals, structure, and needs?
Will it resolve current pain points or roadblocks in the onboarding process?
Does it sync with existing corporate tools (LMS, HR platforms, video conferencing, etc.)?
Final Thoughts
From reducing staff turnover to boosting productivity, a positive onboarding experience impacts the business significantly. The automation of processes offers employers a way to streamline tasks. This creates an effective onboarding approach that sets employees up for success from day one.
Looking for a robust automation tool? Give the iSpring Learn LMS a whirl. Sign up for an LMS demo today to see how it can revolutionize your organization's employee onboarding process.