The latest Flash Player security update (version 19.0.0.185) contains an issue that breaks any PowerPoint presentation with embedded Flash when you save it.
UPD: Adobe has fixed this bug in a subsequent update (version 19.0.0.207) so feel free to update your Flash to the most recent version. If you have problems opening corrupted PowerPoint presentations, use our restoration utility:
Fix your corrupted .pptx files with the restoration utility developed by iSpring →
Symptoms
When you try to open a presentation that contains embedded Flash, you see this error message:
If you select Repair, PowerPoint says that some content cannot be read.
Every time you open the presentation, PowerPoint will prompt you to repair the .pptx file to no avail. It will continue to happen until you delete the Flash object or a slide with it.
Sometimes, the presentation completely freezes so you can neither view it or save.
If you try to start a Slide Show (F5), this operation can't be carried out.
Another symptom diagnosed is an error message appearing when you try to preview or publish your presentation that contains a Flash file (via Preview or Publish on the iSpring ribbon).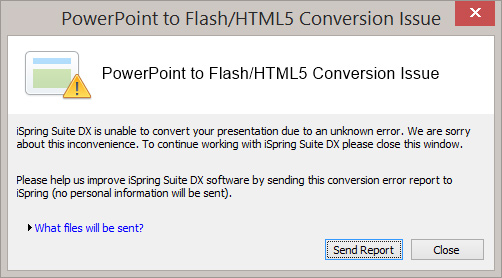 Cause
The latest Flash Player update (version 19.0.0.185) contains a bug that corrupts PowerPoint files after saving. It happens due to changing the way how embedded .swf files are incorporated into a .pptx file.
How to find this Flash update in your system
If you use Windows 7 or earlier, go to http://www.adobe.com/software/flash/about/ using your Internet Explorer web browser (you must use IE, because if you use Chrome, for example, it might show another Flash version).
If you use Windows 8 or later, Flash Player updates are included in Windows updates.
Pres Win on your keyboard, type in View update history and run the utility.


Find the new Security Update for Internet Explorer Flash Player for Windows (KB3087040).

Resolution
Update your Flash Player to the most recent version, because this problem has been resolved there.
We have developed a restoration utility that fixes corrupted PowerPoint presentations with embedded Flash after the latest update (19.0.0.185).
Get your restoration utility now and see how to fix your PPT files with it →
After that, you can open PowerPoint presentations that contain embedded Flash objects normally.