As the business world continues to evolve and require skill sets, which normal academic institutions cannot keep up with, e-Learning (obtaining educational resources via electronic sources, in an on-line manner) has grown exponentially in recent years. With this in mind, e-Learning trends are an ever-changing and growing component of the academic and business world. Here at iSpring Solutions, we keep abreast of just where and how these e-Learning opportunities are available in a cyber-centric world. Pretty much anywhere one looks, they can find an e-Learning opportunity.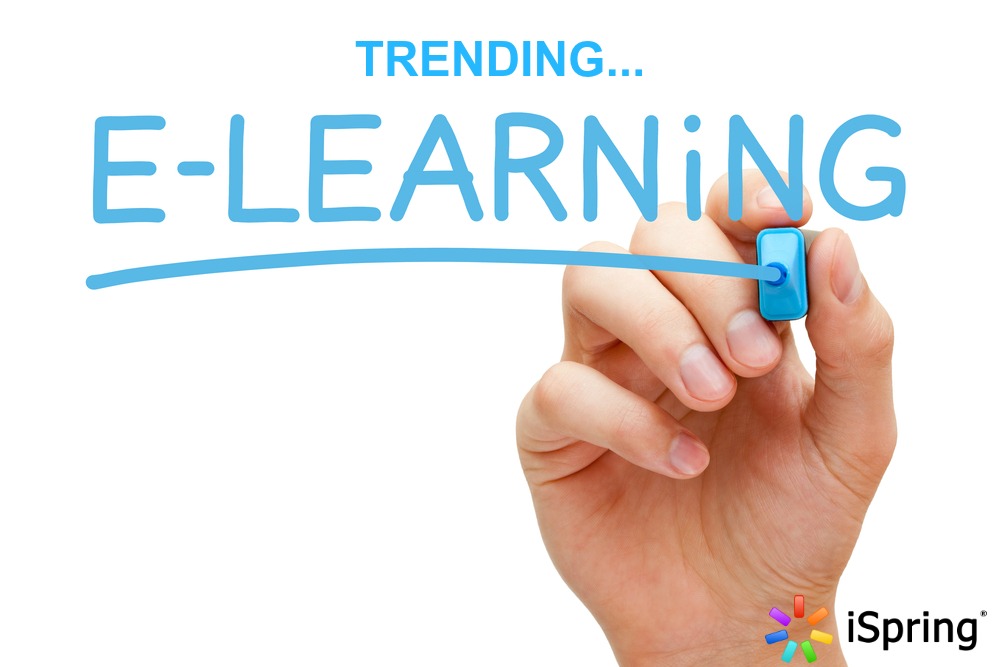 It's no surprise that with the success of the iPad, Google tablet, and Amazon Kindles, e-Learning opportunities are abundant in the tablet world. They're small and mobile capabilities make tablets a good candidate for e-Learning opportunities. Take for example a high school science class. As a study, the class takes a trip to observe and study the growth of bacteria in a local stream. Each student is equipped with a Wifi compatible tablet for this trip. Questions are surely to arise on this venture, but a library is obviously not available out in this natural setting. Therefore, when questions most surely arise, each student has their own tablet to utilize to search for the appropriate information. This is e-Learning at its finest.
Learn more about e-Learning on tablets ->
Smart watches, Fitbits, Nike bands, etc. The wearable technology sector has boomed with e-Learning opportunities. This mode of e-Learning is about offering the individual specific data and feedback to work with and adjust. For example, an athlete is training for the Ironman and the run has always been their weakest leg of the race. For their training, they have been using a Garmin smart watch to upload data from their training sessions. Through use of this data (obtained while running), they can analyze weaknesses in their running form, heart rate, pace, cadence, etc.; and adjust their workouts to address these weak points.
From an e-Learning perspective, it is imperative for a web pages, links, and so on, to display properly regardless of the device being utilized. As an example, a group of teachers are at an in-service to learn about a polling application that can be utilized in the classroom. The presenter asks the audience to go to a particular website. The teachers all have their own manner of technology available to them; some have smart phones, others tablets, and a couple have laptops. The point of a responsive web is that each of these teachers should be able to have an accurate and appropriate display of the website being looked at, regardless of the technology they are using.
Brain development games have been around for some time now. In fact, Brain Age on the Nintendo DS goes back about ten years. But with the growth of mobile devices, anyone with the desire or need to kill time can find learning games to play around with. These games are geared towards training your brain, just as one would train their muscles. The brain needs stimulus for continued growth, hence the growth of gamification (learning games). There's no shortage of these games. A simple Google search of "learning games" or "brain games" should keep one busy for quite some time. From an e-Learning standpoint, gamification offers the user an interesting situation or strategy related learning opportunity, provides meaningful feedback, and can even promote behavioral changes.
While e-Learning trends change, one thing is for certain… they are not going to disappear anytime soon. In a fast-paced, mobile world, the need and opportunity to learn "on the go" has never been more important.
Do you have any other applicable e-Learning Trends you would like to share? We would love to hear them!
To learn more about e-Learning and its many facets, to comment or ask a questions, please contact iSpring Solutions via our website or on our social media channels: Facebook, Twitter, LinkedIn! We're looking forward to hearing from you!