January 13, 2022
What Is Mobile Learning and How To Use It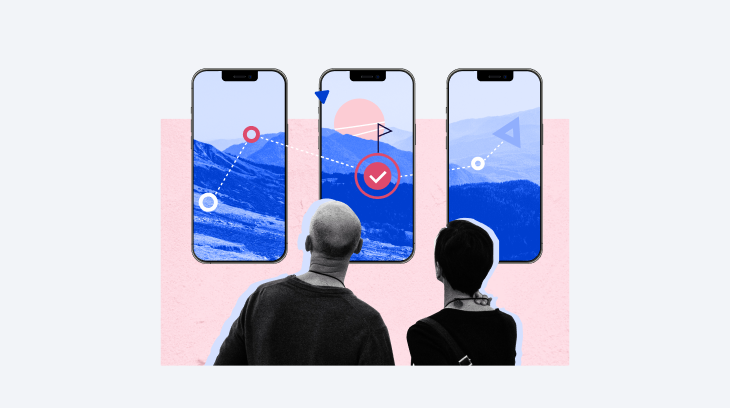 The times before smartphones were dark and cold. No dancing red dress lady emoji, no way to pretend you're texting, the need to talk to people over the phone...Today, expectations are extending beyond exchanging messages with friends. Meet mobile learning, the way out of classrooms.
The first smartphone made its debut in 1992. The device was called the Simon Personal Communicator. Aside from making calls, you could use this smartphone to send faxes (!) and emails, manage contacts, and use a calendar. In 2022, it will be Simon's 30th birthday, which means that we already have the first mobile-native generation of people who have grown up with this technology.
However, it's not just the younger natives; nowadays, we all take the capabilities of mobile devices for granted. What's more, we have this built-in expectation that "online" also means "mobile," always at our fingertips, right? A learning experience is no exception. In this article, you'll learn how mobile technologies can create more effective and engaging learning.
What Is Mobile Learning?
Mobile learning, or simply m-Learning, is anywhere and anytime learning that is supported by mobile devices which learners use to access the content. Devices that enable mobile learning are the same gadgets we all have in our pockets and backpacks: smartphones and tablets. With m-Learning, students can study assigned lessons, video lectures, and take tests right from their devices.
The Importance of Mobile Learning
Mobile learning is not just a trend or a common practice among students to search for something online while in class or during exams. Mobile learning is a fundamentally different approach in which 'mobile' refers not only to devices but to learners themselves. People have become increasingly mobile over the past decades, and this affects the way they need to acquire and practice knowledge.
They are not bound to certain locations or specific schedules anymore. 
Now they can learn in a format that is similar to watching Instagram 15sec.stories: it's more diverse, agile, and fast. Of course, there is no one-size-fits-all solution, and mobile learning is not designed for studying complex and abstract processes and concepts, like theoretical physics. But it will be just fine for quick refresher courses and interactive quizzes to enhance knowledge retention in both higher education and corporate spheres.
 So, let's look at the pros and cons of mobile learning.
Advantages of mobile learning
Availability. Learners can access helpful materials exactly when they need them. All it takes is pulling a smartphone out of one's pocket. 
Usability. M-learning is practical and task-oriented. It is perfect for how-tos, step-by-step tutorials, concise guides, and mini exercises – everything that helps put new skills into practice. 
Convenient size. Bite-sized courses and exercises are task-based and fit into daily schedules easily.
Social touch. Learners can reach out to their peers or instructors and find needed support in a breeze. They can leave comments, participate in discussion forums, and stay connected as a community. 
Engagement. Learners enjoy having learning resources at their fingertips – literally. Thus, training becomes interactive and feels so much more natural. 
Disadvantages of mobile learning
Tech discrepancies. Devices may differ in storage and processing capacities. Lower storage and speed can hinder the mobile learning experience.
Poor wireless connection. This can especially be an issue in remote places where even cell coverage can be insufficient.
Distractions. The urge to scroll social media, beeping notifications, procrastination, and common daily tasks might interrupt and reduce the effectiveness of training. Learners may need help to maintain their focus and concentration while using devices.
How Is Mobile Learning Different from eLearning? 
The use of a mobile device as a platform for content distribution isn't the only characteristic that distinguishes mobile learning from eLearning. eLearning courses can often be taken via mobile devices, so this fact alone doesn't make these courses "mobile." What are the other differences?
Different purpose
If you want to provide in-depth fundamental knowledge, eLearning will be fine. But if you need to launch refresher training or systematize acquired knowledge, then mobile learning can be a solid choice. The purpose of m-Learning is to increase support and diversification of the learning process. You provide learners with instant access to small and independent chunks of information, and they study it on the go or whenever they have a free minute.
Let's take language learning as an example. If you need to teach a grammar tense, you'd probably like to do it in a structured way to give your learners a holistic view of the topic. So, an eLearning lesson would do that just fine. 
But with mobile learning, the learners can brush up their knowledge, do some exercises, or watch a short video on their devices. They can also turn to this topic at the moment of need, say if they're writing an email, and aren't sure of the correct usage of the tense. All of these make m-Learning a booster for any type of learning that ensures higher retention and involvement.
Different length of a lesson
To get an idea of how long the lesson should be, think of the context where the learning occurs. Traditional online courses are usually taken on a computer or laptop at a desk, often in an office where there's a good Wi-fi connection. The average eLearning lesson can vary from 15 to 90 minutes, depending on the learning environment. Now let's imagine that you have to stare at the screen of your smartphone for 90 consecutive minutes. Don't your eyes get tired? 
For that reason, content developed for mobile devices should be broken into smaller units — lasting 3 to 5 minutes — that are easier for the learners to access on a smartphone. This way, the length of a unit will allow the learners to study while waiting in line or between work tasks.
Different output method
While eLearning doesn't require special software to run a course and can work right in a browser, m-Learning needs an app in at least two versions: one for iOS and another for Android devices. 
As we've already stated, eLearning courses can be viewed on mobile devices with the help of mobile browsers. So, aside from the need to zoom in on content, why would we need an app? 
Since native mobile apps are designed for mobile devices, they have access to operating system resources and features that web applications don't. Mobile apps make the user experience generally smoother, with access to the camera, audio inputs, barcode scanners, and other built-in sensors. m-Learning apps can also include features like the ability to take courses offline, save progress, and run processes in the background.
In a nutshell, m-Learning isn't a smaller portable version of eLearning; it's a completely different learning medium that affects what the training content will be.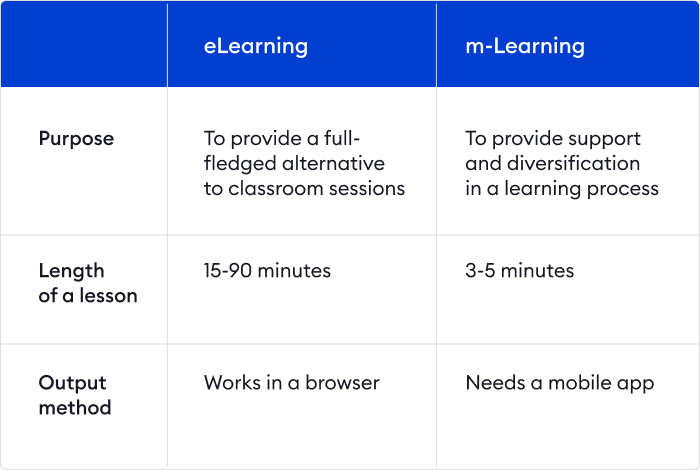 Mobile Learning in Corporate Education
You may already be familiar with eLearning practices in corporate training or have an online training program in your company. If so, your learners probably take courses during their work breaks using desktop PCs at the office. But let's admit that for sales representatives and others who work in the field, or those who go on frequent business trips, sitting in one place is not an option.
Mobile learning can address the challenge of training such itinerant employees. Let's look at several ways you can apply m-Learning in your company.
Below, we talk about companies that exemplify the successful implementation of mobile learning in the corporate sphere.
Examples of Mobile Learning in Corporate Education 
Here are some of the companies that have adopted mobile learning. They use m-Learning apps and technologies to train their customers, partners, and employees, and spread knowledge broadly:
Johnson & Johnson
Honeywell
Oticon
FYMCA
Johnson & Johnson
Johnson & Johnson has established an online university for health care providers all over the world. The Johnson & Johnson Institute is an online platform through which learners can access both general and personalized educational content and take part in telementoring sessions. 
This implies that healthcare providers can request real-time video help in using the company's products. They can collaborate with colleagues, get intraoperative guidance, and view video feeds on their mobile devices and laptops. 
Johnson & Johnson is also known for its podcasts on innovation and development. These recordings aim to deliver up-to-date knowledge on public welfare and healthcare in convenient portions. People can listen to them on the go and become more aware of current trends.  
Honeywell
The Honeywell corporation innovates in the spheres of aerospace, construction, chemical manufacturing, safety and security solutions, and commercial real estate in warehouses. The company provides on-demand mobile training for customers to improve their product expertise and help them conform to compliance requirements. For instance, Honeywell creates simulator apps to train customers on equipment inspection in augmented reality.  
Honeywell employees and dealers also can harness the opportunities of mobile learning in sales training and take short online courses on their smartphones. 
Oticon
Oticon is a global hearing aid company that uses mobile learning to train account managers across the country and overseas. Account managers and other field-based employees need to be highly trained on the products provided by Oticon. However, they have pretty tight schedules and work in different time zones. 
Oticon exploits iSpring Learn App for consistent and flexible training in the field. The app allows learners to download courses for offline access and study even during business flights. They stay aware of the latest updates and product features and can deliver truly meaningful customer service. Thanks to iSpring Learn reports, the team can see the training progress of each employee and assess their performance. 
FYMCA Medical
FYMCA Medical is a company that works in the charitable sector and provides consulting services on healthcare in low-income countries.  In order to deliver training to healthcare professionals in African countries and around the globe, FYMCA has created a one-year training program of 30 online courses.
 Doctors from remote and poor locations can't afford training and participation in medical conferences that take place overseas, but they can access the iSpring Learn App and study the training program wherever they are. Each of the courses lasts up to 45 minutes and includes a knowledge assessment. FYMCA coordinators build courses on their own with the help of iSpring Suite. They can also view users' scores and find it particularly helpful for tracking how learners progress through a course. 
Mobile learning helps FYMCA to prepare well-trained and committed healthcare professionals who are ready to fight rare diseases and enhance the lives of their communities. 
Feel inspired and want advice on how to launch m-Learning in your company? Read our guide on creating a mobile learning strategy and implement it in just 5 steps. Now, let's consider the situations in which it's totally worth going mobile. 
Reasons to Use Mobile Learning in Your Corporate Training
Here are some indicators that will help you to make the right decision regarding m-Learning in your company. See if you recognize your situation.
For many jobs, there are no specific workplaces. Salespeople, consultants, and transport or maintenance service workers are often on the go, so mobile learning already fits in with their work style.

There can be a  variety of situations: your team is spread around the globe, you have branch offices, or your employees come to the office from time to time, if at all. Thanks to the Internet, an employee can be in a coffee shop, in their home office, or in a deckchair and still be "at work."

Generation Z (born 1995–2010), the youngest members of which are already 11 years old, are those for whom a smartphone is commonplace and not a novelty.

And let's face facts: in a world of increasing multitasking, there's much less time for traditional training where you study first and apply knowledge later. Mobile learning allows people to use moments that would otherwise be wasted by studying something useful for their jobs and immediately apply their newly gained knowledge.

While m-Learning may not be the best option for teaching something from scratch, it shows great results as extra support. Mobile learning builds into the workflow of the real world and helps you guide and retrain employees whenever and wherever they need it.

Maintaining a competitive edge requires frequent training since technology is changing rapidly and new products, services, and approaches appear every day. Mobile learning can deliver knowledge in real-time whenever it's needed.
Software for Creating and Delivering Mobile Learning
The components of m-Learning can be visualized as a triangle where the sides are:
an authoring tool,
a learning management system,
and an app.
So, what does each of these components do?
An authoring tool allows you to create courses, presentations, video lectures, assessments, and simulations that you want your learners to study. It should be able to publish in HTML5 format. 
A learning management system serves as a command center where you upload training content, assign it to learners, monitor the statistics, and create reports. (By the way, if you don't use an LMS yet, we have a detailed explanatory post on what an LMS is and a guide on how to choose an LMS).
A mobile application is there to ensure a smooth learning experience for end users. They download it to their devices from app stores, install it, and use it to study the assigned materials.
If we take the iSpring tools to illustrate this point, the m-Learning ecosystem will consist of:
iSpring Suite, an authoring tool that helps you create mobile-ready content easily;
iSpring Learn, a learning management system;
iSpring Learn, a free mobile app for iOS and Android.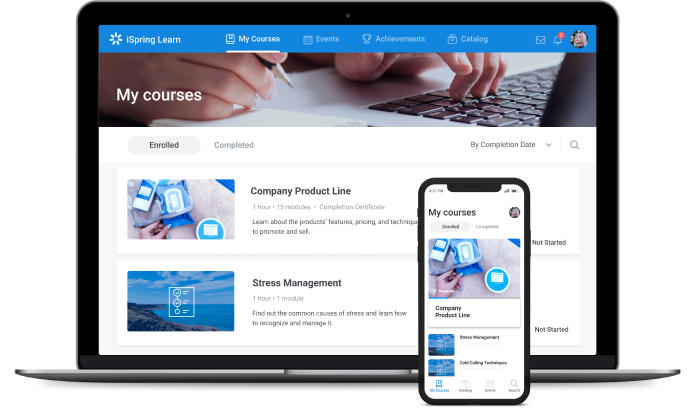 Things to Consider When Designing Mobile Learning Courses 
One thing to take into consideration with mobile devices, e.g., tablets and smartphones, is that they have a smaller screen size. This leads us to some points that you should think about before the development process begins. 
1. The input method
eLearning content is designed to be used with a tiny mouse pointer, while m-Learning content is manipulated with a finger. This means that all the clickable interface elements need to be larger, so they don't create an additional challenge for learners to tap a button or a link.
2. The amount of on-screen content
A desktop screen size can be anywhere from 19 to 34 inches. In comparison, the iPhone 13 Pro Max, which is currently the biggest iPhone ever, has a 6.7-inch screen. This way, you can't afford to lose pixels on fancy elements and should include only what matters most. Try to follow these guidelines:
Provide content in small chunks.
Don't include elements that are too small.
Follow the golden rule of "One screen, one idea."
To learn the nuts and bolts of designing m-Learning content, check out this post on 10 must-follow rules for creating mobile-friendly courses.
3. The content format 
First, mobile courses need to be published in a certain format – HTML5. Technically, this is what makes them available on any mobile device. Second, the learning content should be mobile-friendly, adapt to various screens, and look good everywhere: on desktops, tablets, and smartphones. This is possible with responsive and adaptive designs, and if you create courses with iSpring Suite, it's in the bag.  iSpring Suite automatically makes courses and quizzes mobile ready and can convert any preexisting materials into mobile-friendly HTML5 content.
FAQs on Mobile Learning
Let's take a brief look at several frequently asked questions about mobile learning.
m-Learning is content that is accessible using portable devices like smartphones, tablets, and laptop computers with consistent availability, both online and offline, to courses, quizzes, educational videos, etc.
What are the advantages of mobile learning?
Mobile learning makes new knowledge accessible from anywhere and in all settings. It helps to engage learners of various ages and creates a brand-new learning experience for them. 
What are the disadvantages of mobile learning?
Mobile learning is very tech-reliant and requires good cellphone coverage, wireless connection, powerful processors, and sufficient storage on devices. Also, as mobile phones can be distracting on their own, you can put the process of learning at risk if the learner can't stay focused. 
What are examples of using m-Learning in corporate training?
m-Learning is a flexible and efficient way to organize new hire induction and onboarding, implement product knowledge training, create a corporate knowledge base for 24/7 access,  and reinforce new skills with quizzes and interactions. 
m-Learning is a flexible way to gain and practice new knowledge at any time, anywhere. If you want to create quality content for m-Learning, use iSpring Suite for stunning mobile-ready courses. Enjoy a 14-day trial and build your first course today!