April 28, 2020
5 Teachable Alternatives You Must Consider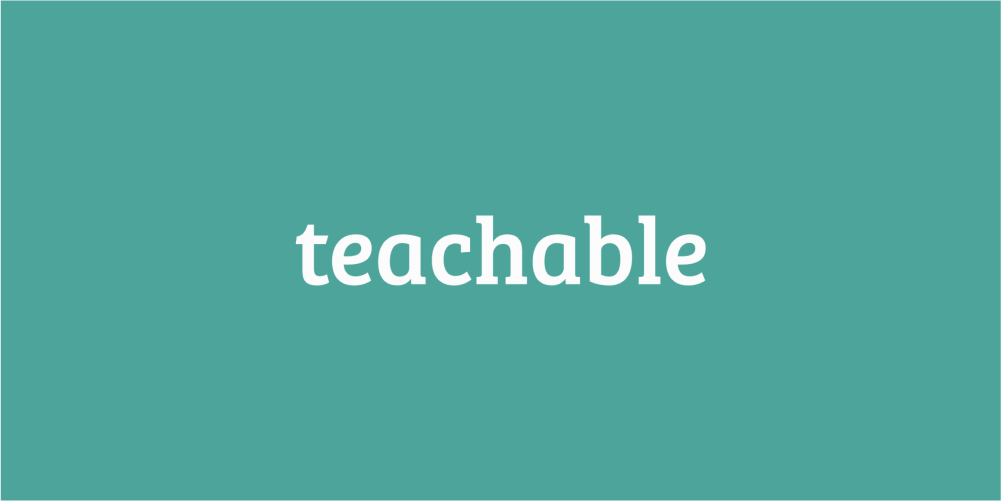 Considering the best Teachable alternatives? You're not alone. Teachable is one of the most popular online course platforms, and a quick Google search will reveal a wealth of Teachable reviews. However, its popularity doesn't make it the one-stop solution for all training companies. There are many Teachable alternatives worthy of your attention, and some of these may suit your business model better.
Whether you're a new entrepreneur looking to get into the booming online course business or have some experience in this field, you will need an online platform to sell your courses. In this article, we will provide an in-depth comparison of 6 of the best platforms for entrepreneurs to create and deliver online courses in 2020. But first, let's see what Teachable is and how it works.
Teachable Review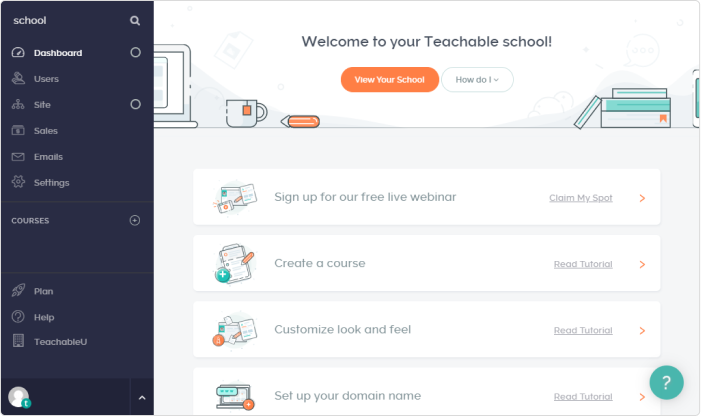 Teachable has some impressive statistics — it hosts more than 20,000 active courses, almost 3 million students, and 75,000 instructors online at any given time. 
It was one of the first platforms built to serve the online course market. Now, Teachable is an easy to use solution that offers several hosting options to suit most levels of business, from entrepreneurs to established training companies.
Course building and learner management
Teachable lets you build courses using a drag and drop editor, so that you can get started fast. The course content can be made up of a curriculum that is divided into sections and lectures. 
Teachable takes care of most learner management functions automatically; however, you can manually enroll, unenroll, refund or delete students as required. Management options for enrolled students focus more on list segmentation and marketing features like sending notification emails based on completions, code redemptions, and other filters to encourage course sales.
E-commerce
Once you have built and enabled your courses via Teachable, you have the option to host them under your own domain or subdomain, depending on what works better for your business.
The course marketplace supports multiple languages and currencies, so you can sell to a global audience without having to worry about manual currency conversions or using plugins in your shopping cart. In fact, you can use templates to set up customized sales pages and landing pages to target different geographic locations, which is a welcome feature. 
When selling your courses, there are flexible sales options to choose from, such as charging a one-time fee per course, selling subscriptions, or selling via payment plans, and all of these can be combined with various types of coupons to get your sales moving. 
You can also offer bundled courses, and all of your courses can be offered through different affiliate programs as an extra way to get sales.
Standout features
You can build a course quickly with the drag & drop page builder.
You can add live video and webinar streams to courses.
You can target SEO by building a blog on the platform without separate hosting.
You can embed forms and other content into lectures like Google forms and Youtube videos.
You can support international audiences by modifying the language used in any part of your site.
You can use tracking pixels like Facebook Pixel for analytics that don't rely on the Teachable site.
There's an automatic Tax collection, so VAT is collected automatically where applicable.
Users
The course creation options are fairly standard, so if you intend on mainly using video, image, and audio content to build courses, it will satisfy your needs. Teachable is ideal for businesses with their own developers or entrepreneurs with coding skills who want to provide a unique front-end experience to learners via customization and leverage the marketing integration options.
Pricing
There's a Free plan with quite limited options. The paid plans start at $29 per month (billed annually). You're charged a transaction fee that varies based on your plan: Free – 10% + $1 and Basic – 5%.
Teachable vs iSpring Market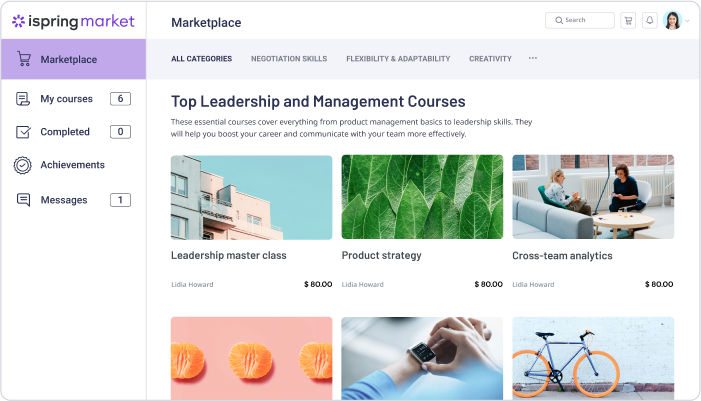 iSpring Market is designed for managing and selling online training courses. It has everything you need to build, host, and sell your courses on a single platform. You can quickly build or upload online courses, set up a store, add content to the store in a couple of clicks, and start selling to customers. The courses are displayed by default in a nifty looking digital storefront that can be customized to suit your customers and business. 
Course building and learner management
Building courses in iSpring Market is technically smooth, and the workflow is very intuitive. You can quickly create compound structured courses that are easy to navigate. Courses can be divided into several chapters, which, in their turn, consist of different content items, including video, audio, presentations, documents, or SCORM courses. For each course or even its different chapters, you can set up custom completion rules and deadlines.
Learner management is simple in iSpring Market, as users are auto-assigned a status based on where they are in your sales funnel process. This basically means they are either a Lead or an Active user — so you know who to send conversion-related content to.
If you plan to sell B2C via offering course bundles or library access, this can easily be achieved as Users can also be assigned to Organizations and Groups.
iSpring Market collects detailed statistics on every user and every content item. You can view reports on how learners take training materials and courses, check if they attended a certain event, and see how active they were when studying learning content.
Once signed up, logged-in users, for their part, can view their profiles and see immediately how many courses are available to them, how many they've taken, and other details about their progress.
E-commerce
After creating your iSpring Market courses, you can tweak your personal storefront webpage and then start your marketing efforts. The good news is that your iSpring Market storefront will start getting indexed by search engines almost immediately, so whether you choose to focus on longer-term SEO, some paid traffic via ads, or a combination, your iSpring Market storefront will be optimized and sales-ready.
You have lots of options to incentivize your course offerings and get some initial customers; for example, iSpring Market allows you to offer free courses, featured courses, and create discount coupons.
Your courses are easy for customers to buy in a couple of clicks with four different payment methods on offer and Paypal as standard, plus the option to sell globally in 30 local currencies. 
Standout features
You can use SCORM content immediately as it's supported out of the box.
There is support for iSpring file types: e-courses, quizzes, interactions, dialogs, and flipbooks.
All your learners get access to their own learner portal so they can learn when and where they like.
You can offer certifications to learners automatically.
You can track what your learners are doing and when.
You can offer discounts to get your courses moving
You can award learners achievements and points to keep them coming back using gamification features
You can accept payments in any currency, and your users will see their own currency when they visit your storefront.
The pricing model charges by active users, so you are only billed when you have active sign-ups.
Users
iSpring Market is a perfect platform for budding entrepreneurs to get their courses online fast while maintaining a high-quality premium look, and easily sell them either through a B2C, B2B, or combination model.
The simplicity of using iSpring Market belies its deep feature set, and the inclusion of certification functionality out of the box makes this a good choice for those wanting to offer certification incentives as part of their business model. To try out the iSpring Market, start a free 14-day trial.
Pricing
Starts at $444 per 500 users per year.
Teachable vs Thinkific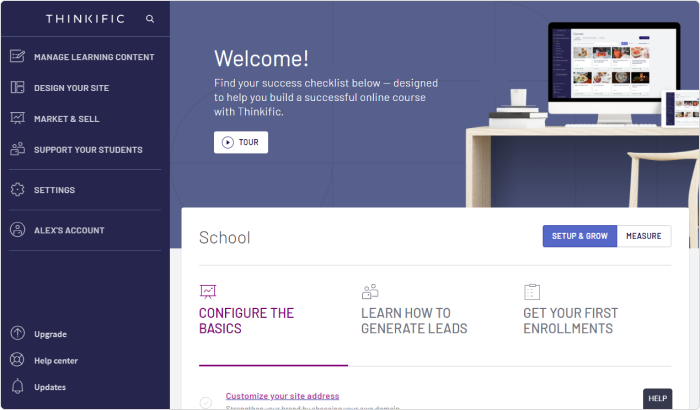 Thinkific is an online training platform with a focus on providing a great course building process that allows online courses to be built quickly without coding or technical considerations. You get a training market webpage that you can easily customize by choosing a theme and adjusting every element to match your brand. For larger training organizations, there is support for multiple users and selling to businesses via a B2B model.
Course building and learner management
Thinikific uses a drag and drop builder to create courses, so you can get simple offerings set up using text and PPT slides relatively quickly. There are also several different types of 'blocks' that can be used to customize the way that text and image content is presented. If you prefer to use additional types of content such as eLearning files, these can be embedded.
Course management options include the ability to set up private and hidden courses, set prerequisite lessons, drip course content on a schedule, and tag evergreen and expiring content. There is also support for multiple course authors and membership sites. 
Learner management is basic in Thinkific and is mostly automatic. After a student signs up, they can log into their student dashboard to change any of their previously input information, including their account's password and credit card details.
For reporting, Thinkific has a suite of features like group and cohort reporting, detailed segmentation, and the ability to export data.
E-commerce
Thinkific courses are hosted on a fully customizable website that is optimized to sell education. You can update themes to match your style or connect your courses to an existing website or sub-domain.
To support sales, there is a sizable set of integrations, marketing tools, and payment options. You can set your subscription prices and payment plans to offer flexibility in how customers will pay for and consume your content
Standout features
There are highly flexible content integrations.
Your uploaded videos are hosted on Wistia for improved speed and security.
You can offer different membership and subscription options for users.
You can market your courses on LinkedIn with built-in integration.
You can embed several eLearning formats, including SCORM 1.2 and 2004, plus HTML5.
To target and cater to different types of students, you can use goal setting, customized learning environments, dedicated tracking, and custom course landing pages.
Users
Thinkific is a decent platform made especially for selling courses, so it aims to do that one thing very well. The course builder is flexible enough to construct most types of courses, while the marketing options, integrations, and more in-depth customization options available will appeal to those that are focused on building a business and a brand around online courses.
For already successful businesses, the higher-priced plans offer more flexibility to manage multiple course creators.
Price
Paid plans start at $39 per month (billed annually). You can also use Thinkific for free, but it will charge you 10% of your earnings for each course that you sell, and you can only build up to 3 courses. There's also a 5% transaction fee for the Basic plan. 
Teachable vs Podia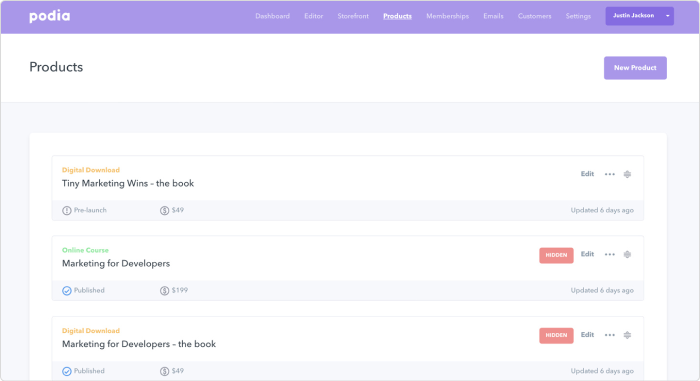 Podia is positioned as an all-in-one platform to create and sell not just online courses, but also memberships, and digital downloads. The main selling points of this Teachable alternative are a focus on being user-friendly, no transaction fees, and unlimited everything.
Course builder and learner management
To build your courses in Podia, there is a simple course builder that should be no problem even for those inexperienced in making online courses. You create sections and add text, links, or quizzes to them or import file-based content. 
The structure of your courses in Podia is made of Sections and Content, so this only offers a single-tier hierarchy, as opposed to the two-tier structure used by most course-selling platforms. If you already have a course structure in mind that follows a more industry-standard Module>Section>Topic format, this could be a frustration. 
Users can be created only by self-registration to one of your live courses or membership programs. For existing users, there are some basic management options (for example, you can delete a user) and some additional things you can do with marketing, such as automatic emails.
E-commerce
All the courses appear on the Podia front page, which you can tweak for basic design features like colors and fonts. When you are sales-ready, there is a good set of e-commerce and marketing features to start your brand recognition and sales efforts. They include social media integration, coupons, and discounts, multiple membership plans for learners, upsells, and the ability to offer courses or products as purchasable gifts.
Once you have some customers or prospects, email marketing lets you create drip campaigns, email newsletters, and set up and offer cross-sell options. If you prefer to BYO email marketing tool, integration with MailChimp, ActiveCampaign, Drip or Convert Kit, or Zapier are available.
Standout Features
You can build unlimited courses and sell to an unlimited number of students
You can create course bundles to offer more value to your learners
There is a gifting option to allow people to buy and send your courses to others as gifts
There are no restrictions on bandwidth or content storage
You can start collaborating with affiliate marketers in a couple of clicks and customize your affiliate offering per course.
You can offer payment plans for users
There is free migration assistance from other platforms.
Users
Podia is very easy to pick up and use – it's a simple option for selling courses, but it does also have some good marketing options. It seems squarely aimed at individual course creators and entrepreneurs as there's no option to add or manage additional users to enable multiple course creators, teams, or other collaboration structures.
Price
Starts at $39 per month (annual billing).
Teachable vs Teachery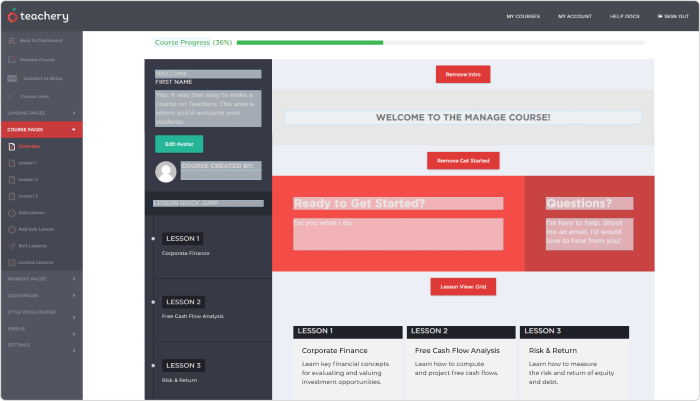 Teachery, another Teachable alternative, is an online-course selling platform that attempts to distinguish itself from the competition by offering a single pricing plan with 'unlimited everything.' This extends to non-course related marketing things like landing pages, which are also unlimited. The course creation process in Teachery is marketed as 'the easy part' and can be done with no development skills.
Course builder and learner management
The Teachery course builder is based on choosing one of two flexible course templates.
You can build courses by putting together:
Video – Wistia (paid), YouTube (free), Vimeo (free or paid)
Audio – Soundcloud (free or paid)
Images – Google Drive or Dropbox 
Slide Presentations – Slideshare (free)
Teachery does NOT host your content, any of it. To build a course, you first need to upload all the learning materials to file storage. This is in contrast to every other platform we have reviewed in this article, and the reason Teachery gives is to keep costs down. In the real world, this may mean issues with your content actually being available to your students, and given the not-that-cheap subscription price. This is something for entrepreneurs who may not have their own hosting to bear in mind.
Aside from that, the course builder is basic but does the job – it uses a two-level hierarchy of pages and lessons, and the look and feel of the course can be changed by editing the template, although these options are fairly limited to color changes and basic branding.
Learner management is limited to basic customer activity reviews with any other meaningful actions requiring an export of data to Zapier or other third-party tools. If you sell your course outside of Teachery, you can manually add students to your courses.
To get course analytics, you need to plug in the javascript for an analytics provider like Google Analytics, GoSquared, etc.
E-commerce
Once your courses are uploaded to Teachery, you can create as many payment pages as you need for any course. They can be offered as fixed one-time payments or recurring monthly or annual payments, so this provides some nice options to segment a course for different potential markets. You can also use promo codes and countdown timers to help motivate prospects to purchase.
There are also landing page options that you could tailor for different purposes, for instance, lead capture for a course pre-launch. And again, you can create as many or as few landing pages as you want per course and embed videos and testimonials. 
Payments are integrated directly with Stripe.
Standout features
You can build unlimited courses and sell to an unlimited number of students.
You can create membership programs.
You can sell a single course in multiple different ways.
You can build unlimited landing pages.
You can integrate your own domain or sub-domain.
Users
Teachery puts the focus firmly on marketing rather than course creation. Prospective course creators that just need to offer simple courses may appreciate the different ways that single courses can be sold.
Those with more complex course structures may be better off with another option – the lack of flexibility in the course builder and the fact that content must be hosted off-site may be a deal-breaker for many.
Price
Monthly: $49pm / Annual: $470pa
Teachable vs LearnDash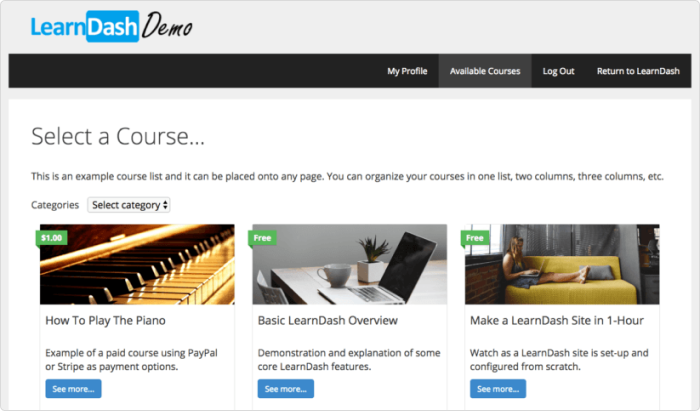 LearnDash LMS is a popular online course plugin for the WordPress platform. It is aimed at people who want to publish and sell courses online but have the flexibility of hosting their site on WordPress. LearnDash users have access to a vast library of plugins that can work for almost any business model.
Course builder and learner management
The latest version of LearnDash uses a drag and drop course builder that is simple enough for most people to get the hang of. The course builder lets you create complex courses with embedded videos, quizzes, long-form essay questions, lesson timers, course prerequisites, drip-fed content, badges, certificates, and course forums.
Video content can be assigned to 'auto progress' the student to the next lesson once the video is completed, which is great if your courses will be mainly video-based.
Almost everything in LearnDash is customizable, so you can rename the course hierarchy elements to suit your needs if you don't like the standard Modules and Lessons.
You can view detailed reports in LearnDash and create user groups with different users assigned to manage each group.
E-commerce
Once you get your course set up and the config for your WordPress site in order, you can start selling. 
LearndDash includes a native payment integration with PayPal; however, this only allows you to sell individual, single courses. So, for most entrepreneurs, connecting third-party e-commerce plugins like WooCommerce is essential. This will give you more flexibility for things like subscriptions, discounts, coupons, etc. Other extensions allow you to use Stripe as your payment processor.
In terms of actually marketing your courses, well, that's all on you. LearnDash is not a hosted platform, so you will need to take care of your own SEO and marketing, which may be ideal for established businesses with an SEO plan, but a big ask for startups and newer training companies.
LearnDash itself allows for basic email notifications to be set up and triggered for common events – for example, if a user signs up but does not access a course within 3 days.
Standout features
You can create custom learning paths using drip-fed content and prerequisites.
You can add to the core LearnDash plugin functionality via a huge marketplace of official and third-party add-ons.
You can set up and trigger around 20 different automatic emails to send to learners.
You can use badges in your courses.
You will have unlimited customization and integration options.
Users
LearnDash offers very detailed LMS level functionality that lets you set up and run a training course business your way. It will suit companies with a team of developers who need to create an online course marketplace specifically for their own needs and business model. For example, complex multi-tiered membership sites and 'pass-then-pay' certification businesses are two models that can be achieved using LearnDash and plugins.
Price
1 site license: $199 lifetime (1-year support and updates)
Teachable alternatives: Final thoughts
As an online training business, there's a huge array of options open to you when choosing a platform. In this article, we took a detailed look at 5 Teachable alternatives, and when they may be a good choice for your business based on your use cases.
Whether you are a startup business with a couple of courses or an established training organization with 100's of courses and multiple learning pathways, there is an option for you.
Do you use one of these platforms to manage your training business? If so, we'd love to hear your comments, good or bad, below.
If you are a business looking for a fast, reliable, and competitive online training platform, take iSpring Market for a test drive by signing up for a free trial.