Once you've created a course or a test, the easiest way to share it is to use iSpring Cloud, a web hosting and sharing platform. Last week, we held a free webinar on this service, demonstrating its basics and the difference from iSpring Learn LMS. Here's the recording and the script of this webinar that we've provided for your convenience.
The recording of the webinar
The script of the webinar
Hello everyone! Hope you are doing great.
Thank you for joining our webinar. Today I will be more than happy to show you what iSpring Cloud is and tell you more about its features and pricing plans. Some of you might have checked out iSpring Cloud already, but some might have just registered a trial account, and then didn't really have time to look into it, so this is a great chance to get some understanding of our service.
What is iSpring Cloud?
iSpring Cloud is a web-based solution, so it's basically a website where you can host your courses, quizzes, and files, and distribute them to be seen by a vast audience without needing to have a login.
Just as YouTube is a video hosting service, iSpring Cloud is a hosting service for presentations converted from .ppt to web format (using the iSpring conversion technology). Cloud processes your content on the server side so you can upload .ppt files, even those created on Macs. It doesn't matter if you have an iSpring authoring tool installed on your PC or not.
So why use iSpring Cloud?
First of all, courses and quizzes created with iSpring authoring tools are perfectly compatible with iSpring Cloud. It takes just a couple of clicks to bring your content online and start sharing.
Who can use iSpring Cloud?
Our platform will work best for PR managers and marketers who can easily promote their goods and services, for teachers and bloggers who can embed interactive content on their web pages without setting up FTP, and just for anyone who would like to share files with a large audience on the Internet.
How is iSpring Cloud different from an LMS?
By default, an LMS is designed for online education (e-Learning) and business training, where you have a class of students or employees log in to your LMS portal for training. You can create and host courses, deliver them to users, issue certificates, get reports and check completion details. 
iSpring Cloud is primarily designed for business and marketing purposes, where you upload PowerPoint presentations and share them online with your clients, prospects or partners. Viewing doesn't require a login and is therefore good for vast audiences. You can get general statistics on views, but cannot teach people online.
If you would like to learn more on the differences between iSpring Cloud and our own hosted LMS, iSpring Learn, please check out this article on our website.
How does it work?
Let me now show you how iSpring Cloud works. Here you can see a trial account. To upload a .ppt or other type of file, click on where it says 'Upload', and select a content item. After the conversion process is finished, you can start sharing.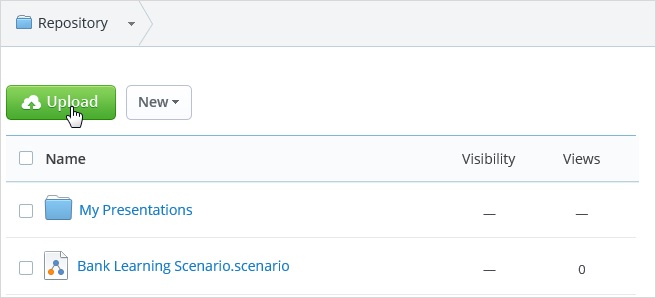 If you are using an iSpring authoring tool, all you need to do is to open your PowerPoint presentation, select the Cloud tab in the iSpring Publish window, and after you hit "Publish", your courses will be converted and uploaded automatically.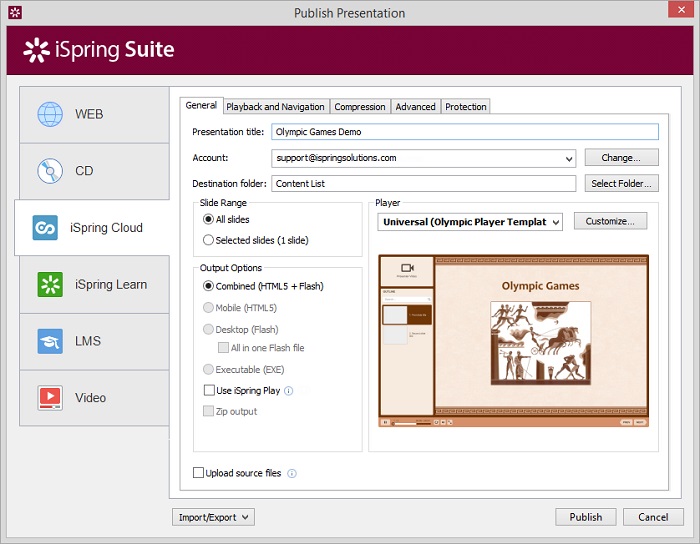 Then select a file with your mouse and hit Share. Now a popup window appears with sharing options. iSpring Cloud allows you to share content via short public link, email, social networks (Facebook, Twitter, LinkedIn) and embed code. In a Cloud Pro account you can store up to 50 files.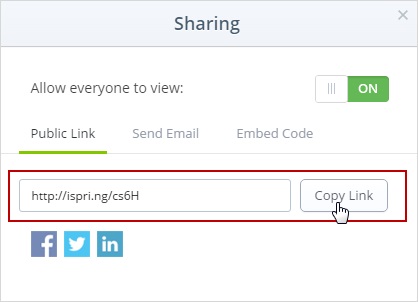 And before sharing you can allow your viewers to copy and download the file.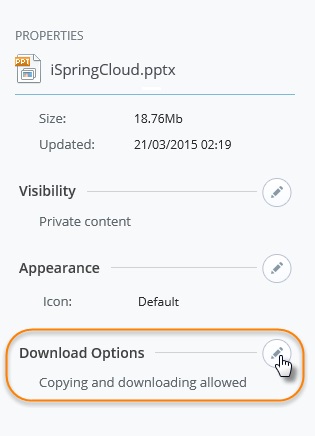 Now let's open the link in a new browser window and see how it plays. If you would like your users to be able to watch presentations on mobile devices (iOS and Android), try the free iSpring Play app. It displays presentations in full screen and allows users to download them for viewing offline. Please note that the iSpring Play option is only available when publishing with an iSpring authoring tool.
iSpring Cloud Business
iSpring Cloud can be also used as a corporate solution for collaborating.
With a Business plan, you can upload an unlimited amount of files and share them with registered users who can just view or edit content. Here we have user roles and permissions. By roles we mean user management, and by permissions, content management.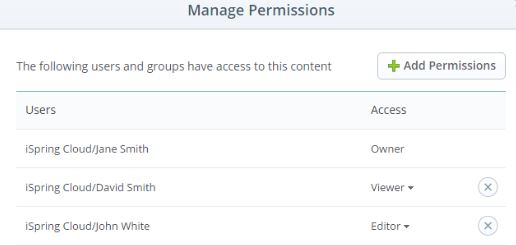 Administrators can add users and content items. Regular users can watch content shared with them and add new content.
From the Permissions angle we have Owners, Editors and Viewers. Owners are those who add files, editors can change content, and users can view the content.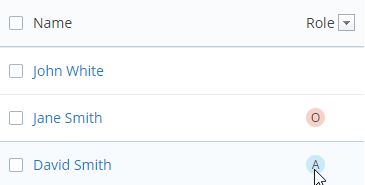 The pricing in the iSpring Cloud Business Plan depends on the number of registered users. Next to the Users tab you can see the Tracking option. Here you can generate a basic content report, and see how many times your content was viewed and downloaded.

What are the pricing plans and what do they include?
You can check out the prices for our Pro and Business plans on the Pricing page. You can go with a quarterly, half-year or annual subscription.  
With an iSpring Cloud Pro Plan, you have a limited amount of content to host, and with a Business Plan you can store as much content as you wish and, if you would like, pay for administrative users who will also manage content in the account.
Summary
iSpring Cloud is a simple way to quickly share your materials online. Whether you have an iSpring desktop tool or not, you can take advantage of this hosting platform, as it automatically converts PPT presentations to web formats. iSpring Cloud can also be used for sharing images, audio, video, and any reference documents.
Another way to host and even sell your materials is Flora, an easy-to-use platform for selling training courses and online course hosting. With Flora, you simply upload content items to the system, and they will be immediately available for playback and purchase on your personal online storefront.
If you have any questions on iSpring Cloud or iSpring webinars, feel free to contact us at any time.