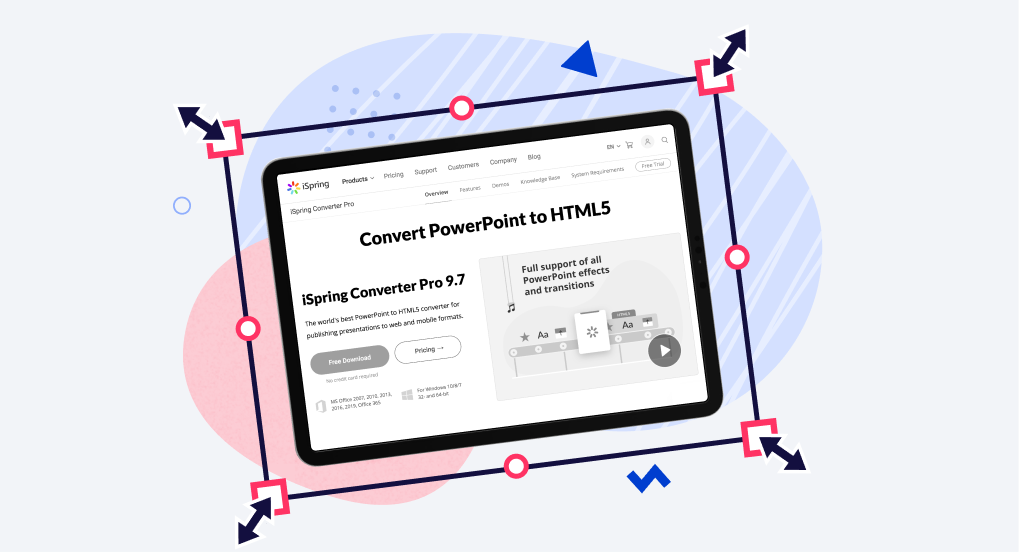 You can set up a webpage or HTML5 presentation to play full screen on iPads. As you know, iPad has a full-screen browser mode which displays webpages or other material on the entire screen. Full screen viewing makes your webpage look more native and provides more space for your content, while hiding all Safari elements but the main window.
Did you know you can use your PowerPoint to create interactive content for iPads?
You only have to convert PowerPoints to HTML5 format with iSpring Converter Pro! HTML5 presentations are easy to place online and view on any desktop, tablet or smartphone.
Below is a short guide how to view any webpage, web app or HTML5 presentation in fullscreen mode on an iPad:
First, launch your Safari browser from the Home screen and go to the webpage that you want to view full screen.
After locating the webpage, tap the arrow icon at the top of your screen.

In the drop-down menu, tap the Add to Home Screen option.

The Add to Home window should be displayed. You can customize the description that will appear as a title on the home screen of your iPad. When you are done, tap on the Add button.

A new icon should now appear on your home screen. Tapping on the icon will open the webpage in fullscreen mode.

I love iSpring because it coverts PowerPoints into HTML5 and doesn't require Flash for viewing. So it will work on iOS devices!
Download iSpring Converter Pro Free Trial »
Note: The icon on your iPad home screen only opens the bookmarked page in fullscreen mode. The next page you visit will contain the Safari address and title bars.
You can add this tag to your webpage using a third-party tool, for example iWeb SEO Tool or any other you like. Please note that you need to add the tag first, refresh the page and then add a bookmark to your home screen.
Would you like to get more useful information about your iPad? Find out how to easily create an iPad app using only PowerPoint and iSpring Converter Pro.