July 13, 2022
How to Make a Website Full Screen on Your iPad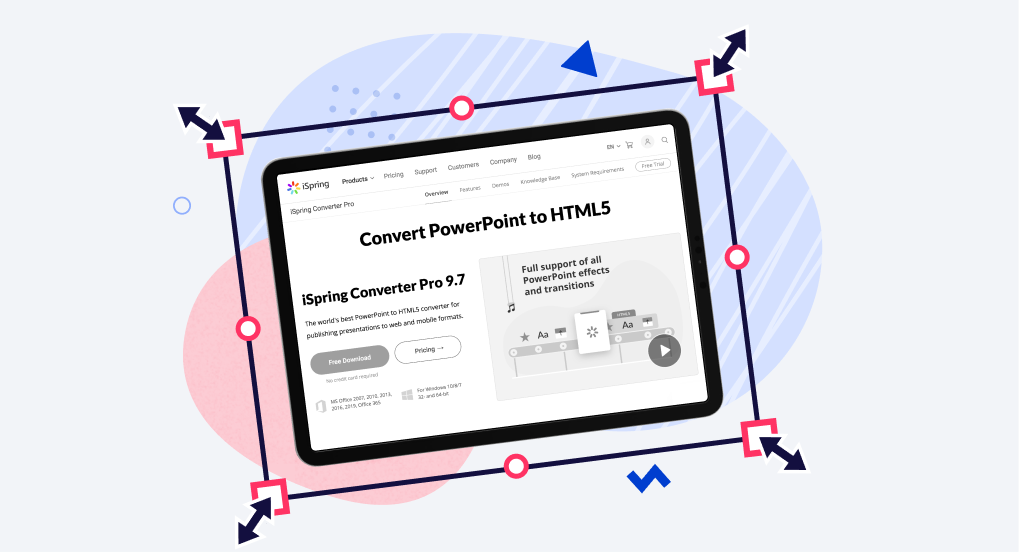 You can view almost any type of web content on an iPad, but it doesn't readily support full-screen mode. People who prefer to use the Safari browser on the iPad face a problem viewing web content without browser panels, elements, etc.
If you want to view a webpage, course, or HTML5 presentation, it will be much more convenient to do it in full-screen mode. Full-screen viewing looks more native and provides additional space for your content, while hiding all Safari elements but the main window.
In this article, we provide a brief guide on how to view a website full screen on an iPad — and you won't even need to change your iPad settings.
Viewing a Website in Full-Screen Mode on an iPad
First, launch the Safari browser from the home screen and go to the webpage that you wish to view in full-screen mode.
After locating the webpage, tap the Share button at the top of your screen.

In the drop-down menu, tap the Add to Home Screen option.

In the Add to Home window, you can give the new icon a title on the home screen of your iPad. When you're done, tap on the Add button.

The new icon should now appear on your home screen. Tapping on the icon will open the webpage in full-screen mode.

Note: This way of viewing a webpage, course, or presentation in full-screen mode works if the source code of the webpage contains the following tag:
<meta name="apple-mobile-web-app-capable" content="yes ">
You can add this tag to your webpage using a third-party tool like iWeb SEO Tool or any other tool you wish. Please note that you need to first add the tag, refresh the page, and then add a bookmark to your home screen.
Viewing a Video in Full-Screen Mode on an iPad
To get a video to show in full-screen mode on an iPad, you'll need to download a standalone video app. There are multiple apps on the market, but you can use YouTube's app, for example. Its interface will look almost the same as it would in a browser on a PC, but there are some differences to YouTube on a touch screen device in regard to switching to a full-screen mode.
To make the YouTube app play in full-screen mode, choose and open a video. When the video starts playing, tap on it once. You'll see several additional options, including dual arrows at the bottom right corner. Tap the arrows to go to full screen.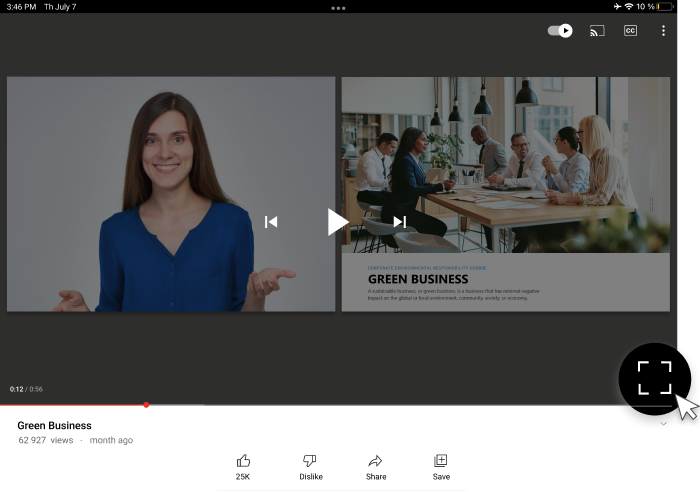 Viewing a PowerPoint Presentation on iPad
If you want to make your PowerPoint projects available on the iPad, you can easily do so by converting PowerPoint slides to HTML5 with iSpring Converter. It works as a PowerPoint add-in, so you can convert your presentation right from PowerPoint with all of its functionality and appearance preserved. If you want to protect your content from unauthorized access, you can add an extra layer of protection to your presentation by setting a password, restricting the time allowed for viewing, and adding a watermark.
Would you like to get more useful information about online content for your iPad? Discover the easiest way for you to view PowerPoint presentations on an iPad or how to create an iPad app easily using tools you're already familiar with.
iSpring Converter
Convert presentations to HTML5 with all effects and transitions preserved