Many of our customers are struggling to tailor e-Learning for learners with different levels of expertise. The bright side here is that with iSpring, there's no need to create a bunch of separate presentations. It's easy to create a structured course with an individual learning path for each group of learners.
Branching scenarios are great for course creators who:
Have several quizzes of different complexity;
Have the same quiz in several languages.
To dive deeper into the topic, we welcome you to discover this case from Kate, our tech support engineer.
Client uses: iSpring QuizMaker
Case description: A client needed to create a course with several quizzes of different complexity, so that the learners could choose their learning path within one course according to their knowledge level.
Case solution: The case was solved by means of iSpring QuizMaker, with its capability to fully customize branching scenarios within a presentation. The customer received detailed instructions illustrated with screenshots via email. In a matter of just a couple of hours, he got a solution for his custom case.
The result: The customer was happy to find out it is possible to create such a structure within one presentation with no need to create a number of separate learning activities.
Recommendation: In order to structure your course in a similar way, please follow the instructions provided below.
Let's say you need to create a quiz to test the learners' skill level in English, and the students fall into Intermediate, Upper-intermediate and Advanced groups. Thus, you will need to create 3 learning paths within one presentation to cover all three groups.
Here is what it takes to create such a course: a slide with buttons, and a branching scenario for the presentation. By clicking on a button, the learner will be redirected to the corresponding slide with a quiz. After taking the selected quiz, the course will be completed.
Open your PowerPoint course or create a new one.
Insert quizzes – one quiz per slide. In order to do that, click on the

Quiz

button on the iSpring ribbon. We need three quizzes:
Now let's go back to the first slide and create three buttons with hyperlinks using

INSERT

>

Shapes

. It will look something like this:
Now let's set up branching so that the students can take only one quiz. To do that, click on

Presentation Explorer

on the iSpring ribbon. In the newly opened window, select the slide with a quiz and click on

Branching

.
The

Branching Options

window will open. Under the

Quiz Branching

tab, choose the last slide for both

On pass

and

On fail

.
Under the

Slide Branching

tab, choose

None

for both

Forward branching

and

Backward branching

.
Go back to the

Presentation Explorer

window, select the last slide, click on

Branching

and choose

None

from the

Backward Branching

drop-down list.
This way, the learner will be taken to the last slide after taking a quiz and will not be able to go back to the first slide and choose another complexity level.
Selecting the player
When publishing a presentation, choose the None player in the Publish Presentation window (Publish > Player > None). This will provide a streamlined view without any distracting elements. As you can see in the preview section, it is a content-only representation.
Note: If you have a rather big presentation with a great number of slides and quizzes, it could be more convenient for a learner to see the outline of the presentation; in this case, choose the Universal player. However, in this case a learner will see ALL quizzes inserted into a presentation. In order to hide them, use PowerPoint's Hide Slide option (right-click on the slide and click on Hide Slide), and remember to restrict backward branching in Presentation Explorer.
Restricting navigation
To provide an uninterrupted learning experience for quiz takers, it would be better to completely prevent them from wandering around the presentation before passing the quiz.
In the Presentation Explorer window, mouse over the quiz icon and select Properties from the drop-down menu.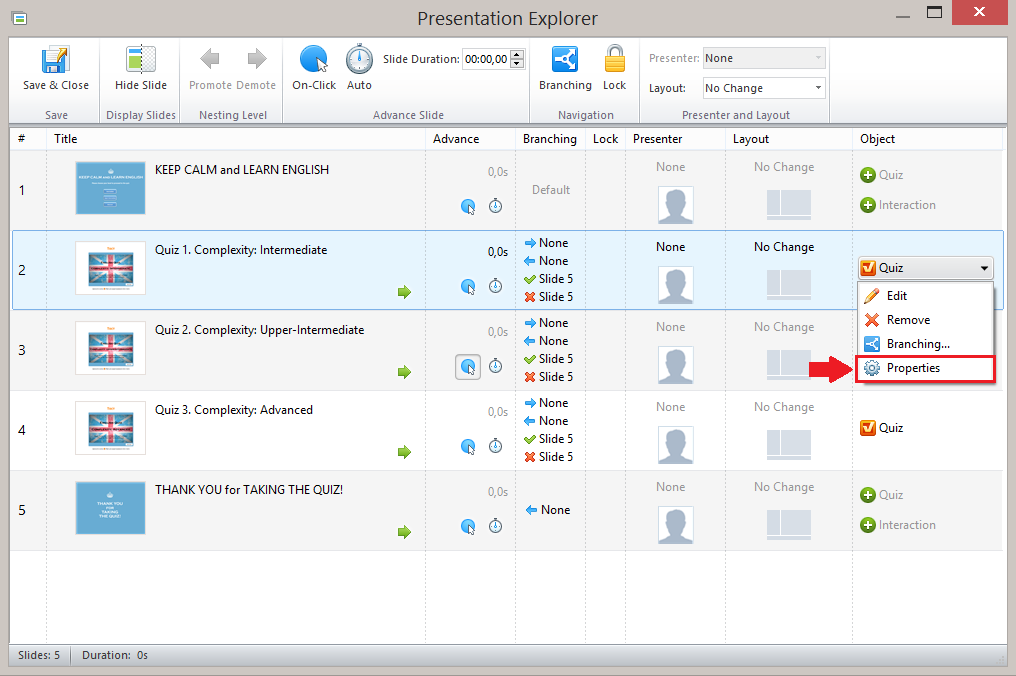 In the newly opened Quiz Properties window, choose After passing quiz (this will allow a quiz taker to get back to the slides only when the quiz is passed) and make sure the Allow user to interrupt the quiz box is not checked.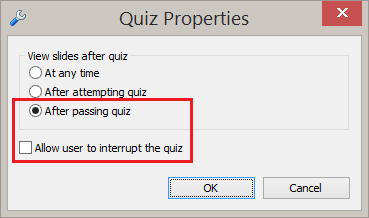 Furthermore, let's disable keyboard navigation: Go to Publish > Playback & Navigation and uncheck the Enable keyboard navigation box.
Grading the course
If you are planning to publish a course for an LMS (including iSpring Learn), there is one more thing to be fine-tuned. In order to have every quiz graded as a separate learning activity, it's necessary to set proper grading.
Go Publish > LMS / iSpring Learn > the Learning Course tab > Rate quizzes.
It's extremely important to put the right number in the Custom passing score field. In order to make this number as accurate as possible, please make sure that all the quizzes have the same passing score (Quiz > Properties > Main > Passing Score).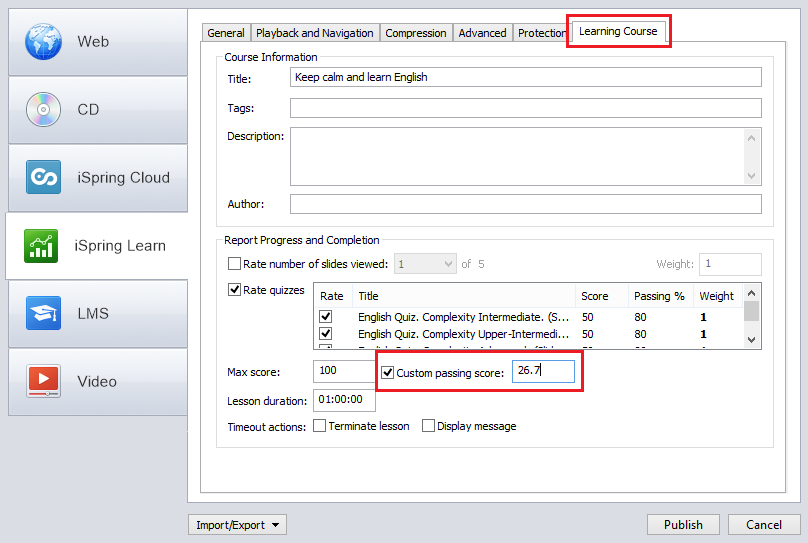 This course includes 3 quizzes with a passing score of 80% each. Consider that only one quiz can be taken at a time. To have quizzes graded correctly, it's necessary to calculate a custom passing score. To do that, divide the overall passing score 80 by 3. The result equals out to 26.7.
Check the box Custom passing score and enter 26.7.
With these settings applied, the course will be completed once a single quiz is passed.
Conclusion
Creating a structured course allows content authors to make the learning process more comfortable for quiz takers. We hope you will find a use for this article in your creative process.
If you have any questions or have something to add, please feel free to share with us!
iSpring QuizMaker
Create interactive quizzes for learning, knowledge checks, and skill practice