A SCORM content package is basically a universal container that can include various content types like HTML5, Flash, or video presentations. Content authors can save PowerPoint presentations in a SCORM format to make them available to third party LMS users. In this article we'll demonstrate how to create a SCORM package from a PowerPoint presentation, and how to upload and share it.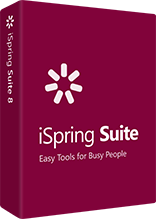 Create 100% SCORM 1.2 and SCORM 2004 compliant courses for publishing to your LMS.
Step-by-step guide
Install the fully functional iSpring Suite free trial.
Open a PowerPoint presentation you'd like to convert into a course.
Click the

Publish

button on the iSpring panel.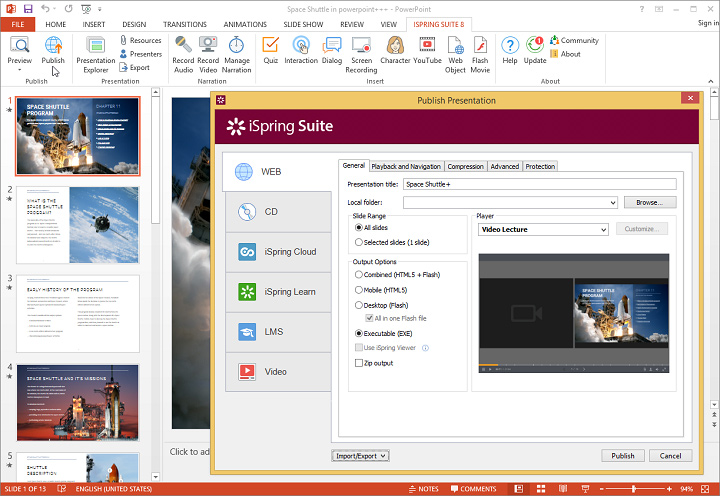 Select the LMS tab on the left. (The LMS publishing option is good for third-party systems like Moodle or Blackboard. If you use iSpring Learn as your

LMS

along with an iSpring course authoring tool, select the respective tab in the Publish window on the left. This will publish and upload your course item into the system in one click.)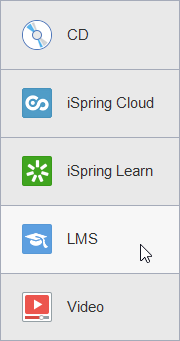 Click the

ZIP Output

 checkbox on the General tab, because most LMSs will only accept .zip packages as course items.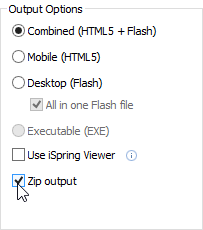 Then select the

Learning Course

tab on the top right to select a course type and fine tune grading settings.

Adjust settings according to the LMS that you use. Select one of the following

Course Types:

Adjust the rest of your course parameters. Learn more >
Click the

Publish

button again.
Now upload your course to a SCORM-compatible LMS and assign it to your learners.
How to view SCORM content
Play SCORM content? Easy as pie. Use any Learning System that supports SCORM packages.
Also you can find step-by-step instructions on how to upload iSpring SCORM content to a specific LMS, such as Blackboard, Moodle, Litmos, SmarterU.
After the course has been uploaded, you can view it on your computer in a web-browser. Tablet and smartphone playback support depends on the LMS that you use.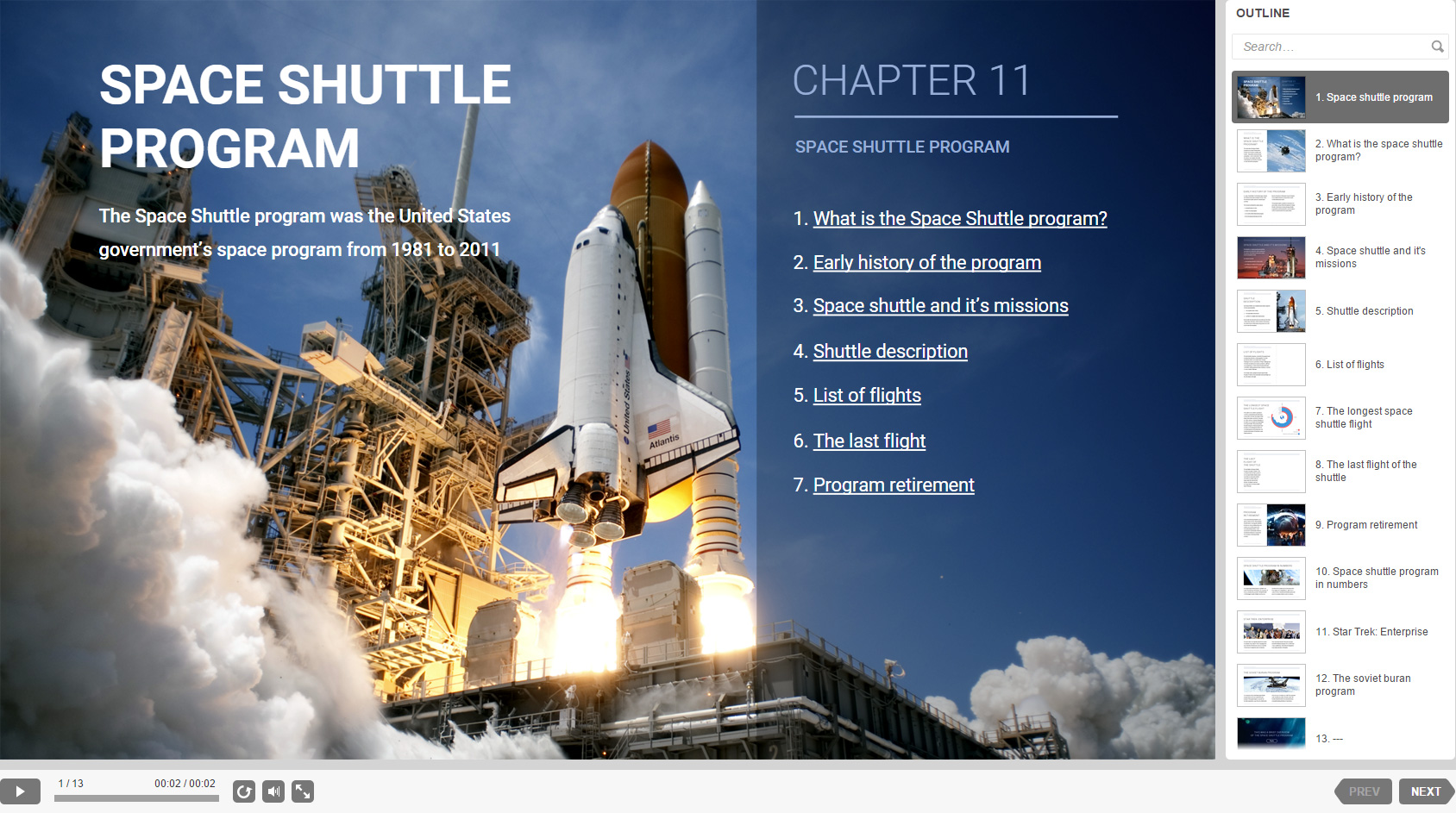 Beyond SCORM
SCORM 1.2 still remains the most popular learning standard for more than a decade. Apparently it doesn't meet all requirements of the modern e-Learning. For example, most LMS don't track question details of the SCORM assessments and store just the overall score.
If you need more reporting and support of modern devices, such as iPad,  you can use iSpring authoring tools hand-in-hand with our proprietary learning management system – iSpring Learn. The synergy between these solutions would enable you to track much more data than originally available in SCORM.
Technically, iSpring Learn follows the principles of Experience API communication but it's not the same. An iSpring learning course communicates with iSpring LMS on a very profound level so the system captures explicit information about the learning progress.
Benefits of using the combination of iSpring Learn LMS with iSpring Suite or other iSpring authoring tool:
Free iPad app that even works offline
Granular learner experience data (e.g. a number of seconds a learner spent on each slide)
Quick publishing from an iSpring Authoring tool
Extended tech support and fast problem solving. If a third-party LMS is being used, your Help Desk tickets will depend on the other vendor as well.
That said, there is definitely no vendor lock-in intended for an authoring tool. iSpring LMS is an open system that works smoothly with all SCORM courses. iSpring SCORM content player supports:
Courses and quizzes
SCORM 1.2 and 2004 packages (all editions)
Video (.FLV)
Podcasts (.MP3)
Reference documents (.PDF, .DOC, .XLS) and other popular content formats.
The user may choose to make each content item publicly available or limit access to the course for a specific user group. Then again, you may share your content in any convenient manner: by link copy-pasting, email invitations or by adding a launch button to your website.
Feel free to check out an article on how to create SCORM content and how to play SCORM content.
Why iSpring Suite
As the name suggests, Suite is an all-round solution for delivering comprehensive courses that may include presentations, video lectures, tests, conversation simulations, interactions, etc. The tool fits the professional education category yet it doesn't require a steep learning curve or any specific training.
iSpring Suite offers rich functionality. Here is what you can do using this authoring tool:
Create PowerPoint-based courses with no additional training
Convert them into HTML5, Flash or MP4, and save all complex effects on the output
Record audio and video narrations, create screencasts and embed them in your learning course, or upload on YouTube
Use a handy built-in audio/video editor
Pick human characters from a built-in library to enliven the learning process
Create dialog simulations using iSpring TalkMaster to train communication skills
Add quizzes and surveys with 23 predefined or custom question types
Employ a flexible scoring system based on a wide range of parameters, etc.
Download iSpring Suite for free and start creating SCORM content right away.
Since we mentioned scoring, you can easily configure the way slides and quizzes are rated in Report Progress and Completion settings before a course goes live. Each item with an assigned weight stands for a learning activity that affects calculation of a learner's score. Based on these input data, the system ultimately determines whether the course is passed or not. For more details, check out an article Calculation of a passing score in SCORM.
Certification
SCORM was developed by the Advanced Distributed Learning. ADL independently tests e-learning products and certifies that they meet the stringent requirements of the applicable SCORM standard. iSpring Solutions Inc. has been an official ADL partner ever since 2010.
Whatever SCORM authoring tool you opt in for, make sure it's officially certified by the organization. This is a guarantee that your product of choice will function smoothly with most LMSs.
Third party LMS compatibility
iSpring authoring tools enable the user to create courses in the most popular SCORM 1.2 and 2004, the older AICC, and the most recent Tin Can API. You can check compatibility of each format with your LMS on our website. In case you didn't find your LMS on the list, check with your LMS provider as well.
iSpring courses work with any LMS that supports above mentioned  standards. We'll be happy to test out compliance of your LMS and an iSpring authoring tool.
To add your favorite LMS to the list, just submit a request! We'll perform an in-depth analysis of the third-party product and see if we can ensure its interoperability with subsequent iSpring editions.
Fully-stocked e-Learning authoring toolkit for PowerPoint. No training required to start!