August 5, 2013
Can I Play Flash on iPad? Yes!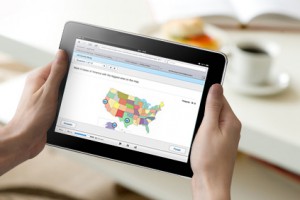 Even though iPads and iPhones don't provide Flash support, there is more than one way to use both of these devices to view your projects in Flash. You can check out the workarounds below.
Are there easier alternatives?
All of the listed solutions work fine, though they're not always as fast and simple as most of us would like. When it comes to sharing your content with as many people as possible, you probably want a reliable and hassle-free viewing process that doesn't require any extra effort from viewers. One of the best alternatives to Flash is the new HTML5 format, which is fully supported on iPads, iPhones and other mobile devices, including Android and tablets, as well as desktops and laptops.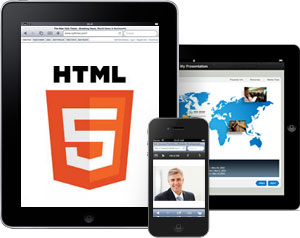 HTML5 is both the latest trend and a reliable technology. Out of all the tools available on the market to create HTML5 content, iSpring Converter Pro has shown itself to be the most advanced and best-engineered.
Using only PowerPoint and iSpring Converter Pro, you can create interactive HTML5 content of any type: promo presentations, e-Learning courses, slideshows, video lectures, online advertising, training materials for any discipline, and even games! And they are guaranteed to play smoothly on any web-browsing device.
Learn More about iSpring Converter Pro
Flash web browser for iPad
Our highly skilled engineers have tested several Flash web browsers for iPad to see how these applications handle sample Flash presentations created with iSpring. The samples included video and audio narrations and complex interactive items: hyperlinks, player navigation buttons, triggers and quizzes. We also paid attention to the support of the drag-and-drop feature, which is required for quiz drag-and-drop questions and 3D Book interactivity. The browsers are ranked according to their overall usability and functionality:
I love iSpring Converter Pro because it seamlessly converts my PowerPoint presentations to Flash, HTML5 and that to SCORM compliant.

Check out iSpring Converter Pro ›
Puffin
Pros
Puffin browser stands at the top of this group in terms of both usability and affordability. Available free of charge at the App Store, Puffin promptly handles Flash projects including audio, video, interactivity, and quizzes. All QuizMaker question categories are supported, including type-in and drag-and-drop questions. Drag-and-drop is performed with a two-finger tap on a touchpad emulator.
Cons
The playback of large video and audio files can be rather slow. English is the only supported language for type-in questions.
Appsverse Photon
Pros
The Photon browser allows switching between Flash browsing mode and a faster non-Flash mode. This browser provides the smoothest video playback in the group. It also supports interactivity and supports quizzes and flash interactions fairly well. Drag-and-drop is performed with a finger tap.
Cons
Despite smooth video playback, all interactions are performed quite slowly in the browser. Unless you are viewing a large Flash project, switching between the two modes can be inconvenient. English is the only supported language for type-in questions as well.
iSwifter
Pros
This Flash web browser handles audio and video narrations, and a project's interactive items as well. It also has the drag-and-drop feature, performed with a finger tap. iSwifter offers a 10-minute free trial session for 7 days and then has to be purchased at the App Store for $4.99.
Cons
iSwifter's reaction to your actions is performed with lags. The browser often has issues and errors while displaying the web page. It also doesn't support non-English languages. The browser can only be used on iPads.
Cloud Browse
Pros
CloudBrowse has the familiar interface of a desktop browser. The browser's reaction to clicks is quite smooth. It also supports video, audio, interactivity and drag-and-drop. If you purchase the basic CloudBrowse app for $2.99, they provide a free 24-hour trial of their unlimited subscription.
Cons
CloudBrowse doesn't adapt a web page to fit the screen of your device. If the web page is too wide to fit the screen, you will have to move it to view the contents. Presentations are played with a low frame rate, which results in slower animations and video playback. Drag-and-drop is performed with a two-finger tap, which may be inconvenient for dragging small items. Small objects can be magnified, but it becomes impossible to drop them beyond the magnified area.
Remote Desktop
Remote desktop applications provide an alternative approach to playing Flash on iPads. In this case, the support of Flash is ensured by your computer, which you remotely access from your iPad. This method is especially effective if you are making a live presentation using iPad, as it gives you the full control over your Flash project.
TeamViewer
Pros
To access your computer's desktop from your iPad, you need to install TeamViewer on both devices. You can establish the connection between the devices and enjoy presenting with your iPad. Since your Flash project is played by the computer and not your iPad, all effects and functions of the Flash format are perfectly supported. As another advantage, TeamViewer software is available free of charge for non-commercial purposes.
Cons
The Remote Desktop presenting method involves access to your personal computer from an iPad. That's why it can only be used if you are presenting in person or share your project with someone you trust. It is neither convenient, nor safe to use TeamViewer for public delivery.
iSpring makes converting PowerPoint to Flash extremely easy! There are enough options to satisfy even the pickiest user. iSpring is a leader in the PowerPoint to Flash market.

Check out iSpring Converter Pro ›
Which Flash web browser for the iPad do I choose?
While none of these approaches provides perfect Flash support on iPads, getting your Flash presentation or coursework on your iPad or iPhone is still possible. The way you choose to play Flash on your iPad depends on your requirements. For your convenience we've prepared a comparison table which can help you to choose the most suitable Flash web browser for iPads.
Comparison of web browsers for the iPad

| Characteristics | Puffin | Appsverse Photon | iSwifter | Cloud Browse |
| --- | --- | --- | --- | --- |
| Available on | iPad, iPhone | iPad, iPhone | iPad | iPad, iPhone |
| Support of interactive content, navigation and hyperlinks | | | | |
| Audio narration support | | | | |
| Video narration support | | | | |
| Drag-and-drop functionality | Touch-pad emulator | One-finger tap | One-finger tap | Two-finger tap |
| Reaction to user's actions | | | | |
| Price | Free | $4.99 | Free 7-day trial, $4.99 | Basic app $2.99 + subscription plans |
| Comparison Summary | This free Puffin application is the best option in terms of both affordability and functionality | Use Photon by Appsverse for projects with many video files and narrations, which it supports best out of these four | Take advantage of the 7-day trial period of iSwifter to see if this iPad app is what you need | CloudBrowse reacts to taps quickly, but it's outranked by others in video support and drag-and-drop usability |
Once again, there's a more natural way to present interactive content on iPads – to have it in HTML5, a web format supported by iPads, Android tablets and other mobile devices. iSpring Converter Pro makes it easy to create HTML5 presentations in PowerPoint and view them on iPads.
Check how iSpring Converter Pro can help you!