September 25, 2015
5 Different Ways to Use Free Images in Your Presentations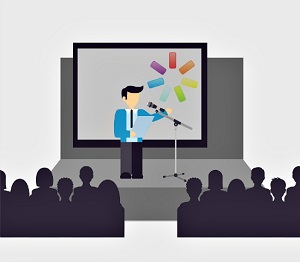 Nobody likes to scroll through page after page of text. If you're jumping into eLearning course creation and want to ensure yours are entertaining and beautiful, images are where it's at.
Luckily, the Internet is absolutely awash in free resources that will help you class up your presentations and add to their visual appeal. The problem? It can be hard to a) know how to use all the free images you find, and b) locate resources that are actually unrestricted and copyright-free.
Don't sweat it. Below we offer five great suggestions for how you can use free images in your e-courses or mobile learning projects, as well as where to find them.
1. Overlay Text
An image can be a great way to introduce a chapter, section, module or even an entire presentation. When you do this, it's often nice to put some text down over the image, creating a nice header. You can simply place text on top of the image using a program like Photoshop or even an online editor such as BeFunky. If you're feeling confident, you might even try this fun text overlapping technique.
2. Use Them As Icons
Small images with clear pictures can work well as icons. Say you're building a presentation in PowerPoint. The program will let you hyperlink images and other objects so that your images effectively become clickable icons, which can take learners to another portion of the presentation, to files on your company server, or to a page on the web. When using pictures for this purpose, keep them small and very clear, with only one subject.
3. Build the Presentation Around a Single Image
Consistency is something learners appreciate. When they have to learn tough concepts, it can work against them to have to view many different types of images in rapid succession. Instead, you might consider building a PowerPoint course or eLearning program around a single image. For instance, you can use a background image of a desk, and each new slide or section has different content and perhaps some smaller images. But the main theme is that desk.
4. Illustrate Complex Topics
A picture is worth a thousand words, they say, and that's true. Sometimes an image beats pages upon pages of explanation, so use them judiciously. A diagram of a machine, a blueprint of a building or a map of an area all do a much better job of conveying a concept than paragraphs of text.
5. Add Color
Okay, you're thinking, can't images just make something nicer to look at? And the answer is yes, they can. Color- code sections of material with predominantly red images in one section, for example, and predominantly green in another to delineate different subjects. Or just use them for eye candy.
Finding Free Images
Wondering where to get your hands on some great free images? Now that Flickr has tons of restrictions, it's harder to find copyright-free pictures you can use in your projects. Beware of simply searching the web and using whatever pictures you pull up; most have restrictions as well. Instead, try one of these amazing resources:
Unsplash: 10 beautiful high-resolution photos every 10 days
Wikimedia Commons: An amazing source of stock photos taken by users; just watch out that you attribute correctly
Gratisography: Unique, copyright-free photos with a variety of subjects, and updated all the time
While this list is far from exhaustive, these resources are some of the best on the web, so start your free image search there!
Conclusion
Next time you need an awesome image (or dozens) for use in your eLearning projects, you'll know where to look. Keep in mind that while images are wonderful on their own, they're even better when used for a specific purpose. Try one of the above techniques to dress up your e-courses or mobile learning efforts and you'll likely see a prettier presentation as well as higher engagement from learners.
Have any more great ideas for using free images in your presentations? Share them in the comments below!