November 12, 2022
Best 8 Slideshare Alternatives for 2023: Free & Paid
The name Slideshare speaks for itself – it's a slide-sharing service that brings your PowerPoint presentations online so you can easily share them with your colleagues, clients and business partners. Although it is totally free, some will find its functionality limited and look for a similar service with additional features Slideshare lacks.
Comparison at a glance
All of the reviewed services are united by one feature: you should be able to upload your PowerPoint presentation on the web and get a link so you can share it. All the other features are present in some solutions but absent in the others. Here is a list of the functionality we paid attention to:
Making presentations private or public
Keeping animations and transitions intact
Playing embedded voiceovers/audio files
Playing embedded videos
Viewing presentations on tablets and smartphones (with all the original effects)
Embedding options
Tracking content viewing activity
Comparison Chart

| Service name | Transitions and animations | Video / voiceover | Mobile view | Embedding options | Commercial |
| --- | --- | --- | --- | --- | --- |
| Powershow.com | Only Animations | Yes | No | No | Yes |
| Authorstream.com | Only Animations | Yes | Yes (static) | Yes | Yes |
| Hashdoc.com | No | No | Yes (static) | Yes | No |
| Docdroid.net | No | No | Yes (static) | Yes | No |
| Google Drive | No | No | Yes (static) | Yes | Yes |
| Dropbox | No | No | Yes (static) | No | Yes |
| OneDrive | Only Animations | Yes | Yes (static) | Yes | Yes |
| Box | No | No | Yes (static) | Yes | Yes |
1. Powershow.com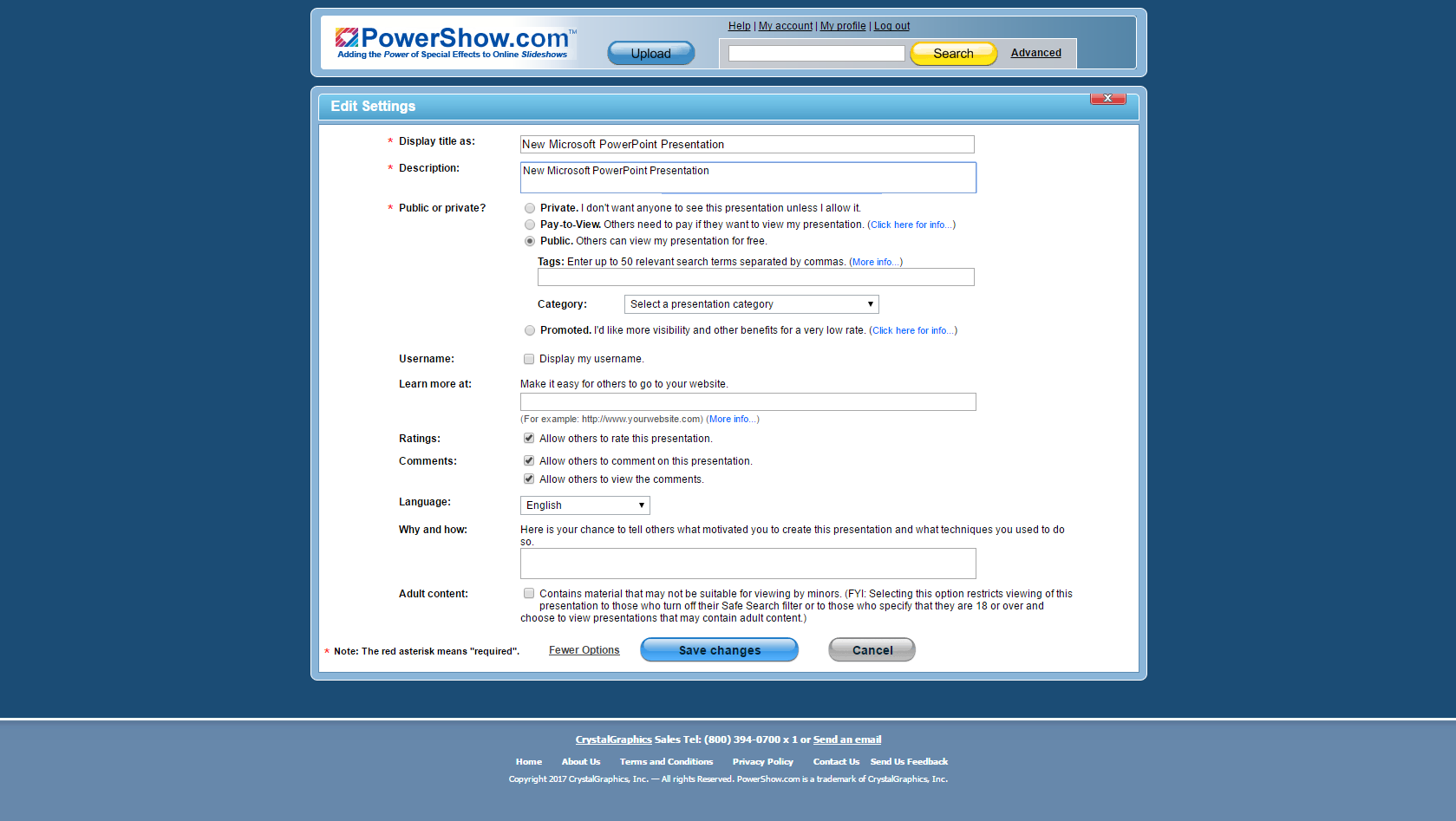 Powershow.com is essentially a database of presentations on various topics. It works exclusively with PowerPoint presentations and supports animations and embedded voiceovers (in .wav format). The maximum size of an individual presentation is 100MB with the unlimited number of total presentations.
The subscription plan includes the following:
Making your content private
Restricted viewing date and time range
Password protection and other security settings
A one-year subscription plan costs $99, while a one-month subscription is $25.
2. Authorstream.com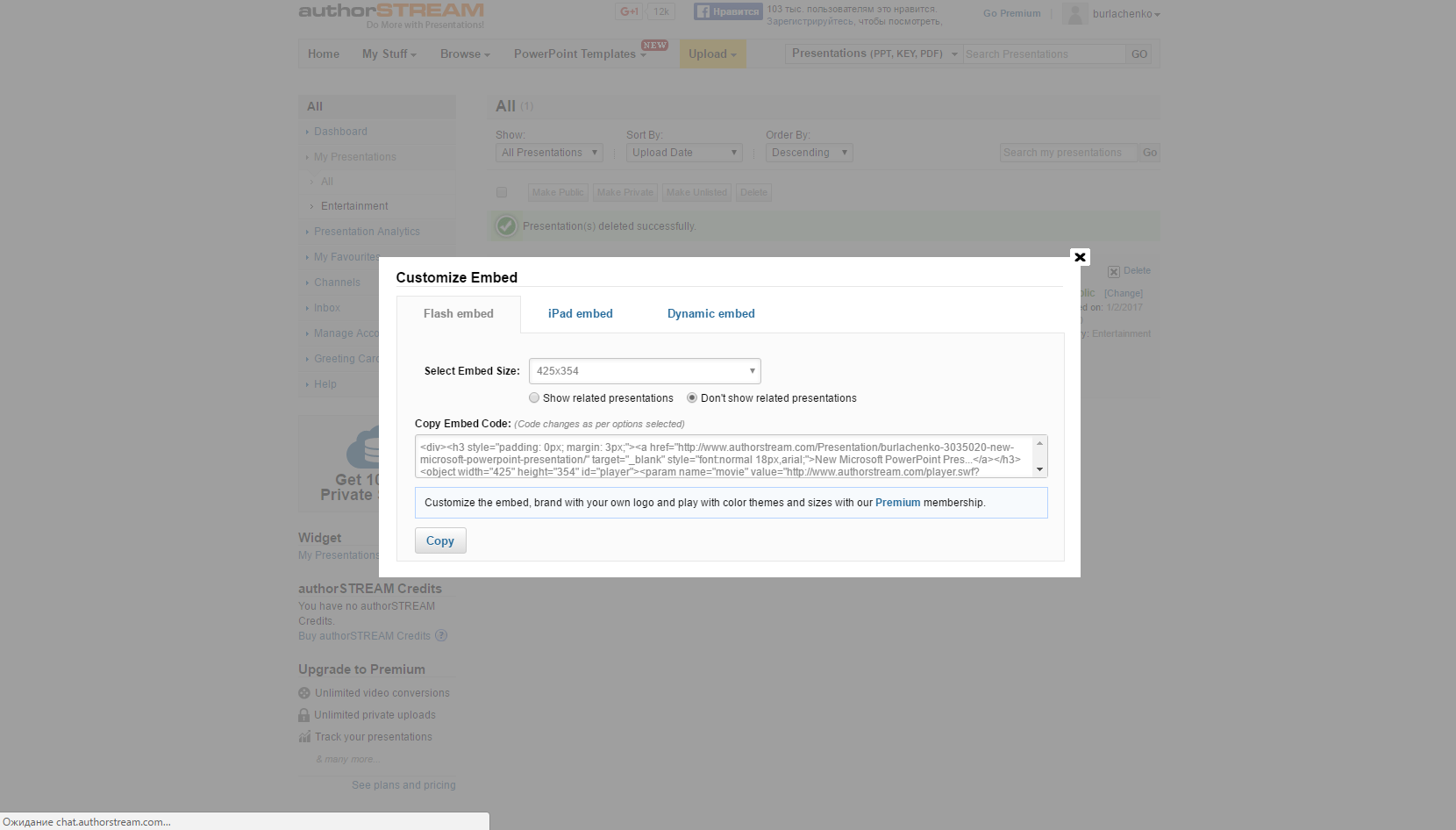 Besides PowerPoint Presentations and PDF files, Authorstream.com supports Apple Keynote presentations and uploads files from both desktop and web. The service can play audio and video files inserted on slides as well as animations. The original PowerPoint transitions, however, cannot be reproduced. After uploading your presentation, you can generate an embed code for it. Another prominent feature is the conversion of PPT to MP4 video of up to 5 minutes long (limited to 1 conversion on the free plan). The total free storage and the maximum size of one upload is 100MB. Basic statistics are also available here.
Authorstream.com offers 3 subscription plans, which allow you the following:
1GB file size upload limit
Unlimited storage
Ad-free experience
Password protection
Restricted viewing date and time range
Branding features (on the Business and Team/Enterprise plans)
Admin control and users (on the Team/Enterprise plan)
The Pro, Business, and Team/Enterprise plans will cost you $4.20, $39.95, and $119.95+ per year, respectively.
3. Hashdoc.com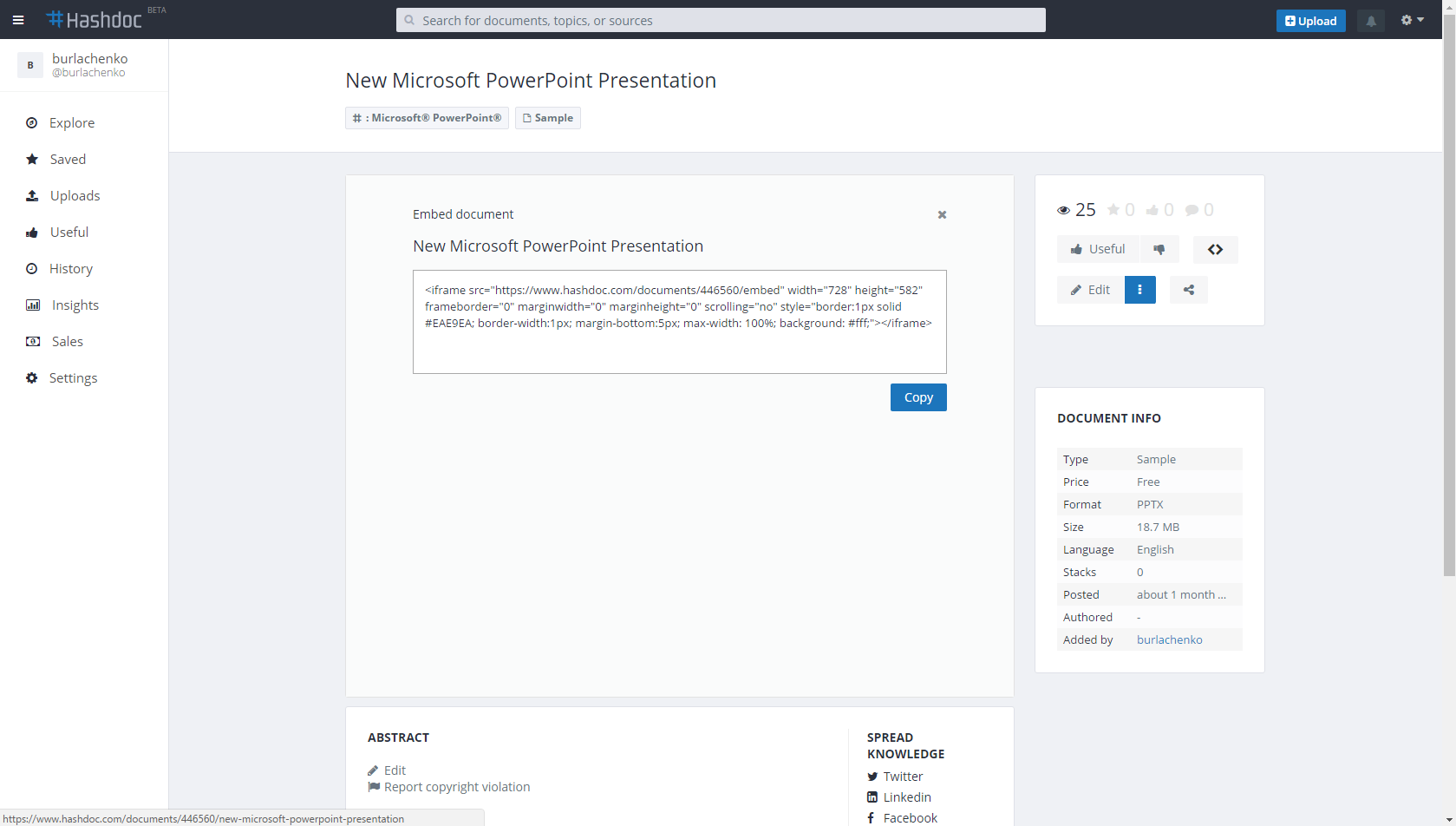 Hashdoc is a minimalistic service for storing all kinds of documents: Word, Excel, PowerPoint, PDF, text files, and even basic graphic files (SVG and DXF). It is also a document-selling platform – you can connect your Hashdoc account to your bank account and earn money. The only obvious downside is that your PowerPoints turn absolutely static – no animations, no transitions, no audio or video. The maximum size of one upload is 150 MB with unlimited storage space.
Hashdoc.com offers the following features:
Sharing options
Embedding option (iframe)
Downloadable content
Content and viewer statistics with graphics
The service is absolutely free — all the features will be available as soon as you register an account.
4. Docdroid.net
Docdroid is pretty much like Hashdoc, although you cannot sell your content and get statistics on it. Again, Docdroid turns your PowerPoint presentations into static PDF-like documents. Besides PowerPoints, you can host Word, Excel, text and PDF files.
Apart from that, you will get the following:
Sharing options
Embedding option (iframe)
Downloadable presentations (as a PPT, PDF or ODP file)
Password protection
Docdroid will cost you nothing – create an account and you are good to go.
5. Google Drive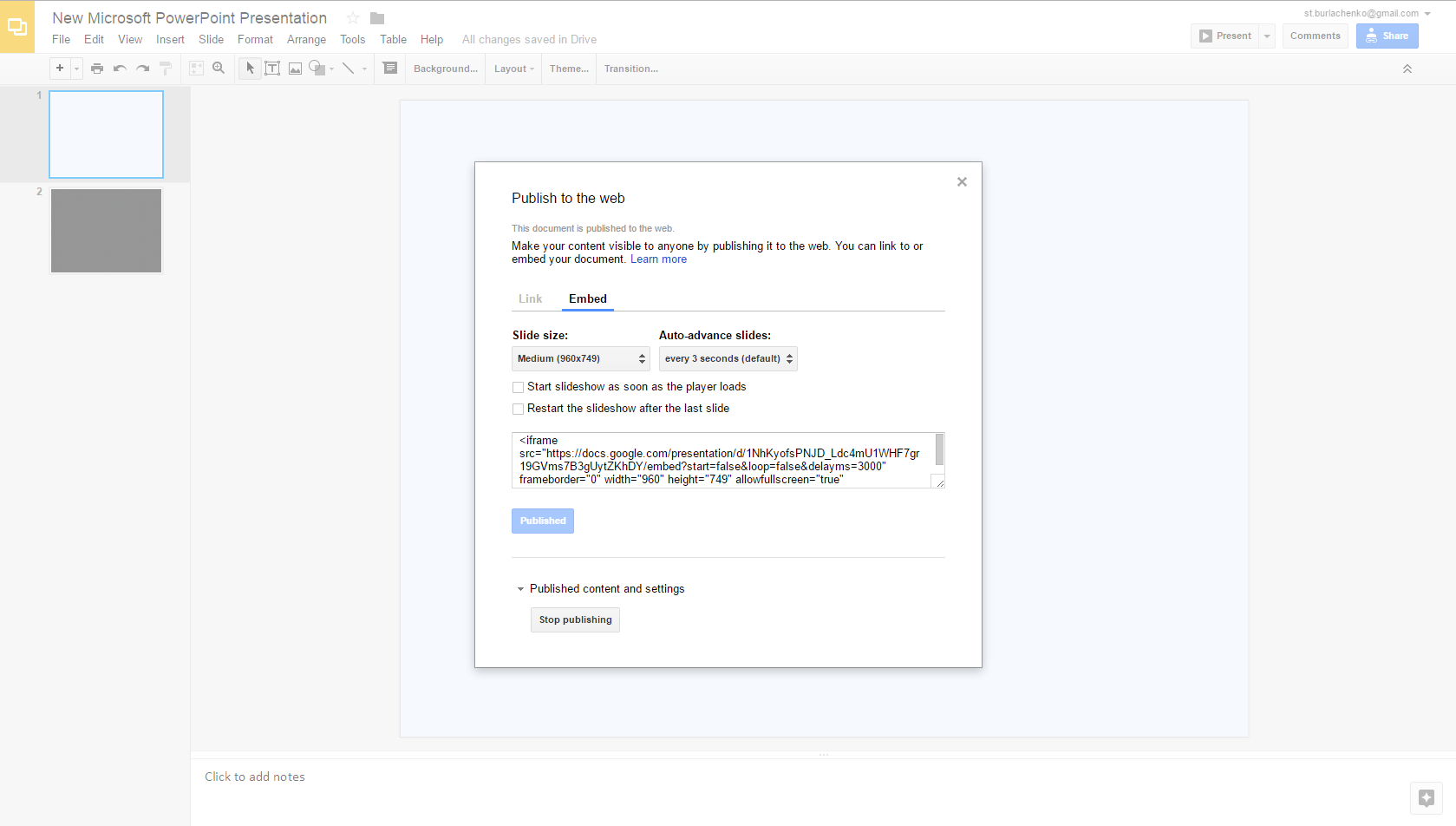 Google Drive is one of the biggest file hosting services every Android and Chromebook user is likely to be familiar with, if not actively using. You can upload all kind of documents from your computer, mobile device or directly from the web, including PowerPoint presentations, and even create new ones. Unlike all the other big players in the consumer cloud storage market, Google Slides allows its users to edit PowerPoint presentations (the only other service able to do that from a browser is Microsoft's own OneDrive). While Google Slides supports some animations and transitions, all the original ones from your PowerPoint will be changed once you upload the .ppt to your Drive account. You also lose the embedded audio and video files. So once you upload a presentation and download it afterwards, it might be completely different due to the change of transitions and animations, and the absence of any embedded media. On mobile devices the presentations lose all these elements. The maximum size of one upload is different for each format: for a PPT file it is 150 MB, and the total storage space is 15 GB for the free plan.
Among other features are:
Sharing options (with commenting or editing restrictions)
Embedding option (iframe) with a configurable slideshow
Downloadable content (in various formats)
Windows, macOS, Chrome OS, iOS and Android apps
Since Google Drive is primarily a file storage service rather than a file sharing one, its only fee-based option is storage space extension starting with $1.99 per month for 100GB.
6. Dropbox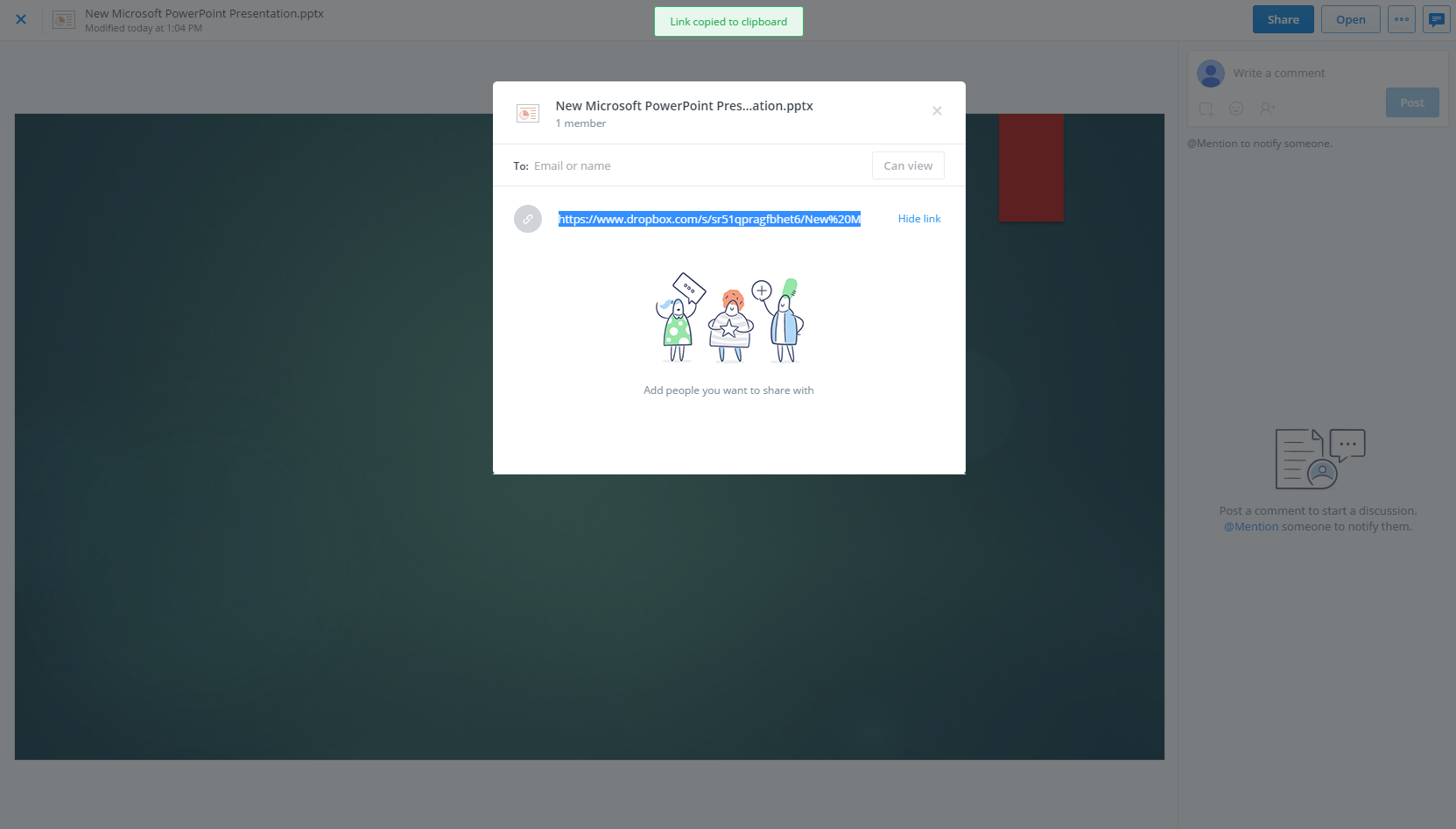 Dropbox offers 2.5GB of free storage space for hosting any kinds of files. The limit for one file size is 2.5GB as well. Once uploaded, the slides become completely static.
The following options are available:
Sharing options (with commenting)
Downloadable content (in original format)
Password protection (with the Pro account)
Content expiration dates (with the Pro account)
Admin control and users (with one of the Team accounts)
Android, iOS, Linux, macOS, Microsoft Windows, Windows Phone apps
The Pro account costs €8.25 per month and gets you 1TB, and the Team account prices start at €10 per month for one user and get you 2TB for the whole team.
7. OneDrive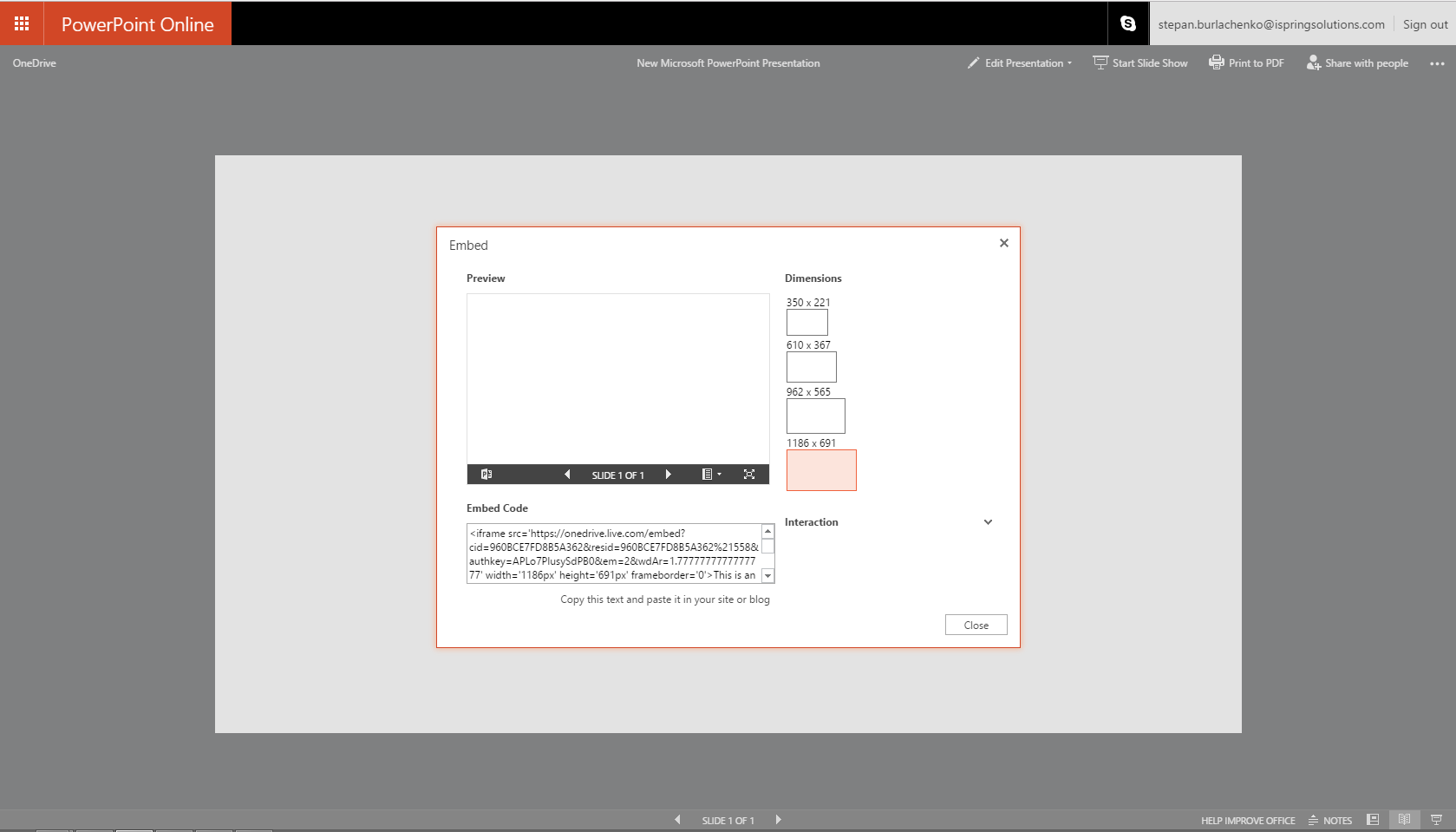 OneDrive is a file hosting service from Microsoft with integrated online Office editors. Their functionality is limited, but is enough for the most basic tasks. Although only three transitions are supported, the majority of existing animations will be reproduced. On mobile devices, however, your content will turn static. You can also start a presentation from scratch since OneDrive is closely integrated with PowerPoint Online as well as with the other Microsoft online editors. While there is a 10GB limit for one uploaded file, the free storage plan includes only 5GB of space.
The service has some other relevant features, including:
Sharing options (with commenting or editing restrictions)
Embedding option (iframe)
Downloadable content (in original format)
Android, iOS, macOS, Microsoft Windows apps
Storage plan prices start at $1.99 a month for 50GB. With the Premium plan (starting at $69.99 a year) come a subscription to Office 365 and 1TB online storage.
8. Box.com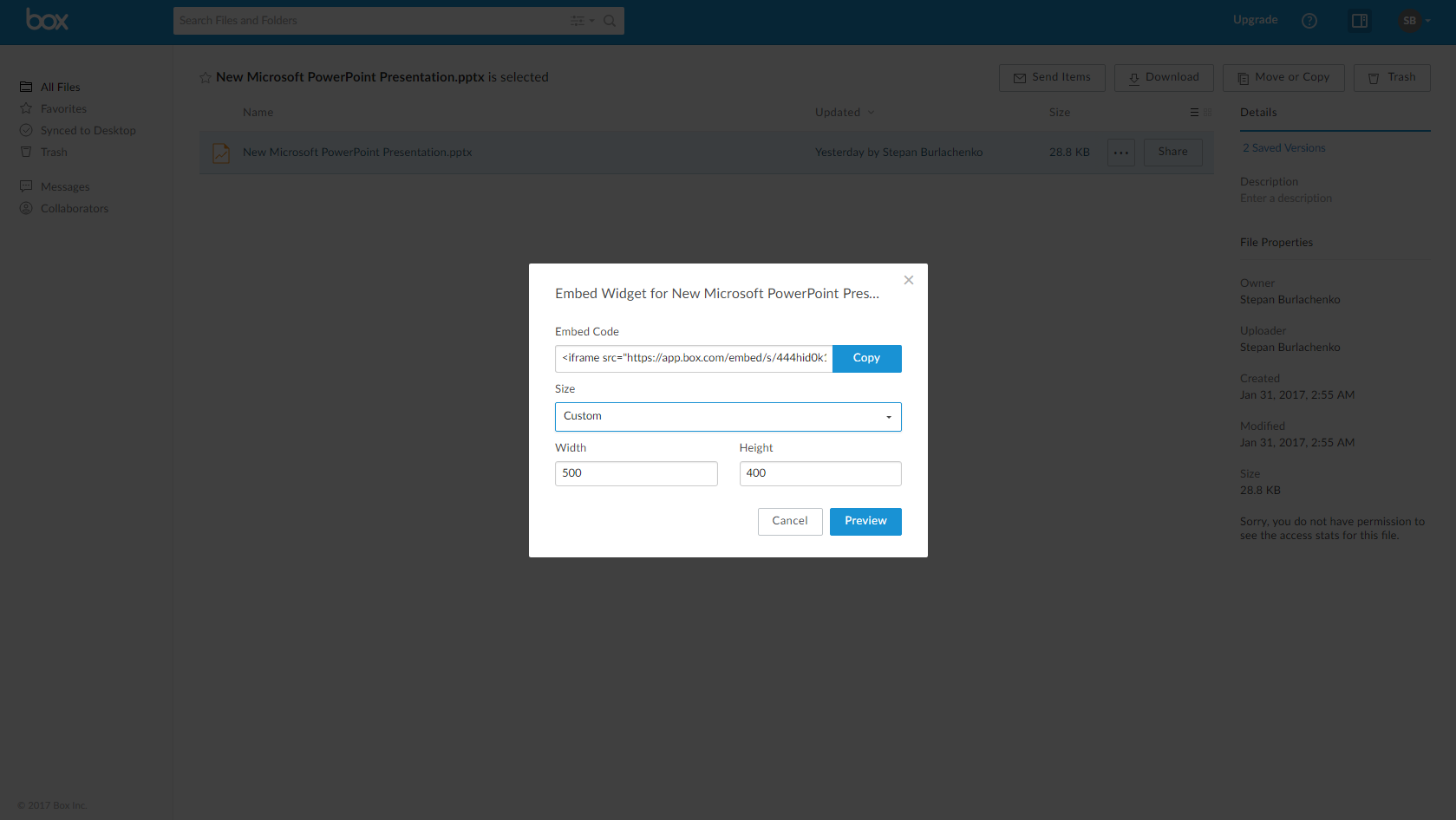 Box.com is integrated with Microsoft Office Online tools and Google Docs. After you upload a presentation, you will be able to edit it live, or you can create a new one and automatically save it on your account. However, even if your presentation has audio and video elements, animations or transitions, you won't be able to see them outside of PowerPoint Online. The free Personal Plan gets you 10GB of storage space with a 250MB file size limit.
The other features are:
Embedding option (iframe)
Downloadable content (in original format)
Password protection (with a paid plan)
Link expiration date (with a paid plan)
Android, iOS apps
The Personal Pro plan with 100GB storage and 5GB limit per single file costs €8 a month.
Which service to choose?
The answer to this question depends entirely on your needs. Since Google Drive, Dropbox, OneDrive, and Box are file hosting services at their core, they work best with bigger files and three of them even have some editing options. They also have great features for collaborative work on files in big teams – commenting, editing, and revision history.
Hashdoc.com and Docdroid.net are great tools for professionals who want to privately or publicly share (or even sell, in the former case) their PowerPoint files, and need only text and images on their slides.
Powershow.com and Authorstream.com are more like presentation databases, but with a subscription plan you can make your presentations private and even apply security settings. You also get your presentations almost in their original form, but only on desktop. Only Authorstream.com shows the static slides, while Powershow.com presentations become entirely unavailable.
Which service works best for your needs? Share your opinion in the comment section.