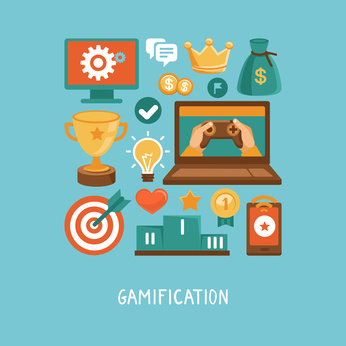 If you type gamification into a Word document, you'll notice the spell checker flags it as incorrect. The term was coined sometime in 2002, but it didn't start catching on until around 2010. Though the term is new, the idea has been around for hundreds of years. Simply put, gamification is the process of learning by using game mechanics to solve various problems. The idea behind gamification is to turn everyday learning into something fun and engaging for the student.
Gamification is quickly taking hold in the e-Learning environment, and for good reason, the main one simply being that it works. Traci Sitzmann, a professor from the University of Colorado Denver, conducted an observational experiment to test the effectiveness of gamification over a year timespan. This experiment included 6,476 adult students, and over the year she found that:
Factual-knowledge level increased by 11%.
Retention of recently-learned material increased by 9%.
Skill-based knowledge level increased by 14%.
Traci isn't the only one who has seen the potential of gamification. Many e-Learning industries are embracing the new techniques because of their proven effectiveness. According to neuroscientists who have been studying positive human responses to gamification, "Such elements can cause feel-good chemical reactions, alter human responses to stimuli—increasing reaction times, for instance – and in certain situations can improve learning, participation, and motivation."
This is promising for e-Learning, especially in this day and age when countless distractions and things are all competing for our attention. In fact, the Internet itself is one of the biggest contenders in this attention-stealing tug-of-war. When we play games, we are often completely engulfed in the task and our innate competitive nature drives us to win. The continued trend of gamification in e-Learning will help students to focus more intently on the task at hand, enabling them to effectively hone their skills in a fun and time-efficient way.