August 16, 2022
Online Leadership Training: 5 Steps to Getting it Right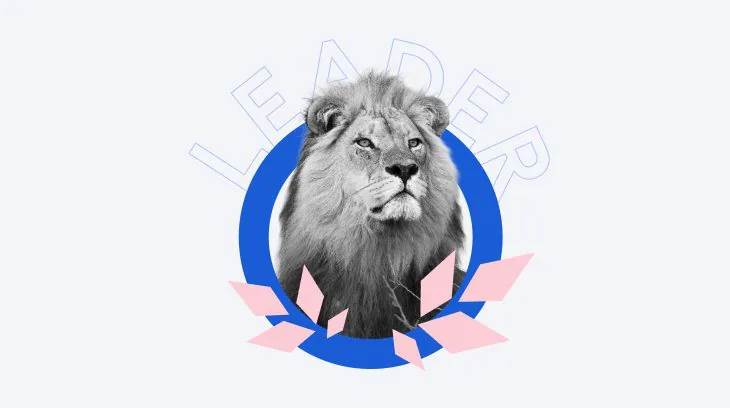 Leadership development has become a more than $366 billion industry. While this may have dropped slightly during the pandemic, 2021 saw a rise in leadership training once again. So, why do businesses invest so much in improving management skills? Put simply, because it's good for business.
Research shows that businesses that invest in employee development boast lower staff turnover rates, higher employee engagement, and better business results. What's more, since behavioral changes start at the top, developing leadership can significantly impact your company's culture.
In this article, we explore the benefits of leadership development, common challenges, and how to run training online.
What is leadership training?
Benefits of leadership training
Types of leadership Training
Leadership training programs
Challenges of leadership training programs
How to сreate a leadership training program and run it online
What Is Leadership Training?
Leadership training is a program designed to develop the competencies needed to lead a high-performance team. It can be offered to new or existing managers, supervisors, and employees who have the potential to become a leader. Effective leadership development refines both soft skills (empathy, communication, delegation, etc.) and technical skills (project management, business analysis, and data management).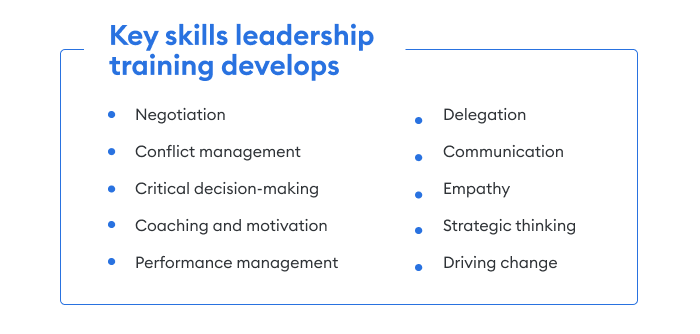 In terms of modalities, it can be delivered in-person, online, or through a blended learning program.
Benefits of Leadership Training
There's a common misconception that some people are natural-born leaders and others aren't. And while it's true that some people are 'natural leaders,' leadership is a skill that can be developed through training. It's therefore essential that organizations learn how to develop it.
We rounded up 5 of the biggest benefits of leadership skills training for your business.
Reduce employee turnover. Investing in leadership training leads to higher employee engagement and less staff turnover. Better employee retention saves the business time, money, and resources.
Boost performance and productivity. Good leadership training leads to fewer distractions and misunderstandings. This results in higher productivity and better performance management.
Improve company-wide communication. Training helps build strong communication skills. Since change begins at the top, this will trickle down through the business, improving overall communication.
Amend decision-making. Quality leadership training develops better strategic decision-making. As a result, leaders make smarter decisions for the business, improving the organization's bottom line.
Create a more autonomous workforce. Leadership development builds strong delegation skills. This encourages teams toward ownership of their work, saving valuable time and resources for the business.
Types of Leadership Training
Just as there are multiple styles of leadership, there are many different types of leadership training. For instance, leadership training for small business owners will look very different from management training for a Fortune 500 company.
In particular, leadership training on technical skills will change depending on the industry and business structure. On the other hand, topics related to soft skills (empathy, delegation, motivating employees, etc.) usually remain the same.
Here are 8 common types of leadership training.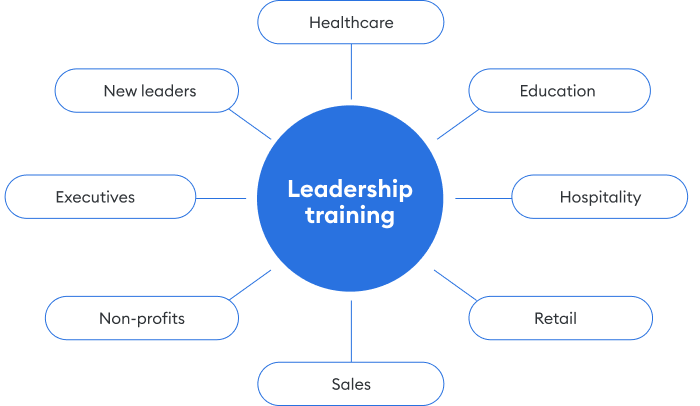 Leadership training for new leaders
This covers the core competencies that new leaders need to excel. It includes performance management, conflict resolution, and relevant technical skills. It also usually provides an overview of the business leadership structure and culture.
Retail leadership training
In the fast-moving world of retail, strong leaders are essential. Leadership training for retail typically focuses on skills such as communication, team building, dealing with conflict, and time management. In addition, it trains on the technical knowledge needed to run a store.
Also read: Retail Sales Training – How to Move It Online
Leadership training for executives
This develops the skills needed to succeed in the world of business. It includes strategic decision-making, innovation, and negotiation. Mid-level executives typically undergo this type of corporate training to advance to C-suite positions.
Healthcare leadership training
The healthcare industry is a high-pressure environment. As such, some leaders must make life-or-death decisions every day. Here, training develops the critical thinking, decision-making, communication, and strategy skills needed to head up a healthcare team.
Leadership training for sales managers
Sales managers have the tough job of keeping their teams motivated. An outstanding leader can make the difference between hitting or missing your business goals. Thus, regular leadership training is essential for honing skills like performance management, communication, and negotiation.
Leadership training for teachers
Great teachers have excellent leadership skills. Not only do they need to manage their students, but they must motivate, inspire, and affect behavioral changes. Teachers need to be trained on how to develop their skills in coaching, giving feedback, communicating, and empathy.
Leadership training for nonprofit organizations
Since nonprofits rely heavily on volunteers, things tend to move slowly. Therefore, effective leadership is needed to drive change, motivate teams, and lead for impact. This type of training also covers the technical know-how needed to build financial capital.
Hospitality leadership training
Leaders in the hospitality industry have to deal with difficult clients, high staff turnover, and a fast-moving environment. As a result, efficient training is a must. On top of technical knowledge, hospitality leaders require training to build communication skills, decision-making, and empathy.
Leadership Training Programs
Whether you need to train a new manager or a seasoned leader, there is a wide array of leadership training programs to boost their management skills. We've selected 3 of the best training programs for managers of every level.
1. Dale Carnegie: Inspired executive leadership training
Dale Carnegie, the author of How to Win Friends and Influence People, has become a household name when it comes to inspiring leadership. Following the colossal success of his books, the Dale Carnegie Training company was born and quickly became a leader in management development.
The Inspired Executive Leadership Training program is designed to develop innovative leaders who unite and inspire teams. As part of the training program, leaders learn how to improve collaboration and communication, achieve success benchmarks, and build a culture that engages and retains talent.
The Dale Carnegie training center offers a wide range of leadership training formats, including digital courses, in-person classes, and live online lessons.
2. MIT OpenCourseWare
MIT's Sloan School of Management runs a week-long, instructor-led training course called Building and Leading Effective Teams. The program offers an introduction to leadership, covering the core principles of leading a team. Trainees actively participate in experiential training activities to build team-based and individual leadership skills. By the end of the course, participants will have a better understanding of how to support their teams and build better connections.
3. CCL Leadership Development Program
The Center for Creative Leadership provides a broad selection of leadership training courses. However, the star of the show is the Leadership Development Program. This world-famous training is the longest-running of its kind, making it one of the most prestigious and recognized programs in the world. In fact, over 50,000 leaders worldwide have graduated from this course.
The 5-day program is offered in person or online. Due to the intense nature of the course, it is best suited for mid to senior-level managers who want to level up their leadership skills. During the training course, participants develop their knowledge of stress management, complex problem resolution, collaboration, performance management, and team influence.
Challenges of Leadership Training Programs
Chief Learning Office magazine reported that 74% of businesses utilize instructor-led leadership training, while 63% employ executive coaching. While in-person leadership training certainly has some perks, it comes with its own set of challenges.
A McKinsey report found that most leadership development programs have next to no impact on the business. According to McKinsey, there are 4 main reasons for the low success rate.
Organizations use one-size-fits-all training. As a result, the training provides very little context and isn't personalized to the business, culture, and leadership structure.
In-person training leads to information overload. Most leadership training is overfilled with models, frameworks, and concepts. This leads to information overload, poor retention, and a lack of practical application.
Companies overlook corporate culture. Company culture is one of the biggest barriers to behavior change. Therefore, organizations need to address this and foster a mindset that welcomes change.
Businesses fail to measure results. Training is more effective when you assess its success. As such, organizations should use metrics to measure behavior change, business impact, and employee development.
So, what's the solution? Although most organizations admit that their current management training isn't producing results, they agree on how important leadership development is. Therefore, rather than cut leadership programs out, it may be time to rethink how they are carried out.
There are 2 ways to address the 4 main challenges that McKinsey mentions:
Create leadership development programs in-house
Run leadership training online
Creating and running your own online leadership training program will allow your organization to
Personalize the training content to your business needs, goals, and leadership structure
Break complex training down into small training modules that users can revisit when needed
Roll out leadership training for employees as well as managers to train a wider audience and affect behavior changes more quickly
Track success with the help of a Learning Management System (LMS)
Besides realizing better outcomes, taking your leadership training online will cut training costs such as travel, accommodations, and instructor expenses. As such, you can offer more regular training to a larger group of employees.
How to Create a Leadership Training Program and Run It Online
Creating online leadership training from scratch may seem daunting, but it really boils down to a few simple steps. To help you create your own training program, we've outlined each step in the process below.
Step 1. Define learning goals and objectives
It all begins with clear goals. Learning goals and objectives offer a roadmap of where you are and where you want to be, which makes creating a relevant training program much easier. More importantly, they show why learners should take the training.
But what's the difference between learning goals and objectives? In a nutshell, learning goals refer to the desired outcome of the training while learning objectives are the specific steps to achieve the goal. Generally speaking, each learning goal should have 3 to 5 learning objectives.
A common mistake when setting them is being too vague. Goals that don't have specific steps and a timeline to achieve them tend to lack direction and urgency. As a result, the training program will not be aligned with the desired outcomes.
The SMART goal-setting model is a framework designed to set clear goals. It's a 5-step process that ensures your goals are specific and actionable.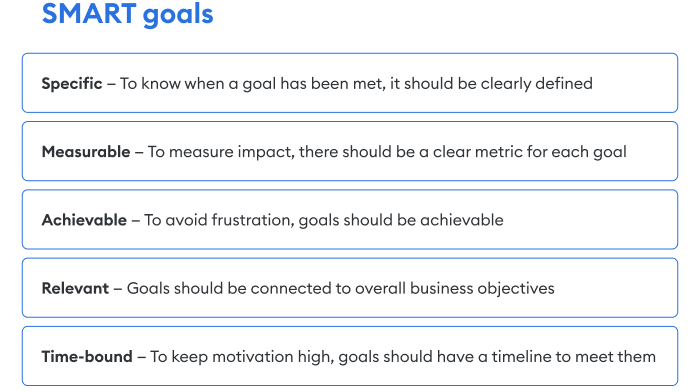 Here's an example of SMART learning goals for an executive leadership training program.
| | |
| --- | --- |
| Goal | Action |
| Develop leaders' ability to adapt to change | By the end of Q1, all members of the leadership group will have developed techniques to build their adaptability, empathy, and ability to remain calm under pressure. |
| Create a feedback culture in the company | By the start of Q3, all leaders will have created a 360-degree feedback loop within their teams. This will include setting up regular 121 check-ins and a weekly recognition channel on Slack. |
Step 2. Create a leadership training program
Once your goals are defined, the next step is to outline a training program. It can be easy to get bogged down in the details at this stage. So, we recommend focusing on the big picture and leaving the particulars to later on in the planning process.
At this point, your goal is to create an overview of what leadership training topics you will cover and how they all fit together. As you build your program, keep circling back to your learning goals. Every single learning topic or activity should be relevant and aligned with your goals. If it's not, cut it out.
To help you create an outline for your program, we've put together the following checklist.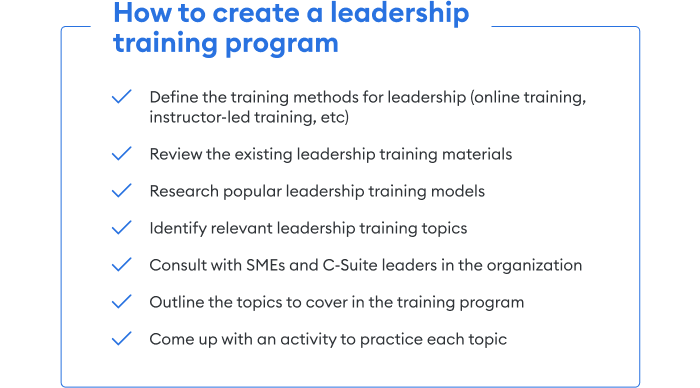 Take a look at this sample outline of a leadership training program for executives.
Learning Topic
eLearning Solution
Identify your leadership style
Video lecture: Overview of the different types of leadership styles
Leadership case studies
Matching exercise: Match each leadership style with the correct example
Ask for a behavior change

Flashcard activity: Turn the flashcards over to learn each step in the DESC feedback model (describe, express, specify, consequences)

Role-play: Give feedback to an employee using the DESC model

Carry out a performance review
Screencast: How to log the details of a performance review in the corporate performance management tool
Recap

Interactive quiz: Review the key points covered in the leadership training

Additional resources: Downloadable PDFs with extra reading on leaderships styles, tips, and tricks

Certificate of completion: Evidence that all leadership training courses have been completed successfully
Step 3. Create training content
Now comes the fun part. To create leadership training eLearning content, you'll need an authoring tool. This is software used to create online courses – complete with videos, interactive activities, and quizzes.
If you're new to course development, it's best to opt for an easy-to-use tool such as the iSpring Suite authoring toolkit.
With iSpring Suite, you can develop compelling online courses for all types of leadership training scenarios. It's a user-friendly, PowerPoint-based tool that enables you to build courses in minutes, even if one has no previous experience. The toolkit comes with professionally designed templates, a fully stocked character library, and 14 different interactions, so you can customize your leadership courses completely.
Fully-stocked eLearning authoring toolkit for PowerPoint. No training required to start!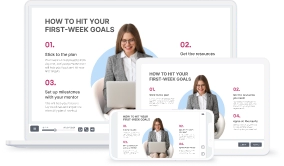 To inspire you, here are just a few leadership training ideas that were made using iSpring Suite.
Online courses
An online course contains text, images, and interactive activities, such as matching exercises and clickable images. It provides a compelling training format, improving learning engagement and overall results.
Best for: Supplying the theory behind the training topic. This can be tested by adding an interactive quiz at the end of the course.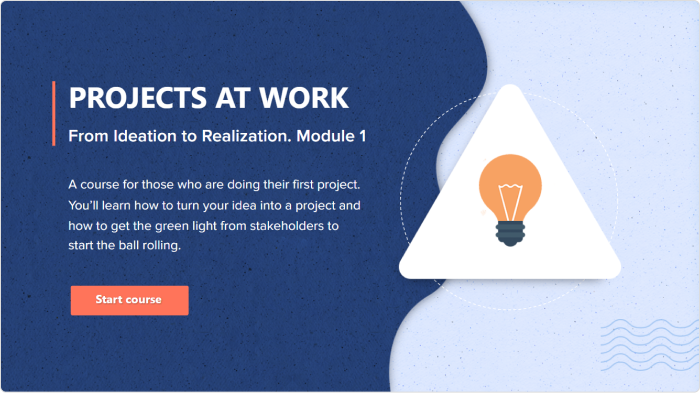 Role-play simulations
Role-plays imitate real-life scenarios that leaders face at work. They empower managers to develop skills and practice uncomfortable situations in a safe environment. As a result, leaders gain confidence and hone their skills.
Best for: Building communication skills, such as giving constructive feedback or handling conflict in the team.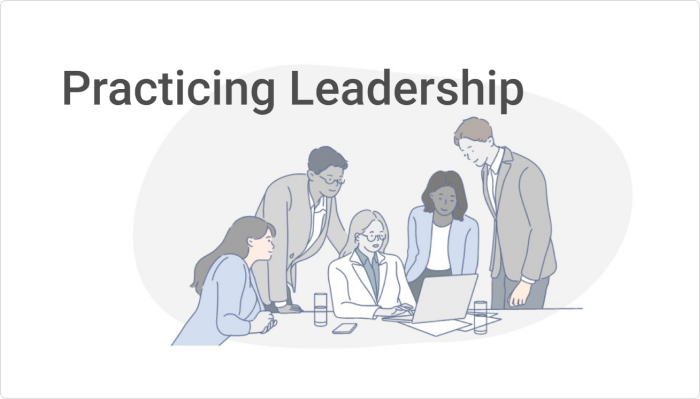 This sim was developed by Clark Aldrich, an experienced designer of educational simulations.
Read also: 8 Popular Role-play Scenarios
Video courses
Videos are a dynamic learning tool. Learners engage with video more intensely, especially when the core messages are displayed on screen. Additionally, videos are a multi-purpose training tool that can be shared by email, used as part of a course, or as a standalone learning object.
Best for: Video content is perfect for breaking down complex leadership topics into smaller, manageable chunks.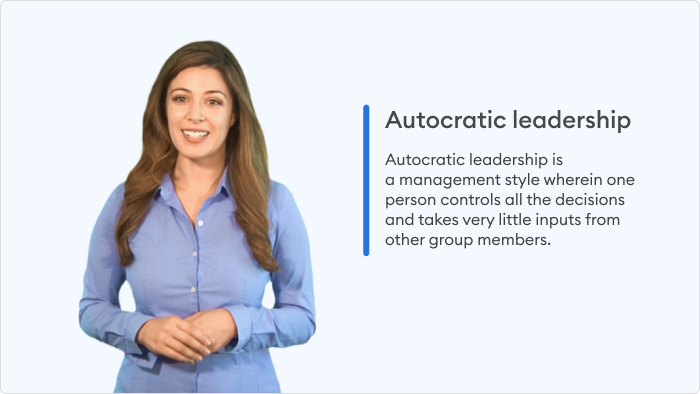 Step 4. Deliver training
Your leadership training program has been built, tested, and tweaked. Now it's launch time. The most straightforward way to deliver your courses to employees is via a learning management system or LMS. Using an LMS, you can upload your training courses into dedicated catalogs, enroll users in courses, and set up automatic reminder notifications. Employees can access the training on multiple devices at a time that suits them best. What's more, your organization gains full insight into training activities and results.
With iSpring Learn LMS, you can build personalized learning tracks for supervisors, new managers, and senior leaders. Additionally, L&D and HR teams can automate training management tasks, thereby reducing manual activities.
Automate corporate training and improve employee performance.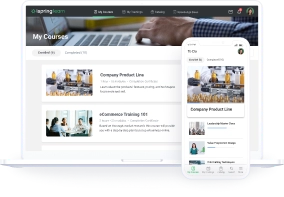 Step 5. Measure leadership training results
Congratulations! Your leadership development program is live. Now that leaders and future leaders are taking the training, it's time to measure its success. This is where LMS reporting comes in. Unlike in-person training, with an LMS, you can easily track key training data.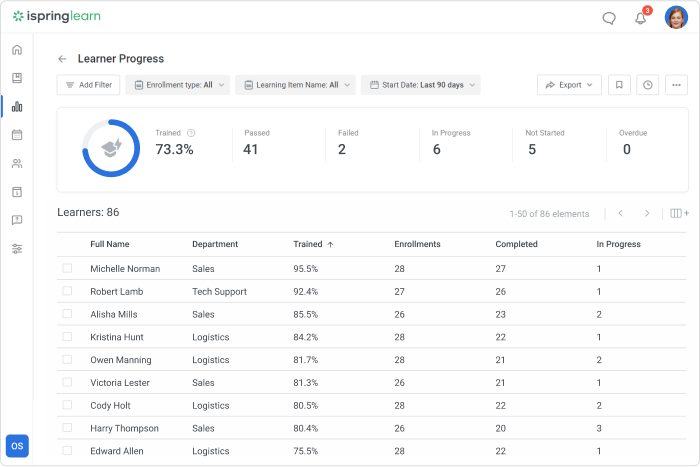 LMS reports enable your organization to monitor several success metrics. For instance, compare the number of employees enrolled in the course with the number who have completed it. If a large number of learners haven't completed the course, this could indicate that it lacks engagement.
Does your training program contain an interactive quiz? Check the results. If a large number of learners failed the quiz, it might be too difficult. Or, it could mean that the course content isn't clear enough. Either way, it highlights an area that needs improvement.
Have you sent out a feedback survey? How many employees would recommend this training to a friend or colleague? This is a fantastic indicator of how successful the training is.
It can take months, or even years, for the impact of leadership training to manifest in team and business results. However, an LMS allows you to start analyzing the success of the training immediately. This allows your organization to begin tweaking and improving the program right away.
Want to know more? Our detailed LMS reporting guide breaks down all the learning metrics you need to know.
FAQ
Here are answers to the most commonly-asked questions about leadership training.
✓ How often should you provide leadership training to employees?
This depends on a number of factors, such as the enterprise's size, managerial roles, available resources, etc.). That being said, there are some best practices that organizations should follow. Businesses should offer leadership training:
to all new managers, supervisors, and potential future leaders
when they identify skills gaps
in response to business changes
Additionally, providing employees with a leadership training course every quarter will help to maintain and further develop management skills.
✓ What is the most effective training method for carrying out leadership training?
Currently, instructor-led training sessions are the most common way to train managers. However, poor training results and the increase in remote work have contributed to a rise in online or blended training methods.
The average adult retains just 10% of what they hear during in-person training sessions. With this in mind, it's clear to see why leadership eLearning courses are increasing in popularity.
Leadership is a broad and complex topic. Moving leadership training online means organizations can provide more regular training, broken down into smaller chunks. In doing so, more employees have access to this professional development training. More importantly, the success of the training is much higher, thanks to better learner engagement and retention.
Taking all this into consideration, blended learning is the most effective training method for leadership development. That way, participants still get to enjoy instructor-led sessions, but the knowledge is reinforced through eLearning. As a result, trainees are exposed to different learning styles, they receive more frequent training, and they can revisit the training content when needed.
✓ What tools and resources are needed to build an in-house leadership development program?
If your organization wants to build its own online leadership training program, you'll need two training tools to get started:
A Learning Management System (LMS) to deliver training and track results
A content authoring toolkit to build leadership eLearning courses
If you plan to adopt a blending learning model, you'll also need a video conferencing tool to host meetings and webinars. It's best to opt for one that can be integrated into your LMS.
To start building compelling courses for your future leaders today, get a free trial of the iSpring Suite authoring toolkit. You'll be able to explore its full range of features for 14 days, without paying a cent.
Finally, if your organization is looking for a user-friendly LMS with robust reporting features, get an iSpring Learn free trial today!