Updates
iSpring Suite 8: New Video Lecture Player
Even the most sophisticated video lecture can still be made more effective, simply by giving your users a convenient way to view it. Combining presentation slides with a talking head or explainer video is easier now than ever before, thanks to the Video Lecture Player in iSpring Suite 8.
Along with all the other major capabilities that have been supercharged into iSpring Suite, the new Video Lecture player joins the team to make the 8th version your single stop for top-to-bottom e-Learning authoring.
Here, we'll show you how to select the Video Lecture player when you're publishing a course, and how your users can operate it once they open it.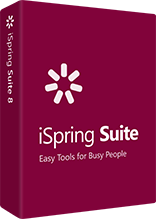 Fully-stocked eLearning authoring toolkit for PowerPoint. No training required to start!
How to Use the iSpring Video Lecture Player
To configure how the Video Lecture player will look when your users first open the course, go to Presentation Explorer on the iSpring Suite 8 toolbar in PowerPoint.

In the Presentation Explorer, each slide has a dropdown menu in the Layout column.

The default setting is No Change, which means the Full layout will be used. When this setting is selected for all slides, the Video Lecture player will be set to the 50/50 layout:

The No Sidebar layout will display the full slide on the right with a miniaturized video on the left:

The Maximized Video layout will show the enlarged video on the left and a smaller slide on the right:

*TIP You can automatically change the player layout for each slide as your users navigate through the course. Simply select your desired layout for each slide in the Presentation Explorer, and it will automatically change as the slide advances.

Go to Publish on the iSpring Suite 8 toolbar.

Select Video Lecture from the Player dropdown menu and click Publish.

When you open your course, it will be displayed in the Video Lecture Player. If you have set up automatic layout changes, they will occur automatically as the slides progress. Regardless of the layout you have chosen, you can always change the proportions of the slide and video simply by clicking and dragging anywhere on their surface.
Check out the example below to see the Video Lecture Player in action:
The iSpring Video Lecture Player is the perfect way to keep your users' attention focused where it needs to be, whether on the course material, or on the lecturer. It also gives users the power to concentrate on any part of the video lecture they feel is most important for their progress.
Now you know how to use the Video Lecture player, so it's time to start creating!
Curious about the other new features in iSpring Suite 8? Stay tuned to the iSpring blog for more updates!