Updates
iSpring Suite 8.0. Coming Soon.
After 10 years on the market, iSpring will release the 8th version of iSpring Suite this October.
The new version, with the brand-new Conversation Trainer and Screen Recording Tool, puts even more power into the hands of busy developers. This unique functionality, delivered with a state-of-the-art user experience, can't be found in standard e-Learning packages. New authoring options are implemented at the highest quality level, which is traditional for all iSpring software.
Be the first to learn more about all the new features: check out the new version!
Conversation Trainer
The iSpring TalkMaster covers one of the most common cases for staff training. It helps design communication exercises for training employees to deal with customers more effectively.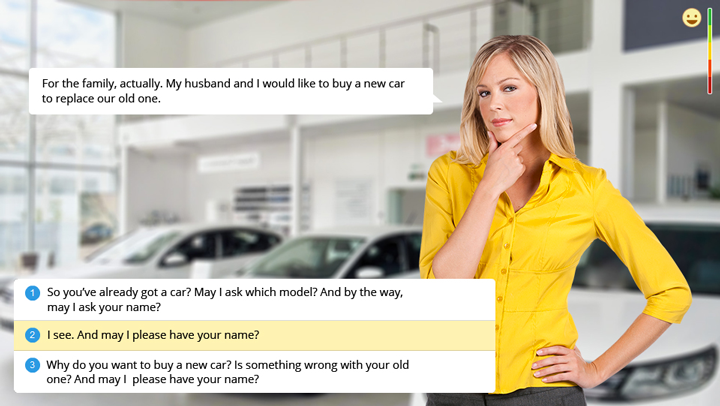 Conversation creation is fast and easy, like all activities powered by iSpring: just arrange questions and answers in a tree structure, and add a character from the iSpring Character Library.
TalkMaster can be used not only for staff training, but also checking on their progress. All you need to do is enable evaluation and set point values for correct answers.
Screen Recording Tool
Though this feature is essential for virtually all course creators, it is not common among leading e-Learning packages. With the iSpring Screen Recording Tool, you can easily create screencasts by recording screen activity.
Convert recorded videos to mp4, upload them to YouTube, or insert onto your slides right away. Your screencast can be instantly edited and updated using iSpring Video Editor.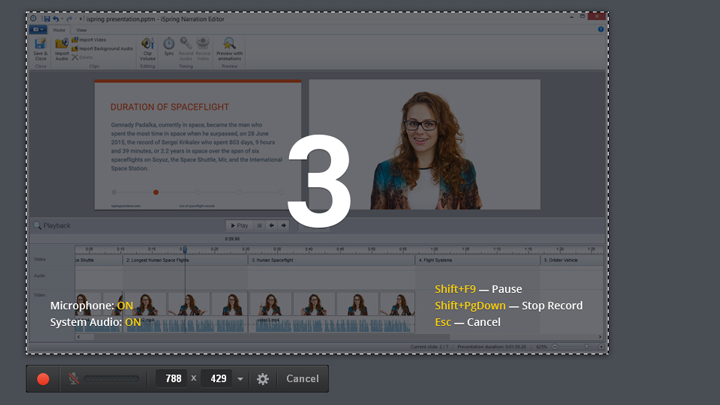 Audio/Video Editor
Easily add professional audio and video to your slides while you are creating a course: delete audio fragments, apply audio fade-in and fade-out to a fragment, and remove background noise with this easy-to-use and intuitive Audio/Video Editor which doesn't require special knowledge.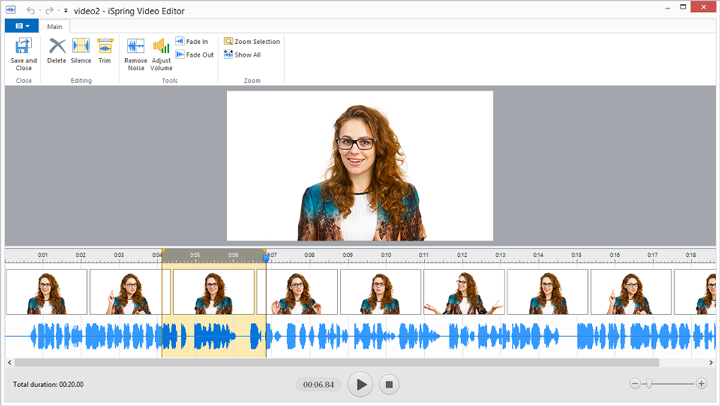 VideoLecture Player
The VideoLecture Player is specially designed to deliver presentations with videos (e.g., recordings from conferences, marketing materials, etc.). The player window is shared 50/50 by the presentation slides and presenter video. The slide/video proportion can be changed on the fly, to focus on the part of your course which is most important at any given moment.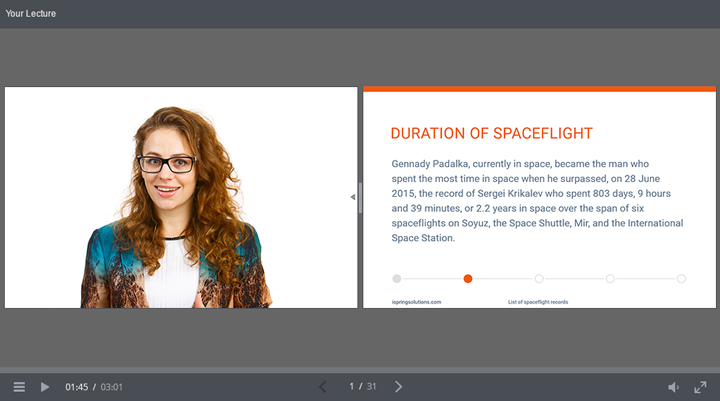 Quiz Maker
The enhanced Quiz Maker introduces a new, improved quiz editing experience. Easier than ever, you can customize question design for several slides at once: change themes, layouts and color background for a specified number of questions in one click.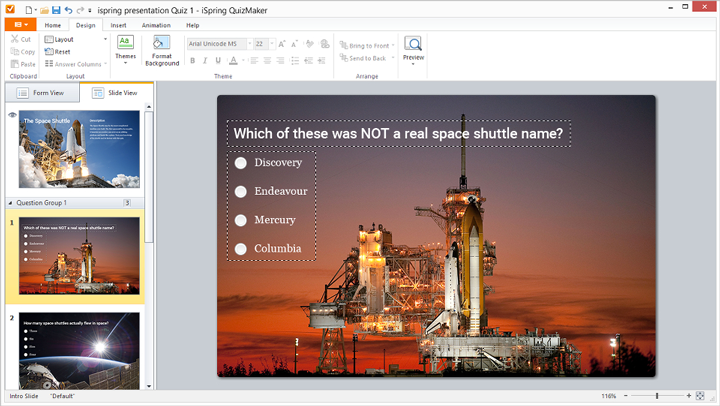 Key facts about iSpring Suite
iSpring Suite is a product that every subject matter expert can use to easily start creating powerful content without any special skills; plus, it has many advanced features for e-Learning development.
iSpring Suite is perfectly integrated with PowerPoint, easy to learn and easy to use. This fast and effective authoring tool, driven by iSpring's pioneering technology for converting PowerPoint to online formats, helps e-Learning people to take advantage of all PowerPoint capabilities
PowerPoint-based courses are perfectly converted to online formats (Flash and HTML5). iSpring Adaptive Player ensures that your content plays perfectly on any device, from desktops to smartphones, regardless of screen size.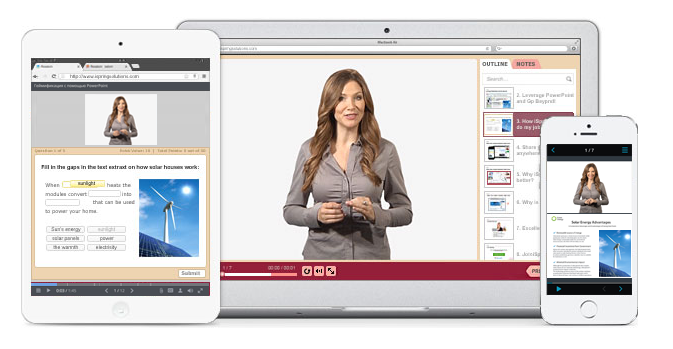 iSpring Viewer, a mobile app for iPad, iPhone and Android, allows learners to download their assignments right to their devices and take courses whenever they want, even offline (for example, on a plane).
Perfect support of all leading Learning Management Systems and e-Learning standards: AICC, SCORM 1.2, SCORM 2004 (all versions), xAPI, BlackBoard.
Buy iSpring Suite 7 now and get an upgrade to iSpring Suite 8 for free!
Contact us for more details about your upgrade →
Advanced Features of iSpring Suite 8
Feature

Capabilities

Conversation Trainer

Advanced branching conversation scenarios
Built-in character and background libraries
Scenarios for knowledge evaluation

Screen Recording Tool

Audio recording from a microphone
Cursor highlighting and sound effect for mouse clicks
Convert recordings into .mp4 video, upload to YouTube or insert onto your slides
Video Editor for screen recordings

Audio/Video Editor

Audio/video fragment removal
Volume adjustment/muting
Audio fade-in and fade-out
Background noise removal
Video export into MP4 format
Audio export into MP3 format

Narration Editor

Improved audio/video import
Improved narration sync

50/50 Player

Adjust slide/video proportion on the fly
Adaptive playback for mobile devices

Quiz and surveys editor

Customize design for several questions at once
"Undo all actions" option in editor window
New enhanced toolbar with detailed quiz info

Playlists for background music

Create audio playlists
Apply playlist to any presentation slide

Mobile Application for iPhone

Store presentations and courses on your devices and use them offline
Add courses to Favorites
Full presentation playback with all slides, audio and video enabled

Authoring Environment

Windows XP SP3
Windows Vista
Windows 7
Windows 8

Windows 10

Office 2007
Office 2010
Office 2013

Office 2016
iSpring engineers are always pushing the boundaries of excellent e-Learning software, and this release is certainly no exception. With all these exciting new features, iSpring Suite 8 promises to be an even more useful tool for busy content authors everywhere.
Buy iSpring Suite 7 today and get your free upgrade to iSpring Suite 8 →
Tell us what feature YOU can't wait to try in the comments below!