Whether you're authoring e-Learning materials for school, college or office, there's one simple and all-too-familiar design that suits any subject. We're talking about interactive flipbooks that preserve the traditional look and feel of a paperback, but are way more efficient in terms of studying. Plus, by using eco-friendly digital pages instead of paper, you help save millions of trees all over the world.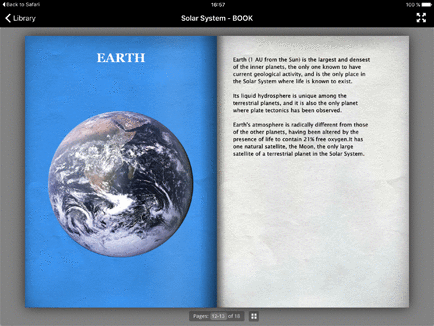 In this article you will learn how to make a flipbook with beautiful ready-made templates available in iSpring Suite, and then easily share it online.
Step-by-step guide
Install a fully-functional iSpring Suite free trial.
iSpring Suite contains iSpring Visuals, an integrated tool for creating various interactions. Launch it by clicking the iSpring Visuals icon.
You can also start using iSpring Visuals by clicking the Interaction button in the iSpring Suite toolbar.

In the open

Quick Start

window, choose

Book

from the list of available interactions on the left. As you can see, iSpring Visuals also allows users to present e-Learning materials in the form of a directory, FAQ, and timeline.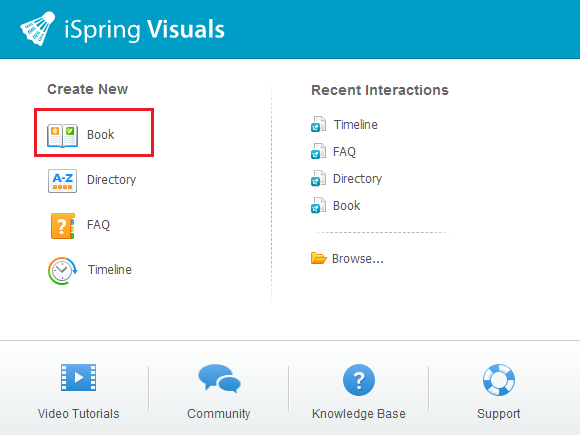 Once you've opened a new book, there are a face cover, one broadside, and a back cover. Add as many broadsides as you want your flipbook to contain. To do that you can either click the

New Broadside

button on the toolbar, or right-click any place in the

Book Pages

menu and choose

New Page

in the context menu.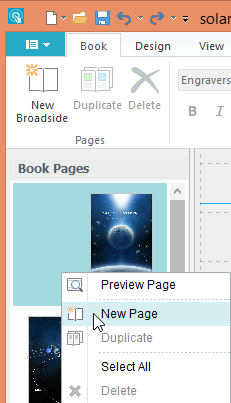 New broadsides will be added under the selected broadsides in the Book Pages pane. You can move pages up and down in this list by dragging them.
Choose a design and layout for your flipbook.
Just as traditional books are always different, interactive flipbooks can also vary in style and size. iSpring Suite allows users to create 3D books of portrait or album layout. Simply choose the Design tab on the toolbar, and then click the Page Size button on the ribbon to select one of the predefined page sizes.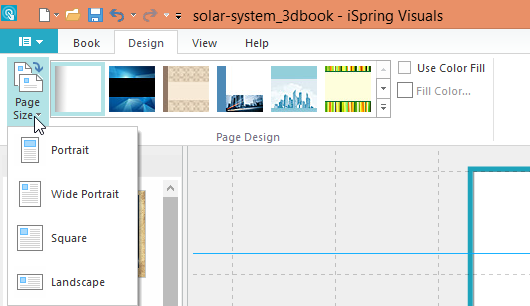 To customize the look of your flipbook, you can apply different custom backgrounds. Select a page you wish to customize, click the Page Backgrounds button and choose the desired background from the drop-down menu.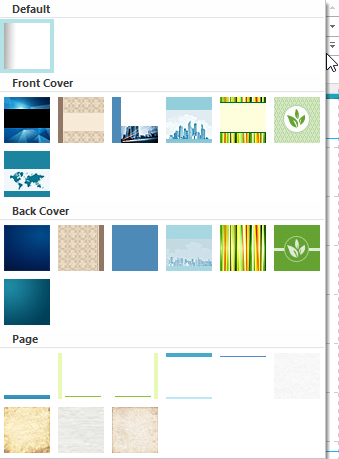 Go beyond basic backgrounds, and apply different colors to pages. This option is also available in the Design tab. Select a page, then use the Color Fill checkbox and click the Fill Color button.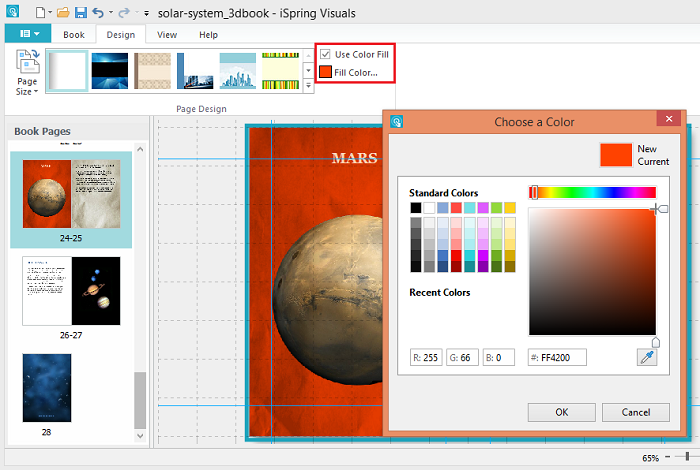 Add a cover image by clicking the

Picture

button on the toolbar. The inserted picture will appear on your page. You can now drag and resize it if necessary. Repeat the process to add an image for the back cover.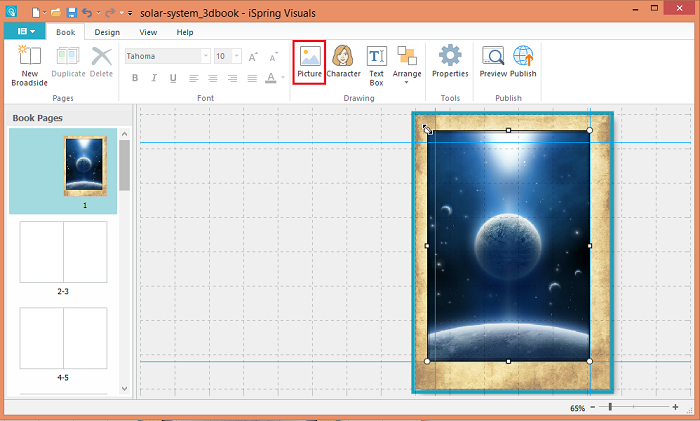 Add a title to your digital flipbook. To do that, click the

Text Box

button on the toolbar. Click on the page where you want to place the title and then drag the mouse to draw the box. Now type the title inside the text box. You can adjust the font and additional settings from the

Font

section of the toolbar.

Organize the broadsides of your book.
Insert text and pictures by following the steps described above. You can either create a photo-based flipbook, or add more text to cover broad material.
Animate your flipbook by adding live characters to it. Use a set of ready characters' images with different poses and emotions that will illustrate your story. To do that, click the Character button on the toolbar, then select the appropriate character and pose.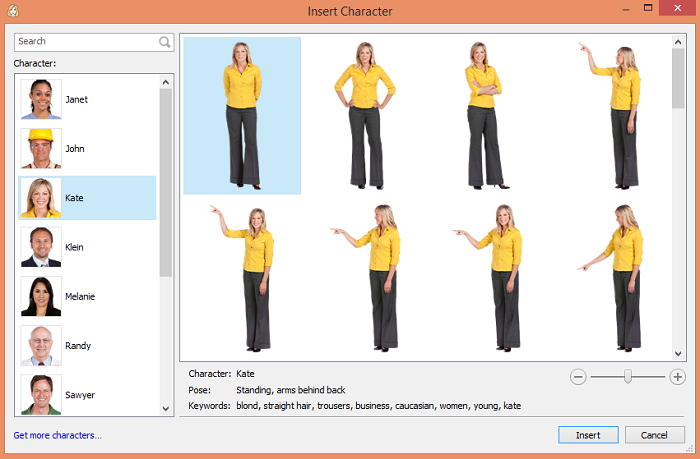 Arrange all the inserted objects on your book pages by sending them backward or forward. First select an object, then click the Arrange button on the toolbar. Choose one of the four available actions from the drop-down menu as shown in the picture.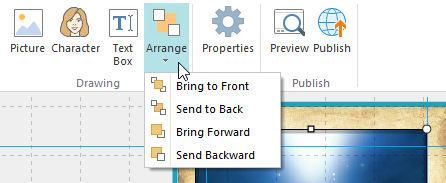 To modify multiple objects at once, click on them while pressing the Ctrl button on your keyboard. You can change text formatting properties, move, resize, and delete all selected objects.
All content created with iSpring Suite goes cross-device, which means that your flipbook will be perfectly played back on PC, Mac, iPhone, iPad, and Android devices. To share it, click the

Publish

button on the iSpring toolbar.

In the Publish window, type in the name of your interactive book. Also, specify a local or network folder , and choose a suitable online format. Learn more about your options for publishing interactions.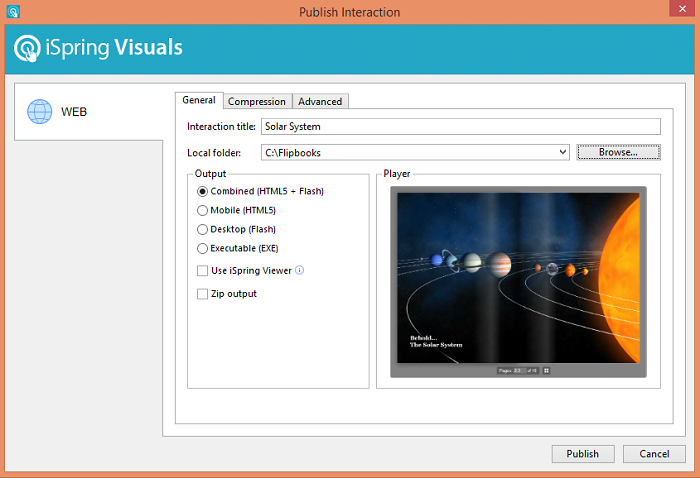 Once you've published your flipbook, use iSpring Cloud to deliver it. Sign up for free to get a personal online storage for your e-Learning materials, and instantly share them via short link, email or embed code.  Plus, your iSpring-created content will be accessible even offline, thanks to the iSpring Play free mobile app.
Why your flipbook is destined for success
Whether you've made a flipbook for students, employees or clients, it will certainly engage them. Digital flipbooks embody the best of traditional textbooks because of their intuitive user interface with a page-turning effect. Well-designed 3D books offer a fascinating visual experience and thus, facilitate learning.
Interactive flipbooks created in iSpring Suite adapt to different mobile devices. They are absolutely portable, which means there's no limit into the number of flipbooks that can be taken around. Plus, gone are the days of lost worksheets or textbooks.
Now that you have a detailed guide on making attractive flipbooks, it's high time to create and customize your original flipbook. Download iSpring Suite for free to start using interactions and many other e-Learning facilities right away.
We are curious about the results of your creative work. Feel free to share your flipbooks with us in the comments below.