November 16, 2023
How to Create Flipbook in PowerPoint: A Comprehensive Guide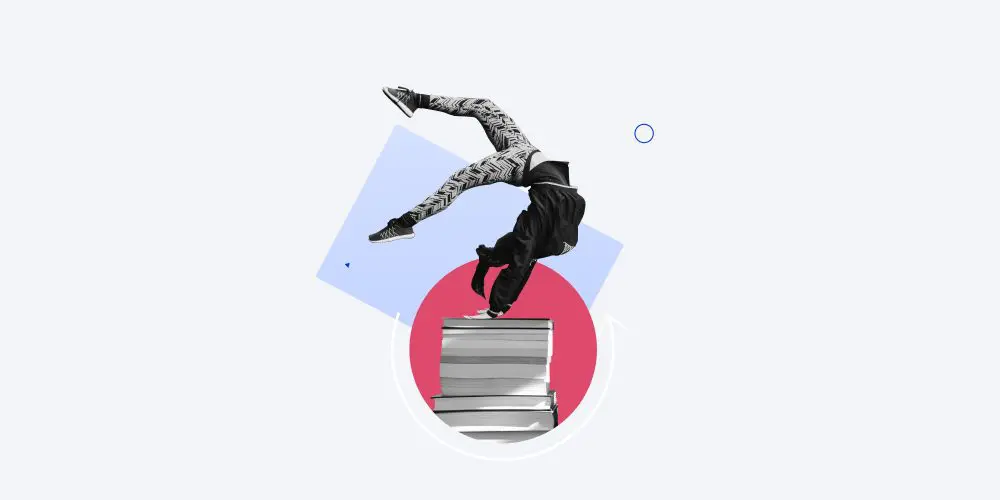 Creating a flipbook in PowerPoint is a quick and easy way to showcase brochures, reports, white papers, guides, and e-books.
If you're familiar with basic PowerPoint functions, creating a digital flipbook in PowerPoint will be effortless. You won't need to learn new complex software or pay for tools you need to use just once.
Here is a detailed walk-through of how to create your first flipbook right in PowerPoint.
How Do You Make a Flipbook in PowerPoint?
Open PowerPoint, and let's get started!
Step 1: Create a book-style slide
Start with a blank presentation using the horizontal slide format. You can customize the slide size in the Design tab with the Slide Size functionality.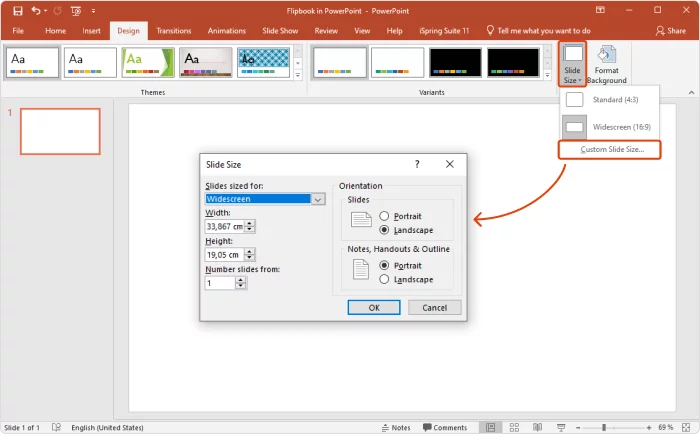 Step 2: Set the layout for the pages
Divide the page with a vertical line so each slide will have two equal parts. To place the line in the center of the page, go to the top menu bar and click on Arrange > Align > Align Center. Now, the slide looks like two pages of a book.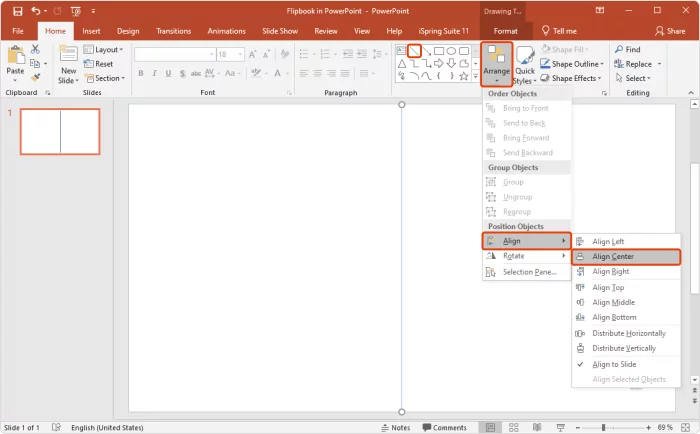 Step 3: Add your content to the slides
For each set of two facing pages of your flipbook, add a new slide. You can do this by clicking on the New Slide button on the Home tab or by simply copying the first slide as many times as needed.
Organize your content on the slides.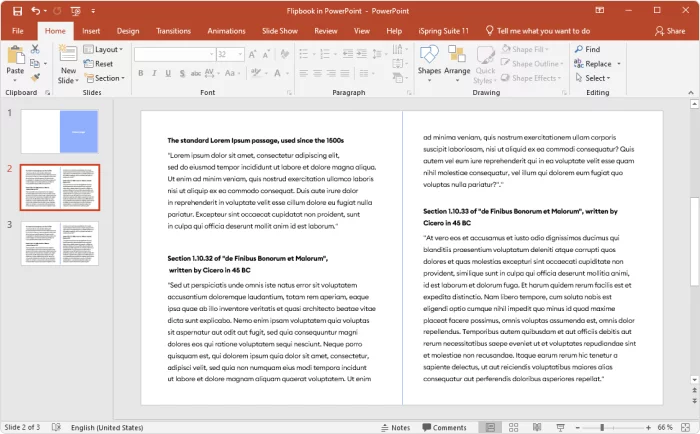 Step 4: Create the flip effect
To create the flip effect, select the first slide, go to the Transitions tab, and find the Page Curl transition.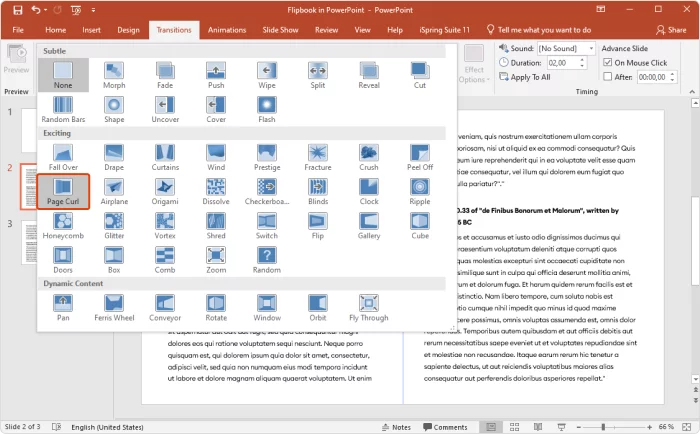 Step 5: Duplicate and customize
To apply the flip effect to all slides in your PowerPoint file, do the following: While on the first slide, go to the Transitions tab and press the Apply To All button in the right section of the menu.
Customize your flipbook by adding a background and logo. You might also want to add a header and footer with information like your name, title, company, or copyright details. Incorporate illustrations, videos, and graphics to enhance its visual appeal.
Step 6: Test your flipbook
Run a slideshow to test your flipbook and make any necessary adjustments to its timing and transitions.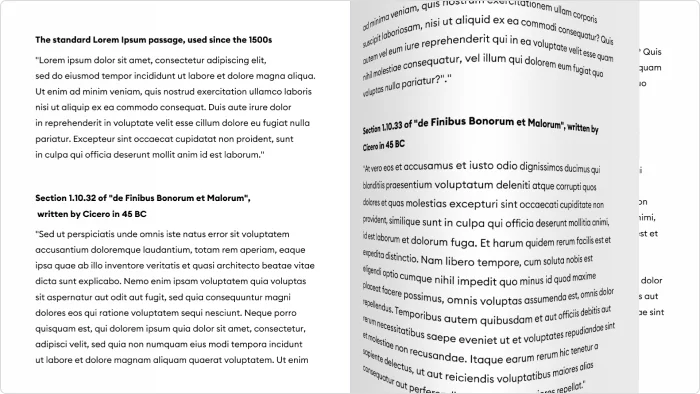 Step 7: Save and share
Save your PPT file. You can share it with others as a PowerPoint file or a PDF. To save it as a PDF, click on File, and then, from the menu on the left, select Export and press Create PDF. Your digital flipbook is ready.
Flipbook PowerPoint Templates
If you don't want to start from scratch, you can look for ready-made PPT templates. There are many online resources, such as Slideegg, Google Slides, Fppt, Slidesgo, Canva, and SlidesCarnival. They all offer a large variety of free, ready-to-use PowerPoint templates. Here's one from Slideegg.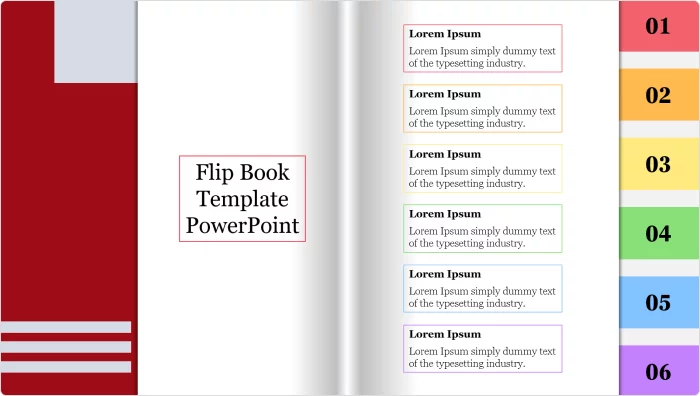 Selecting the right template for a flipbook is crucial for effectively conveying your content's message effectively and engaging your audience. When choosing one of PowerPoint's flipbook templates, consider the purpose of your presentation and the nature of the content.
For example, if your content is academic or business-related, opt for a template that reflects a formal tone with clean lines and subdued colors. On the other hand, if your content is creative or aimed at younger audiences, consider templates with vibrant colors and playful designs.
Also, check if the template has options to paste videos, images, or other elements. This will simplify the process of structuring your content on the slides.
A Professional Way to Create a Flipbook for eLearning
PowerPoint is a simple and cost-effective solution. But if you are creating a flipbook as learning material, it is worth it to check out specialized tools.
For example, iSpring Flip stands out as a robust choice for creating engaging flipbooks. It converts PDF, Word, or PPT files into HTML5 e-books, course materials, or eLearning catalogs flawlessly. What sets it apart is its synergy with eLearning tools, enabling seamless integration with learning management systems (LMSs).
Moreover, PowerPoint doesn't optimize presentations for mobile devices in the same way that iSpring Suite does. So, your students will have a better experience across different devices.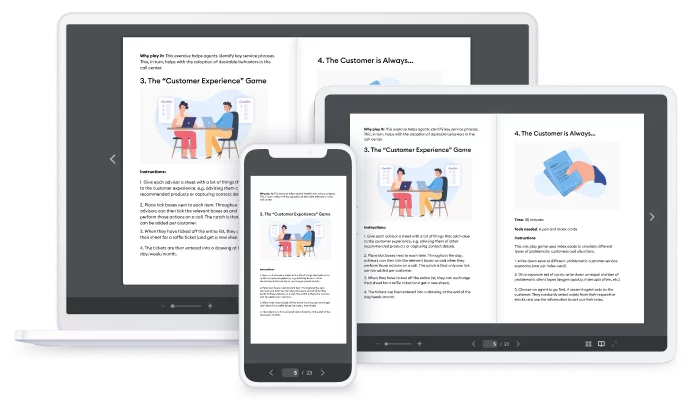 iSpring has built-in analytics, so you can track each student's progress. Once you've uploaded the book to your LMS, the system will gather data and generate progress reports on each learner.
A benefit for the students is that they don't have to remember where they stopped reading. They can always quickly return to the same page where they left off.
Check this example of a flipbook created with iSpring Suite.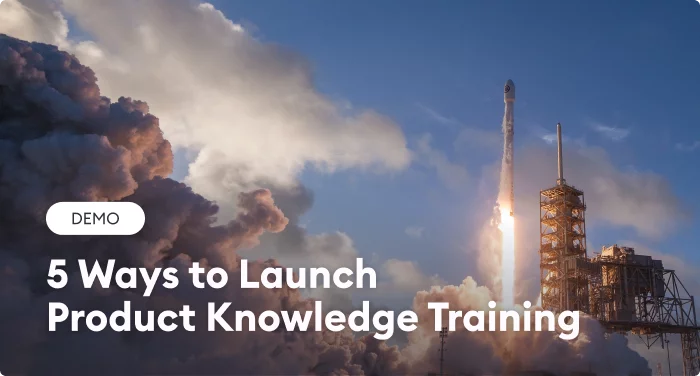 Check out the iSpring Flip guide to learn how to easily create a flipbook.
If you want to enhance your flipbook creation by adding advanced branding or content protection, for example, check out other software for flipbook creation that best meets your needs.
FAQ on PowerPoint Flip Animation
If some questions related to flipbooks in PowerPoint were left unanswered, review these frequently asked questions.
How can I convert from PDF to flipbook and back again?
One of the easiest ways is to use iSpring Flip. It only requires that you upload the file and press the Book icon. Preview the flipbook to make sure it looks good in different formats, including the mobile version. To convert PowerPoint files into PDF files, use the Export button in the File tab.
Also read: Learn how to convert a PDF file to a flipbook in just a few clicks.
How can I improve the design of my flipbook?
To enhance the design, you can find pre-designed templates within Microsoft PowerPoint or third-party resources. You can also seek input from colleagues who have design expertise.
How will I make my digital flipbook interactive using PowerPoint?
Here are some ideas you can implement:
Include hyperlinks to attach examples and additional resources.
Create navigation buttons so readers can jump to relevant sections quickly.
Insert videos to showcase what you describe in the text.
Add quizzes at the ends of the chapters.
Final Thoughts
If you don't need to create flipbooks regularly and are looking for a simple solution, PowerPoint is the right choice for you. It doesn't require profound knowledge or extra tools, making it a fast and budget-friendly choice.
If your goal is to create high-quality, engaging educational materials on a regular basis, and you want your students to have the best learning experience possible, consider using iSpring Flip.