June 28, 2022
Flash Is Dead. What Is a Viable Flash Alternative?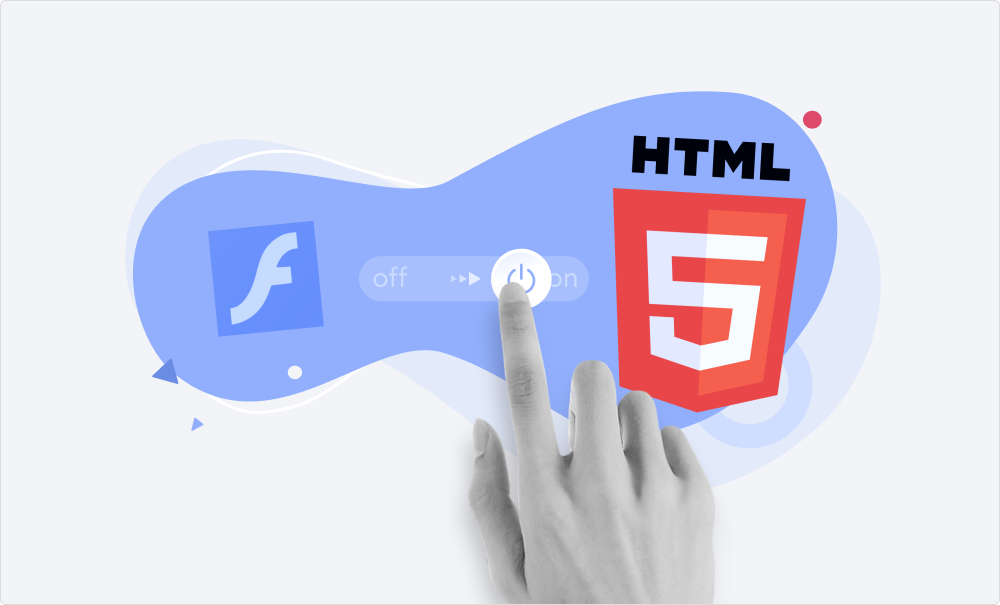 On December 31, 2020, Adobe will drop support for Flash Player entirely, which means it will no longer be available for download on their website and no further updates will be released for it. Moreover, Google, Mozilla, and Microsoft agreed to disable the Flash plugin in their web browsers on the same day, with Microsoft removing it from Windows entirely by January 2021.
This is massive, because there are still loads of Flash contents available on the Web, including eLearning content, and all of it will soon stop working on people's computers. Why does this need to happen, and what alternatives are there to Adobe Flash? Let's find out.
Important: The instructions in this article are only applicable to converting PowerPoint presentations to HTML5 or creating HTML5 content from scratch. If you're looking for a way to convert an executable Flash file (SWF) to HTML5, you will need a very different set of tools and a good share of luck.
Why Did the Tech World Give Up on Flash?
Over the first few years since Flash was presented to the digital world, it became quite a unique medium. Websites that previously only consisted of text and images quickly became filled with all sorts of Flash content: animated menus, embedded cartoons, interactive games, intrusive ads, and, of course, eLearning courses. It got so ubiquitous that websites created entirely on Flash started popping up like mushrooms.
It provided millions of hours of entertainment for users, further popularizing the World Wide Web and making Internet surfing fun like never before. But, while casual folks appreciated it for what it is, big tech companies like Apple and Google were not really keen on Flash almost right off the bat.
Steve Jobs, Apple's CEO at the time, landed the first jab at Adobe's chin in 2010, by publishing an open letter in which he pointed out Flash's main flaws. He also announced that Apple will not support Flash Player on its mobile devices like iPhones and iPads. Since then, the tech world's despise for Adobe Flash got stronger, as more and more major players openly criticized it, substantially lowering their products' dependence on Flash.
Here are the 4 main problems that technology experts had with Flash at the time:
Poor security. Flash Player was long known to be ridden with bugs and vulnerabilities that Adobe often seemed reluctant to fix. Since it worked as a third-party application inside the web browser, it often became a target in hacker attacks, acting as the weakest link in the chain.
Bad performance. Due to its high demand for computer resources, Flash slowed down other applications and caused web browsers to crash.
No support for touch controls. Originally developed for desktop, Flash was not very suitable for devices with touch controls like tablets and smartphones.
Battery consuming. Viewing Flash content on mobile devices required a lot of battery power as it was always hungry for resources.
This pressure built up until 2017, when it was decided by Adobe, Google, Apple, and Microsoft that Flash needs to be completely abandoned by the end of 2020. After the news broke, even the most dedicated supporters of Flash started looking for alternatives. That includes instructional designers that depended on Flash to make interactive training courses.
What Will Replace Adobe Flash?
With Flash being publicly criticized for its limitations, a competitive standard started gaining traction. The name was HTML5, and it changed the way we interact with the Web again, just like Flash had done 15 years before.
The new technology was a combination of good-old HTML (markup) combined with Javascript (programming) and CSS (visual styles). It provided web developers with an opportunity to create interactive content for the Web as they had with Adobe Flash. Only this time, the end user didn't have to install a third-party plugin to view some content. Instead, HTML5 rendering was implemented into web browsers, making it really easy to maintain and update.
But, most importantly, HTML5 finally gave the Internet a chance to look good on desktop and mobile devices at the same time. Web pages could now automatically adapt to the size on the screen you're viewing them on. And lastly, HTML5 was more secure than Flash, ran smoothly on any hardware, and was easy on batteries.
Now that we figured you need to make a shift from Flash to HTML5, it's time to find out more about publishing HTM5 content and how it's done.
A Reliable and Easy Way to Create HTML5 Courses
If you're an instructional designer, you need to have a way to publish high-quality, mobile-ready HTML5 courses. There are many tools capable of that on the market, but most of them are expensive and require extensive training because of their complexity.
At iSpring, we firmly believe that eLearning should be fun and easy, so we created a completely free authoring tool that can produce HTML5 courses in a snap. It's called iSpring Free, and it's installed as an add-in to your Microsoft PowerPoint, allowing you to convert your existing PPT presentations to HTML5.
Why PowerPoint? 
It's a perfect solution to digital storytelling, which is the core idea of eLearning 
We've all used it at least once
Creating a course in PowerPoint is extremely simple: grab some text and chop it up and distribute it onto a few slides, then sprinkle it with pictures. Add some animated objects to taste, and insert a video to give it more flavor. If you'd like to spice things up, launch the quiz-making tool integrated into iSpring Free that offers 3 types of questions, including multiple-choice, and add a quiz to your course.
When it's all done and mixed together nicely, iSpring will bake the finished course to HTML5. Plus, it supports the popular SCORM standard, which means you can upload your iSpring courses to SCORM-compatible Learning Management Systems.
In short, it's the ultimate tool in the arsenal of an instructional designer working on a budget.
Here's how to get started with iSpring Free in five simple steps:
Make sure you have Microsoft PowerPoint installed on your PC. If you're on a Mac, check out our guide on how to install Windows on Mac.
Download iSpring Free here and install it.
Open a presentation in PowerPoint.
Go to the iSpring Free tab.
Click on Publish and select one of two main options: HTML5 or SCORM. HTML5 content is designed to be viewed in the browser while the SCORM version is for uploading to an LMS.
After publishing is complete, you will get a fully functional HTML5 version of your presentation.
You can also check out this getting started video that will walk you through iSpring Free in less than 3 minutes:
Conclusion
It's hard to tell if HTML5 will not follow Flash and be replaced by another competitive standard in the future. However, it's safe to say that when looking back and comparing it to Flash, HTML5 wins by a landslide, and it's the only Flash alternative we need at the moment.