May 23, 2019
The New iSpring Free: The Only Free Cheese with No Mousetrap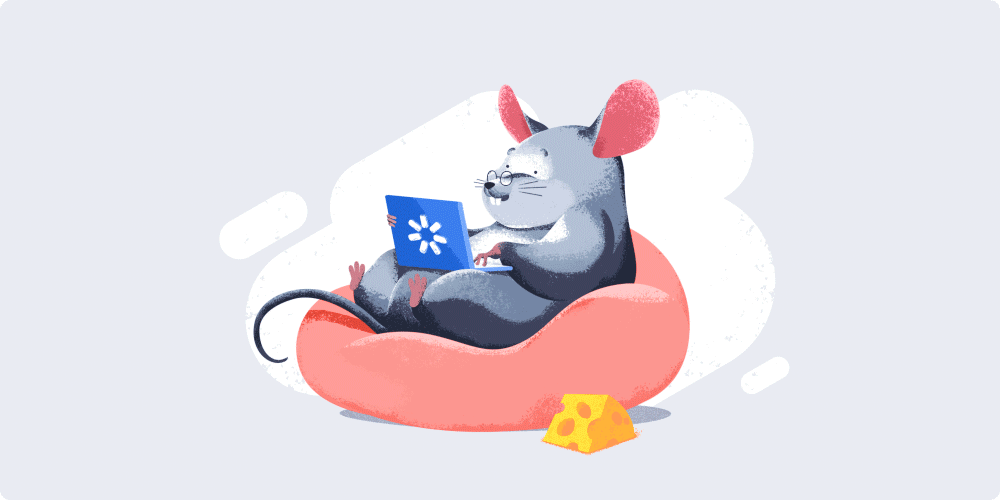 Today, we're extremely excited to announce the revolutionary update to iSpring Free, our smart little eLearning authoring tool. Now, with iSpring Free, you can create quizzes too! Plus, the new release introduces a cleaner, simpler interface which helps you do your tasks faster.
You can go and download the latest version right now, or read on for the nitty-gritty details of how to build quizzes in iSpring Free.
By happenstance, this month marks the eleventh anniversary of iSpring Free. On May 11, 2008, we released the free Flash authoring tool to help everyone create web-ready presentations in PowerPoint. Yes, it published only to Flash back then. After three years, we added the option to create SCORM courses. And when it became clear that the era of Adobe Flash had passed, the PPT to HTML5 version of iSpring Free appeared.
And after all these years, we still believe the same thing: you don't have to have a big budget to launch eLearning. Actually, you don't need a budget at all to teach your learners online.
Loved by millions
iSpring has come to win the hearts of millions of educators and course creators all over the world. It's little wonder – for absolutely free, you can create interactive eLearning courses on par with some paid tools. Here's a clue: iSpring Free has the best-in-the-industry PPT-to-HTML5 conversion engine, the same one the iSpring pro tools use. It ensures unrivaled accuracy of conversion so that all animations, transition effects, triggers, and links are kept intact.
It worked straight out of the box and faithfully converted the source PowerPoint to its HTML5 counterpart – all with a single click.
My current conversion involves a presentation with more than 200 slides, heavily interlinked, with links also to external documents (Excel, PDF, Word, etc.). A single click and it worked!
iSpring Free is extraordinarily easy to use. You simply create slides in PowerPoint and click on Publish. If you opt to publish your presentation as a SCORM course, you can upload the .zip file to an LMS and track how your learners progress.
Courses created with iSpring Free instantly adapt to every screen and play beautifully on tablets, smartphones, and laptops. The result is true learning on the go for your users, as they have reliable 24/7 access to your content from their devices of choice.
Quizzes are here!
With the new iSpring Free, you can add a new dimension to your courses and easily assess your learners online. You have three kinds of questions:
Multiple Choice
Multiple Response
Short Answer

These are the essential question types, which are enough to check knowledge on every topic imaginable. You can also use them to create a survey for your students or craft recreational quizzes, e.g., a trivia game or a viral social media quiz.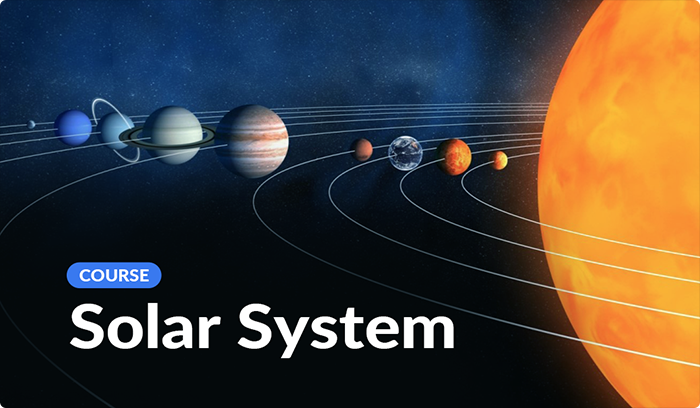 To better illustrate your questions or simply to juice them up, add pictures, audio, and video to question slides. If you create tests on maths, chemistry, or other STEM disciplines, you'll definitely enjoy the option to easily build equations and formulas.
And if you're looking for more versatile and creative types of questions, e.g., Drag-and-Drop, Hotspot, or Word Bank, check out iSpring Suite.
How to create courses much, much easier
Another thing we just couldn't let pass you by is the new slick interface, which makes iSpring Free really shine on your computer.
iSpring Free makes creating courses a breeze: just open a PowerPoint presentation you'd like to turn to an e-course, go to the iSpring Free tab, and click Publish.
To boost your course with a quiz, a YouTube video, or a web object, simply click on the corresponding buttons.
In the Publish window, select how you'd like to publish your file. If you need an eLearning course for an LMS, choose the LMS tab.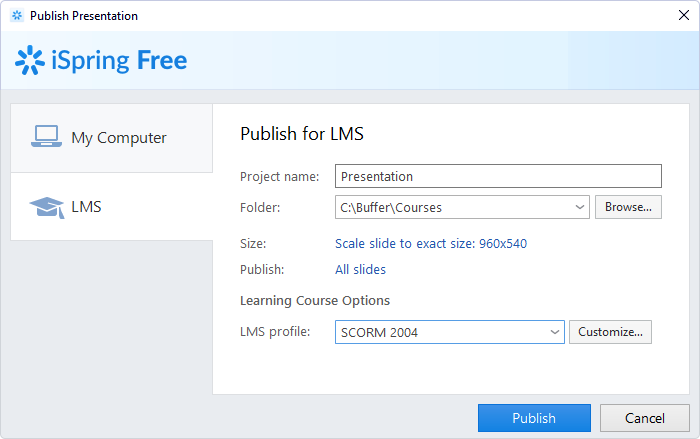 To post your file on the web, select My Computer.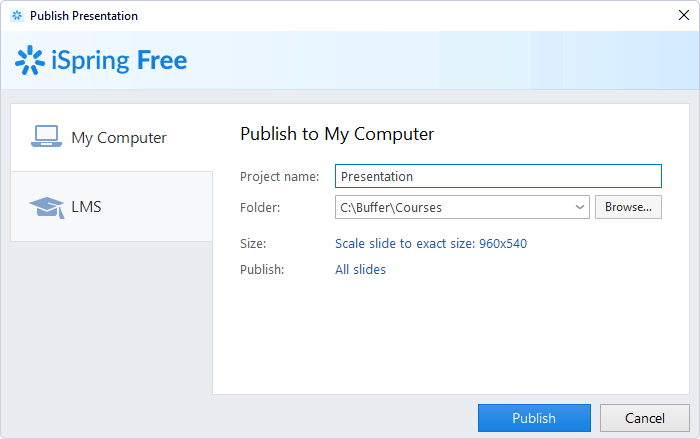 To quickly learn the ropes, watch this time-saving video. We call it time-saving because in just 3 minutes, you'll know the ins and outs of iSpring Free.
​
Once again, iSpring Free is totally free. There are no mousetraps indeed: the app doesn't limit you on the number of conversions or slides, doesn't expire, and doesn't add huge promo banners to your content.
Download it here to create your e-courses and quizzes today!
On a side note, iSpring Free provides only the essential eLearning authoring options. For more advanced ones — audio and video narration, screencasts, drag-and-drop activities, quizzes with branching, interactive eLearning books, and more — use iSpring Suite, a robust course authoring toolkit. It's free for 14 days!