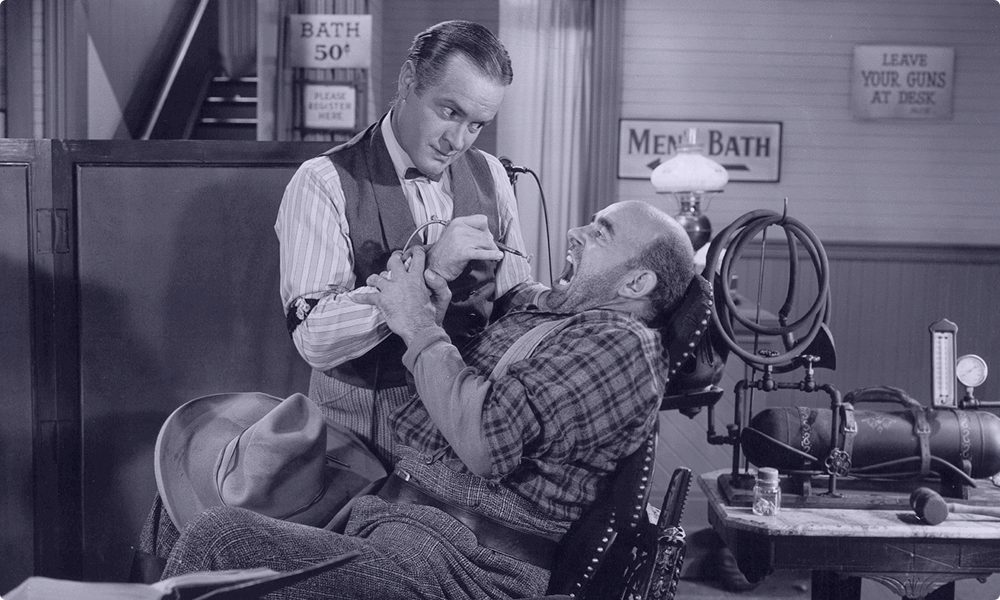 Customer service training is a hot topic in L&D, and the figures you'll see may well tell you why. Did you know that 80% of clients say that the сustomer experience a company provides is just as important as its products or services, and 57% stopped buying from a company because a competitor offered a better experience?
To raise the customer retention rate and simultaneously acquire new clients, your employees must be trained to make every customer connection a positive one. This is where eLearning is your best help. 
Below are guidelines and advice for creating customer service training courses. They will ensure your course is not simply efficient but also a powerful tool that increases customer satisfaction and so grows your business. However, before moving on to the tips on how to create eLearning courses, we need to figure out what they are and what they should include.
What's in a Customer Service Training Course?
A training program is a step-by-step plan created to educate employees on the knowledge and skills they need to enhance their performance. It typically includes multiple courses that cover all the predominant issues associated with their work. In the case of customer service, these are:
customer interaction courses (e.g., attitude towards a client, conflict resolution, stress management)
courses on market-specific communication style and language policy.
However, this is just a list of basic issues related to customer service. You can also create other courses that meet your company's needs. For example, if your employees use a CRM, add a module on working with the CRM system. If you're going to train call center agents, then include a course on phone etiquette. 
Let's say; you've already developed a customer service training program and know exactly what e-courses it will contain. What's next? How can you make it all a reality? 
Tip 1. Do All the Prep Work Perfectly
A good eLearning course starts with a solid framework. Before you start "designing" it in the proper sense, you need to do a great deal of work. 
First, define the purpose of your course by answering this question: "What specific skills or knowledge should your customer service agents have after finishing the training?"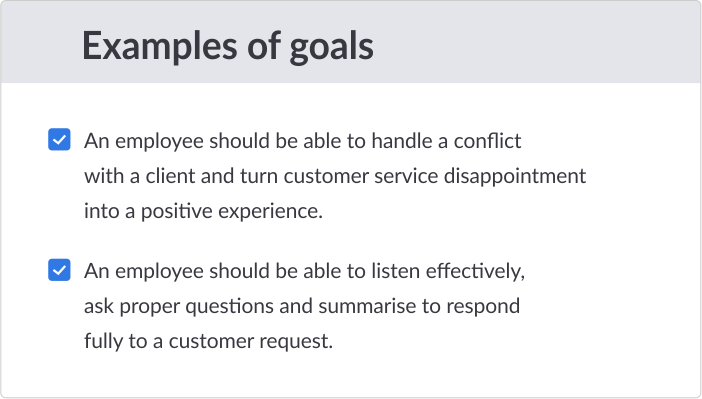 After your goal is clear, you need to develop the course outline. Decide what modules it will include, separate them into theoretical and practical blocks, and define which learning activities you'll deliver the practical tasks through.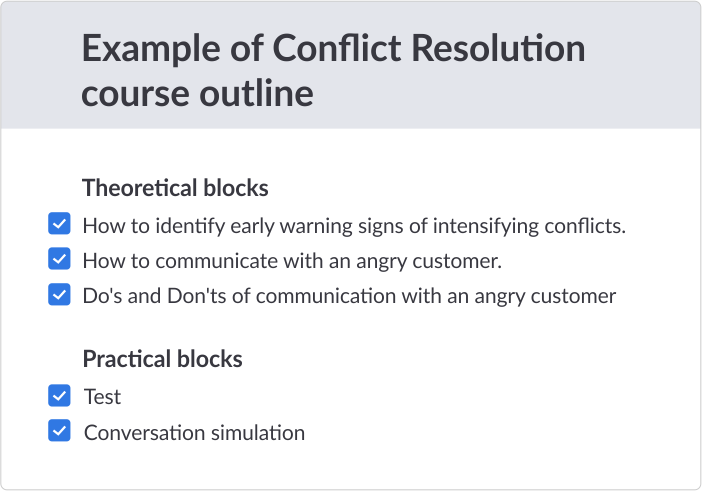 When you have an outline, you can go on to the course development stage. Since that's not the topic of this article, we won't cover it now. However, if you're interested, you can see our guide on how to create eLearning courses and watch webinars with Michael Sheyahshe to get a complete understanding of the course development process.
Tip 2. Connect Training to Real Life
Corporate training is crucial both for businesses and their staff, but almost half of employees consider their current internal training not relevant to their daily responsibilities. Let's see how not to slip into such pitfalls.
Relevant learning means that the subject matter and content presented to employees resonate with them, and the knowledge and skills they gain can help them in their daily work. 
So, you need to create each piece of an eLearning course (info slides, video, quiz, etc.) with purpose, and this purpose should reflect your employees' needs. After completing the course, your employees should see its relevance in their day-to-day work routine; the sooner, the better. 
For training customer service staff, it's also important to work out some behavior patterns in practice. For example, you may want your employees to enhance their conflict resolution skills and practice dealing with difficult customers in near-real-life conditions. You can even find a volunteer to act like a customer and recreate one of the situations your employee has encountered in the course. It would be fun, but it may require quite strenuous efforts to work on every skill with each team member. This is where technology comes in. 
Conversation simulations
You can create realistic conversation simulations to practice your team's communication skills with an authoring tool like iSpring Suite. This allows you to create dialogue scenes that consist of a question and various possible replies. The scenario will play out depending on the answer the learner will choose. To make the simulation even more realistic, you can choose suitable characters and locations from the built-in library or upload your own, and also add voice-overs to convey the characters' emotions. 
This is how a dialogue simulation looks: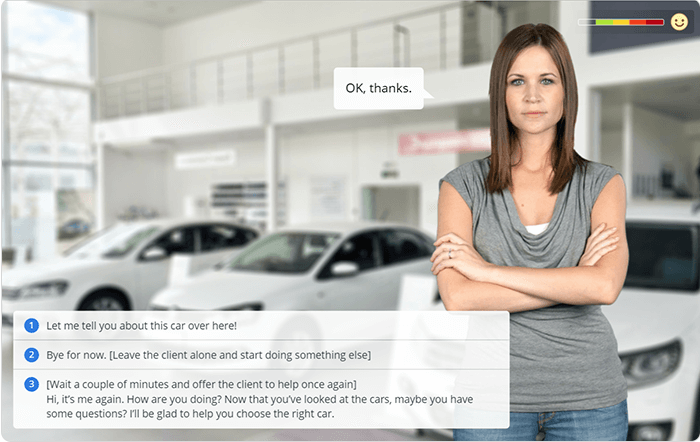 Tip 3. Engage Your Employees
When learners are taking a course, there's a lot of leeway for them to lose focus at some point, especially if a course is quite long. So, this tip for creating customer service training courses is about providing engaging content.
We've already touched upon one of the ways to present content – simulated scenarios that mimic real-life situations. Other common types include quizzes, videos, training games, and interactive books. Let's have a closer look at the last three types.
Videos
Videos are a great way to keep learners engaged. With most of the staff being millennials, who are constant viewers of video content online, you can expect a similar level of engagement from a training video.
For example, in this video, David Brownlee, one of the most viewed customer service, marketing, and sales trainers, highlights his seven secret tips for producing exceptional customer service.
To make such instructional videos, you don't even need to hire professional actors and crew or buy expensive equipment. You can do this on your own with iSpring Suite professional video studio, which allows you to record videos both from your screen and webcam. To learn more, read our post on how to create video tutorials. 
Some companies went even further and opted for interactive training videos where viewers can take the story where they want it to go. In interactive videos, you can give your learners quizzes, gamified content, clickable menus, and interactive storylines that let them choose their own adventure.
Click here to experience a day in the life of a newly hired manager at Allianz Group. 
Training games
You can also add a game as a part of your customer service training course. Games provide a powerful medium to engage and educate, and there are good statistics from some reputable sources that prove this. First, game-based learning boosts motivation. 79% of corporate learners and university students said their motivation and productiveness would improve if learning environments were similar to games. Second, learners increase their knowledge retention after a gamified learning experience. 
There's no one-size-fits-all when it comes to game-based learning, so you need to find something that suits your needs.
For example, McDonald's created an engaging and learning experience for its employees with the till training game. This is a kind of simulation of the new till system designed to improve the staff's ability to deal with customer orders. By playing the game, employees can practice in a safe environment, without customers getting frustrated.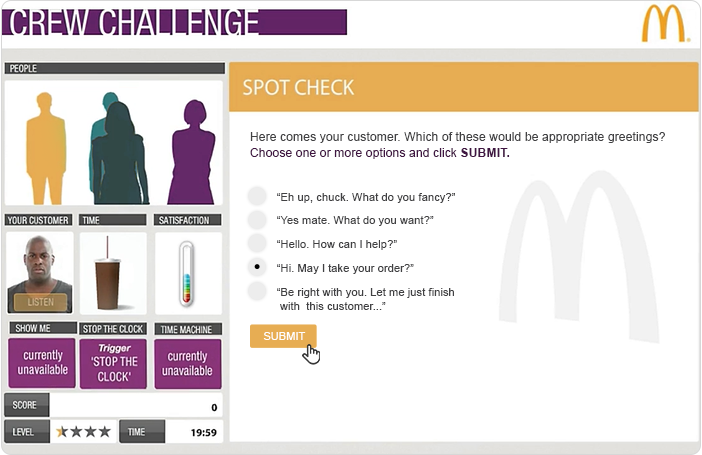 There's also an innovative format of so-called serious video games presented as a story. They create experiences that mirror real-life situations in which knowledge needs to be applied. Such games are perfect for developing soft skills, since they're not learned with theory, but require a learning process, based on practice and storytelling.
For example, the '2100' game, the trailer for which you'll see below, is a futuristic adventure in which a student travels forward in time to grow from the bottom of a company to becoming its CEO. Your success or failure will depend on how well your customer service skills are developed. The game recreates up to 27 "real" situations to work on a total of 17 skills.
Interactive books
It may be quite challenging to make your employees read textbooks, instruction manuals, and guides. However, you can make reading more engaging by adding interactive experiences. 
With iSpring Suite, you can turn Word and PDF documents into interactive e-books with a realistic page flip effect. This is how it looks:
You can publish your documents as SCORM courses, upload them to your learning management system, and track how your employees read.
To learn more about how to engage your employees, read our article about 7 top employee engagement strategies. 
Tip 4. Add Assessments and Knowledge Checks
There's one more engaging eLearning content type that we've decided to add in a separate tip – tests and quizzes. Apart from driving the team's motivation and engagement, assessments enable learners to retain new information for a longer time, allow you to keep track of your employees' progress, let you see what's been learned and what hasn't, and help identify gaps in your training. 
It's a common practice in instructional design to place assessments at the end of an eLearning course. However, to boost your learners' knowledge retention, you can also integrate them after each module. For example, create a short test after your customer service agents complete the module about managing customer expectations. Then, add a quick knowledge check at the end of the module about handling conflicts with customers. It will serve as a recap and review for your employees and help them better absorb information. 
When creating assessments for your customer service training courses, try to be creative. Include a wide range of question types (sequence, matching, fill-in-the-blanks, etc.) and make them interactive, if possible. For example, with iSpring Suite, you can build interactive assessments with video, drag-n-drops, branching, and flexible scoring and testing rules. 
Check out this demo to see how a quiz created with iSpring looks: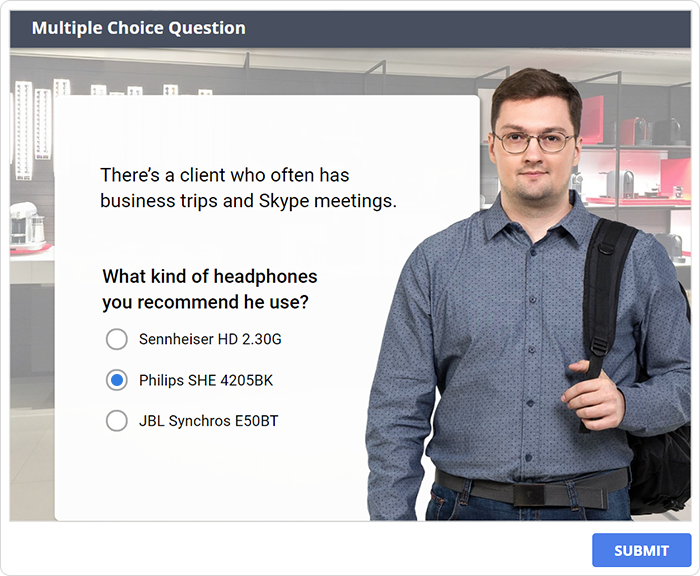 To get deeper into how to enhance the learning experience with assessments, read our post about knowledge checks in eLearning.  
Tip 5. Get Learner Feedback 
Once the course has finished, you can ask your learners to complete an evaluation survey. This is a useful tip to follow when creating a customer service training program because it will allow you to understand which courses aroused interest and which didn't, what the problem was, and how future training can be improved. It will also give your employees the feeling that you're interested in making a course more effective.
Here's a list of sample questions you may wish to include in a learner response survey.  
Did the training content meet your expectations? 
How would you rate the quality of the training?
Did you learn anything new? 
Was the training relevant to your needs?
Were you engaged with the content?
Did you face any difficulties when taking the course?
Would you recommend the course to your colleagues?
What could have been improved?
You can carry out a survey right in your LMS if there is such an option, or create a questionnaire in an authoring tool. For example, in iSpring Suite, you can use Likert Scale questions to evaluate learner satisfaction. Depending on the answer you expect, you can also use Numeric, Short Answer, and Multiple Choice questions. For in-depth personal feedback, you may wish to include an Essay question.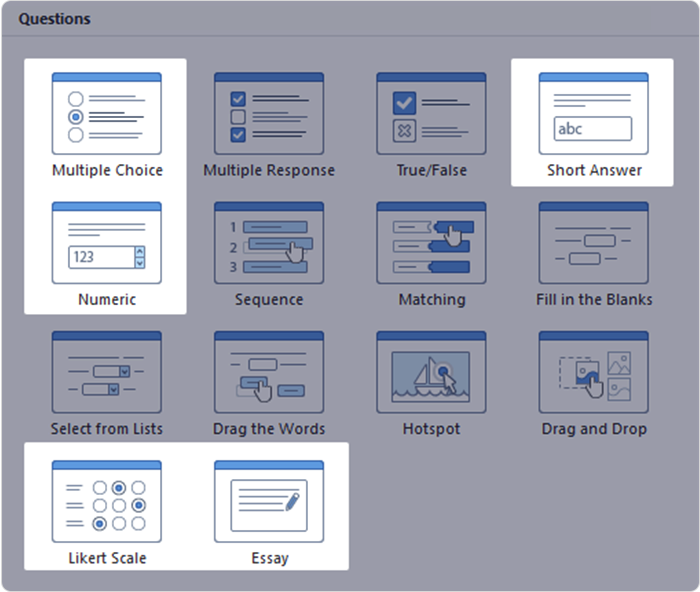 To Sum Up
We hope this article has given you some insight into how to create customer service training courses. Once you have decided to proceed in course building, a robust authoring tool can help you create learning activities that develop customer service skills and knowledge. Download a free iSpring Suite trial and explore all its features right now.