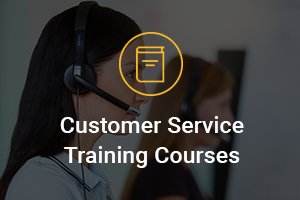 While markets become increasingly volatile and competitive, it is high time for businesses to focus on customer service and make sure each individual client is satisfied and wants to come back. Did you know that 70% of purchase experiences are based on how a customer feels he or she is being treated, while 91% of unhappy clients refuse to willingly do business with the company again?
In order to raise the customer retention rate and simultaneously acquire new clients, your employees must be trained to make every customer connection a positive one. This is where e-Learning is your best help.
Special training software will help you instruct your employees in the primary issues associated with excellent customer service:
thorough product knowledge
corporate culture and professionalism
customer interaction and language policy
interpersonal skills (e.g., attitude, conflict resolution, stress management)
in-person/phone/email etiquette and service strategies
market-specific communication styles
working with CRM systems
processing feedback and measuring customer satisfaction.
Below are guidelines and advice for creating customer service training courses. They will ensure your course is not simply an efficient but also a powerful tool that increases customer satisfaction and therefore the profitability of your business. Plus, you will find some "behind the scenes" examples of how iSpring employees are trained in our own Support Department.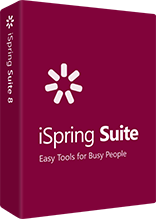 Fully-stocked eLearning authoring toolkit for PowerPoint. No training required to start!
1. Start with a mission statement
Right, you want your employees to provide greater customer service. Sounds good, but admit it, too vague. Take some time to formulate a course mission statement with precise goals pursued in the training process. For example, you need to raise satisfaction rates among certain demographics or turn common complaints into opportunities for strengthening customer relationships. Say that and your employees will see concrete values, be more motivated to learn, and perceive responsibility associated with to their actions. In other words, don't start a voyage without a destination or you might end up drifting in the wind.
How it's done at iSpring. Here we are committed to constant growth in employee qualification. Since iSpring's first days, we have been implementing customer service courses, cross-department training, and product awareness learning programs. Each of our customer service courses addresses a specific issue, e.g., building loyalty with incoming clients, and key factors that ensure success in issue-related cases. Such a focused approach has shown increased satisfaction among both iSpring employees and the company's international customers. At the same time, dedication to employee training has long been an intrinsic part of iSpring corporate culture.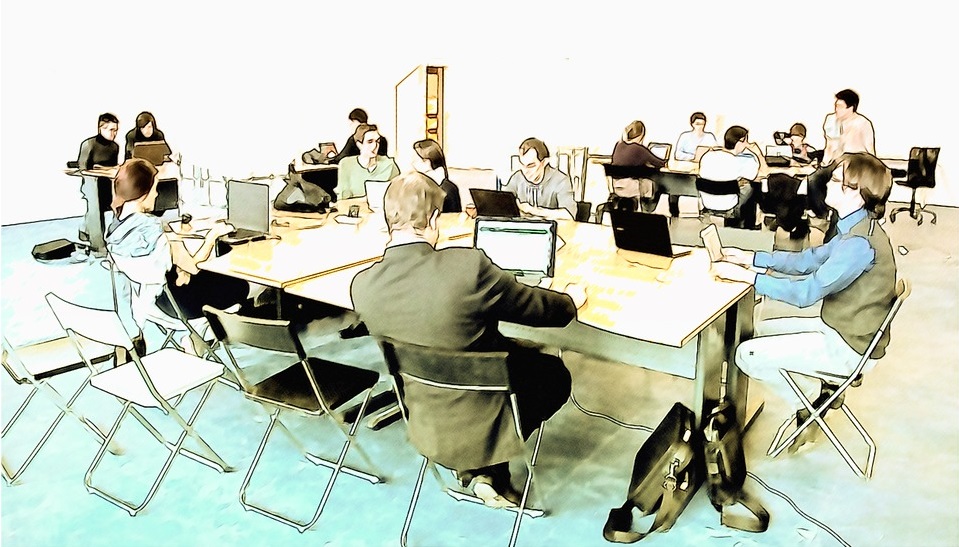 2. Structure your course
Before leaping into lessons, case studies, or quizzes, let's determine a timeframe. Will your employees train for a day, a week, a month, or even several months? How many hours per day will they spend on the course? If training takes more than a week, clearly divide your course and mark the end of each section with a test, survey, or something more creative, e.g., a scenario-based assessment. A clear structure is what your employees need to stay focused. For managers it is also easier to evaluate subject-specific, sectional tasks than an entire course. You can break down the course according to separate concept (see the bulleted list above), or progressive levels that deal with the same question.
How it's done at iSpring. For us, varying the length of training has yielded great results. With many duties on our employees' shoulders, it is not always possible to find a spare month for taking a comprehensive course. Therefore, we incorporate occasional short-term training, which tends to recharge the staff and ultimately leads to better customer service. Our course editors like to compile short-term learning projects from an already existing longer course, or vice versa. Speaking of structuring, one particular division that we use is "in-a-client's-shoes." It includes a step-by-step introduction to a certain product, accompanied by a task to come up with as many potential issues a user can encounter as possible. Then, the employee must think of several applicable solutions and choose the best one.
3. Choose building blocks
Remember your favorite classes at school? Those were hardly monotonous lectures but, more likely, classes with teachers who varied their learning material. Follow their example: start by defining a topic (e.g., dealing with difficult customers) and present key issues pertinent to the subject (e.g., how to respond to a customer's irritation, frustration, indecisiveness, etc.). In other words, this is your theory or your textbook. Afterwards, include practical problem solving exercises, challenge learners with case study presentations, and check their progress with quizzes or tests. A great method for mastering service strategies is recording actual customer calls and implementing them as training exercises within a course. Finally, why not assign some homework, essays or group projects? They will help your employees consolidate gained knowledge.
How it's done at iSpring. Because our e-Learning software is a PowerPoint add-in, developing diverse building blocks is quick and simple. Many of our staff members contribute to creating courses, while the course editor puts building blocks together in a coherent and consecutive order. Such collaboration results in diversified and engaging training. By the way, our favorite course components are quizzes with branching scenarios and conversation simulations with interactive features. You can see how we create those here. We also find case studies and team discussions to be among the most effective tools.
4. Be creative
Good training software is usually packed with design, media, and interactive features. So why not use your inner creativity for a good cause and tackle the editing options at hand? Again, how much more exciting would those history classes have been if your teacher had used video narrations or web objects! For a customer service training course, a conversation simulation is a particularly excellent tool. It will let your employees improve their interpersonal and communication skills through an interactive game. End a topic section with a corresponding subject-specific dialogue simulation, e.g., "How to sell without being aggressive or feeling pushy." You can create characters and dialogues that emulate customer interactions specific to your business.
How it's done at iSpring. We understand that people do not learn from clicking "Next" for an eternity. Therefore, interactive features are essential for iSpring employee courses. For example, the tool called iSpring TalkMaster is irreplaceable for training our Support Team. One course includes numerous conversation scenarios so that an employee has a chance to repeatedly practice multiple skills, from conflict resolution to meeting unarticulated needs. Simulation characters can be very diverse as well, from straightforward or even rude to completely reticent. We have noticed that interactive learning never gets tedious, and indeed our staff members continue to enjoy this form of training.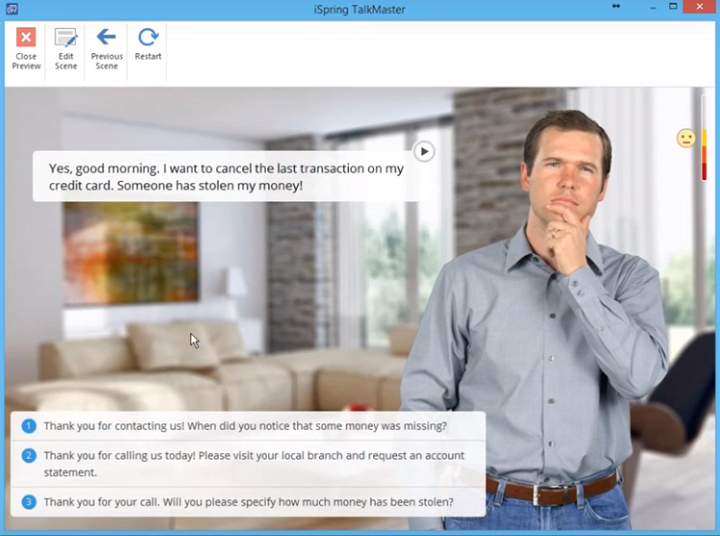 5. Connect training to real life
After completing the course, your employees should see its relevance to their day-to-day work routine; the sooner the better. You can even find a volunteer to act like a customer and recreate one of the situations that your employee has encountered in the course. It's all in good fun though: make sure that afterwards everyone laughs together, not at one another. In order to determine when and what type of further training is desired, always collect and evaluate data concerning your employees' interactions with customers. Finally, remember that working with customers is often a strenuous task. Therefore, stress management is one of the most vital techniques employees should acquire from training courses: when it comes to real-life situations, your service providers must stay refreshed and alert to deliver the best company experience possible.
How it's done at iSpring. Even after conducting a full customer service course, we encourage our employees to learn from every connection with a client. Echoing TalkMaster simulations from training courses, our service providers send out email follow-ups, which are meant to make customers feel acknowledged and remembered. Periodically, the iSpring Support Team gets together and discusses frequently occurring cases. Such roundtables are both educational and team-building: a win-win method for a business of any size.
​
The dialogue in this demo was created to emulate a specific case, in which a bank client suspects fraud on his account and asks a customer support representative for help. This is a common situation for many banks, and service providers should be familiar with it. With scenario-based training similar to the demo, bank employees have an opportunity to perfectly prepare for real-life cases and provide each customer with necessary answers and help.
Conclusion
Today, what drives profitability and growth is customer loyalty. Statistics show that a loyal customer is worth nearly 10 times as much as his or her first purchase. Building customer relationships and trust is as important as it is difficult, and that is why training courses should become integral to the corporate culture of your business. Use our advice (see even more here) to empower your employees with readiness and confidence to deliver the spirit of a truly committed, customer-focused business.