Online courses don't work? Flash might be the problem.
Adobe will end support for Flash by the end of 2020. This means that eLearning courses created using this format will no longer work. In this article, we will show you how to avoid this and preserve all of your educational materials.
What is Flash?
Simply put, in the late 90s, this technology allowed for the creation of websites and applications with interactive content: video, music, photos, games, and animations. Up until 2018, eLearning courses were also built using Flash as their base.
Why Flash is going away
The technology is outdated and falls short of modern standards. Flash content is 'heavy': loads slowly and eats up computer memory (RAM). There are newer formats that don't share in these shortcomings, such as HTML5.
There are many security concerns. The Flash Player has consistently been targeted by hackers and malware authors. Developers have found 181 vulnerabilities in the player, of which 152 were rated as critical.
iSpring ended Flash support back in 2018. You can find out more about our rationale for this move in this article.
I create courses in iSpring. Will I run into issues?
Important: The following information refers to these iSpring products: iSpring Suite, iSpring QuizMaker, iSpring Converter Pro, iSpring TalkMaster, iSpring Flip, and iSpring River.
It's not a problem if you have iSpring products of version 9 or higher, as they don't rely on the Flash format. All courses made in these updates of the authoring tools are based on the modern HTML5 format.
It's not a problem if you have iSpring Suite 9 or higher, as these versions don't rely on the Flash format. All courses made in these updates of the authoring tool are based on the modern HTML5 format.

Courses may not work
if you made them with version 6 iSpring tools, or if you didn't enable combined mode (HTML5+Flash) instead of only Flash support in versions 7 or 8 of iSpring tools. Users of older versions of Adobe Captivate, Articulate Storyline 1 and 2, Articulate Studio '09 and '13, and possibly CourseLab, will face the same problem.
To fix this, update your authoring tool, find the source files for your course, and re-publish it in HTML-5 format.
Is my course Flash-based? How to check.
Open the course in a browser. The latest versions of Google Chrome, Mozilla Firefox, and Opera have already disabled Flash technology. To test the course, simply launch it in one of the browsers.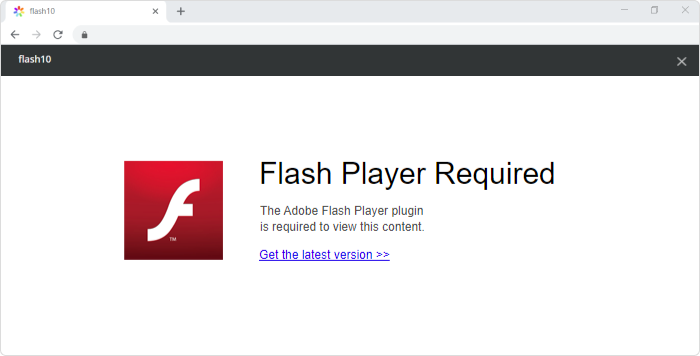 An updated version of the browser will show that the course only works in Flash.
Check the settings. If you are using an older version of the browser, there is another way to check. Run the course, right-click on it, and a list with additional options will appear. If it contains the line "About Adobe Flash Player," then the course was made using Flash.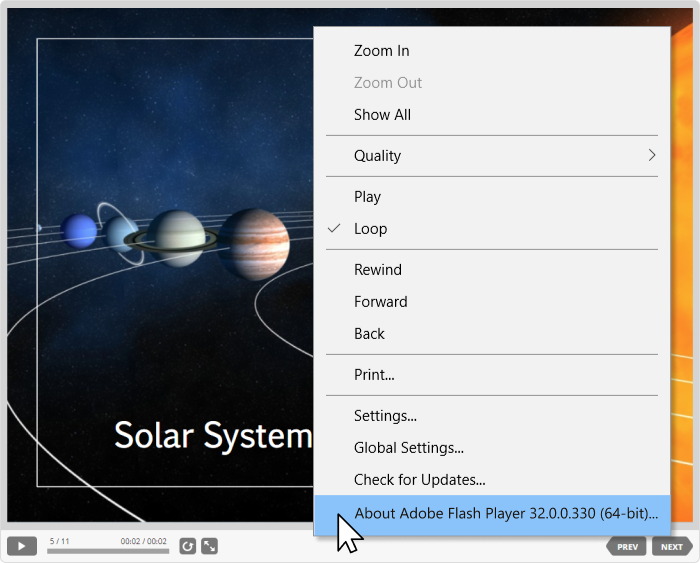 My course is Flash-based. What should I do?
Save the course in a different format. If you still have the source files, you can republish the course in HTML5 format and reupload to an LMS.
Note: If you are using version 6, 7, or 8 iSpring products, update the authoring tool first. Otherwise, your courses will not work.

If you're building courses in a different authoring tool, check to see if it supports HTML5. If it doesn't, you will most likely need to update the program to its newest version.
Rebuild old courses. If you don't have access to your source files, you will have to rebuild all of your old courses from scratch. This is the most painful option, but it's the only way.
In order not to lose important information, record a screencast of each course or take screenshots with which you can recreate the material.
Conclusion
Flash courses will stop working on December 31, 2020. It doesn't matter which program they were built in.

Conduct an audit of all eLearning courses. If they were created before 2018, they are most likely running in Flash.

To avoid losing your courses, find the source file and save it in the HTML5 format. You can also use this opportunity to rework older, out-of-date courses.

If you're using iSpring Suite 6, 7, or 8, update to the latest version of this authoring tool. It also works with other iSpring products.
Was this article helpful?
Thanks for your feedback!
Your request to iSpring has been submitted.
Please check your email for support replies. We reply to every message asap. If you don't hear back from us, check your spam folder and add to your list of approved senders.
Oops! Something went wrong...
Please contact them at .
Fully-stocked eLearning authoring toolkit for PowerPoint. No training required to start!