Why iSpring Suite
Supercharged for
eLearning

Authoring

iSpring Suite is designed to quickly develop mobile-ready eLearning in PowerPoint. The toolkit helps you create eLearning courses, quizzes, video presentations, dialogue simulations and screencasts without any special training.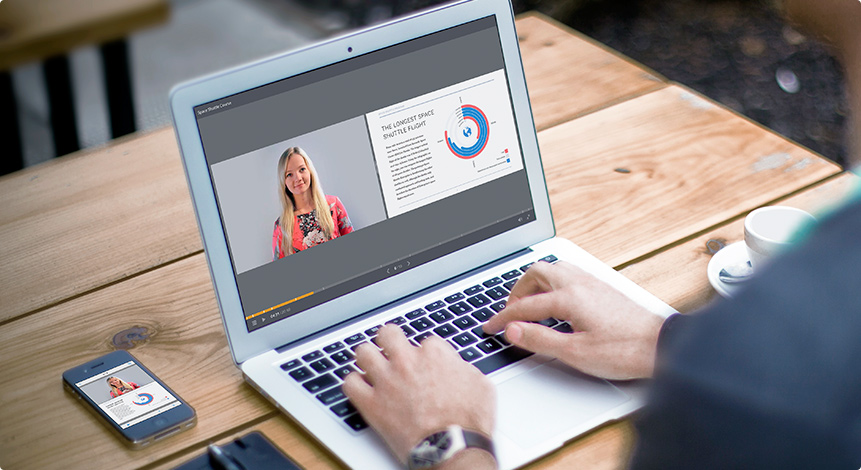 Over 49,000 clients worldwide choose iSpring authoring tools, including 148 companies from the Fortune 500 and the world's leading universities. iSpring Suite helps develop professional eLearning content for a wide variety of industries: IT, banking, trade, manufacturing, medicine and education.
Easy and Powerful Like PowerPoint
Creating eLearning courses with iSpring Suite doesn't require any special training. Since iSpring is integrated into your PowerPoint, you already know how to use it.
You can take any PowerPoint project and quickly convert it into an eLearning course ready for Learning Management Systems. Learners can easily take iSpring courses on any device.

---
Supports All PowerPoint Features
iSpring turns PowerPoint presentations into HTML5/Flash courses with outstanding accuracy, preserving all slide elements, animations, transitions and triggers.
After publishing with iSpring Suite, your presentations and courses will play on any device and look and feel exactly as they do in PowerPoint.
Animations and triggers
iSpring Suite preserves all PowerPoint animations, including their directions, timings and triggers.
Transition effects
The toolkit supports all PowerPoint 2016 transitions, including complex 3D effects.
Supercharged to Develop
eLearning
iSpring Suite supports all PowerPoint features and enhances its eLearning capabilities. With this powerful multi-tool, you can create and combine an extensive variety of eLearning content: PowerPoint-based courses, video lectures, quizzes, interactions, dialogue simulations and screen recordings. Explore some examples of courses created with iSpring Suite.
Courses That Work Everywhere
You can give learners more ways to access courses. iSpring Suite produces HTML5 content that automatically adapts to the size and orientation of your device — be it a Windows PC, Apple Mac, iPad, iPhone, Android or Windows Phone.





Extensive LMS Compatibility
Your eLearning materials can be uploaded to any LMS, because iSpring Suite supports virtually all eLearning standards: SCORM 1.2, SCORM 2004, AICC, xAPI (Tin Can) and cmi5.
Just publish content right to your LMS or — if you don't have one yet — try iSpring Learn LMS.
Live Expert Support
iSpring offers customers complimentary technical support from highly skilled professionals. We are committed to assisting our customers with any product-related questions.
---
For over 10 years, iSpring tools have been helping people from all over the world to create professional eLearning content.
---
---
Incredible Value at a Reasonable Price
A year's subscription to the fully-stocked course authoring toolkit, plus primary support and regular upgrades.
---
iSpring Suite Authoring Tool
Fast toolkit for creating courses, quizzes, simulations, and so much more
iSpring Suite Authoring Tool
iSpring Suite is fully stocked to create responsive content for your LMS: interactive courses, assessments, video lectures, dialogue simulations, screencasts and e‑Learning interactions.
iSpring Content Library
50,000+ templates and characters for supercharging course creation
iSpring Content Library
A huge collection of unique royalty-free eLearning assets: characters, course templates, color themes, backgrounds, icons, and buttons — everything you need for fast course creation.
iSpring Cloud
Cloud service for sharing, collaboration, and review
iSpring Cloud
Your personal cloud to securely share presentations, courses, quizzes, videos and documents via direct links, emails and embeds.
Regular Upgrades
The latest authoring features
and monthly upgrades
Regular Upgrades
You get hot new features or software updates every month. Each upgrade empowers your authoring, and extends compatibility with all the newest technologies and e‑Learning standards.
Rapid Response Support
Instant help via phone, email,
and chat
Rapid Response Support
iSpring Support professionals will promptly help you with any product-related questions. Over 80% of cases are solved on the phone in minutes!
---
---

---
Like iSpring Suite? Tell your friends!
Schedule Free Demo
Learn everything you want to know about iSpring Suite
in a 30-minute webinar.
Thank you for your request
We will contact you shortly to schedule a convenient time for an online meeting. If you have any questions, please contact the iSpring Team at
Oops! Something went wrong...
Please contact them at .