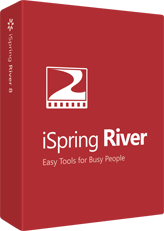 iSpring River
Convert PowerPoint to Video
Transform your PowerPoint presentation into video,
and easily upload it to YouTube in one click.
Publish presentations to YouTube
Reach millions of viewers by publishing your presentation right from PowerPoint to YouTube in a snap
Convert PowerPoint to video
Save PowerPoint presentation as mp4 video with all animations and sounds perfectly preserved
Create Videos Right in PowerPoint

With River, publishing your presentation to video format boils down to a couple of clicks. Simply switch to the "River" tab right on the ribbon and get started!
---
Preserve All PowerPoint Effects in Video Format
River supports even the most sophisticated features of PowerPoint 2007/2010/2013/2016.
Animation Effects
iSpring River perfectly reproduces any animation effect that is playbacked in your original PowerPoint presentation.
SmartArt Objects
iSpring River keeps the appearance and clarity of all SmartArt Objects from your PowerPoint slides.
Transition Effects
Any transition effect that is played in your PowerPoint presentation will be precisely converted into video.
Fonts and Text Formatting
All text objects will keep their size, position, style, font, color, bullets, and other formatting in your video presentation.
PowerPoint Styles
After conversion, all the layouts that you carefully chose for your presentation, will keep their original look and feel.
---
Manage Conversion Quality and Video Size
River lets you fine-tune conversion quality and video size to correspond with your specific needs. Choose the most suitable resolution from the list. Standard profiles represent all popular formats to have all your needs covered.

Quickly Share Presentations on YouTube
Videos converted with River can be instantly uploaded to YouTube. You don't have to save the video you have created on the computer. Uploading a presentation from PowerPoint to YouTube is as easy as clicking the "Publish" button. That's right - just one click.

Presentations Played Anywhere
Upload your presentation to YouTube to make it accessible from any device even with no PowerPoint installed.

Incredible value at a reasonable price
---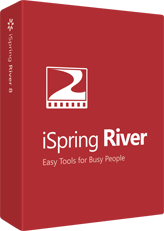 Test Drive iSpring River
Enjoy the full functionality with a free 14-day trial!
Start converting your presentations to video.
Free Download
---
Like iSpring River? Tell your friends!