July 20, 2015
View PowerPoint on iPad: App Comparison
This July, 2015, we analyzed the best free apps that allow you to view PowerPoint on iPad. For this comparison, we examined four market leaders:
iSpring Present

app

SlideShare

app by LinkedIn

SlideShark

app by Brainshark

PowerPoint

iPad app by Microsoft
All these solutions let you view and save PowerPoint presentations on an Apple tablet, while providing a variety of other extra features for free.
Each app is backed by an online storage service where you can upload a presentation file using a PC or Mac computer. For example, PowerPoint iPad app works with OneDrive PPT files, and iSpring Present utilizes iSpring Cloud presentation sharing service. These services process uploaded presentations to an iPad-compatible format. But why is that necessary?
Choose the best PowerPoint presentation app for iPad
iPad can't play PowerPoint files directly; they have to be transformed to a Web-compatible format, also called HTML5. It can be a set of pictures, a video, or a fully-functional Web version of the original presentation. Each app uses its own proprietary technology. We evaluated each app's technology by the number of supported PowerPoint features such as motion effects, interactivity, media support and evaluated overall graphics quality of the images and text on iPad.
Our main goal is to help you pick the right solution that suits your needs best. Here is a bird's eye view of the features that may be utilized by users:
Feature comparison chart for free PowerPoint-viewer apps on iPad

 

SlideShare

 

SlideShark

 

PowerPoint

 

iSpring Present

Online editing

 

Create and edit presentations online using the iPad app.

Simple editor
— Desktop editing only
Best iPad editing
— Desktop editing only

Motion effects

 

Support in the iPad app for PowerPoint text and shape animations and slide transition effects.

— No motion

Interactivity

 

Triggered animations and actions support. On-click video or audio.

—
—

Audio and video

 

PowerPoint audio and video plays back in the iPad app.

—
— Only video

Slide notes

 

See the slide notes added in PowerPoint while playing back on an iPad.

—
— Only in edit mode

Marker tools

 

Make annotations with your fingertips: pen and highlighter tools available in the app.

—
Also can save
— No markup

YouTube video

 

A YouTube video can become part of the presentation in the iPad app.

—
—

Graphics quality

 

Quality of the text, pictures and shapes on an iPad with retina display.

Storage

 

An online service that stores presentations and makes them iPad-compatible (HTML5).

SlideShare.net
300 MB a day
SlideShark.com
25 MB

 

OneDrive
15 GB

 

iSpring Cloud
Unlimited, 100 items
Good for simple static presentations
Best for live presentation broadcasting
Best for online editing
Best for viewing PPT on iPad
Now let's swoop down and look at every app in detail. Note that we've evaluated only free solutions. Features of the full versions were not included in the competition.
1. iSpring Present iPad app

iPad app:https://itunes.apple.com/us/app/ispring-present/
Online storage service: https://pro.ispringcloud.com/
(or /ispring-cloud)
iSpring Present is an app that shows content which has been uploaded to iSpring Cloud. Also you can share content with other iPad users and track their activity. It's a well-balanced choice for presenting business ideas authored in PowerPoint and OpenOffice on an iPad tablet. iSpring Cloud's advanced conversion technology supports PowerPoint's dynamic features, such as shape and text motion effects and slide transitions. It preserves embedded audio, video and YouTube.
The iPad player is minimalistic and has a few buttons for navigation, slide notes, marker tools and outline. The content catalog has several customizable views (Carousel, tiles, cover flow, etc.)
Though Cloud is mainly used for PowerPoint presentations, it supports many other file formats: .odp (OpenOffice Presentations), .xls, .pdf, .doc, images, audio, and video files. iSpring Cloud's free storage lets you upload up to 100 content items with no size limitation.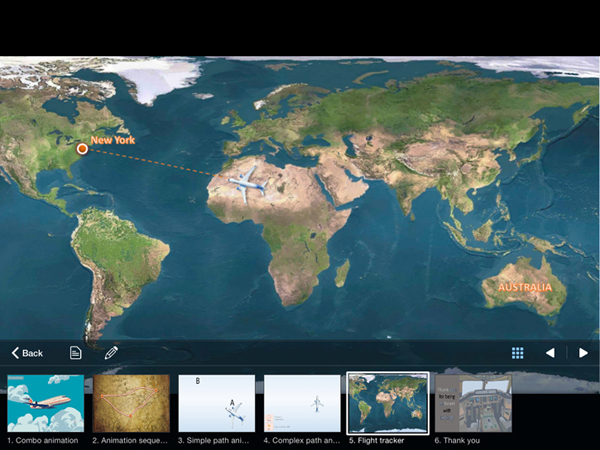 PPT to HTML5 technology: HyperPoint 4.0. Fully-functioning interactive presentation with vector graphics.
iSpring Present pros
Crystal clear Images and text – best for hi-res retina display. Quality is even better than in the PowerPoint iPad app.
Supports all PowerPoint features: animations, slide transitions, triggered actions that provide interactivity, inserted audio/video, and YouTube embed.
Instant loading time and different catalog views for a more captivating experience.
iSpring Present cons
No online editing capability.
Though the free version of iSpring Cloud has all the capabilities of the paid version, after 30 days your viewers will see a short splash logo screen before viewing a presentation.
Other advanced features, such as audio and video narrations, customizable player and Web Object will only be supported if you use a full version of a desktop iSpring authoring tool.
Summary: Best PowerPoint viewer on iPad as it preserves the original look and feel of rich-media presentations.
2. SlideShark

iPad app:https://itunes.apple.com/us/app/slideshark-presentation-app/
Online storage service: http://www.brainshark.com/
SlideShark iPad app doesn't seem to have problems playing back dynamic presentations. The evidence for this is that SlideShark converts the entire PowerPoint presentation to a fragmented video that is controlled by the player. In other words, it's like a YouTube video where you can also click on hyperlinks.
This conversion technology gives you identical PowerPoint playback on iPad and desktop, but with limited interactivity; i.e., trigger animations and other actions like play/stop inserted video will not be supported by the SlideShark iPad app.
The presentation viewer mode in the app has a super-convenient panel that shows an outline and can also change the playback behavior of the presentation: Auto Play, set Slide Delay in seconds, and Loop Presentation. The main breakthrough feature that makes SlideShark stand out is broadcasting your presentation live to remote attendees. It syncs presentation playback with multiple iPad devices, driven by a single presenter. Also, this iPad app allows you to save markups on the presentations, while other apps don't provide this feature.
The aesthetics of the app are controversial. It looks like old Apple interfaces, but many people still like it. The real bummer is that the system gives you just 25 MB of free space to upload presentations (as of 2015). With this limitation, you don't have much freedom using the free version.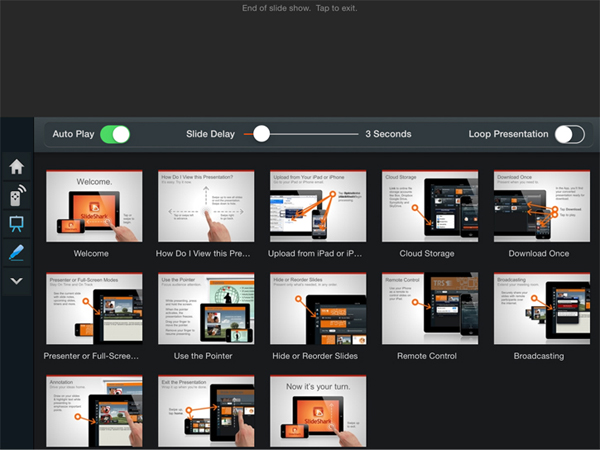 PPT to HTML5 technology: Fragmented video presentation with hyperlinks but no full interactivity.
SlideShark pros
Supports all PowerPoint animations and transitions.
Very user-friendly presentation player in the app with a great options panel.
Broadcasting feature.
SlideShark cons
Although it supports all automatic animations, it doesn't support trigger animations which doesn't let you create interactivities within a slideshow.
For some reason, it plays PowerPoint-inserted video, but no audio. Also, you can't play embedded YouTube videos.
Ridiculously low size limitations in the free version of the account (25 Mb).
Summary: Best for broadcasting live business presentations. The full version unveils all the features of this service, while the free version doesn't give you a lot.
3. SlideShare

iPad app: https://itunes.apple.com/us/app/slideshare-presentations-official/
Online storage service: http://www.slideshare.net/
As well known as YouTube is for videos, Slideshare is for presentations, with millions of unique users every day. All presentations appear as static slideshows, like a filmstrip, with no sound. It's good for those who appreciate ultimate simplicity. However, many iPad users won't be satisfied with the lack of PowerPoint animations, and bad image and text quality.
The standard image resolution employed by SlideShare is only 720 x 480 px. This means that images and text will appear fuzzy on an iPad with retina display (2048 × 1536 px). Thus, SlideShare uses only 11% of the hi-res display's capacity.
SlideShare has a built-in online editor called Haiku Deck. It works great with SlideShare, but can't be compared in the same class with Microsoft PowerPoint's online editing features.
SlideShare iPad app itself is simple and very easy to use.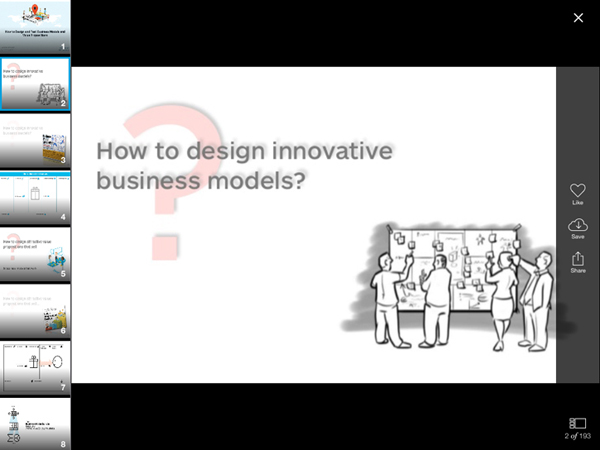 PPT to HTML5 technology: Set of pictures.
SlideShare pros
Social component. A lot of users, channels, and plenty of useful content.
Support for OpenOffice Presentation files (ODP) and YouTube.
Great analytics.
SlideShare cons
All slides are converted to raster images that have mediocre quality.
Animations and slide transitions won't be preserved.
No sound and video in your presentations (unless you insert a YouTube video).
Summary: Good for viewing simple presentations consisting of static slides without narrations. Fast loading.
4. PowerPoint iPad app

iPad app:https://itunes.apple.com/us/app/microsoft-powerpoint/
Online storage service: https://onedrive.live.com/
Microsoft is a bit above the rest of the competition because it offers the authoring environment for all these presentation-sharing services; i.e., PowerPoint for desktops. As for the PowerPoint iPad app, Microsoft has been doing pretty well so far. It connects to your OneDrive Windows Live account, which generously provides you with 15 GB for all documents and photos.
The strongest part of the iPad app is the online editing capability. No other free tablet application has ever given you this power of creation. Every time you open a presentation on the iPad, it downloads and prepares itself for online editing. This process takes a significant amount of time and is not convenient if you want to deliver several presentations to an audience.
The playback interface of the application is empty of any extra buttons and sidebars. Microsoft, like iSpring, seems to have one of the foremost PPT to HTML5 conversion engines under the hood to play PowerPoint presentations on iPad as they appear on desktops. All dynamic multimedia content and interaction elements appear in an iPad presentation as they do on a desktop.
The PowerPoint iPad app doesn't support YouTube embed, and also you can't upload OpenOffice Presentations (ODP).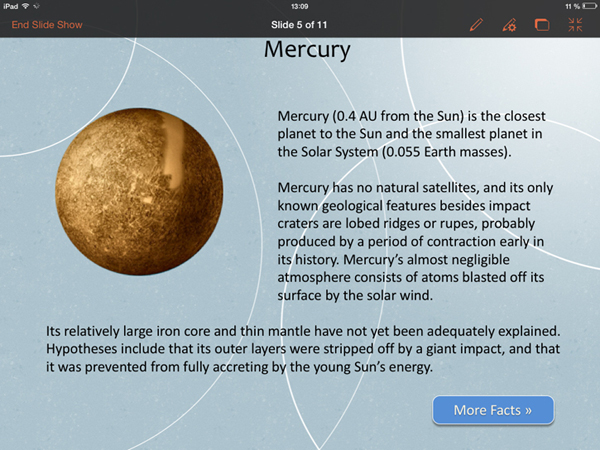 PPT to HTML5 technology: Fully-functioning interactive presentation with raster graphics.
PowerPoint for iPad pros
Superior online editing capabilities.
Supports all functions of PowerPoint.
Microsoft OneDrive provides you with plenty of free space.
PowerPoint for iPad cons
A presentation's loading time is very long every time you try to view it, even if it was closed a second ago.
In comparison to iSpring, texts appear as a raster graphics instead of vector. It means the text will be not as crisp as in native iPad apps.
No YouTube/ODP.
Summary: Best for online editing on a tablet. Long loading time.
→ Check out detailed review on the most popular interactive presentation platforms.
Conclusions
What other solutions are out there? There's the great Apple Keynote iPad app, which also gives you online presentation editing capabilities. However, it is not free ($9.99), and therefore this app was not included in the above comparison. Google Slides is a great free application for creating simple Google presentations; however, according to our benchmark tests, their iPad app doesn't work well with PowerPoint presentations loaded to Google Drive.
SlideShare clearly shows that millions of people don't need either animations or audio narrations for their slides. It's the world's largest collection of presentations with great social features.
The business shark from our selection is definitely SlideShark. Its iPad broadcasting technology is groundbreaking. However, we don't see this solution working as freeware.
We recommend that you use these two apps for everyday use: the PowerPoint iPad App for powerful online editing, and iSpring Present for the best PowerPoint viewing experience on iPad.