iSpring HTML5 Presentation Technology
HTML5 presentation technology is taken to the next level with flawless display on all devices.
Introducing HyperPoint 4.0
HTML5 is an up-to-date technology that allows you
to share interactive rich media content on the Web.
With iSpring's HyperPoint technology you can easily
convert your PowerPoint slides to web-friendly HTML5
format and make your presentation available to millions
of users worldwide! Easily share your content on:

tablets and smartphones
iPads and iPhones
Android devices
modern browsers
Learn More about Converter Tool

→
Windows 8/7/Vista/XP
32- and 64-bit editions
Microsoft Office
2007, 2010, 2013 Support
iSpring Preserves All PowerPoint Effects
iSpring's HyperPoint supports even the most sophisticated features of PowerPoint including transitions and triggers. Convert your presentation to HTML5 and enjoy its original look and feel on all devices.
Animations and Triggers
After the conversion to HTML5 even the most complex PowerPoint effects are seamlessly kept.
Transition Effects
Accurately retain all the transitions you have applied to your original PowerPoint presentation.
Text Formatting
Be sure that fonts and text formatting of your presentation is kept impact in HTML5 format.
SmartArt Objects & PPT Styles
Predesigned PowerPoint objects and themes you've chosen are preserved after the conversion.
Right-to-left Languages
Enjoy full support of content with multilingual text and a wide variety of languages including right-to-left
iSpring HyperPoint Products
Convert PowerPoint presentations to Flash, HTML5, and MP4-video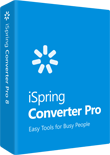 iSpring Converter Pro
Media-rich video presentations in HTML5 & Flash with voice overs and video narrations.
Learn more

»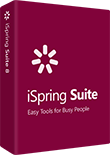 iSpring Suite 9
Mobile-friendly courses with narrations, embedded media-rich content and interactive quizzes.
Learn more

»
Take a look at all iSpring products »

- I love iSpring tools as I can use iSpring Pro to share a presentation online to those that cannot make a live scheduled presentation.
- I like iSpring because it is the only PowerPoint conversion tool
that creates the high quality slides that I need. PLUS they
understand the move to HTML5 and are leading the way!
View Amazing Presentations Created with Converter Pro
Create mobile-ready presentations in your familiar PowerPoint environment with an extra tab
on the PowerPoint ribbon to ensure fast and easy authoring.

Meet Russia
Take a look at this engaging and
interactive course about the Russian
Christmas season. The course was created
entirely in PowerPoint.

PPT Solution
Enjoy the interactive presentation
created in PowerPoint by PPT Solution and
converted to HTML5 with iSpring Converter Pro.