January 27, 2023
The 8 Best Text-To-Speech Software: Free & Paid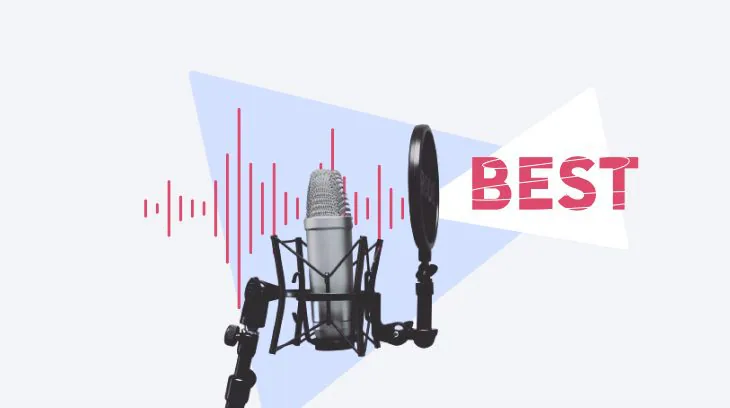 Text voicing can be useful for a variety of purposes. For instance, you might want to record a voice-over for video tutorials or adapt your content for those with visual impairments. Thanks to modern technology, you don't even need to hire a voice artist — it's much easier, faster, and cheaper to use text-to-speech software.
Some tools have basic text-to-speech functionality, while others offer more capabilities and can easily voice PDF documents and even web pages or allow you to add background music. With so many options on the market, how do you choose the right one? To make your life easier, we explored a number of text-to-speech tools to allow you to choose the best one for your needs.
The 4 Best Free Text-To-Speech Software
Free text-to-speech tools usually offer basic features like choosing voice, language, and speed. A word of caution, though: free solutions are not allowed for commercial purposes.
However, if you are looking for a simple text-to-speech tool purely for personal use, check out the ones below.
1. ReadLoud
Type: Web-based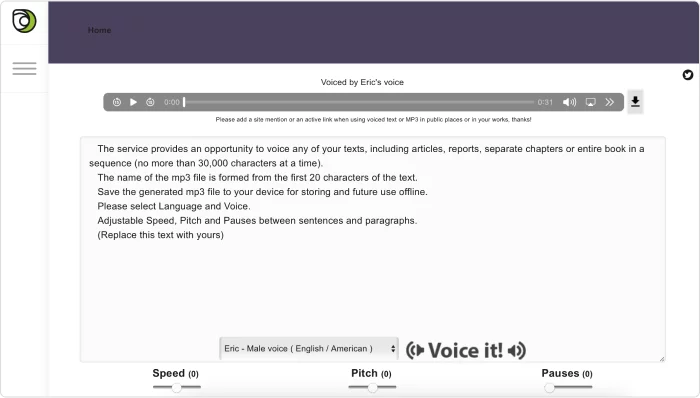 ReadLoud is a simple text-to-speech software, but it beats most of its competitors on character count. It allows you to convert up to 30,000 characters at once, so you can voice any type of text, including articles, reports, separate chapters, or entire books.
This tool offers 20 languages and dialects, and over 40 different voices, including male, female, and kid voices. Customization settings allow you to change speed and pitch and add pauses between sentences and paragraphs.
Core features
20 languages and dialects available
Allows you to download MP3 files
40 different male, female, and kid voices
Converts up to 30,000 characters at a time
2. Free TTS
Type: Web-based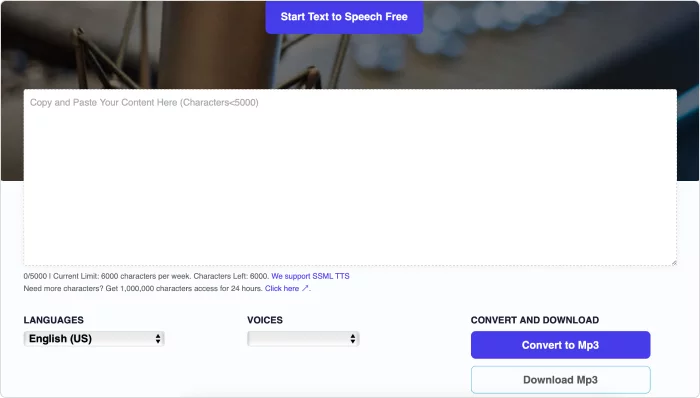 Free TTS is a minimalistic tool for converting text to an MP3 file. To generate a voiceover, you just need to paste the content, select the language, voice the text, and download the file.
It offers 13 different English-speaking voices, both male and female, and over 30 languages and dialects. This tool can voice currencies and dates, although it sounds pretty robotic. Hopefully, free TTS supports SSML, so you can get more control over speaking styles. 
The free plan only allows you to convert 6,000 characters per week.
Core features
Over 30 languages and dialects are available
You can add SSML codes
Converts abbreviations, dates, and fractions correctly
Converts 6,000 characters per week for free
3. Text to MP3
Type: Web-based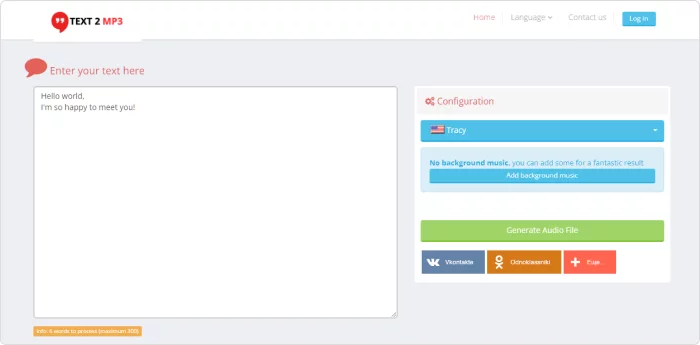 Text to MP3 enables you to convert up to 300 words to voice at a time. You can change the speed of the recording, add background music from the library, and adjust the volume to make it sound more pleasant. It also provides storage for up to 5 files, so you can get a direct link and share it with your team.
The main disadvantage is that there's no preview option.
Core features
A library of 30 background music tracks
Storage for up to 5 files
25 different voices in 8 languages and dialects
Converts up to 300 words at a time
4. TTSReader
Type: Web-based, mobile app, and browser extensions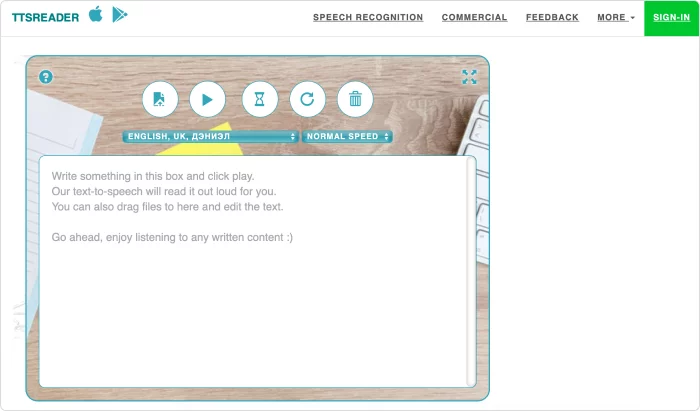 TTSReader can voice not only pasted text but also uploaded PDF files, e-books, and webpages. There are male and female voices in over 30 languages and dialects. The voice settings are quite poor — you can just change the speed and add pauses.
TTSReader is good for listening to articles on the go or while driving, since it has a Text Reader for Android app and an extension for browsers. It remembers the article and the position where you last paused, so even if you close the browser, you can recommence from where you stopped.
Core features
Can voice pasted text, PDFs, e-books, and webpages
Has free Chrome and Safari extensions
30+ languages and dialects
Comes with the Text Reader Android app for listening to articles
The 4 Best Paid Text-To-Speech Software
With the abundance of TTS tools on the market, everyone is sure to find free options. However, when searching for realistic sound, plentiful voices, the ability to adjust the intonation of individual words, and add specific human voice features such as laughter or breathing, you might have to consider paid software.
Here are four paid text-to-speech tools that have gained customers' trust and are definitely worth your attention.
1. iSpring Suite Max
Type: Desktop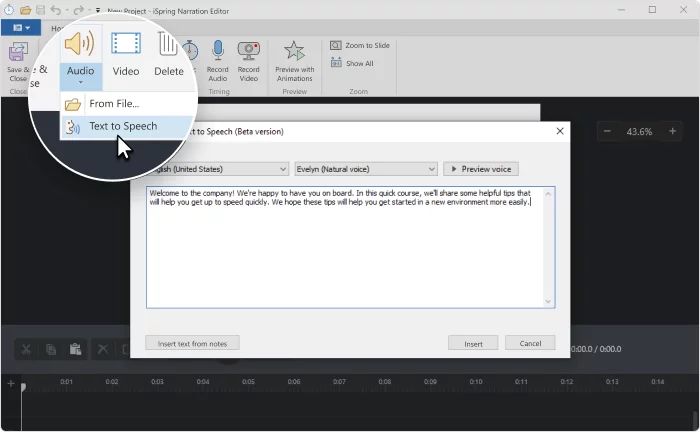 iSpring Suite Max is a self-sufficient solution for creating eLearning content that features a built-in text-to-speech tool. It allows you to turn text into compelling, natural-sounding narration with clear pronunciation in a couple of clicks. You just need to paste your text into the editor, select the language, and choose the voice that suits your project best.
This tool includes 53 languages and offers broad voice customization opportunities. You can adjust pronunciation by changing the narration's speed and intonation, and adding pauses. The software converts abbreviations, fractions, dates, and phone numbers correctly. It can also pronounce words syllable by syllable or letter by letter, if necessary. You just need to specify this in the settings.
iSpring Suite Max is the perfect choice if you need to create training courses. You don't need to look for an additional tool to voice your content. Everything is inside a single tool.
Core features
Allows you to create online courses with voice-overs
Broad voice customization settings
Over 300 natural-sounding voices and 53 available languages 
Converts up to 4,000 characters at a time
Clearly understands abbreviations, fractions, phone numbers, and more
Pricing
There are several plans:
For academic and non-profit organizations – $670 per user/year
For personal use – $690 per user/year 
For business – $970 per user/year
2. Murf
Type: Web-based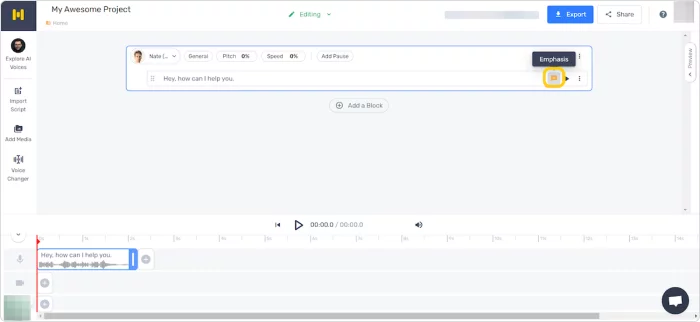 Murf Studio is text to audio software with realistic AI voices. With this tool, you can import text in different ways: enter, paste, or upload a text document. It offers a selection of 120 voices in 20 languages, from English and Arabic to Norwegian and Japanese.
Using this tool, you can change the voice's speed and pitch, add pauses, and emphasize specific words to draw listeners' attention, so it's easy to create human-like sounds for various purposes, including eLearning, audiobooks, YouTube videos, and more. 
Core features:
Over 120 natural-sounding AI voices
Broad voice customization settings
20 languages with multiple accents
A library of 8,000 soundtracks for background music
Pricing
There are three plans:
Basic – $29 per user/month (or $228 billed annually)
Pro – $39 per user/month (or $312 billed annually)
Enterprise – $59 per user/month (or $3,540 billed annually) 
3. Speechello
Type: Web-based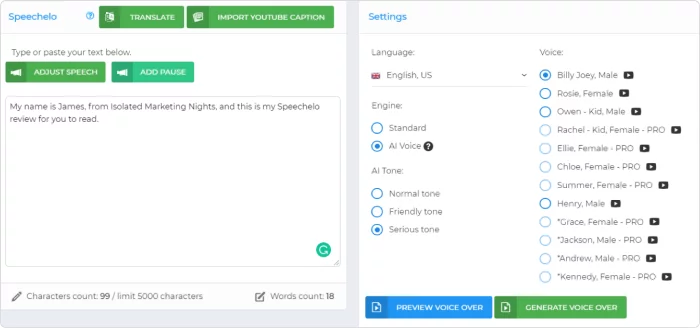 Speechello makes it simple to create human-sounding voice-overs: you can paste the text, select the appropriate settings, and download an MP3 file.
AI adds all the punctuation marks to your text to make the speech sound natural. You can also add breathing sounds, longer pauses, and even choose the tone of voice: a serious one to capture learners' attention and win their confidence, a joyful one for entertainment content, or just normal.
It offers over 30 human voices, including male, female, and kid voices, and provides over 20 languages, but you can only voice up to 700 words at a time.
Core features
Online text editor for making the voice sound more natural
Broad customization options
Available in 23 languages
Compatible with any video creation software such as Camtasia, Premiere Pro, iMovie, and more
Pricing
One-time payment – $97
4. Play.ht
Type: Web-based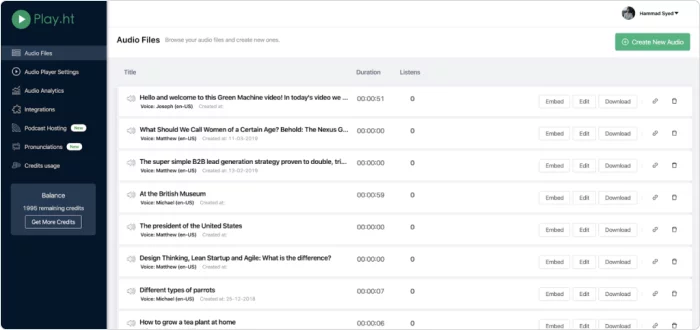 Play.ht helps you instantly convert text into natural-sounding speech and download it as MP3 and WAV files.
It allows you to create clear professional voice-overs for marketing, products, and YouTube videos. This tool is able to pronounce terminology and acronyms — you can even define how specific words are pronounced and save and reuse these settings.
Play.ht provides a huge library of over 900 AI voices in 142 languages and allows you to fully customize the pronunciation.
It's perfect for voicing dialogues because the tool can break the text into sentences and use different voices for each one of them.
Core features
An extensive library with plenty of voices
The ability to store and manage audio files in the Play.ht cloud
Allows users to publish their audio files on iTunes, Spotify, Soundcloud, and Google Podcasts using RSS feeds
Supports team collaboration
Pricing
There are three plans:
Personal – $171 per user/year
Professional – $351 per user/year 
Premium – $594 per user/year 
How to Choose the Best Text-To-Speech Software
To make the right choice, first define what type of content you need to convert. Do you want to create audio narration for kids' eLearning courses or marketing videos, or do you just want to listen to an article like a podcast? Then see what features a tool provides. Here's what you might want to consider:
Natural-sounding voices. If you need a voice-over for a product presentation, video tutorial, or training material, robotic tones are unlikely to work. Opt for TTS software that delivers high-quality AI voices that can replicate the unique characteristics of human speech.
Different languages and accents. The ability to convert text into multiple languages and accents helps businesses create content at scale. There's no need to spend money hiring voice artists to record multilingual versions of the audio content. Text-to-speech software that supports different languages will greatly expand your audience and make your content accessible worldwide.
Customization. For different projects, you may need a different sound, from a low-pitched voice that conveys authority and confidence to a high-pitched, lively voice for kids. This is where voice customization features play their part. Changing speed, choosing between male and female voices, and adding pauses are the basic features. Advanced text-to-speech programs offer broad customization opportunities like adding breathing, changing style, emotions from angry to cheerful, and more.
Import and export. Consider how text can be uploaded to the tool, such as whether it can convert files, read text from images, or voice web pages. When it comes to exporting, most tools generate an MP3 file that can be easily downloaded. However, some of them in their free plan prohibit downloading and only allow you to get a link to your project.
FAQ
Here you'll find answers to the most common questions about text-to-speech software.
What is a text-to-speech (TTS) tool?
Text-to-speech technology, also known as text-to-voice, text reading, or read-aloud, is software that recognizes words and artificially converts written text to human speech. There are many types of TTS tools on the market, including web-based solutions, desktop applications, mobile apps, and browser extensions.
What are the limitations of free TTS software?
The key disadvantage of free text-to-speech software is that they are intended for personal use only. Other limitations include a narrow choice of voices and languages, and poor customization opportunities. 
Is the voice quality the same in every TTS software?
Despite the ability to change the sound manually by adding pauses and changing pitch, voice quality itself varies significantly. Some tools promise such an extremely human-sounding voice that you can't tell if it's an artificial or human voice. Many paid tools offer the voices of acclaimed narrators.
Free tools usually have more robotic voices, but customization settings help to make the sound a little better.
In Conclusion
Many of the tools covered in this article are quite similar to each other, although some have unique features, such as the opportunity to add background music, store created MP3 files, or create eLearning content right in the same tool.
We hope this overview will help you choose the best solution for your needs. If you need flexible text-to-speech software and want to create engaging learning content, you'll benefit the most from iSpring Suite Max. To see how this tool works, get the iSpring Suite Max trial and test-drive it for free for 14 days.