Schedule Free Demo
Learn everything you want to know about iSpring Learn in a 30-minute webinar.
Thank you for your request
We will contact you shortly to schedule a convenient time for an online meeting. If you have any questions, please contact the iSpring Team at
Oops! Something went wrong...
Please contact them at .
Webinars in iSpring Learn
Hold online meetings with remote employees right in your LMS, and assign recordings of webinars like other learning content.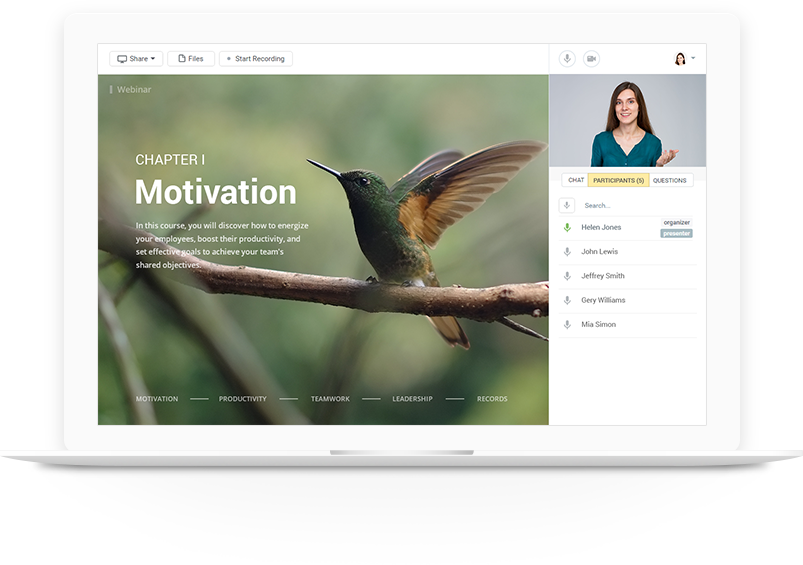 Schedule a webinar and invite users
With the events calendar, you can plan classroom trainings and webinars in advance and easily invite attendees. iSpring Learn automatically notifies employees and drops them a line about changes if there are any.

With iSpring Learn you can plan all training activities
Schedule online courses, instructor-led trainings, workshops, and webinars. Combine various training activities and choose formats that fit best for your employees. For example, assign an introductory course before classroom training so that an instructor can skip the theory and focus on practice.
Share interactive presentations and videos
During a webinar, you can share a presentation right from your iSpring Learn account. All animations, hyperlinks, and other PowerPoint effects are perfectly displayed. You can also share videos and your screen with your attendees.

Chat with attendees
Attendees can use chat, send private messages, and submit questions to a presenter. After a webinar, chat logs are saved in your account so that you can address unanswered questions and analyze attendees' activity.

Send webinar recordings
Assign a webinar recording to those who've missed the meeting, or include the recording in a learning path for new hires.
Get clear reports
Keep track of attendance and analyze employees' activity on webinars. You can also see a clear report on all events and check how many webinars were held by each instructor.
Register for a free live demo
Register for a free live demo to learn more about iSpring Learn features, and see how iSpring can help you with your specific training tasks.
Register for webinar

→
Hassle-free launch and management. No installation needed
Webinars in iSpring Learn work seamlessly right in your browser. You don't have to install any software or fine-tune anything: just create an event, and your learners join it via a link. Plus, iSpring Learn will remind you about the webinar and let you know who has registered.

Customer stories
Thousands of companies from all over the world use iSpring to train their employees.
With iSpring, we tripled the quality of our regional directors' training
We train operating personnel on our products using webinars, e‑courses, and videos. Webinars are hosted once a week, and include analytics, reference points, causes of potential problems and the ways of eliminating them.
We have a single source for authoring and learning
We first started using iSpring Learn LMS in 2010, and we still use iSpring Learn exclusively for our online training. We also heavily rely on iSpring Suite for our authoring needs. We use it to prepare PowerPoint presentations for uploading to the LMS. I really like the flexible iSpring pricing plans. It has allowed us to start small and grow. Right now we have a pricing plan for 250 users, but I foresee the need to upgrade soon.
We implemented iSpring for Marketing & Sales Training around the globe
We needed a LMS to train digital marketers around the world, at their convenience. The tracking and reporting was important as well as it working in all countries. Which iSpring does! It was also the best value amongst several LMS we reviewed. If you want to begin working right away and avoid a long implementation, iSpring is great! We are using the system successfully from the U.S. to China.
Launch your online training today
Get your free demo account and host your first webinar
with iSpring Learn