The perfect free e-Learning tool has been found! iSpring Free, an easy-to-use PowerPoint to Flash converter, also becomes a free e-Learning authoring tool.
Starting with version 5.7, iSpring Free can help a great deal of Moodle LMS users! Not only can you transform a PowerPoint presentation into Flash, but you can also generate a SCORM 2004r3 compliant eLearning course out of it to make it perfectly Moodle-compatible. iSpring Free also provides tracking for your course, which can help you see if a learner has passed the course and calculate their grade.
To make your PowerPoint presentation Moodle-compatible, simply check the option to Generate SCORM 2004 r3 compliant course when publishing. Manage learner results by specifying a minimum number of viewed slides to pass. This will allow you to have a clearer idea of the progress your learners make.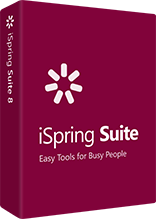 Fully-stocked eLearning authoring toolkit for PowerPoint. No training required to start!
Did you know that iSpring Suite can report course statuses to an LMS? The statuses can be based on the number of viewed slides and the results of the quiz (or several quizzes).
There is a whole set of other features in iSpring Free that will also help you author courses rapidly and with no hassle, e.g. you can set minimal slide duration, put in the period of time in which all the on-click animations will repeat, etc. iSpring Free neatly packages your slides into a simple yet serviceable player of clean design and sensible button set.
So, whether or not you are already using Moodle, if you want free e-Learning tools to be intuitive and powerful, author your e-Learning courses with iSpring Free and upload them to Moodle LMS to further share and track your content.