December 28, 2022
How to Handle Knowledge Transfer Effectively: An Ultimate Guide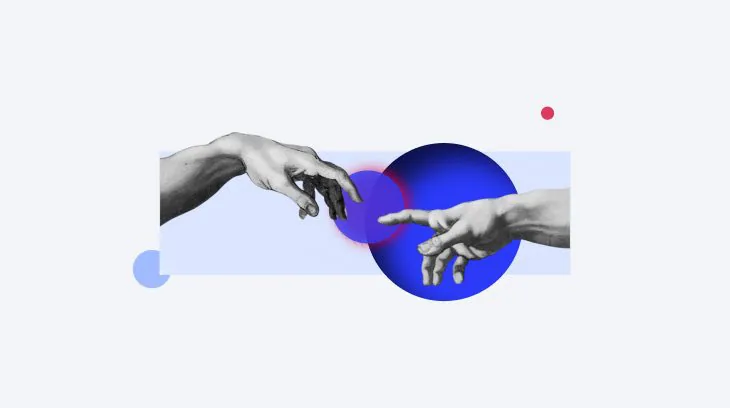 American novelist Louis L'Amour once said that "Knowledge is like money: to be of value it must circulate." And it seems that HR and L&D teams across the globe agree. That's why so many organizations prioritize knowledge transfer.
Whether you're a multinational conglomerate or a startup, an efficient knowledge transfer system will significantly benefit your organization, driving business results.
Check out this guide to learn how to handle knowledge transfer effectively in your workplace.
What Is Knowledge Transfer?
Knowledge transfer is a practical system for capturing key information in your organization and sharing it with other employees or areas of the business. This is done by identifying key organizational knowledge, documenting it, and delivering it to the staff. For the transfer of knowledge in the workplace to be effective, a system needs to be in place. This system establishes a central source of information in the company, including essential knowledge and best practices.
Knowledge transfer vs. Knowledge sharing: What's the difference?
Although similar, knowledge transfer and knowledge sharing are not the same.
Knowledge sharing is the process of exchanging information between people, teams, or organizations. This can be explicit (documents, procedures, policies, etc.) or tacit knowledge (experience based).
On the other hand, knowledge transfer is the process put in place by the business to gather, store, and circulate it efficiently. It's a formal plan that identifies what key knowledge experts in the company have and the best way to store and transfer it to other employees who could benefit from it.
While knowledge sharing focuses on the informal exchange of information, knowledge transfer is a formal, structured business strategy.
Benefits of Knowledge Transfer
Effective knowledge transfer minimizes the risk of valuable information exiting the company. As a result, it ensures all employees have the information they need to perform their jobs effectively. This protects the business and drives performance. But it's certainly not the only benefit. We've summarized the other goodies below.
Break down silos: It's easy for information, especially tacit knowledge, to slip through the cracks. Knowledge transfer reduces the risk of information being siloed, particularly in a remote working environment.
Improve performance: An effective knowledge management system allows employees to find key information quickly. This removes barriers, thereby increasing productivity and overall performance.
Boost company culture: Not having access to the information they need can leave employees feeling frustrated. Facilitating the quick and easy transfer of knowledge empowers employees, allowing them to learn faster and take accountability for their work. In turn, they feel more confident and satisfied.
Fast-track the onboarding process: Building a culture of information sharing also speeds up the learning curve for new hires and makes employees' transition to a new role in the organization as smooth as possible.
Break down physical constraints: As remote work becomes increasingly more popular, a strong knowledge transfer strategy facilitates the move to remote work. Team members have access to valuable tacit and explicit knowledge from anywhere.
How to Create a Knowledge Transfer Plan
Now that we know why it's beneficial, it's time to explore how to transfer knowledge.
A really great knowledge transfer strategy has 3 factors at its core:
Company culture
Technology and tools
Organizational infrastructure
If you want your plan to be a success, keep these pillars in mind at every stage of the process. Here's a step-by-step guide to designing a knowledge transfer plan in your organization.
Step 1 – Identify needs
The first step is to identify your needs. Start by asking the following questions, as they will help you define the key subject matter experts (SMEs) for the project.
Who are the "go-to" experts in the organization?
What knowledge or expertise do they have?
If they left today, would anyone be able to replace them and do their job?
What tasks do only they know how to perform?
Then, think about the impact on the business if these "go-to" people were to leave.
What areas of the business would be affected?
What would be the main impact on the business?
How long would it take to recuperate this knowledge?
Finally, consider who you need to involve in your knowledge transfer plan and how you will go about capturing and sharing the information.
Who needs to be involved in the project?
What is the best way to capture knowledge?
How can you effectively store and share this knowledge?
Is there a deadline for the project?
Once you've answered these questions, you have the foundations for your plan. List all of the critical knowledge you've identified and who is in possession of it.
Step 2 – Prioritize knowledge
Setting up a knowledge transfer system takes time. Therefore, it's important to prioritize the knowledge that it is most urgent to gather and share. To do this, you'll need to go through your list of key information and rank it based on how important it is. You may also want to consider the length of time and the complexity of transferring this knowledge.
When it comes to prioritizing which knowledge to tackle first, consider the following questions:
How many people in the organization have this knowledge?
How often is this knowledge needed?
What would be the impact if this knowledge was lost? (1 – minimal, 2 – moderate, 3 – severe)
How long would it take to complete the knowledge transfer? Is there a timeframe?
Who needs to be involved?
What resources are needed for knowledge transfer?
What resources currently exist?
Bear in mind that some "go-to" experts in your company may be hard to pin down due to their workload and level of seniority. As a result, this could delay the knowledge transfer process.
Step 3 – Choose the right tools
You now have a crystal clear idea of the scope of your project, the major stakeholders, and the essential knowledge you need to transfer. The next phase is to choose the best technology and tools that you'll need.
As the workplace becomes increasingly more digital, online knowledge transfer is a more flexible, future-proof, and scalable option. By using specific tools, you can deliver critical knowledge to a much wider audience and update information quickly in real time.
Learning management system
A learning management system (LMS) is one of the most effective tools for transferring knowledge for a number of reasons.
First, an LMS is a standard corporate tool these days, so your company probably has one already or is considering adding one to its corporate tool wish list. This means employees are already familiar with the platform, reducing onboarding time. Utilizing a solution you already have in the budget will also reduce costs associated with buying licenses for a new tool.
Another advantage of using an LMS for successful knowledge transfer is its analytics and reporting capabilities. LMS reports allow you to track employees' behaviors and show how they interact with the knowledge assets.
If you don't have an LMS yet, try iSpring Learn. It's a powerful but easy-to-use platform that will become a great knowledge hub for your company. You can upload your learning materials, combine them into courses or personalized learning tracks, and deliver the content to employees so they have the knowledge they need.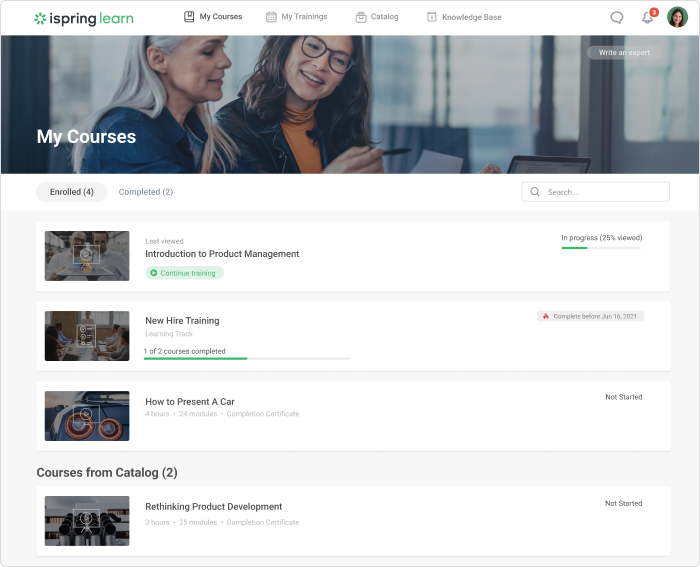 iSpring's reports allow you to closely monitor how employees are learning, giving deep insights into their progress.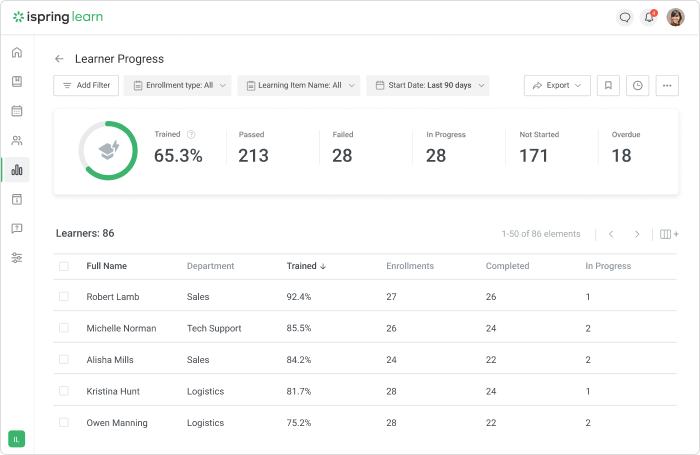 Of course, not all the information you need to share is learning content. For general company information, such as instructions on how to prepare a business trip report, recommended reading for professional development, or a video on configuring a corporate email account, you can take advantage of iSpring's Knowledge Base. Just upload your files there, so employees always have this knowledge on hand.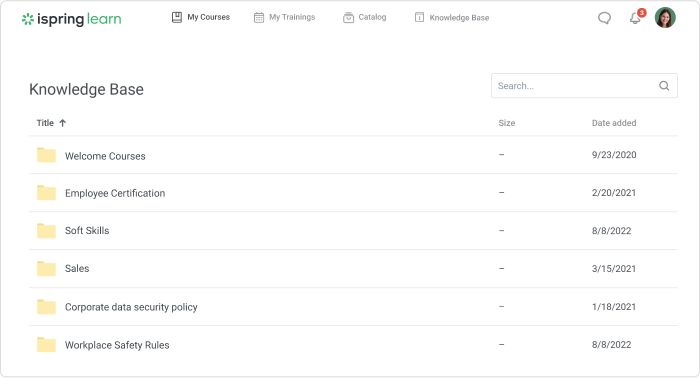 Content authoring tool
While it's not entirely necessary, a content authoring toolkit is another valuable knowledge-transferring resource. It allows you to easily create knowledge assets, such as courses, video tutorials, interactive step-by-step guides, and more.
Creating knowledge resources using an authoring tool means they can be easily updated as needed and shared on an LMS. We recommend opting for an authoring tool that integrates with your learning system. That way, you avoid any compatibility issues and ensure seamless integration.
For example, the iSpring Learn LMS is integrated with iSpring Suite. It is a robust authoring toolkit that comes with a full range of tools and a comprehensive content library, so you can create compelling knowledge resources in just a few clicks. From quizzes to interactive role-plays and digital employee manuals, it enables you to build professional-level training materials with no experience.
Fully-stocked eLearning authoring toolkit for PowerPoint. No training required to start!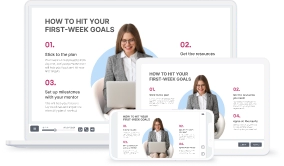 Step 4 – Capture and store knowledge
It's now time to get started collecting knowledge in your organization.
You probably already have some resources with information. So, start by deciding if you can deliver them just as they are or if you need to transform them into another format. For instance, some processes and policies are best suited as a PDF document, while other more complex information works better in a multimedia format, such as a recorded video lecture.
Here are some examples of ways to transfer knowledge with iSpring Suite:
Online courses
If you'd like your new employees to learn important information about the company and their responsibilities, you can create a complete course that will include slides with text, multimedia, interactions, and quizzes. Online courses are also a great knowledge source if you need to deliver compliance training, or use them as parts of continuous training programs.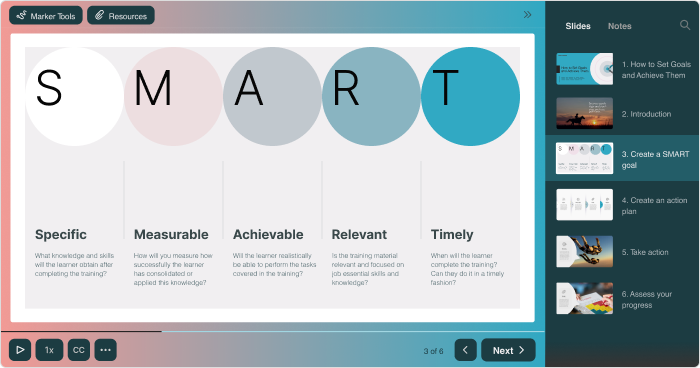 Simulations
These are a perfect way to transfer complex knowledge, such as how to deal with angry customers. The beauty of simulations is that employees have the opportunity to master key soft skills in a low-risk environment. What's more, they're a fresh and engaging way to transfer essential knowledge.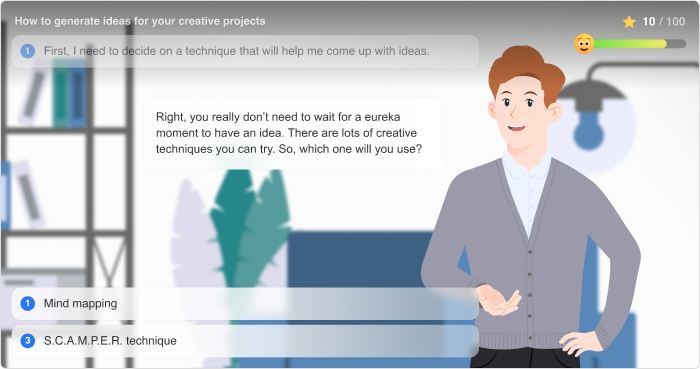 Video lectures
Another excellent way to transfer knowledge, video lectures engage learners and simplify complex ideas. They give employees all-important context and break down important processes. iSpring Suite comes with a comprehensive video suite that allows you to create and edit professional-grade training videos with no experience.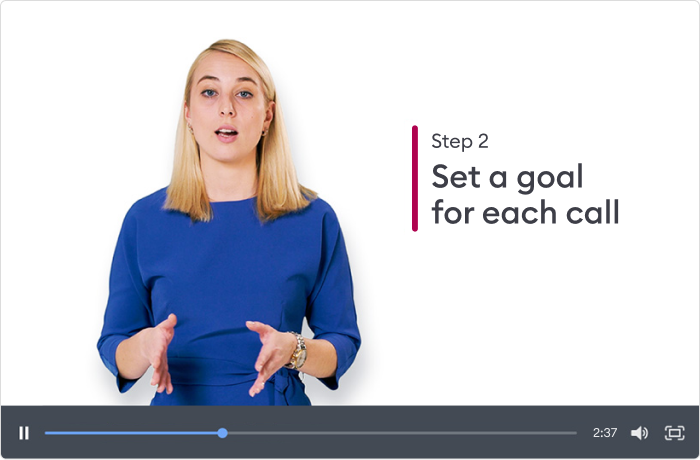 Interactions
Sometimes less is more. A simple interaction, such as a timeline, clickable image, or FAQ page, is often the best way to present important organizational knowledge. This type of microlearning content is quick to make and is easy for employees to digest. They have instantaneous access to the knowledge they need without having to search through long documents or online courses.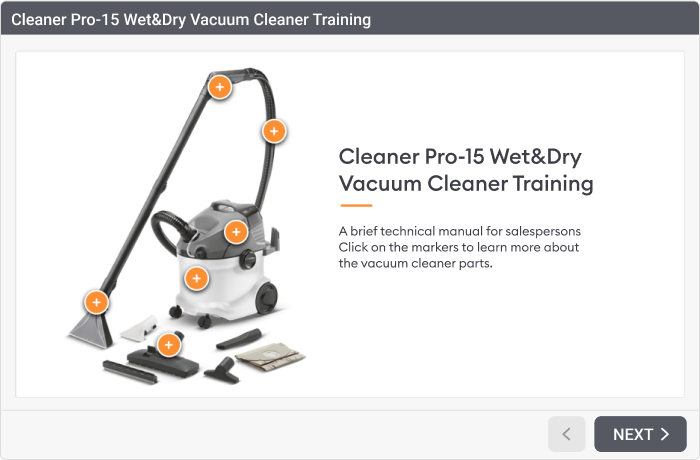 E-books
Some key knowledge in your organization might be too lengthy for a course or interaction. In this case, turning it into an e-book is an effective strategy. These e-books are perfect for sharing everything from theoretical knowledge to employee handbooks.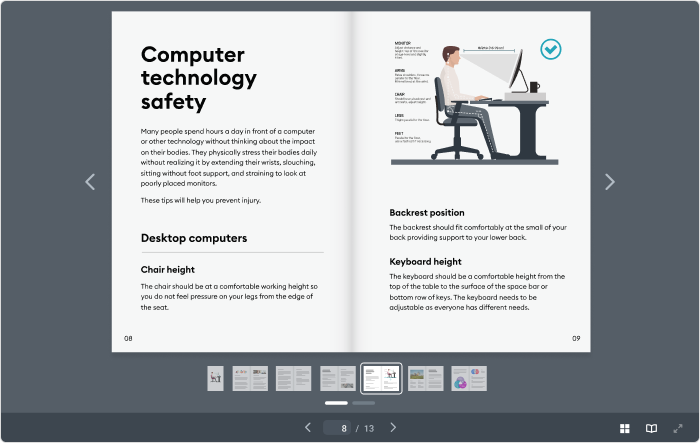 It's always a good idea to ask the SME to approve the final version of the asset before uploading it to the LMS. You will also need to perform regular maintenance to ensure all the knowledge is up to date.
All of the assets in your knowledge base should be consistent in terms of style and format. Follow your company style guide to ensure the look and feel are cohesive and on brand. Adding a clear description of the knowledge resource and tagging it correctly will make it easier for employees to find information in the LMS.
Step 5 – Transfer knowledge
Congratulations! You should now have a well-organized knowledge base chock full of key company information. But the transfer of knowledge can't happen until employees start using this resource.
So, you'll need to promote the knowledge base and explain the "why" to employees. Start by communicating the reason behind the project, your goals, and the impact on the business. Once employees understand the company's expectations, they are more likely to participate.
A series of short how-to videos is a great way to tease the new knowledge base. Each video should be brief and show employees how to use the knowledge base. You can share these via email, on corporate communication tools, or directly on the LMS.
Encourage employees to participate in the knowledge transfer process by sharing and engaging with resources. You may want to ask managers to support you in promoting the project and raising awareness. They can do this by sharing relevant assets with their teams and allocating time for employees to explore the knowledge base.
Knowledge Transfer Plan Template
Streamline the knowledge transfer process by downloading our free knowledge transfer plan template, available in Word, Excel, and PDF formats.
Download a transfer plan template
How to Measure Knowledge Transfer
After investing so much time and effort into your knowledge transfer plan, you'll naturally want to measure its success. This looks different for every business, so it's important to define what an effective knowledge transfer system means for your company. What are your goals?
Once you've defined this, it's time to identify key metrics. Again, these metrics will vary, depending on what you want to achieve with your knowledge transfer strategy. For example, was this project prompted because senior employees are leaving the business? If so, you can track performance metrics in those specific departments to see if the knowledge transfer was successful. If the goal was to speed up the onboarding process, you may want to focus on the metrics that assess if this has happened.
To measure the impact, you'll first need data. You can gather them using 360 feedback, Q&A sessions, and informal conversations with managers. If you're using an LMS, analytics and reports will offer valuable insight into the success of the project.
For example, with iSpring Learn, L&D teams can pull comprehensive reports regularly to see how many employees have viewed a document or resource in the knowledge bank. This will reveal if the information is relevant and how much use it's getting.
If certain information is not receiving views, you may want to consider investigating why. Is the information not relevant? Maybe employees don't know that it's there and you need to ask managers to promote the resources more. The more you know, the more you can improve your plan.
In a nutshell, LMS analytics give you a clearer picture of how your knowledge transfer system is impacting the business.
FAQ
Here we answer the questions about knowledge transfer that are asked most frequently.
What are knowledge transfer sessions?
Knowledge transfer sessions are a way for multiple employees to gain new knowledge at the same time. For example, if an in-house expert is leaving the company, they can hold knowledge transfer sessions to pass key information on to several people at once. That way, the knowledge stays in the organization and is transferred to the relevant people and business areas.
What's the best way to transfer tacit knowledge?
While explicit knowledge is relatively easy to transfer in the form of documents and debriefings, tacit knowledge is trickier. It comes from experience, making it difficult to write down. The best way to transfer this type of information is through coaching, videos, and simulations.
In Closing…
From improved morale to better customer service, handling knowledge transfer effectively will have a significant positive impact on your business. To harness its power, your company will need to develop a robust knowledge transfer plan. This will ensure you have the tools, information, and support needed to implement a strategy that works.
One of the best employee knowledge transfer tools is an LMS. It's an accessible way to create a staff knowledge base and a central source of truth in your company. If you're looking for a corporate solution that will let you efficiently handle the knowledge transfer process, why not try iSpring Learn LMS? Sign up for a demo today to see how it can support your organization's knowledge transfer plan.