A learning path is a great tool to structure your learning: once you've organized courses into a learning path, you can assign your students to a whole program.
Learning paths not only tie learning materials together, but also help to create a steady and measured learning pace. For example, if all newcomers in your company have to complete onboarding training in 20 days, you can set due dates for each chapter, so that your learners are not tempted to postpone viewing courses until the last 2 days.
It works fine if you enroll all your learners in a program on the same day. But what if your organization hires a new employee on week 1, three of them on week 5, and also a few more on weeks 11-14? Do you have to calculate and set up deadlines for all chapters manually? No more! The latest update of iSpring Learn LMS allows you to define learning path rules once and for all, so whenever your learners start their program, the system will guide them through the process in the same pace automatically.
This saves a lot of time for LMS admins, and learners are kept engaged, motivated, and on track.
Important: Now learning paths have their own tab in the main menu. This way they are easier to find and manage.
How to set up learning path progress rules
To make progress rules automatically adjust for all users, no matter which day they enroll, you can set relative due dates. This means that instead of an exact calendar date like April 1, you specify a timeframe to complete a course, e.g., 10 days or 3 weeks.
Each time you assign a new user to a learning path, iSpring Learn calculates calendar dates according to your rules and opens access to chapters in due time.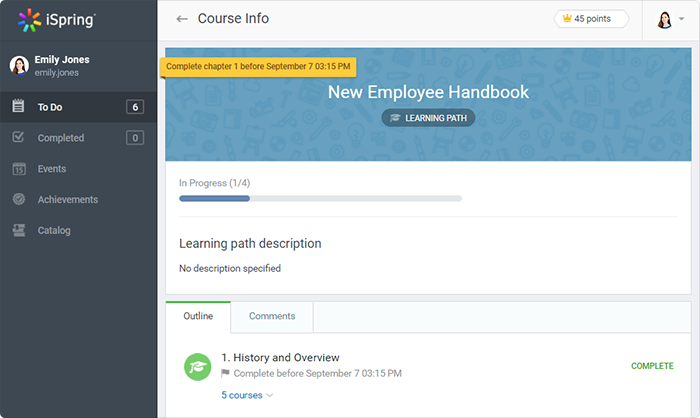 Learning path completion rules
There are 3 ways to set up a timeframe for a learning path:
No due date. No-deadline learning paths are good for optional courses or self-directed learning.
One due date for the whole learning path. A learner has to complete the learning path by a certain date; however, it's up to the learner when they complete each chapter. If you set it to complete the onboarding training in 2 weeks, each learner will see their own individual due date depending on the date they join your organization. For example, if an intern is assigned to a course on September 5, he receives a notification that he has to complete the training before September 19.
Due dates for each chapter. With this option, you can control both course completion and progress. For each chapter, you can specify due dates in days or weeks; this way, you can be sure that your students learn regularly and continually.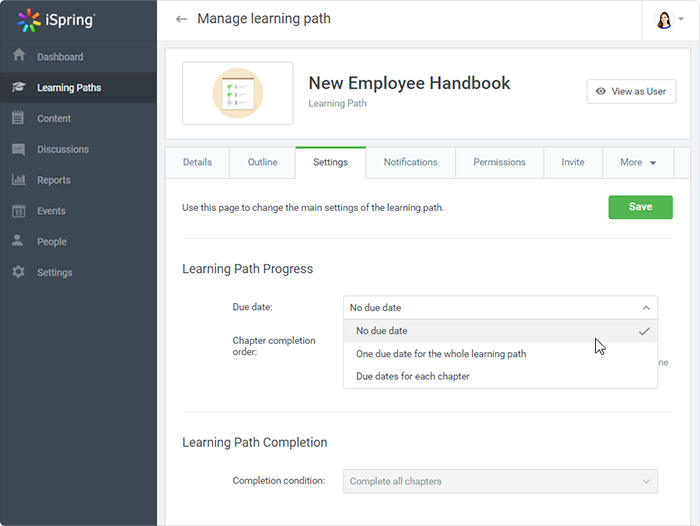 You can set the default time for each chapter in the learning path; for example, 3 days. If the chapters are not equal in terms of their complexity, you can create a more flexible schedule. For example, give a newcomer 2 days to read about the company history, 5 days to study your working environment, 3 days to learn how to get things done, etc.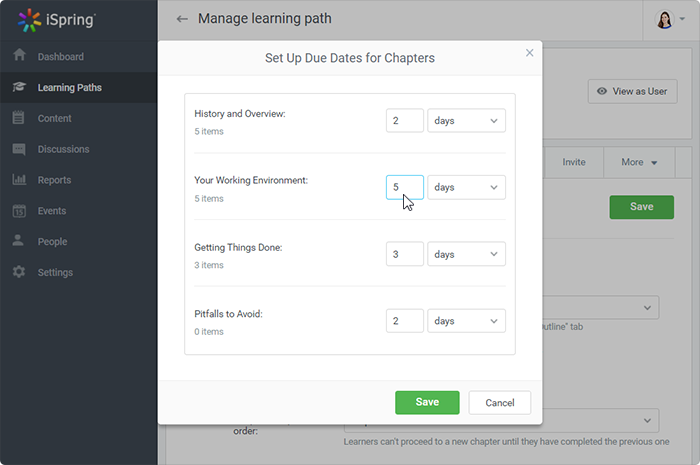 Chapter completion rules
If you don't have a due date at all, or specify a target date for the whole learning path, you can select in which order learners have to complete chapters.
There can be a strict order where learners can progress to the next chapter only after they have completed the previous one. If this is your preferred scenario, select "Sequential" next to Chapter completion order. If you select "Optional", your learners will be able to view chapters in any order they like.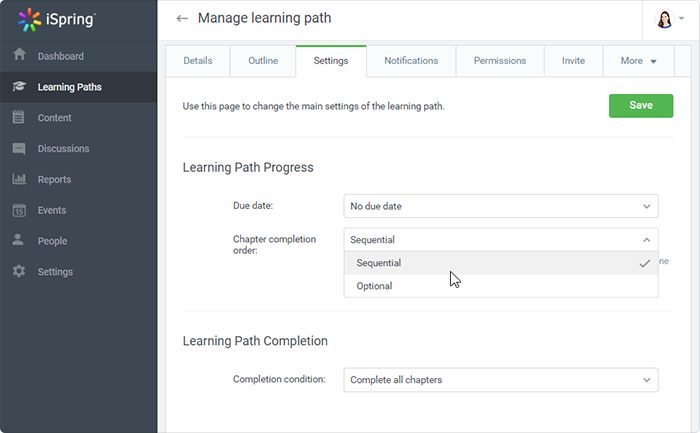 If you set up chapter-specific due dates, there are 3 ways to give learners access to the next chapter:
Optional: All chapters are available immediately after a learner has enrolled. The learner is free to choose a chapter to take, but is given a limited period of time to complete each chapter.
Sequential: Learners can access a new chapter after they have completed the previous ones. For example, "Your working environment" will open only after "History and overview".
If an intern fails to complete the first chapter in the required 2 days, it will be marked as "Overdue", and the countdown for "Your working environment" will start. If a learner completes the "Your working environment" chapter earlier than planned, s/he'll have more days for the next chapter.
Due dates for each chapter. A new chapter opens only after the timeframe of the previous chapter has expired. If you specify that a learner can proceed to a new chapter in 5 days, the system respects this rule even if a learner completes the previous chapter in 3 days.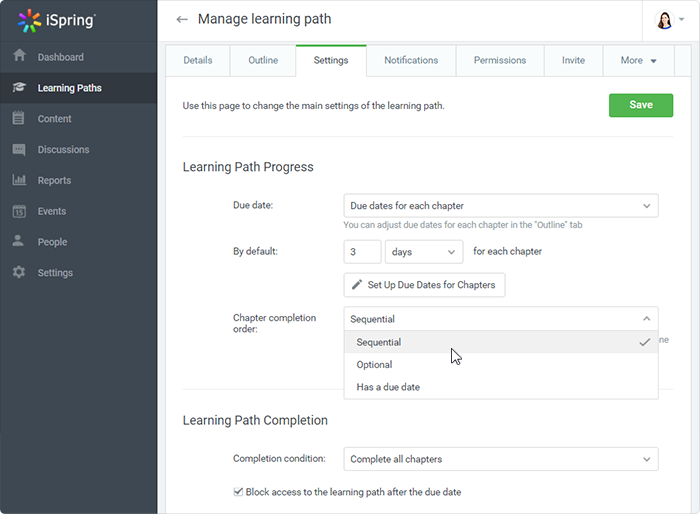 Due dates for courses within chapters
As before, you can fine-tune the following options:
Course completion order (formerly Pace Progress): it can be optional or sequential.
Completion condition – to complete a chapter, a learner should take all courses, or a particular course from this chapter.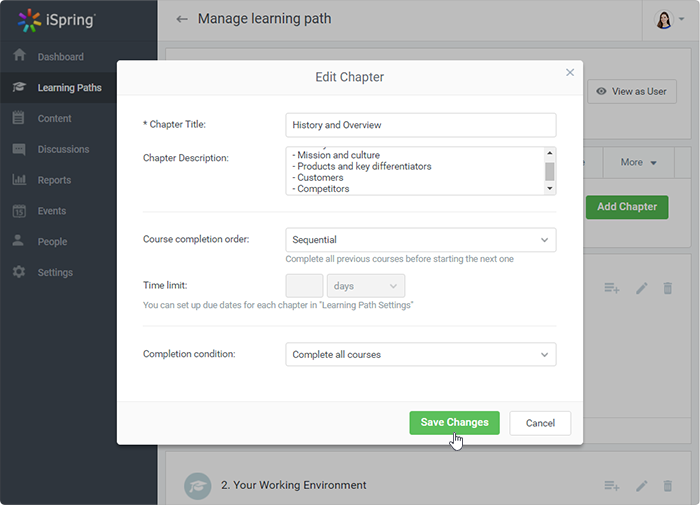 Note: You can find these options in the Outline tab on the chapter edit page.
Access to incomplete learning paths
You have 2 scenarios regarding how to treat learners who are past due dates: you can either allow them to continue their training, or block access to courses.
Check out the "Block access to the learning path after the due date" option in the Settings tab.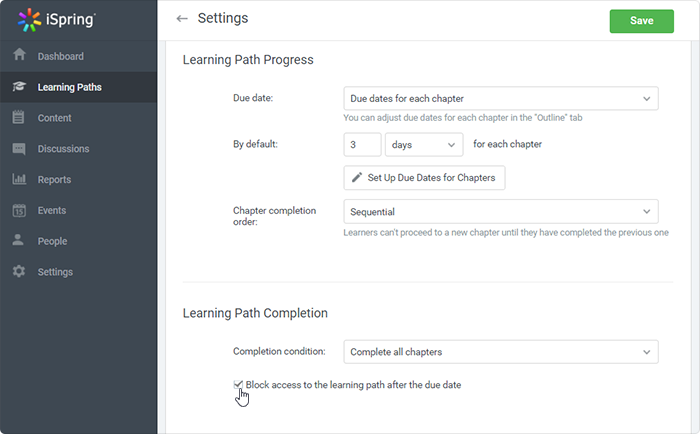 If this option is off, the learning path is still available for learners to take; however, it's marked as "Overdue". The instructor also sees the overdue tag and can consider it when giving grades.
If this option is on, those who haven't been able to complete the chapters in time won't be able to open the learning path. In the list of assigned learning paths, this program will be marked as "Blocked".
In any case, the incomplete learning path is shown in the list of assigned learning paths.
Important: You can only use relative deadlines (in 8 days, in 3 weeks) to specify the date to block access to a learning path. Setting calendar dates as deadlines is not possible.
Please consider that the minimal time interval for due dates is a day. If you previously set deadlines in hours, they will be converted into days; e.g., a 4-hour deadline will turn to 1 day.
Updated learning path settings
The main settings for learning paths are conveniently grouped into three tabs:
Details
Here, you can copy a link for the learning path and change the main settings: title, description, and author.
Settings
This tab allows you to configure due dates, chapter completion order, and completion condition. Here, it's also possible to create certificates, add the learning path to the course catalog, and specify the price.
Notifications
In this tab, you can notify specified admins when a learner completes the learning path.
What's next
To make your work with learning paths easier, we're planning to come up with a number of further updates:
learning paths in User Portal will be divided into two sections: 'Overdue" and "To do"
each course will be taken into account when calculating the learning path progress
auto numbering of courses and chapters will be added
the Learning Path report will contain details for each user
If you have any questions or suggestions, just leave them in the comments below or drop us a line. Tell us about your use cases and tasks, and we'll be happy to come up with a solution. Your feedback is extremely important to us.