Every day we try to make the experience with iSpring Learn as seamless as possible for both sides: learners and administrators. Here we present the latest update that will make user management fully automatic and add some more administrative features.
User self-registration to a specific group / organization
Self-registration feature has been available for a while already and helped adding new users – they did it themselves. When new learners get an invitation link to view private content, they create their learning account and access the course at once.
Now you can select a specific organization or a group to include new users that use self-registration links or invitations. Before this update, users were added to the primary organization with no group assigned. This improvement makes user management much easier and doesn't require manual assignments anymore.
All content assigned to a specific group of users will be automatically available to all new users who registered themselves.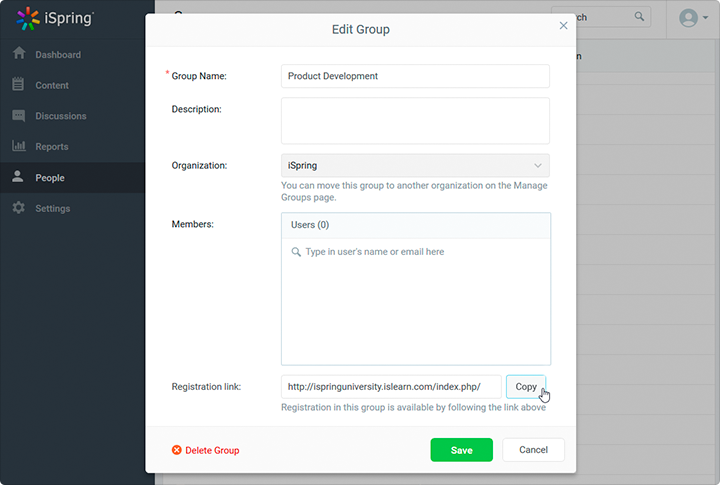 Note: If you turn off self-registration in the account settings, the links to self-registration with automatic appointment to a group/organization will also become unavailable.
Adding users by login
With the new iSpring Learn update, your learners can be identified by login / password in addition to traditional email / password. Just choose login as user identification in your account settings to turn this option on.
After that you can add new users manually by listing their logins or via CSV file.
A lot of corporate accounts use numeric IDs for their users, so there is no need to create an email, matching corporate user IDs anymore.
For example, you have a user John Collins, who has a corporate ID: #13584. You can create an account for John with his ID (13584) and create a password (Dd342dLa). Then send these login details to him by any corporate communication channel, no email is needed. You can also make the system generate the passwords for the new users and automatically send them to the appointed email addresses.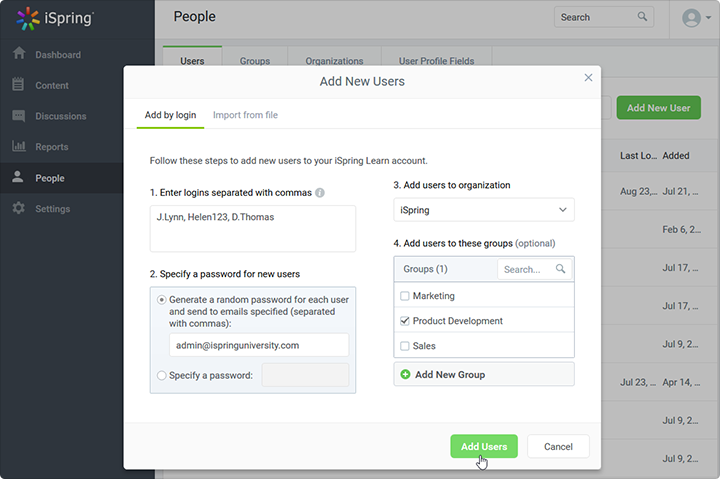 Note: Make sure that email is not a mandatory field in User Profile settings, otherwise you won't be able to use logins for the registration.
Some limitations will apply to users with logins used instead of emails. These users won't have the following advantages:
Get automatically generated message with login details.
Restore password via email.
Get invitation email to view new uploaded content.
Adding new groups automatically
Now you can add new groups in a .csv file and these groups will be automatically added to the system upon .csv import. Before this update, iSpring Learn admins had to add these groups manually through the web-interface which was time consuming. Now you can add as many groups at once in a blink of an eye.
Learn more: How to import users via .csv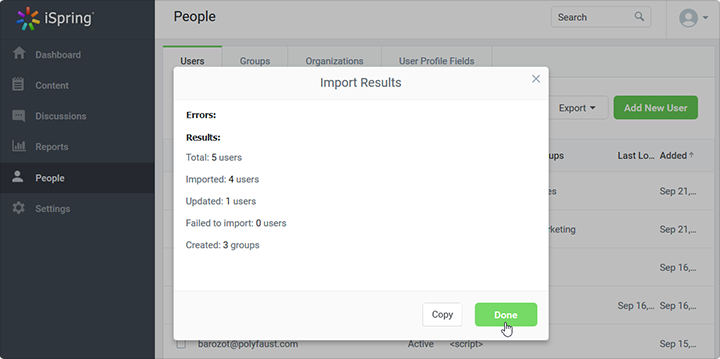 Try new features yourself and share your opinion. Just leave a comment below or contact us. We are always happy to get your feedbacks.