When you need to represent a process or events in chronological order, there's hardly anything better than a history timeline. It organizes materials in a clear way and helps students get a picture of how events develop in time. In this article we'll demonstrate how to make an interactive history timeline that can be shared online and viewed on any device.
We'll be using iSpring Suite and its built-in tool for creating interactions, iSpring Visuals. PowerPoint fans can find useful this guide on how to make a timeline in PowerPoint illustrated by a sample timeline on the Eras of the Phanerozoic.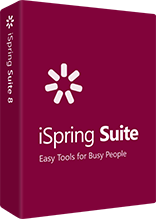 Fully-stocked eLearning authoring toolkit for PowerPoint. No training required to start!
Step-by-step guide
Install a full-featured iSpring Suite free trial.

iSpring Suite contains iSpring Visuals, which is made for developing e-Learning interactions.

Click the iSpring Visuals icon to launch it. Another way to do it is open iSpring Suite first, and then hit the Interaction button on the panel.

In the open Quick Start window, select Timeline from the list of interactions, as shown in the screenshot. As you can see, there are other interactions that you can create with iSpring Visuals: a flipbook, directory and FAQ.

Type in the name of your timeline in the corresponding field as shown in the screenshot.

Here, we'll be creating a historical timeline on the presidents of the USA from Early Republic to modern days.

Add introduction to your timeline. To do that, click the Add Introduction button on the upper panel.

Type in the name of the introduction slide in the Introduction title field.

To add a description for your timeline, type it in the Text field.

The default font is Arial, but you can always choose a different font from the drop-down menu on the editor toolbar. Here, you can also add a hyperlink to any part of the text to link to a webpage, an email address, or an item in the timeline (a period or event).

Note that you can enrich your timeline with multimedia that will provide viewers with a visually engaging experience and thus facilitate learning.

To add images, videos and Flash movies to your timeline, click the corresponding buttons as demonstrated in the screenshot.

iSpring Visuals allows users to divide timelines into both periods and events. Your timeline may contain as many periods and events within a period as you wish.

When you create a timeline, it already contains one period. Now you can add more periods and events to it and provide a brief or detailed description to each element of the timeline.

On the toolbar, click the Add Period button.

Different periods on the timeline are distinguished with various colors. Click the colored checkbox on the right and select a color for your period from the drop-down menu.

Now click the Add Event button on the toolbar.

Each period may contain as many events as you want.

To give your periods and events a title and description, continue the same procedure as with the introduction slide.

If necessary, you can add another slide to your timeline that will summarize its key points. To do that, click the Add Summary button on the toolbar.

You can preview the results at any time by clicking the Preview button on the upper panel.

Once your historical timeline is ready, click the Publish button.

Enter the name of your historical timeline in the Interaction title field. Indicate a local or network folder, and choose from the list of available formats. Learn more about publishing options.
Take a look at our historical timeline on the presidents of the USA: from George Washington to Barack Obama.
Conclusion
Well-designed interactive timelines engage students and facilitate learning. It may be rather difficult to remember many facts and details, but once you divide a history into parts, the mission is no longer impossible. Moreover, this way students learn to analyze history instead of learning dates by heart.
Download iSpring Suite for free to start creating media rich timelines divided into periods right away. Plus, check out tons of other capabilities for e-Learning authoring provided by the ultimate iSpring Suite.